2013 Boston Marathon Men's Race: Lelisa Desisa Wins 3-Way Kick For Title And Remains Undefeated At The 26.2 Distance
by LetsRun.com
April 22, 2013
Editor's note: Due to the terrorist attacks on Boston, we didn't feel it was right to highlight the professionals' performances last week. We decided to cover the race and give them the credit they deserve a week later.
After a long cat-and-mouse game, the 2013 Boston Marathon men's race ended up being decided in what was an absolute dream scenario from an organizer's perspective – a sprint finish between three of the biggest names and most credentialed runners in the field.
Article continues below player
Would would win the kick for glory in the final half mile?
Noted kicker Gebre Gebremariam of Ethiopia who had used kicks to win the 2009 World Cross-Country Championships and 2010 New York City Marathon?
Marathon debutante Micah Kogo of Kenya? The 2008 Olympic 10,000 bronze medallist came in with great track credentials as the world's sixth-fastest 10,000 meter man in history at 26:35.
Or would it be the brash 23-year-old Lelisa Desisa of Ethiopia, who had outkicked four others to win the biggest first prize ($200,000) in marathoning in Dubai in January and was cocky enough to think he could come back and win a major less than 3 months later? After all, he had told us at media day that he was the #1 Ethiopian.
(Before we recap what happened, let us apologize if you were watching this race on television/Internet – either via the international feed or local CBS telecast – as the coverage was simply awful.
As our friends at the Science of Sport blog said of the international feed, "Commentary is missing a good race."
Locally, the CBS coverage may have even been worse as after the women's race was over and the men's race was coming down to a 3-way sprint finish in the final mile, they decided to go to commercial. Unbelievable. At least when they came back, they were excited about a fantastic finish.)
The Kick For Home
In the end, it was Desisa, who twice earlier had tried to get clear of the field, who went for glory yet again.
Earlier in the race around the first of the Newton Hills some 90 minutes into the race, Desisa and 2012 Eindhoven winner (2:05:46) Dickson Chumba had briefly gotten a small gap on the field as the 19th mile was blitzed in 4:45. Then when the race was down to just the final trio, Desisa struck again in the 24th mile as he surged again.
Neither one of those attempted breaks had worked and Desisa looked to be the worse of the three as they began the final mile. Looks can be deceiving at the end of the races as can track personal bests.
With roughly a half mile to go on Hereford Street, before the final turn onto Boylston Street, Desisa went to the lead. Gebremariam tried to stay with him.  Had Desisa gone too soon? Had he worn himself out by trying to break clear twice earlier? No and no.
Desisa would end up with a five-second victory in 2:10:22 as Kogo would come back and edge Gebremariam for second, 2:10:27 to 2:10:28.
After the race, Desisa said via the translation of Gebre Gebremariam, "I understand they (Kogo and Gebremariam) are very good track runners and they have good times. But today is another day and I planned to win over them."
Top American – Yet Again Jason Hartmann In Fourth
The shoe-sponsor-less Jason Hartmann yet again measured out his effort on the Boston course just about perfectly as he moved up from 9th at 35k (21.78 mi.) to finish as the top American in fourth overall for the second straight year in 2:12:12, ahead of defending champion Wesley Korir of Kenya (2:12:30). Closing hard the last five miles was Hartmann's plan all along.
"I definitely was just trying to run my race. Boston is a war of attrition. You have to run really smart. It doesn't really start until 21 miles at the top of the hills," said Hartmann after the race.
"I came here to compete and I did that pretty well today. I'm just glad I'm American as the crowd really pushed me. They really supported me and helped with my performance today."
Hartmann's fourth-place finish wasn't without some hidden drama.
"I got a big blister on my foot. It started about six miles in and it's something I dealt with through the rest of the race. But when you line up, you come to do something and that's what I prepared myself to do. It was painful. It really started hurting right when I crossed the (finish) line. You're just on adrenaline (during the race)," said Hartmann.
Three Americans In Top 10
The US ended up with three Americans in the top 10 as Daniel Tapia and Craig Leon both set new personal bests by about a minute to finish first 9th and 10th.
Tapia, who came in with a 2:15:28 PR from last year's Olympic Trials when he was juggling training with law school and working 30-40 hours a week at a family restaurant, ran 2:14:30 in his first race while part of the American Distance Project.
The former Ohio Univeristy runner Craig Leon, who had achieved a 2:15:38 PR in Chicago last year and is now part of Team Eugene, ran 2:14:38. He works part time at a Eugene running store as well as at the Oregon Law school. We caught up with Leon in the hotel after the race and before the terrorist attacks and have embedded our interview with the former 9:45 3,200 runner in HS at the end of this article.
Both Leon and Tapia went through the halfway in 66:38.
Top Canadian honors went to Rob Watson, who finished 11th in 2:15:33 after having the lead in the second half of the race.
Korir Comes From Behind Again
Wesley Korir came from behind to win Boston in the heat last year. This year it was almost deja vu. Korir got dropped by the leaders and at 30k (18.6 miles) was 16 seconds back. His chances of defending his Boston title seemed to be gone.
Korir, however, remember last year. "At one point I was about 15 seconds behind the lead group and I started thinking about last year, thinking, 'I can do this,'" he said. Korir started battling back.
Around the 23 mile mark, Korir caught the leaders.  Would he settle in and run with them or try and keep on going?
"I had the momentum going so I had to make a choice quick … I decided to keep the momentum," said Korir, who powered into the lead.
The momentum would soon end as the eventual top 3 responded to Korir's move and made a surge of their own. Soon Korir was dropped for good.
"(That moment) differentiated the boys from the men. The men went ahead and won the race. The boys went behind," said the affable Korir (video here) who was earlier this year was elected to Parliament in Kenya (for more a profile on Korir and his humanitarian efforts, click here).
Ethiopia Vs. Kenya And Micah Kogo's Debut
The Boston crown came down to a battle between two Ethiopians, Desisa and Gebremariam, and one Kenyan, Micah Kogo. While generally the "team tactics" dynamic between the runners of various countries is overplayed by the media, in this case there was a legitimate Kenya vs. Ethiopia battle.
The pace throughout the day was yo-yoing on the men's side. Kogo said he would hear Desisa and Gebremariam speak in Amharic, but had no idea what they were saying. Then the pace would increase. Then the same thing happened again.
"I didn't understand what they were saying, but I knew when they would talk and they then would start to move fast," said Kogo after the race. So instead of letting the pace lag again, Kogo just kept it consistent and that left him pushing the pace during the final miles.
Kogo was not able to drop Gebremariam or Desisa, but he did very well in his marathon debut on a difficult marathon course.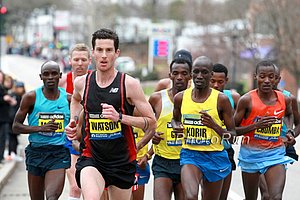 Face Time For Hartmann And Watson
The pace in this one for much of the race was not very fast. Watson and Hartmann had a 7-10 second lead at mile 15 despite being only on 2:10 pace.
Top results and quick takes below.
Quick Take #1: Lelisa Desisa is now (at least temporarily) men's marathoning #1 man – Okay, make that #2
It was good for the sport of marathoning to see a young marathoner who came in after having won his most recent marathon (Desisa won in Dubai in January in 2:04:45) pick up the win.
The elite marathons in the world these days are so competitive it's hard to win consecutive races. The last time a Boston champ had won his previous marathon?
2009 when another Ethiopian won after winning earlier in the year in January. That year Deriba Merga won in Houston in January and in Boston in April.
Actually, considering fellow Ethiopian Tsegaye Kebede has won two straight majors (last year's Chicago in a CR 2:04:48 and Sunday's London Marathon), we guess he should be considered to be the world #1. But we know we'd find it hard to bet against Desisa, who remains undefeated in his life at the 26.2 distance.
Let's just hope the confident 23-year-old gets good advice and realizes two marathons a year is enough from here on out.
Quick Take #2: How were the times so slow?
We know many of you are stunned by the slow finishing time. We know most of you in the middle of the race were thinking just the same as message board poster "d2xccoach" who in the middle of the race wrote:
"Anybody want to predict how big a negative split the men will run today? Did I just hear 1:04:44 at the half?"
In reality, the first half was even slower – 64:54 – and yet the runners ran a positive split, actually not uncommon at Boston with the elevation profile. Desisa went 64:55 – 65:27.
How is that possible, you ask? Well for one, the runners were facing a headwind. Depending on who you talked to, some runners complained about it, whereas others said there was no wind.
We don't trust runners in the heat of the moment. We trust the National Weather Service. According to weatherunderground.com, their data indicates that between 10 and 12 noon (men's race started at 10 am) the wind in Boston was coming from the east, increasing from roughly 6.5 mph at the start to roughly 11.5 mph at 12 noon. The course basically goes west to east.
Let's just be conservative and say they were running into 8mph headwind for 2 hours straight. Guess how much that slows you down?
Well, LetsRun.com stat man John Kellogg says that if you run into an 8mph headwind that you'll run at least 6 seconds per mile slower – or at least 2:37 for a full marathon.
Subtract 2:37 from Desisa's time and you get 2:07:45 – a time that has only been bettered five times in Boston's illustrious history.
Quick Take #3: A marathon kick does not come down to who has the best track speed

We hope that this race once and for all ends all commentators (and we all know who the #1 culprit is) talking about leg speed when it comes down to a kick. The top three finished in the exact opposite order of their 5,000 meter PRs.
The 5,000 PRs of the top three finishers.
1. Lelisa Desisa 13:22.91
2. Micah Kogo 13:00.77
3. Gebre Gebremariam 12:52.80
Quick Take #4: Here's how fast Desisa closed
You can take a look at the unofficial mile-by-mile splits they were handing out in the media room on the left (click on it to enlarge it). The 24th mile was 4:37. The 25th mile was listed as 6:02 but we're assuming that's a typo and was meant to be 5:02 otherwise Desisa ran about 3:51.4 mile pace to the finish for 1.2 miles which is impossible. So if that's the case, then from 25 to the finish, Lilesa took unofficially 5:42 which is 4:40.6 mile pace.
And the chips back that up. At 40k (23.85 miles) Lelisa's time was 2:03:47 and he ran 4:49.6 pace the last 1.25 miles.
Quick Take #5: "We told you so – our predictions for 2013 Boston were incredible"
We know us bragging about nailing our predictions makes a small minority of you go berserk, but hey that makes it all the more enjoyable. It's not bragging if you back it up, right?
If picking both the men's and women's winners wasn't enough, we basically foresaw exactly what happened in the men's race. Check out what Robert Johnson wrote before the men's race:
"If Gebremariam wins, it likely will be at the end as he doesn't like to lead until the very end. (But) if it comes down to a sprint finish at the very end between Desisa and Gebrermariam, you need to realize that Desisa's win in Dubai also came in a sprint finish, but with five people involved. He's younger so I'd say go with him."
Results – Top Finishers – 2013 Boston Marathon
MEN –
1. Lelisa Desisa, 23, ETH                  2:10:22  $150,000
2. Micah Kogo, 26, KEN                     2:10:27    75,000
3. Gebre Gebremariam, 28, ETH              2:10:28    40,000
4. Jason Hartmann, 32, Boulder, CO         2:12:12    25,000
5. Wesley Korir, 30, KEN                   2:12:30    15,000
6. Markos Geneti, 28, ETH                  2:12:44    12,000
7. Dickson Chumba, 26, KEN                 2:14:08     9,000
8. Jeff Hunt, 30, AUS                      2:14:28     7,400
9. Daniel Tapia, 26, Castrovile, CA        2:14:30     5,700
10. Craig Leon, 28, Eugene, OR              2:14:38     4,200
11. Rob Watson, 29, CAN                     2:15:33     2,600
12. Levy Matebo, 23, KEN                    2:15:42     2,100
13. Tomohiro Tanigawa, 25, JPN              2:16:57     1,800
14. Carlos Carballo, 30, Cathedral City, CA 2:17:05     1,700
15. Lee Troop, 40, Boulder, CO (AUS)        2:17:52     1,500 + 10,000m
16. Fernando Cabada, 30, Boulder, CO        2:18:33
17. Joseph Gray, 29, Renton, WA             2:18:45
18. Kevin Pool, 30, Folsom, CA              2:18:59
19. Carlos Trujillo, 27, Middleton, ID      2:19:24
20. Matt Dewald, 30, Denver, CO             2:19:35
21. Chris Estwanik, 33, BER                 2:20:01
22. Adam McDowell, 34, Baton Rouge, LA      2:20:38
23. Glenn Randall, 26, Mesa, CO             2:20:56
24. Vyacheslav Shabinin, 43, RUS            2:21:23     5,000m
25. Tim Ritchie, 25, Brighton, MA           2:21:31 DB
26. Alexander Varner, 27, San Rafael, CA    2:21:40
27. Deriba Merga, 32, ETH                   2:21:40
[1:04:55 / 1:16:45]
28. Jeremy Criscione, 25, Gainesville, FL   2:21:45
29. Uli Steidl, 41, Seattle, WA             2:22:05     2,500m
30. Scott Mindel, 26, Ballston Lake, NY     2:22:25
31. Tracy Lokken, 47, Marquette, MI         2:22:27     1,500m
32. Robert Gomez, 29, Saco, ME              2:22:53
33. Shimpei Yoshimi, 21, JPN                2:23:00
34. Jason Ryf, 42, Oshkosh, WI              2:23:06     1,000m
35. Matt Hensley 25, Port St. Lucie, FL     2:23:21
36. Malcolm Campbell, 42, Marietta, GA      2:23:37
37. Jesus Campos, 28, Fresno, CA            2:24:05
38. Odilon Cuahutle Rojas, 42, MEX          2:24:09
39. Michael Cassidy, 27, Staten Island, NY  2:24:23
40. Greg Reindl, 28, Denver, CO             2:24:53
…
45. Josh Ordway, 32, Franklin, OH           2:25:43
…
48. Franklin Tenorio, 43, ECU               2:26:15
Robert Kiprono Cheruiyot, KEN           DNF
Raji Assefa, ETH                        DNF
m = Earned masters prize money