2012 US Olympic Track & Field Trials Women's 800m Preview: Can Anyone Stop Alysyia Montano?
By LetsRun.com
June 21, 2012
Alysia Montano is the woman to beat.
Montano, who finished 4th at the 2011 World Championships and just missed a medal, has raced one 800 this year. In it, she destroyed the field at Pre running 1:57.37, the #2 time in the World at the time.
Montano likes to front run, so does David Rudisha. As we've explained in the past, front running is not problematic in the 800 because it means you run the shortest distance to the finish. The 800 is the only non-laned event in track and field where everyone is normally in it with 200 meters to go. Thus a front-runner doesn't get boxed and doesn't run way more than 800 meters like half the people in the field.
Montano is better than everyone in the field and given her love of front-running, we can't see anything stopping her so read carefully:
If Alyisa Montano runs as fast as she already has this year, we guarantee she makes the Olympic team. We're so confident of it, we'll give $1000 to one letsrun.com visitor if Montano runs 1:57.37 in the final and doesn't make the team.
Winning, and not finishing top three, won't necessarily be a total cakewalk for Montano as the American women are strong at 800m with a lot of depth. Three other women have gone sub 2:00 this year outdoors (Molly Beckwith, Geena Gall, and Alice Schmidt) and then there was America's best 800m runner indoors Erica Moore, plus Maggie Vessey, the woman who has been the best in the US the last few years after Montano.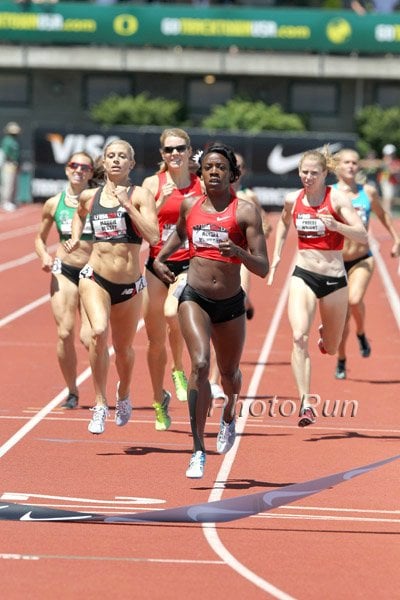 Unlike Montano, Molly Beckwith has raced all-over the globe this year. In her first (Doha) and last (New York) Diamond League appearances of the year, she went sub 2:00 including her 1:59.18 season's best last time out. Coming into the Trials off a season's best is a good thing. The only bad thing for Beckwith is she has never made a US team.
Geena Gall of the hometown Oregon Track Club is the next fastest American in 2012. Gall, a two-time NCAA outdoor champion, made the worlds team in 2009 and was second to Montano at Pre this year in her last race out in a pr of 1:59.28, where she beat Beckwith handily. Will she have to run another PR to make the team?
Alice Schmidt has all the credentials you could ask for. A two time NCAA Champion and an Olympian, Schmidt turned heads by winning the 1500m at the Pre Classic outkicking World Champion Jenny Simpson (although given Simpson's abysmal performance at the adidas meet in NYC the next weekend that victory lost it bit of its luster). Schmidt followed that up with her first sub 2:00 clocking of 2012, a 1:59.93 for second at Harry Jerome in Canada. Schmidt may be 31 now and a multiple time US team member, but she ran a pr last year, and is running as well as ever this year. She may attempt the 800/1500 double here and is coached by Joaquim Cruz, the last guy before Andrew Wheating to pull off the 800/1500 NCAA double.
Phoebe Wright like Schmidt, Montano, and Gall is an NCAA champion. She's never made an outdoor worlds team. She's only raced the 800 twice outdoors this year, presumably to time her peak. Her last run was a 2:00.64 season's best to win in Indiana.
Wright's training partner, former hurdler and heptathlete, Erica Moore was the sensation of the indoor season. She ran an indoor and outdoor pr of 1:59.97 to win the bronze medal at the World Indoor Championships. Did she burn it too hot too early? Outdoor she has run 2:01, 2:03 and 2:00.72. She'll need to show her indoor form if she wants to make the team.
What About Vessey?
The only person who in our minds could possibly challenge an in form Montano is 2008 Olympian Maggie Vessey (photo right), but the problem is we're not even certain Vessey, who was 6th at world's last year and has a pb of 1:57.84, will even make the team.
It's not like Vessey has been running that poorly. She opened this year faster than she ever has - 2:02.16. Her next race was a 2:00.19 victory in Puerto Rico. But her last time out in New York, she ran 2:00.48. And in New York, she was beaten by 1.30 by Beckwith - that's a trouncing in an 800. One would expect more from someone who was 6th at world's last year. Additionally, for comparison's sake, the two previous years, Vessey had already broken 2:00 heading into USAs.
Now given the fact she's been on the last two world championships, Vessey deserves some of the benefit of the doubt. After all, she peaked when mattered most last year as she ran her seasonal best in the final at the World Championships. But at the same time, Vessey has been to known to throw out some terrible clunkers out there. Predicting what she's going to do is next to impossible. Vessey fans should hope that her New York performance was just an isolated clunker.
We do know one thing about her though for certain. If Vessey wants to run her best in London, she has to make the team first. She'll need to run than better than she has so far in 2012 to do that. She's only #5 in the US so far this year as shown below.
Sub 2:01s For US USA 800 Runners In 2012
Alysisa Montano 1:57.37
Molly Beckwith 1:59.18
Geena Gall 1:59.28
Alice Schmidt 1:59.93
Maggie Vessey 2:00.19
Phoebe Wright 2:00.64
Erica Moore 2:00.72
No one else in the field has broken 2:01 this year although Nachelle Mackie, the NCAA champ from BYU has run 2:01.06.
Latavia Thomas went sub 2:00 last year but has only run 2:01.17 this year
Prediction: Montano is the class of the field. She should win. Everyone else fighting for the Olympic spots will be in the battle of their lives. Gall has been first or second in all of her outdoor races and just ran 1:59.28 in her last race so we think she'll get on the team. The question is who is third.
Beckwith has the most experience racing around the world this year, but the least success at the US championships. How will she handles the rounds? Alice Schmidt's 1500m strength might help her get through the rounds. And what about the engimatic Vessey?
1) Montano
2) Gall (she beat Beckwith convincingly at Pre)
3) Vessey - We were going to be bold and keep her off the team but we think Montano, Gall and Vessey are the three best if everyone runs well. As for Beckwith, we're worried about her being more of a one-hit wonder and not quite yet ready for rounds. We think the season veteran Schmidt will run well but come up just short.
Things should be tight. Just take a look at last year's nationals results.
1
Alysia Montano
Nike
1:58.33
2
Maggie Vessey
New Balance
1:58.86
3
Alice Schmidt
unattached
1:59.21
4
Phoebe Wright
Nike
1:59.25
5
Geena Gall
Oregon TC Elite
1:59.76
6
Erica Moore
unattached
2:00.17
7
Molly Beckwith
Saucony
2:00.93
8
Christine Schmaltz
North Dakota State
2:01.17
We'd completely forgotten Nicole Teter got 4th at the last Trials.
There are 3 rounds of the 800. Round 1 on Friday, the semis on Saturday and the final Monday. Descending order list of entries and heat breakdowns appear below, but first a few parting comments.
Parting Comment #1: The absurdity of the IAAF insisting that everyone have the 'A' is shown by this event. Erica Moore won world indoor bronze but doesn't have the 'A' of 1:59.90.
PT #2: Our $1,000 guarantee for Montano wasn't that bold. According to stats compiled by Ken Nakamura, the fastest third place time in Trials history is 1:59.04 which Suzy Hamilton ran in 1996. It wouldn't stun us at all if that mark went down for third.
PT#3: This event also should be fun as it has three high school runners in it including phenome Mary Cain:

MB: Mary Cain, Amy Weissenbach, Ajee Wilson all make the 800 field!
1st Round Heats - Top 3 and next 4 fastest advance to Semis
Heat 1 Name Affiliation
1 Mary Cain Bronxville Track Club
2 Geena Gall Nike / Oregon TC Elite
3 Maggie Vessey New Balance
4 Christina Rodgers Unattached
5 Heidi Dahl New Balance
6 Margaret Infeld N Y A C
7 Charlene Lipsey L S U
8 Kate Grace Oiselle / New Jersey New York

Heat 2
1 Shannon Leinert Big River Running Company
2 Lyndsay Harper Unattached
3 Nachelle Mackie B Y U
4 Alysia Montano Nike
5 Amy Weissenbach Gold Medal Athletic Club
6 Latavia Thomas Nike
7 Laura Roesler Oregon
8 Rebekka Simko Penn State

Heat 3
1 Heather Kampf Asics / Team USA Minnesota
2 Phoebe Wright Nike
3 Ashley Miller Nebraska
4 Stephanie Brown Arkansas
5 Molly Beckwith Saucony
6 Caroline King Unattached
7 Brenda Martinez New Balance
8 Lea Wallace Nike

Heat 4
1 Katie Palmer Unattached
2 Laura Januszewski Brooks
3 Erica Moore Nike
4 Ajee Wilson Juventus Track Club
5 Lindsey Schnell Brooks/Arizona Elite
6 Chanelle Price Tennessee
7 Alice Schmidt Nike
8 Stephanie Charnigo New Jersey New York Track Club

Descending Order List of Entrants


| | | | | |
| --- | --- | --- | --- | --- |
| Alysia Montano | Nike | 1:57.37 | qualified | declared |
| Maggie Vessey | New Balance | 1:58.50 | qualified | declared |
| Alice Schmidt | Nike | 1:58.61 | qualified | declared |
| Molly Beckwith | Saucony | 1:59.12 | qualified | declared |
| Phoebe Wright | Nike | 1:59.25 | qualified | declared |
| Geena Gall | Nike / Oregon TC Elite | 1:59.28 | qualified | declared |
| Latavia Thomas | Nike | 1:59.67 | qualified | declared |
| Erica Moore | Nike | 1:59.97 | qualified | declared |
| Heather Kampf | Asics / Team USA Minnesota | 2:00.41 | qualified | declared |
| Laura Januszewski | Brooks | 2:01.05 | qualified | declared |
| Nachelle Mackie | Brigham Young University | 2:01.06 | qualified | declared |
| Brenda Martinez | New Balance | 2:01.07 | qualified | declared |
| Heidi Dahl | New Balance | 2:01.33 | accepted | declared |
| Lea Wallace | Nike | 2:01.33 | accepted | declared |
| Charlene Lipsey | Louisiana State University at Baton Rouge | 2:01.40 | accepted | declared |
| Katie Palmer | | 2:01.40 | accepted | declared |
| Chanelle Price | University of Tennessee, Knoxville | 2:01.49 | accepted | declared |
| Kate Grace | Oiselle / New Jersey New York Track Club | 2:01.63 | accepted | declared |
| Shannon Leinert | Big River Running Company | 2:01.65 | accepted | declared |
| Amy Weissenbach | Gold Medal Athletic Club | 2:02.04 | accepted | declared |
| Laura Roesler | University of Oregon | 2:02.09 | accepted | declared |
| Margaret Infeld | New York Athletic Club (NYAC) | 2:02.25 | accepted | declared |
| Lindsey Schnell | Brooks / Arizona Elite Track & Field | 2:02.50 | accepted | declared |
| Stephanie Brown | University of Arkansas, Fayetteville | 2:02.59 | accepted | declared |
| Ajee Wilson | Juventus Track Club | 2:02.61 | accepted | declared |
| Christina Rodgers | | 2:02.90 | accepted | declared |
| Caroline King | | 2:03.03 | accepted | declared |
| Rebekka Simko | The Pennsylvania State University | 2:03.09 | accepted | declared |
| Lyndsay Harper | | 2:03.16 | accepted | declared |
| Ashley Miller | University of Nebraska, Lincoln | 2:03.33 | accepted | declared |
| Mary Cain | Bronxville Track Club | 2:03.34 | accepted | declared |
| Stephanie Charnigo | New Jersey New York Track Club | 2:03.37 | accepted | declared |