2011 USATF Men's 1,500m Preview: The "Unbeatable" Andrew Wheating Takes On A Stellar Field
By LetsRun.com
June 23, 2011
2010 was a stellar year for US 1,500m runners. 2008 Olympian Leo Manzano was one of the top 800m runners in the world, challenging Asbel Kiprop to the line on two occasions, and ended up ranked #6 in the World according to Track and Field News. NCAA 800m and 1,500m double champ Andrew Wheating ran one pro 1,500m in Europe and he stunned the world with his 3:30.90 clocking. Four guys went sub-3:33 (the equivalent of a sub-3:50 mile) - Lopez Lomong and Bernard Lagat in addition to Wheating and Manzano, and a fifth, David Torrence, ran under 3:35 (3:34.25).
All five sub-3:35 guys from 2011 are in the 1,500m at the 2011 USA Track and Field Championships, as is 2011 NCAA Champ Matthew Centrowitz Jr. of Oregon, 2009 World Championships team member Dorian Ulrey, and 2011 US leader Russell Brown (3:35.70).
So the field is loaded. One problem for the field is no one has yet run under the World Championships qualifying standard of 3:35.00 (at this point in the year last year, only Manzano and Lagat had gone under 3:35), but the athletes will be able to chase the standard after the US Championships.
The favorite in our minds is Andrew Wheating. Not only did he have a tremendous 2011, but in his one 1,500m this year, he won the race and ran a respectable 3:36.46. Wheating trains with US leader Russell Brown, who has had a breakout 2011 (3:51 mile at Prefontaine). Here's what Russell had to say about Wheating after Prefontaine: "All of us know that Andy's pretty much unbeatable when he's at his best. Sometimes he doesn't know that."
Brown got a win at the New Balance Boston meet indoors in February, and then outdoors won Mt. SAC in his US-leading (3:35.70) over Chris Solinsky and then ran 3:51 for 9th at Pre. However, outkicking the US's best in February, or outkicking a 10,000m runner in Chris Solinsky, are very different than outkicking the US's best at the US Champs.
After his 3:35 last year, David Torrence has followed up with a very strong start to his 2011 outdoor campaign. At Prefontaine, he was narrowly beaten in the "B" race by 2010 #10 world-ranked Ryan Gregson, and then he followed that up with a 3:36.15 win at the adidas meet two weeks ago, taking the scalp of not only Olympic silver medallist Nick Willis, but also of Americans Manzano and Lomong.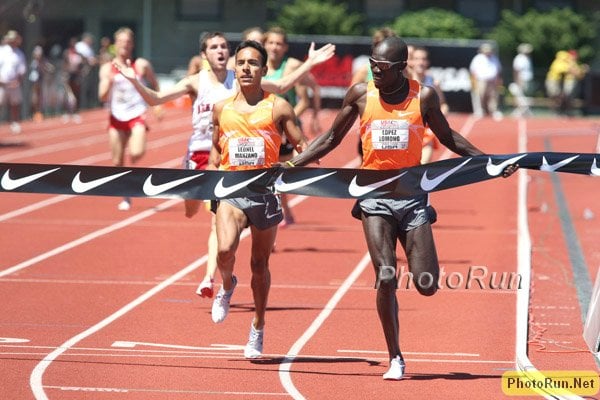 Apart from Bernard Lagat, the US 1,500m ranks have been defined by Leo Manzano and Lopez Lomong since 2008. Both, however, will have their hands full if they want to make the team for Daegu. Lomong, who has won the last two US Champs, has finished 3rd, 4th, 6th, and 12th in his four 1,500/mile races this year. He may have experience, but now is not the time to be heading into a US Championships not 100%.
Manzano, the US #1 in 2010, has struggled even more than Lomong in 2011. 4th, 9th, and 7th in his three 1,500/mile races with a 3:38.26 best. Manzano in years past has been known for doing tremendously well or tremendously badly in races. In 2011, so far he's just been mediocre.
That brings us to NCAA champion Matt Centrowitz Jr. Centro has been undefeated in the 1,500/mile so far in the 2011 outdoor season and he looked great winning NCAAs. The only problem we see for Centro is his 2010 best is 3:42.49. He ran 3:36.92 two years ago, so he has shown he can run much faster, but kicking in a 3:38 race is very different than kicking in a 3:42 race. The good thing for Centro is the US Champs many years are very tactical. He's shown this year he thrives in that type of race.
That leaves us with the 2nd-fastest man of all-time at 1,500m - Bernard Lagat. Lagat has said his focus is on the 5,000m this year, but he has entered the 1,500m as well at USAs and since that 1,500m is first, there is no reason to enter unless he is running. The smooth-running Lagat is America's best distance hope for a medal in Daegu, but that is in the 5,000m versus the 1,500m. Lagat showed in 2010 that the other Americans can beat him in the 1,500m now that he has shifted his focus, but it won't be easy.
LetsRun.com Picks: Picking Wheating is the easy way to go. We can see him winning a fast or a slow race. Lagat is hard to discount.
1. Andrew Wheating
2. Bernard Lagat
3. David Torrence
4. Russell Brown
5. Lopez Lomong
Could Leo really go from #6 in the World to #5 or #6 in the US? Could Leo and Lopez really both not make the team?

Your Picks From Our Contest:

Who will win the
Men's 1500?
Andrew Wheating
51.3%
Bernard Lagat
23.7%
Russell Brown
13.9%
David Torrence
7.7%
Lopez Lomong
1.3%
Leonel Manzano
1.2%
Matt Centrowitz
0.5%
Other
0.1%
Miles Batty
0.1%
Kyle Miller
0.1%
Form Chart From our $20,011 Prediction Contest (Enter Here)
| | | | |
| --- | --- | --- | --- |
| Athlete | 2011 Best | 2010 Best | Comment |
| Russell Brown | 03:35.70 | 03:36.89 | Hasn't lost to a US runner at 1,500/mile in 2011. 3:51.45 mile PR is probably worth sub-3:35 for 1,500. Was considering giving up on a pro career prior to his breakthrough 3:54 indoor mile win in Boston this February. |
| David Torrence | 03:36.15 | 03:34.25 | Won at NY adidas GP, beating Olympic silver medalist Nick Willis and US rivals Lomong and Manzano. |
| Miles Batty | 03:36.25 | 03:42.42 | NCAA indoor mile champ might be feeling the effects of a long year of college racing. Or has he rested up enough in the last two weeks to be super-sharp? |
| Andrew Wheating | 03:36.46 | 03:30.90 | Olympian at 800m, Wheating has the fastest PR of anyone in the field and a superb finish but has yet to contest a 1,500 at USAs. |
| Kyle Miller | 03:36.82 | 03:43.68 | Knocked PR down from 3:41 to 3:36 this year, barely losing to Wheating. |
| Lopez Lomong | 03:37.01 | 03:32.20 | A fixture on recent US teams, Lomong hasn't looked fully fit yet in 2011, but he seems to come on at the championship meets. |
| Will Leer | 03:37.01 | 03:37.26 | Always in the hunt; made the World Indoor team in 2010 but has yet to make a global championship team outdoors. Nice 2-mile PR of 8:19.11 at Pre this season. |
| Leonel Manzano | 03:38.26 | 03:32.37 | Top 10 in worlds last year, a finalist at Worlds in 2009, Manzano has been well under the radar in 2011 and needs to get back on the horse in a big way to make the team again. |
| Matt Centrowitz | 03:41.73 | 03:36.92 | Dominated NCAA champs. Can he make the team in his own backyard? |
| Dorian Ulrey | 03:42.44 | 03:47.53 | Ran 3:35 and made the USA team for Worlds in 2009. Can he do it again? He'll need a massive SB. |
| Bernard Lagat | NM | 03:32.51 | He said he will not run this at Worlds, but he did enter here and could do 1,500 semi Thursday, 5,000m final Friday, 1,500m final Saturday. |
Start Lists:
Event 9  Men 1500 Meter Run Senior/Open
===============================================================================
 Preliminaries: 12 Advance top 3 plus next 3 fastest to final
     Name                        Year Team                                  
===============================================================================
Heat 1  Prelims
  1  Andrew Wheating                  Oregon TC El                
  2  Jordan McNamara                  Oregon TC El                
  3  Miles Batty                      B Y U                       
  4  AJ Acosta                        Oregon                      
  5  Brandon Rooney                   unattached                  
  6  Tony Jordanek                    unattached                  
  7  Nicholas Symmonds                Oregon TC El                
  8  Michael Hammond                  Va Tech                     
  9  Evan Jager                       Oregon TC El                
 10  Ryan McNiff                      Adams State                 
 11  Patrick Todd                     Virginia                    
 12                                                               
Heat 2  Prelims
  1  Matthew Elliott                  Brooks                      
  2  Erik Van Ingen                   Binghamton                  
  3  Matthew Centrowitz               Oregon                      
  4  Leonel Manzano                   Nike                        
  5  Kyle Miller                      Nike                        
  6  John Jefferson                   Brooks                      
  7  Rob Finnerty                     Wisconsin                   
  8  David Torrence                   Nike                        
  9  Jack Bolas                       New Balance                 
 10  Liam Boylan-Pett                 NJ-NY Track                 
 11  Craig Miller                     New Balance                 
 12  Dorian Ulrey                     Arkansas                    
Heat 3  Prelims
  1  Duncan Phillips                  Arkansas                    
  2  Kevin Ondrasek                   unattached                  
  3  Benjamin Blankenship             Minnesota                   
  4  Russell Brown                    Oregon TC El                
  5  Rob Myers                        Saucony                     
  6  Lopez Lomong                     Nike                        
  7  Bernard Lagat                    Nike                        
  8  Stephen Pifer                    Oregon TC El                
  9  Macklin Chaffee                  Ragged Mount                
 10  Tommy Schmitz                    Wisconsin Ru                
 11  Patrick Casey                    Montana St.                 
 12  William Leer                     Nike                        
 
            
Video: Russell Brown On Andrew Wheating
Men's Steeple: Dan Huling Leads The Field
2010 Champ Dan Huling ran 8:13 last year, which puts him #5 all-time US. He was first American in 8:25.95 at Prefontaine and is the favorite.
Olympic Trials runner-up Billy Nelson has thrived on his return to college coach Mark Wetmore and is the US leader and the only runner under the 8:23.10 World Championships standard this year.
2008 US Champ Kyle Alcorn was ahead of Nelson at Prefontaine and will be a factor. Ben Bruce was runner-up last year, but has always been on the outsisde looking in at the Worlds spots, but has a shot.
The super-erratic veteran Steve Slattery has run 8:15 in the past and 8:28 this year, so he can't be counted out.
LetsRun.com Picks: Huling deserves to be the favorite. Alcorn, Bruce, and Nelson all are pretty equal. Can Slattery outwit them?
1. Dan Huling
2. Billy Nelson
3. Ben Bruce

Your Picks From Our Contest:

Who will win the
Men's Steeplechase?
Dan Huling
54.4%
Bill Nelson
28.2%
Kyle Alcorn
13.5%
Ben Bruce
1.9%
Steve Slattery
1.1%
Derek Scott
0.3%
Joshua McAdams
0.3%
Other
0.1%
More Thursday Coverage: *LRC 2011 USATF 10,000m Preview: Galen Rupp Vs. Chris Solinsky Battle For The Ages?, Shalane Flanagan Vs. Kara Goucher
*LRC Men's 800m Preview: One For The Ages KD Vs. Symmonds Vs. Robby Andrews
*2011 USATF Women's Previews: Stacked 800m, Super-Stacked 1,500m, And Wide Open Steeplechase
---
Runner's World &
Running Times



Combined Only $22
a Year
Save $87

---

Running & Track and Field Posters
---

Great Offer: Nike Lunar Glide Sale Multiple colors of this shoe available.

*Nike Air Max Moto 7 Get 2 Pairs for a Crazy $112
---