2011 USATF Men's 800m Preview: One For The Ages
By LetsRun.com
June 23, 2011
On paper, this is the deepest and most tightly-bunched US men's 800 field of the millennium. For some historical perspective, back in 1999, the US had 3 sub-1:45s and an additional 8 sub-1:46s by the year's end. That was the largest number of sub-1:46 US men from then until this year. In both 2004 and 2010, there were 3 sub-1:45s and an additional 7 sub-1:46s at the conclusion of the outdoor season. With over 2 months remaining in the 2011 summer campaign, the US already boasts 4 performers with seasonal bests of sub-1:45 and another 10 under 1:46. Twelve of those 14 runners, including the top 10 on the US list, are scheduled to compete at US Nationals, the exceptions being Andrew Wheating (2008 Olympian) and Russell Brown (a surprise star of this year), who will both opt for the 1,500 only. Adding additional excitement and hope to this crop of mid-d men is the fact that 7 of the sub-1:46 athletes are collegians ... and 4 of those are still in their sophomore seasons! While the US prospects for a global championship medal or one or more runners joining the super-select sub-1:43 crowd this year are still fairly slim, the depth and youth present in this event are injecting more optimism to American fans than they have felt in ages. This year's NCAA 800 final lived up to its billing as a hard-fought and fast battle between many stars with different race strategies, and the US Championships, with all of those young studs plus a few veterans at the world level, should be all the more competitive and exciting.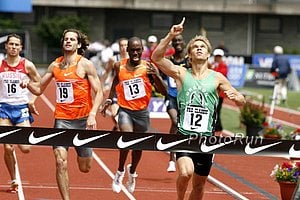 Nick Symmonds has the highest accolades of the US 800 men during the last several seasons. He has won the US outdoor title the past 3 years and finished 6th in both the 2008 World Indoors and the 2009 World Championships. A hockey player in his youth, he can hold his own in a physical race and he has a strong kick, although he doesn't normally leave it quite as nail-bitingly late as a certain UVA sophomore to make his charge. Symmonds opened his outdoor campaign with a promising 1:45.09 on March 3rd but hasn't improved on that mark since and has been well-beaten - even by an American or two - in a couple of races. But unless he has a health issue, we aren't counting him out for a spot on the US squad. If he's in the form he has shown in the last few US Championships, he will be hard to knock off the team, although we expect it may be tougher for him to win outright this time in light of his not having a really fast mark under his belt yet in 2011 (Note: Things could be going according to schedule; Nick's plan this year was to start his speedwork later in the season). He is also entered in the 1,500, although that is probably only as a backup event in case he falls or has some other bad luck in the first round of the 800.

While Symmonds has been the top US runner in recent years, Khadevis Robinson is the man with far and away the most impressive career resumé of any active American 800 specialist. He has won 4 indoor and 4 outdoor US 800 titles and has represented the country 11 times in global championships. He has yet to make a WC or Olympic final, though he has come close in his last 3 tries. His lifetime best of 1:43.68 (fastest in the field) came in 2006, when he had the top 7 US times (and #9 and #10) for the year. His 2010 racing opportunities were reduced by taking European rabbiting gigs, but he roared back to the world class scene this year in Rome when he came from last with 200 remaining to pull off a shocking victory over a Diamond League field which included the last two outdoor 800 world champions (Mbulaeni Mulaudzi - 2009, Alfred Kirwa Yego - 2007) and reigning Olympic 1,500 champ Asbel Kiprop. He has since finished a distant 2nd to Abubaker Kaki (but ahead of a few other US team hopefuls) at Pre. The two main questions for him heading into USAs are 1) can he still run a low 1:44 if he has to? and 2) can he still get through all the rounds? Nobody outkicks all the luminaries he beat in Rome without being world class. We think he's still got what it takes to make his 12th US team.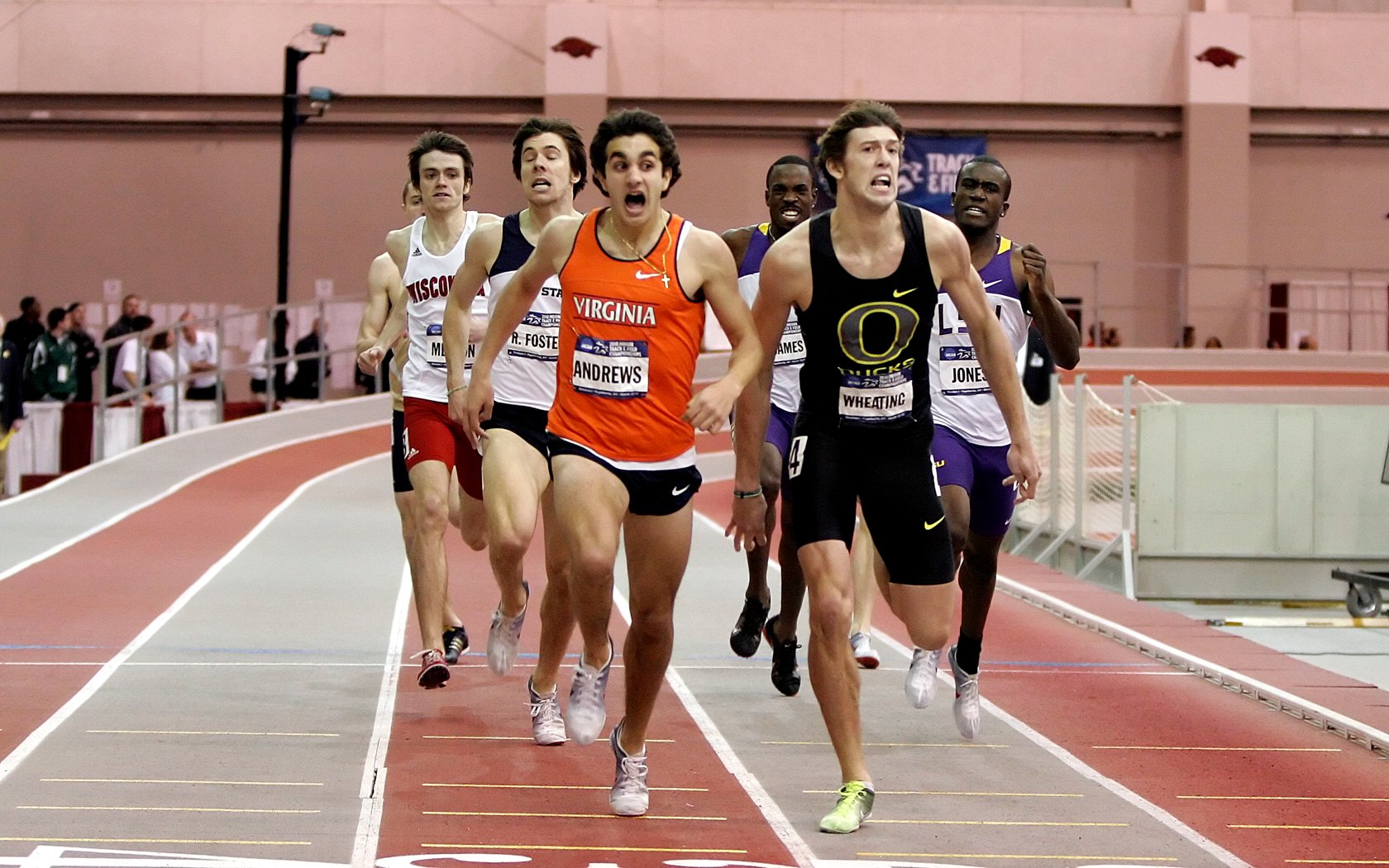 Co-leader of the US list at 1:44.71 is the scary-talented Robby Andrews. Still a college sophomore in athletics terms until the end of his summer campaign, the UVA ace has already in his short college career beaten Olympian Andrew Wheating for an indoor NCAA title as a frosh, finished second to Wheating at NCAAs in his rookie outdoor season, anchored two Penn Relays 4 x 800 wins, uncorked a 1:44.71 to win the outdoor NCAA final this year, and routinely instills the sense of inevitable doom in his college rivals with his unfailing last-to-first tactics in championship races. The USA Championships will be a tougher all-around test for him, since - in addition to his very competitive college foes - he faces several seasoned pros, most notably Symmonds and Robinson, who have both run in the 1:43s, have each won multiple US titles, have competed on the WC and Olympic stages, and are veterans of all manners of races (and hence are not one-trick ponies). With more fast competitors in each round than he's faced before (and with Symmonds and Robinson possessing kicks that have beaten much better runners than he has), his m.o. of keeping the crowd in doubt until the last few meters has a better chance of being his undoing at this level than it does in college. Still, there doesn't seem to be anybody running noticeably better than Andrews at this point in the season, so why shouldn't he make the US team? We have a hard time picking him to win the final, given the experience and past histories of the top pros, but based on this year's results, we don't see why he can't run with those guys, either.

At the other end of the tactics spectrum from Andrews, we have fellow collegian Charles Jock. An exciting frontrunner who can usually be counted on to provide a fast opening lap, Jock has shown he is much more than just a rabbit - in the tradition of Johnny Gray, he basically dares anyone to pass him, and even national-class 800-meter men find doing so an extremely tough challenge. In the NCAA final, he split 49.85 for the opening circuit and held his ground for 799 meters before Robby Andrews nosed him out in the last stride. Only a homestretch drive which was miraculous even by Andrews' standards denied Jock the title. With a 1:44.75 coming into USAs and as a finalist in the meet last year, he is a dangerous threat to make the WC team. One other thing - he still has another year as a UC-Irvine Anteater. The collegiate 800 scene could be quite competitive next year (and beyond, from the look of things)!

Making a nice jump up in PR terms this season (1:46.32 to 1:44.83) is Tyler Mulder, the 2008 NCAA indoor 800 champ for Northern Iowa and a finalist in the 2009 (8th) and 2010 USA Championships (4th). He will need a career race to make the top 3, but he does have one advantage over the college guys with similar SBs - he has faced professional fields this year which have included some of the other top US pros. He even beat Symmonds at Pre, although neither ran particularly well in that race.

USC alum Duane Solomon made the 2007 World Championships squad and was 2nd at USAs both indoors and outdoors in 2010. He might not be among the fastest in the field PR-wise, but he knows how to race and often seems to find a way to be right in it at the end.

1,500/mile specialist David Torrence is entered and actually might be a finalist if he focused on this event, but we don't know why he would or why he even entered when he likely won't run (the 800 first round is before the 1,500). Kevin Hicks has a 1:44.94 PR from back in 2005, when he also finished 3rd at USAs and made the WC team. Since he hasn't run faster than 1:46.55 since then (and since a few college guys have run faster than his lifetime best this season), it would be an out-of-the-blue shocker if he was a factor. But we thought we'd mention another 1:44 guy nonetheless, since it does reinforce the amazing depth of the field.

In addition to Andrews and Jock, the college ranks were brimming with talent this season, and the other 5 American NCAA finalists will all be competing at USAs - recent grads in UCLA's Cory Primm (US co-leader on time, beat Mulder in that race) and UCSB's Ryan Martin (who beat Jock at the Big West conference meet), and 3 rising juniors in Penn State's Casimir Loxsom, Oregon's Elijah Greer (who was a clear 3rd at NCAAs and would likely have broken 1:45 if not for being boxed between Andrews and Loxsom near the end of the race) and Akron's Willie Brown. These young talents will probably be near the top of the US scene for years to come and will hopefully make a splash at the world level, but we think since Andrews and Jock beat them squarely at NCAAs, it would take an extra-special race from any of them to make the top 3 with the pros added to the mix.

LRC Prediction: 1) Symmonds 2) Andrews 3) Robinson 4) Jock 5) Mulder 6) Solomon
LetsRun.com Picks: We'll give Symmonds the benefit of the doubt on his new training regime and give him the win. It will be ineresting to see what race tactics Khadevis Robinson takes. In his two big races this year, he came from behind to do quite well.
1. Nick Symmonds
2. Robby Andrews
3. Khadevis Robinson

Your Picks From Our Contest:


Who will win the
Men's 800m?
Nick Symmonds
43.1%
Robby Andrews
29.4%
Khadevis Robinson
18%
Andrew Wheating
4.6%
Charles Jock
2.2%
Tyler Mulder
1.5%
Cory Primm
0.7%
Other
0.2%
Elijah Greer
0.2%
Duane Solomon
0.1%
Form Chart From Our $20,011 Prediction Contest (Enter Here)
| | | | |
| --- | --- | --- | --- |
| Athlete | 2011 Best | 2010 Best | Comments |
| Robby Andrews | 01:44.71 | 01:45.54 | The furiously-finishing NCAA champ has to be viewed as a favorite to make the team. |
| Cory Primm | 01:44.71 | 01:45.70 | Beat Greer at PAC-10, beat several other contenders with PR at Eagle Rock, faded to 6th at NCAA. |
| Charles Jock | 01:44.75 | 01:45.65 | Up-and-coming frontrunner almost won NCAA final wire-to-wire. |
| Tyler Mulder | 01:44.83 | 01:46.32 | On the rise - his two best lifetime marks have come this season. |
| Elijah Greer | 01:45.06 | 01:46.99 | Another fast-closing NCAA star sophomore. |
| Nick Symmonds | 01:45.09 | 01:43.76 | SB came way back in March; looked worse at Pre but must be considered a major threat based on competitive history (4-time USA team member and 2-time finalist in global championships) and the fact that his PR (set last year) is 8th all-time on the US list. |
| Khadevis Robinson | 01:45.09 | 01:45.77 | Veteran of 11 global championships, 8-time US champion (4 indoors, 4 outdoors) and owner of the fastest PR (1:43.68 - 7th all-time US) among active American 800m runners. Still going strong at almost age 35, having beaten a star-studded international field at the Rome Golden Gala this May. Can he keep the magic going through multiple rounds and make his 12th US team? |
| Casimir Loxsom | 01:45.31 | 01:46.57 | Yet another stud college sophomore with the A time for Worlds. |
| Ryan Martin | 01:45.34 | 01:46.71 | Beat Charles Jock for Big West title but slipped back to 8th at NCAA. |
| Duane Solomon | 01:45.86 | 01:45.23 | 2nd to Symmonds in a slow final at USAs last year after winning his semifinal with a PR. |
Start Lists
Note that one heat has 6 competitors and three have 7. USATF should have a set number of competitors in each event and it makes perfect sense to have 32 competitors in the 800.
Event 7  Men 800 Meter Run Senior/Open
===============================================================================
 Preliminaries: 16 Advance top 3 Plus next 4 fastest times
 Semis: Top 4 advance to final
     Name                        Year Team                                  
===============================================================================
Heat 1  Prelims
  1  Rob Novak                        New York Ath                
  2  Tevan Everett                    adidas                      
  3                                                               
  4  Charles Jock                     Cal-Irvine                  
  5  Karjuan Williams                 adidas                      
  6  Willie Brown                     Akron                       
  7  Tyler Mulder                     Oregon TC El                
  8                                                               
Heat 2  Prelims
  1  Duane Solomon                    Saucony                     
  2  Michael Rutt                     U Conn                      
  3  Kevin Hicks                      Self Esteem                 
  4  Joe Abbott                       unattached                  
  5  Casimir Loxsom                   Penn State                  
  6  Anthony Kostelac                 Virginia                    
  7  Nicholas Symmonds                Oregon TC El                
  8                                                               
Heat 3  Prelims
  1  Sharif Webb                      Kentucky                    
  2  Cory Primm                       U C L A                     
  3  Mark Wieczorek                   unattached                  
  4  David Torrence                   Nike                        
  5  Elijah Greer                     Oregon                      
  6  Lance Roller                     Virginia                    
  7  Richard Jones                    Santa Monica                
  8                                                               
Heat 4  Prelims
  1  Ryan Martin                      U C S B                     
  2  Robby Andrews                    unattached                  
  3  Tetlo Emmen                      unattached                  
  4  Michael Preble                   Texas A&M                   
  5  Samuel Borchers                  Penn State                  
  6  Khadevis Robinson                Nike                        
  7  Golden Coachman                  U.S. Army                   
  8                                                               
            
More Thursday Coverage: *LRC 2011 USATF 10,000m Preview: Galen Rupp Vs. Chris Solinsky Battle For The Ages?, Shalane Flanagan Vs. Kara Goucher
*2011 USATF Women's Previews: Stacked 800m, Super-Stacked 1,500m, And Wide Open Steeplechase
---
Runner's World &
Running Times



Combined Only $22
a Year
Save $87

---

Running & Track and Field Posters
---

Offers of interest: Nike Lunar Glide Discount Discounting on this shoe not allowed until recently.
---