PowerBar's High Performance Sustained Release Beta-Alanine Supplement for Runners
By LetsRun.com (Sponsored Post)
June 28, 2011
If you've landed on this page you're probably looking for the magic bullet that will make you run faster and we think PowerBar might be able to help.
But let us be honest with you. There is no short cut to success especially in the sport of running. If you want to be good, you have to put in the work, and that is what makes the sport of running so rewarding.
Whenever someone asks us how to become a better runner we normally give them a very simple answer, "Run more and recover more." That sounds a bit contradictory but the simple fact is most runners don't train enough, and at the same time, most runner's don't recover enough either by going easy on the their easy days or truly recovering from their workouts.
Once you're putting in all the necessary work, the facts are that proper nutrition and supplements can help you get the most out of your running.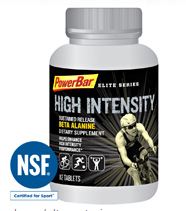 Beta Alanine Supplementation May Help
This is where the new PowerBar's High Intensity Sustained Release Beta-Alanine Supplement may benefit you. Scientific studies show that proper Beta-Alanine supplementation increases muscle carnosine concentration.
What does muscle carnosine do? It helps with the buffering of lactic acid.
The idea behind beta-alanine supplementation is to boost muscle carnosine levels to help with lactic acid buffering, to improve performance. So does beta-alanine supplementation have an impact on exercise performance?
Some early studies indicate it may improve performance.
A 2010 study showed a 4.3 second improvement for rowers on Beta-Alanine than those on placebo over 2000m (roughly 6 minutes).1
In another study where men cycled at "110% of their average power output during the final stretch of intermittent interval training, time to exhaustion was increased by 12%." 2
Another study suggests cyclists with beta-alanine supplementation performed better in a 30 second sprint at the end of a 110 minute time trial.
So beta-alanine supplementation may give you that final little edge that can make such a difference in high performance sport. A few seconds at the end of a race may not be much to the average athlete, but to a performance athlete it can make all the difference in the world.
PowerBar with its High Performance Sustained Release Beta-Alanine Supplement takes the guesswork out of beta-alanine supplementation. If you're interested in possibly competing and training better with beta-alanine supplementation, click here.
We at LetsRun.com are ardent anti-dopers and are glad to report PowerBar's High Performance Beta-Alanine product is NSF® Certified for Sport. NSF is an independent non-profit that tests dietary supplements to ensure that the contents of the supplement match those printed on the label and that no banned contaminants are present. (More info on NSF here)
Click Here for More Info on PowerBar's High Performance Sustained Release Beta-Alanine Supplement
More references: *PowerBar's Comprehensive Guide to Beta-Alanine
*Trent Stellingwerff's Recommendations on Supplementation (Trent is a researcher at the Nestle Research Centre (owners of PowerBar), but also the wife of Canadian 1500m runner Hilary Stellingwerff. Trent has sent LetsRun.com emails in the past on Chris Solinsky's weight, altitude adjustments, and the why this race walker had a lollipop in his mouth at USATF indoors).
*Alex Hutchinson's blog on some of the latest research on Beta-Alanine
Studies cited above:
1. Baguet A, Bourgois J, Vanhee L, Achten E, Derave W. Important Role of Muscle Carnosine in Rowing Performance. J Appl Physiol 2010b; Jul 29.
2. Hill CA, Harris RC, Kim HJ, Harris BD, Sale C, Boobis LH, Kim CK, Wise JA. Influence of Beta-Alanine Supplementation on Skeletal Muscle Carnosine Concentrations and High Intensity Cycling Capacity. Amino Acids 2007; 32: 225–233.
3 Third study mentioned on this page by former Canadian international runner Alex Hutchinson, now an author for Toronto's The Globe and Mail.