Athletics Kenya Bullies Their Risen Star Linet Masai
Previuosly Unreported Sub-Headlines Include Exclusive Zayed Half Marathon Photos, A Serious Injury to '09 Houston and Boston Marathon Champ Deribe Merga Correction: according to his management, Boston and Houston Marathon Champion Deribe Merga DNF'd but was not injured, and Disorganization in the 6km Race
By LetsRun.com
January 13, 2010
After receiving statements from multiple sources who wish to remain anonymous, LetsRun.com can confirm that 2009 Kenyan Sportswoman of the Year Linet Masai was prohibited from running the world's most lucrative half marathon by her sports govering body Athletics Kenya without sensible cause. Our sources have helped confirm portions of our theory that we pieced together earlier based on the sparse media and fan coverage from Abu Dhabi. (Read our ealier coverage of the Linet Masai story here)
Why Masai Is Newsworthy
Masai became a national icon when she won the 2009 IAAF World Championship 10,000m, passing rival Ethiopian stars Meseret Defar and Meselech Melkamu in the final meters of the race. She also finished as the 2009 IAAF World Cross Country Championship silver medalist. Along with countrywomen Vivan Cheruiyot, Pamela Jelimo, Nancy Lagat and other global medal winners, Masai has helped lead the recent charge of Kenyan women who hope to rival or eclipse the accomplishments of Kenyan men and Ethiopian juggernauts Defar and Tirunesh Dibaba. (Owen Slot wrote a short piece on the flowering of Kenyan women runners despite male oppression for London's Times that you can read here).
Zayed Marathon Background
The 2010 Zayed Half Marathon was run in Abu Dhabi, United Arab Emirates on Thursday, January 7th. Financed by Sheikh Zayed, the Half Marathon offered the world's richest 1st-place road racing prize of $300,000US, $100k for 2nd and a $2,000,000 total prize purse. Compare that to America's new richest half-marathon, the New York City Half Marathon, which just announced a 1st-place prize of $20,000 and a total purse of $200,000 (one-tenth the purse of Zayed's race).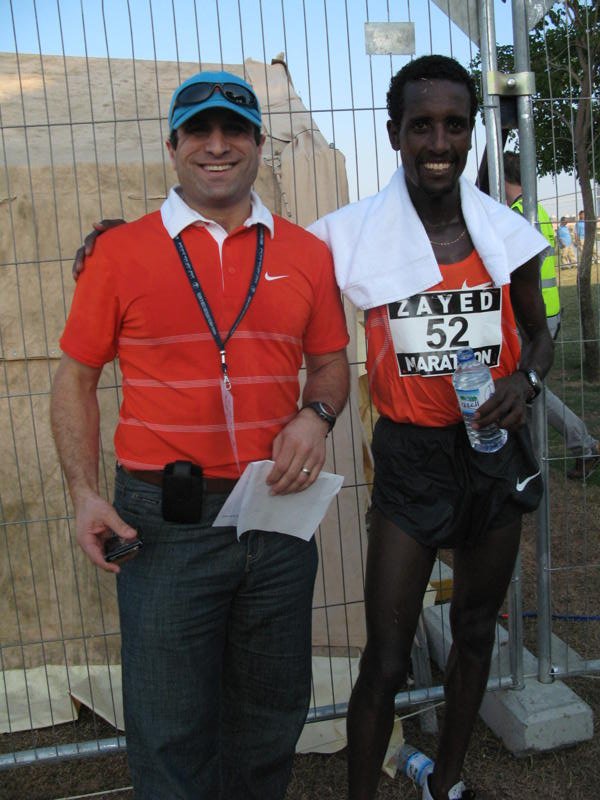 Tilahun Regassa (left, after the race) and Mary Keitany won the 2010 races and pocketed the huge first place awards. For Regassa it was a career-altering win over Sammy Kitwara, for Keitany her 2-minute margin of victory cemented her status as one of the world's dominant road racers.
There was no Zayed race in 2009, and Kenyan superstar Sammy Wanjiru won the 2008 inaugural edition with a similar prize structure. Press reports indicate Zayed would like to host a full marathon in 2011. (Our exclusive 2010 race recap is here: LRC: Zayed HM: Keitany, Regassa $300k Richer)
2010 Zayed Half Marathon Top Results

Men

Women

1. Tilahun Regassa - 59.19
2. Sammy Kitwara - 59.34
3. Lelisa Benti - 59.59
4. Wilson Kipsang - 60.04
5. Willy Mwangi - 60.07
6. Wilson Chebet - 60.31
7. Kiplimo Kimutai - 60.41
8. Fabiana Jospeh - 60.53
9. Duncan Kibet - 61.00
10. Shumi Eticha - 61.08

1. Mary Keitany - 67.14
2. Philys Ongori - 69.19
3. Dire Tune - 69.19
4. Eselefech Merga - 69.20
5. Amane Gemale - 69.24
6. Wude Yumer - 69.25
7. Mare Hurssa - 69.38
8. Peninah Arusei - 69.39
9. Teyla Wako - 69.48
10. Lineth Chepkirui - 70.35
Why Masai Didn't Run
As we reported earlier, though she flew to Abu Dhabi with teammates to run Zayed, Masai was informed at the last minute that she would not be permitted to run the half marathon.
As we suspected, Athletics Kenya in fact prohibited their star from running the race, citing her young age for the half marathon as one reason. This reasoning is ridiculous as Kenyan athletes regularly compete in long road races at young ages. Digging deeper, we found that while Masai's passport says that she is 20, multiple sources told us that she is widely known to be a couple years older than that.
Standing by another long-held belief in their organization, Athletics Kenya sees Masai as a track (10,000m) and cross-country runner only and not a road racer. To them, you can not be world class in one discipline and yet compete in another. Because Masai first became world class in cross-country and track events (hence Athletics Kenya would have her for their pre-worlds intense training camps, effectively taking "ownership" over her), AK believes it now must prevent her from harm from road races that do not result in glory for Athletics Kenya. Robert Johnson's Week That Was from July 2009 offers some more background on Athletics Kenya viewing road races for some runners as "the devil" as one of his sources calls it.
To Athletics Kenya, it does not seem to matter if the athlete is prepared for the race, the race would be good for her career, or the prize purse amount. It's all a sort of antiquated system of rigid control.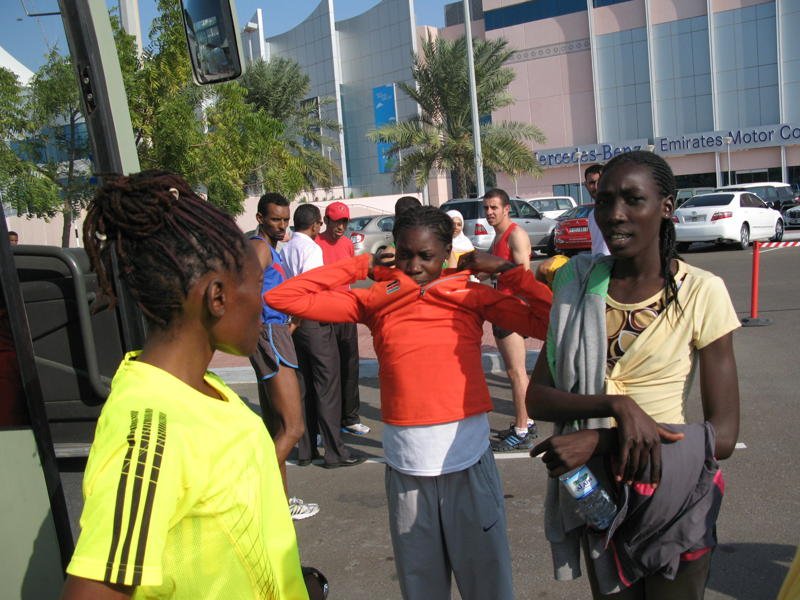 Photo: Linet Masai carrying clothes and gear at the race.
Bullying and Male Dominant Kenya
Though the days of total male domination in Kenya may be slowly shifting towards more equality, especially towards the top women runners, Athletics Kenya still resorts to bullying tactics to keep Masai and other athletes in line with their standards. Working to earn a living as a professional runner, Masai would likely have won $100,000 at the minimum in Abu Dhabi by virtue of a 2nd-place finish. On top of that, distance running insiders expressed genuine excitement about the match up between Keitany (who has been dominant for months on end at the half-marathon distance and now has 5 of the top-10 times ever run on non-downhill half marathon courses) and Masai, who would have made her half marathon debut.
But if Masai were to have run the race against the wishes of Athletics Kenya, we are positive there would have been repurcussions for her and those involved with her career, including some of her peers. This is like a company saying to one of its workers, "If you quit the job, we're going to fire your co-workers as well."
It's hard to believe the national sportswoman of the year was treated in this way but in Kenya this is apparently nothing new. This type of behavior actually may be one of the biggest secrets that fans of distance running don't know while connected coaches, governing bodies, managers, agents, physios and athletes intimately understand. It's a secret because nobody can talk about it without being tossed out of the system and losing their career work.
Looking to future action, Masai will race cross country this weekend against top competition in Sevilla, Spain as she prepares to run IAAF world cross-country in March in Poland.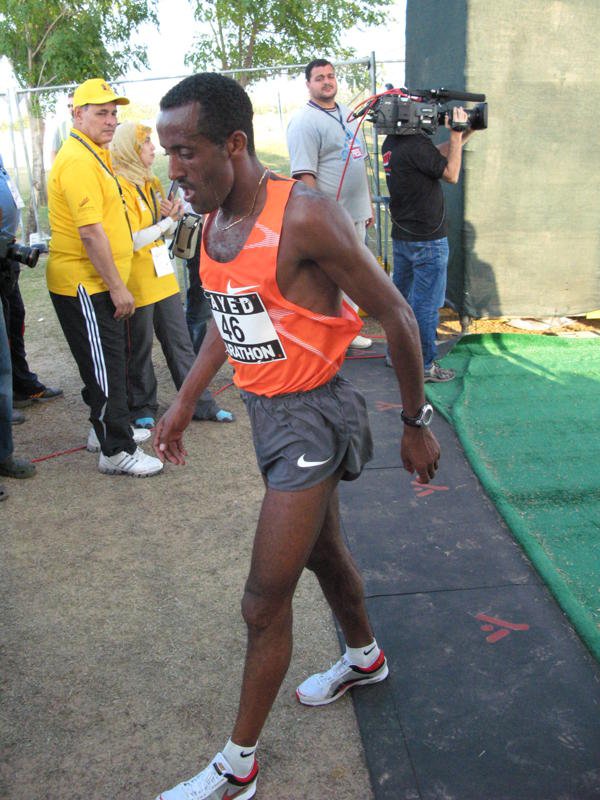 Deribe Merga - Seriously Injured Updated Jan 19: DNF's But NOT Injured
We have received word through Deribe Merga's management in the U.S. that our source from Zayed was mistaken on the state of Deriba Merga.
As we reported, Merga did compete in the Zayed Half Marathon. However, according to his management he is not injured though he did not finish the race.
The photo to the right is not Deribe Merga, contrary to what we reported earlier.
LetsRun.com apologizes for the errors.
While Merga may not be injured, his DNF in Zayed comes on the heels of a DNF in September's IAAF World Championship Marathon in Berlin.
After a flurry of fast races for aggressive Ethiopian Deribe Merga in 2008-2009, it appears the road warrior is paying for his busy racing schedule and fearless tactics. Because official results from Zayed have been difficult to find and partially unreliable, the fate of world record holder and Marathon Major champion Merga was unknown to most until now.
Merga, pictured to the left crossing the finish line in Zayed, according to two sources sustained a serious injury during the race yet continued through the finish. According to one source he finished just seconds before women's winner Mary Keitany, though even in expanded results received yesterday, Merga is not listed.
In 2009 Merga ran 27:24 for a road 10km, 59:18 at the RAK Half Marathon (he equaled the world 15km record of 41:29 en route), and won two marathons in America (2:07 CR in Houston and 2:08 in Boston). He was not able to finish the Berlin World Championships marathon in September.
We'll wait and see if Deribe Merga will return to his brilliant form of 2008-2009.
Race Organization and the 6km Fiasco
Considering Zayed is one of the richest prize purse races in the world, some who attended the race claim their organization needs improvement.
One source gave us interesting information about the Zayed 6km race held in Abu Dhabi the same morning as the Half Marathon. Apparently at the last minute race organizers decided to switch the 6km prize purse from local currency to US dollars, but only informed approximately 2 managers. A few elites decided to switch to the 6km at the last moment (you can see top-3 results below).
Problems arose however as the mob of non-elites running the 6km grew impatient, causing organizers to start the race 20 minutes ahead of schedule, while some of the elites were not at the starting line. Some local news reports indicated many school children ran the 6km (we're guessing to make the race numbers look bigger) and we're left to imagine that hectic scene.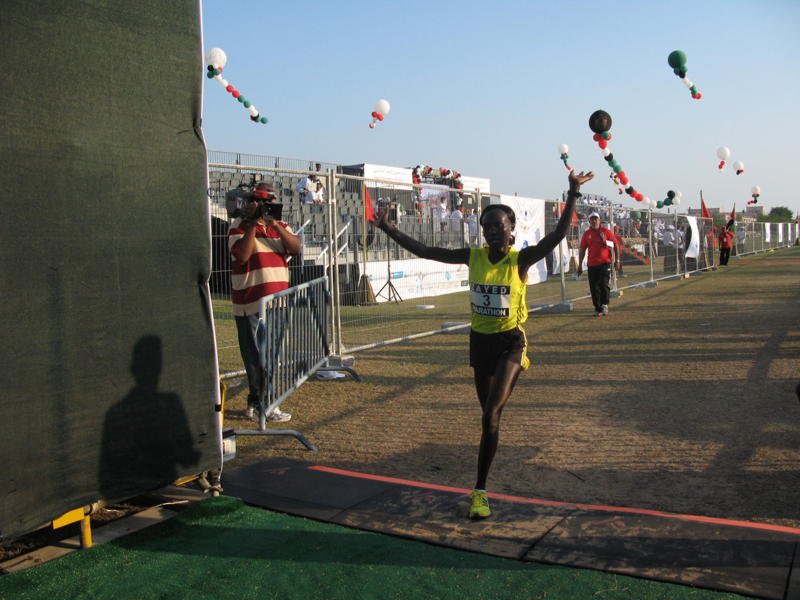 The elite times run for 6km are impressive, but there have been concerns expressed by attendees and athletes about course cutting, so the times should be viewed only in that light.
Like A Playoff Game Without The Fans and Cameras
Attendance at this major race is another issue, as the photo to the left illustrates. According to one person who attended the race, the crowd was made up of essentially managers, physios, coaches and athletes and a few locals. There were no major international media members at the race, and for that reason virtually no pre-race coverage or build up. One of the world's richest prize purse racing events had virtually no spectators, no media and sub-par organization.
Perhaps, from the race organizers' perspective, it was better not to have many media members there to witness such a wild scene. But having one of the world's richest races with some of the world's fastest athletes while virtually nobody watches and even can see full results... this is almost unbelievable that something like this can happen in the world today.
Previous Links:
LRC Exclusive: Photos From 2010 Zayed Half Marathon Exclusive photos of the world's richest race that you will not see anywhere else.
LRC: Zayed HM: Keitany, Regassa $300k Richer A recap of a highly unusual race in Abu Dhabi.
LRC: Why Athletics Kenya Cost Masai $100k We take a look at the Linet Masai fiasco while the dust settled.
LRC: Week That Was Discussing Ridiculous Athletics Kenya Decisions
---
Half Marathon and 6km Results Courtesy Of Race Results Weekly
MEN -
1. Tilahun Regassa, 1990, ETH 59:19 PB/CR* $300,000
2. Sammy Kitwara, KEN 59:34 100,000
3. Lelisa Desisa, ETH 59:59 PB 50,000
4. Wilson Kiprotich, KEN 1:00:04 20,000
5. Willy Mwangi, KEN 1:00:07 PB 10,000
6. Wilson Chebet, KEN 1:00:31 7,000
7. Kiplimo Kimutai, KEN 1:00:41 5,000
8. Fabiano Joseph, TAN 1:00:53 4,000
9. Duncan Kibet, KEN 1:01:00 2,500
10. Shumi Eticha, ETH 1:01:08 1,500
11. Micah Kogo, KEN 1:01:30
12. Vincent Kipruto, KEN 1:01:43
13. Yemane Adhane, ETH 1:01:50
14. Tadese Woldegeberel, ETH 1:01:56
15. Bernard Kipyego, KEN 1:02:02
16. Dickson Marwa, TAN 1:02:54
17. Mohamed El Hachimi, MAR 1:03:27
18. Gudisa Kudama, ETH 1:04:07
19. Nicholas Kiprono, UGA 1:04:18
20. Elijah Karanja, KEN 1:04:19
21. Tujuba Beyu, ETH 1:04:21
22. Jonathan Maiyo, KEN 1:04:45 (28:20 at 10-K)
23. Tadesse Kulfa, ETH 1:04:52
24. Patrick Makau, KEN 1:06:18 (29:13 at 10-K)
25. Abebe Negera, ETH 1:06:21
26. Faustin Starehe, TAN 1:07:11
27. Wirimai Juwawo, ZIM 1:07:27
...
29. Aaif Alrachedi, UAE 1:13:53
*Course record; previous 1:00:33, Samuel Wanjiru (KEN), 2008

WOMEN -
1. Mary Keitany, KEN 1:07:14 CR* $300,000
2. Philes Ongori, KEN 1:09:16 100,000
3. Dire Tune, ETH 1:09:19 50,000
4. Aselefech Mergia, ETH 1:09:21 20,000
5. Amane Gobena, ETH 1:09:24 10,000
6. Wude Ayalew Yimer, ETH 1:09:25 7,000
7. Mare Ibrahimova^, AZB 1:09:38 5,000
8. Peninah Arusei, KEN 1:09:39 4,000
9. Teyba Erkesso, ETH 1:09:48 2,500
10. Lineth Chepkurui, KEN 1:10:35 1,500
11. Mamitu Daska, ETH 1:11:29
12. Caroline Cheptonui Kilel, KEN 1:12:11
13. Ashu Kasim Rabo, ETH 1:12:48
14. Berhane Adere Debela, ETH 1:12:50
15. Restituta Joseph, TAN 1:13:20
16. Birhane Geletu, ETH 1:17:20
17. Alemnesh Habtemikael, ETH 1:17:23
18. Ivana Iozzia, ETH 1:18:06
19. Mary Davis, NZL 1:20:58
20. Concetta Bouverot, AUS 1:28:00
*Course record; previous 1:08:52, Lornah Kiplagat (NED) 2008
^Formerly "Hurssa Mare Dibaba" of Ethiopia
---
6 km (gun times):
MEN -
1. John Kwambai, KEN 16:16 $3000
2. Othman Alshaibi, UAE 16:38 2000
3. Asiri Ahmed, KSA 16:46 1500

WOMEN -
1. Firehiwot Dado, ETH 18:18 $3000
2. Lucia Kimani, BIH 19:08 2000
3. Fikirte Dechasa, ETH 20:19 1500
---
Runner's World &
Running Times



Combined Only $22
a Year
Save $87

---

Running & Track and Field Posters
---

Great Offer: Nike Lunar Glide Sale Multiple colors of this shoe available.

*Nike Air Max Moto 7 Get 2 Pairs for a Crazy $112
---