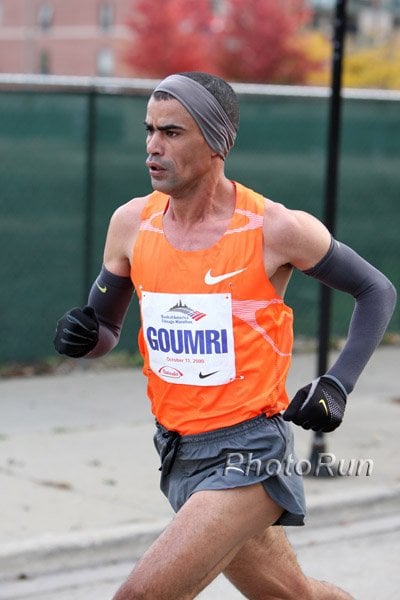 Recommended Read: Wonderful Profile Of Abderrahim Goumri, One Of Morocco's Great Marathoners Freelance writer Courtenay Morgan Redis writes a great piece that helps us get to know Goumri as someone other than "Mr. Silver." There seem to be very few stories about the Moroccan runners so take the opportunity to read this one. Photos of Goumri and other Chicago competitors here.
Warm Profile Of Funny Marathoner Wesley Korir Employee #1 watched Korir's 2:08 win in L.A. and still thinks it is the most inspiring performance he's seen in 2009 (though Ritz is close). This profile of Korir shows he has hopes of building an orphanage in Kenya and helping bring peace to his home country.
Fascinating Story - Hiroshima And Nagasaki Hope For Dual-City Olympic Bid There wasn't a lot of "standard fare" news today, but the little news we did find was interesting. So the two atomic bomb cities of Japan want to co-host the 2020 Olympics about 75 years after the bombs were dropped. The IOC is for the moment saying a "co-hosting" is not allowed by their charter, but give us a break, if there was ever a time to be flexible and bend the rules, it would be for this situation.
LRC The Week That Was This week, we decided to recap the last week in running a little bit differently. LetsRun.com co-founder Robert Johnson and Employee #1 recapped the week that was from Chicago to the World Half in a gchat conversation. Along the way, they pondered who is better? Ritz or Hall? And is this the beginning of the end for Deena Kastor? Plus they talked about Alan Webb, Jason Hartmann and Sammy Wanjiru.
Longitudinal Blood Profiling Being Done By USADA On 2010 Olympic Athletes This is the testing that establishes baseline levels for your blood so subsequent tests can be matched up to easily detect if someone is, for example, tampering with their EPO levels artificially. We applaud USADA for becoming the first national testing body in the world to commit to these tests.
Further Recaps Of Chicago With Athlete Quotes
US Women's 10k Road Champs *Results
Molly Huddle Repeats At Tufts 10k For Women $11,050 payday for Huddle.
Other Road Racing Results Of Note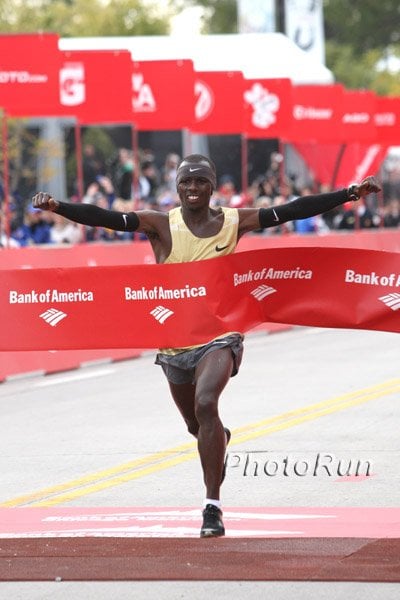 Name: Sammy Wanjiru, 22
Profession: Marathoner, 2007-present
Resumé
Fukuoka: CR 2:06:39
Olympic Games: OR 2:06:32
London: CR 2:05:10
Chicago '09: CR 2:05:41!

*Wanjiru Sets US Soil Marathon Record By 1 Second In Chilly Chi-Town Phil Hersh writes for the Chicago Tribune.
*LRC PhotoRun's Race Photos
*Science Of Sport Got Almost Every Km Split
*Chicago Results - 9 US Men, Led By Sergio Reyes, Break 2:20 Both Shackleton brothers not only broke 2:20, but they got Olympic Trials qualifiers, running three seconds apart in 2:17:5x! Early leaders like Tadese Tola and Ben Maiyo absolutely blew up (first half in 62, second half in 73).
*Chicago Marathon Highlight Video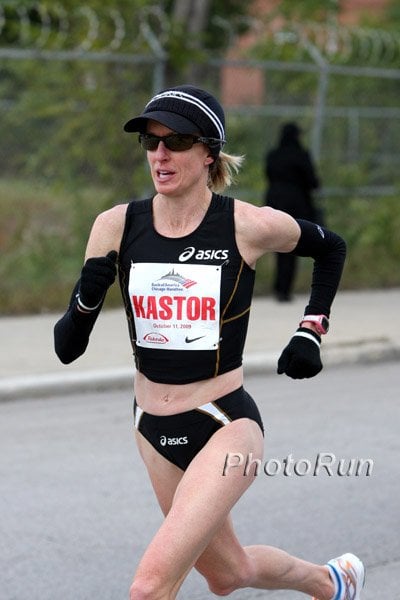 *Announcers Said Deena DNFed But Really She Was Battling Bathroom Problems Deena Kastor had another rough day, while World #1 Irina Mikitenko couldn't put Russia's Liliya Shobukhova away early in the race like she did in London.
*LRC MBoard Thread: Is Kastor all hot air? Kastor is anything but hot air, but her last several marathons have not gone well.

Sammy Wanjiru threw down after 21 miles to drop Charles Munyeki and Vincent Kipruto to win and break Khalid Khannouchi's course record by 1 second. The early pace was ridiculously fast and Abderrahim Goumri was smart, laying back and charging late to get 2nd place AGAIN!

On the women's side, Liliya Shobukhova followed her 3rd in London this year with her first big marathon win ahead of aging stars Irina Mikitenko (2nd) and Deena Kastor (DNF) 6th (the announcers said she DNFed but really she made a pit stop at a toilet). We got an email saying Shobukhova closed the last 2.2k faster than Wanjiru and Goumri ... more on that coming in the Week That Was.
Various Other News And Results