31-Year-Old Max King Has Returned To His Roots To Get Ready For 2012 US Olympic Men's Marathon Trials
King Has Returned To His Old College Coach and His Love Of Cross-Country As He's Prepared For 2012 Trials
By: Zeb Lang
January 12, 2011
Three Cornell University alumni will be competing at the 2012 Olympic Trials Marathon this Saturday (January 14th) in Houston. All three won Ivy League Heptagonal conference titles on the track and competed in the NCAA Championships in cross-country during their Cornell undergraduate careers. This three-part series features Max King '02 (2:15:34 PR), Sage Canaday '09 (2:16:52 PR), and Zach Hine '09 (2:16:54 PR) as they put the final touches on their marathon preparation.
This is Part Three, which focuses on Max King.
*Part One: Sage Canaday '09 *Part Two: Zach Hine '09 *Part Three: Max King '02
---
Max King '02 has spent the decade since graduating college running and racing with great success on every running surface imaginable, in every type of race imaginable. He's run 8:31 in the steeplechase and competed in the 2008 US Track and Field Olympic Trials, represented the US multiple times in the cross-country World Championships, won the mountain running world championship in 2011, won four straight XTERRA Trail Run World Titles, and notched several top 10 finishes in national road championships.
Max was a Cornell undergraduate when the movie Gladiator hit the theatres in 2000. Comparing King to the movie's hero Maximus (played by Russell Crowe), a Cornell teammate put the Gladiator movie poster above King's locker and the nickname "Maximus" stuck. At the Ivy League Heptagonal championships, the crowds cheered "Maximus! Maximus! Maximus!" as Max crushed the Ivy League in winning two consecutive conference titles in the steeplechase in 2001 and 2002 and finished his undergraduate track career as an All-American (Max confirms that he still has the poster).
While he has moved away from the track since the 2008 Olympic Trials, Max doesn't rule out a return to the oval. He says that his personal best of 8:31 "grates" at him and he knows that he can break the 8:30 barrier.
For now, though, King is putting full effort into the marathon. Max ran an impressive 2:15:34 in Baltimore in 2010, shortly after reuniting with Jerry Smith, the former Cornell men's distance coach from 1999-2002. The match has been harmonious, if you could call it that, matching two characters well known for their grit.
"Jerry Smith haunts my dreams every night," Max jokes, recalling the hellacious workouts that Jerry has put him through. "The training time I had under him while at Cornell shaped who I am as a runner and put me in the position I'm in today by instilling a work ethic and toughness that I use every day. Cornell in general was the toughest 4 years of my life to balance running, school and everything else so now work, running, family, and life seem easy in comparison."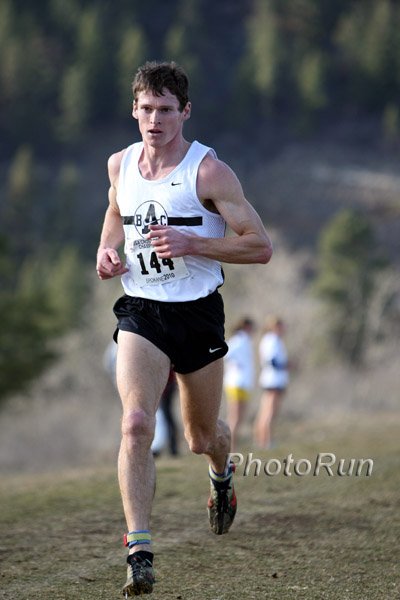 Max King At The 2010 US XC Meet
Under Smith, Max built his training to 120-130 miles per week last spring, and then up into the 130-140 range over the summer and fall, utilizing training blocks of three weeks at high mileage followed by one week of lower mileage. King brought his training down to 115-120 miles per week in recent months and was running between 80-90 miles per week at the end of December.
With his coach living in the Syracuse area, Max has done most of his training solo over the past few years in Bend, Oregon, his hometown. In recent months, Ryan Bak, a 2:14 marathoner also competing in the Trials, moved to Bend and has joined Max in training.
Besides the high mileage common in marathon training, Max continues to mix up his training surfaces.
"I've been doing a lot of different types of training. Last time [the 2008 Trials], I was too focused on just the track and neglected what I do best - hills and cross-country," said King, who was recently 7th at the USATF Club Nationals cross-country meet on December 8th in the middle of his marathon training. "This time I've broadened my training to include mountains, cross-country, ultra distance, and track as well. It's way different, but now we'll have to see just how it all comes together," added King, who garnered a lot of attention in the fall when he finished 11th at the ING New York City marathon and then six days later ran won another marathon - the US marathon trail championships.
King has kept his race distances a bit shorter in the past year, however. In 2009 and 2010, Max competed in 50-mile races, but in both years, he suffered injuries afterwards, including one injury that kept him from running for a few months. Sometime in the future, he looks to finally "get comfortable" with the 50-mile race distance.
Now in his thirties, Max looks to take advantage of his many years of running in Houston this weekend.
"I've put more miles on my legs and running 26 miles doesn't take as much out of me as it used to. I'm just more used to the distances and hardened by the training to where I can handle more now. I think that goes for a lot of the older veterans and we have a small advantage over the young guys in the endurance department."
Despite his endurance advantage, King acknowledges the increased competition in U.S. distance running, noting that he's recently set big personal bests at races such as the Twin Cities 10 Miler but still finished out of the top ten (Max ran 47:14 at the race on October 9th and was 11th).
"Young guys are coming up and starting to put pressure on us older guys to get moving or move out of the way."
---
Want more info on Max? LetsRun.com has ranked him as their #6 Long Shot to make the team (so he's ranked #16 overall by us).

Try this profile from the fall from Running Times: King of His Domain Max King masters all surfaces - Two fast marathons six days apart? No problem.
About the author: Zeb Lang has been a letsrun visitor since the website's first days in 2000. Lang was coached by RoJo as a Cornell undergrad and has served as a volunteer assistant coach for the past three years while completing his MBA at Cornell and pursuing a career in corporate finance. Zeb credits letsrun guru John Kellogg ("JK") for guiding him to his marathon PR.