Favorites, Ritzenhein Ready for Good Weather at 2012 Bank of America Chicago Marathon
By Mike Knapp for LetsRun.com
October 5, 2012
For years, the Bank of America Chicago Marathon seemed synonymous with cool, fast conditions that led to incredibly fast times.
That hasn't been the case recently, as four of the last five years saw the race-day temperatures climb above a less-than-ideal 80 degrees. With the conditions going old school Sunday for the event's 35th running, the professional runners aren't going to let the opportunity to drop the hammer pass them by.
With the 7:30 a.m. race time temperature expected to be about 40 degrees along with the possibility of cloud cover and light winds, the talk at the pro athlete press conference Friday was that the field would want to take the race out to the halfway mark in about 62 minutes, meaning Moses Mosop's 2011 course record of 2:05:37 (that included a 1:02:55 first half) may not be left standing by mid-morning.
"The historical performances at Chicago have been in cool weather, so if the temperature stays down it should be a nice day for the athletes," race director Carey Pinkowski said. "If the wind stays down hopefully we can see something spectacular. The course record on the men's side seems very vulnerable."
Mosop did not return to defend his title, and with the London Olympics just two months in the rear-view mirror, the field has a bit of a different look. But what it lacks in star power it has in depth as 10 runners have gone under 2:07 and an 11th (Samuel Ndungo) has run 2:07:04. Of those 11, six are Kenyan and the rest hail from Ethiopia.
Levy Matebo, a 22-year-old Kenyan, has the fastest PR in the field at 2:05:16, with Ethiopian Tsegaye Kebede just two seconds behind.
If you had to pick a "favorite", Kebede might be the one. After finishing eighth in his marathon debut at Amsterdam in 2007, he has not finished off the podium in his 10 races since, earning a bronze medal in the 2008 Olympics and winning Fukoka and London in 2009-10.
This will be his second time in Chicago, and we'll see if his performance Sunday is as memorable as his last run here in 2010 when he battled the late Sammy Wanjiru to the course's penultimate turn onto Roosevelt Road before placing second in 2:06:43.
Wesley Korir is the lone podium finisher who is returning this year, and he comes back as a Marathon Major champion after winning Boston last April. The personable and popular Korir came from a minute back with five miles to go to win that one, which built even more career momentum that was set in motion with his runner-up finish to Mosop here last year.
With one of the slower times in the elite field last year, Korir shocked everyone when he dropped a 4:36 mile with just eight to go to force the pace and surge to the lead. Though Mosop eventually caught him, the move taught Korir something about himself that he can carry on the rest of his career.
"It's changed me," he said. "I feel like I can make the move now. In the past I felt someone else had to do the work and someone else had to make that move. That (point of the race) was where other people would make that move and break me.
"As soon as we approached that point, I felt it was my time to break them. Now I feel like I am confident that I can make that move and maintain. I'm excited about knowing I can do that, and if the opportunity comes again I know that I can do it and hold onto it."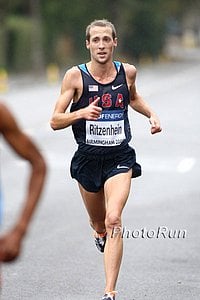 Ritz Won't Go With Lead Pack
At 2:09:55, Dathan Ritzenhein is the lone American with a personal best of under 2:10 (Jimmy Grabow is next at 2:12:35). After finishing fourth and failing to qualify for the Olympic team in the marathon in Houston back in January, the 29-year-old went back to the track and earned the 10,000-meter "A" standard at the Olympic Trials.
That's the event in which he competed in London, where he finished 13th in 27:45, but back in May he decided to try to fit in a fall marathon as well. Heading into this weekend, he has been training consistently for over a year and feels that will make a difference over his previous six attempts at the distance.
He feels like the transition from training for London and moving back to marathon training was a seamless one, and while he has been doing many of the same workouts that he has in previous years, he feels like he is doing them better and more consistently than in the past.
He recently spent some time training at Park City, Utah, which sits at 7,000 feet, and while there stretched out his long runs to as far as 24-26 miles.
"I've had some great training over the last nine weeks, and way better workouts," he said. "I think I'm in a good position."
The opening half that many in the field are attempting is a little rich for Ritzenhein's blood, and he plans to work with good friend Jason Hartmann in the opening miles working at what he calls a "fluid" pace. Though he doesn't have a specific time or place goal, he looks to possibly go through the first half in about 63-64 minutes.
With the fast pace up front, there could be a lot of carnage and Ritzenhein could find himself in Meb Keflezighi mode, where a consistent run finds the race coming back to him and he picks up spots at the end.
"A podium finish would be an ultimate goal," he said, "but at the same time if I ran 2:06 and finished eighth I wouldn't be disappointed at all. Even a top-5 will be good, but it all depends how people will survive the torrid pace of 62 minutes for the first half."
While dropping his PR by three minutes in his seventh marathon would be against the norm and the epitome of "popping one", he feels that this one can be different given his lead-up to the weekend.
"I'm confident that my training has gone well and I have put in a big year of training that I haven't done before," he said. "My best years have been when I've had consistent, solid training, and this time I don't feel like I'm lacking anything. I didn't try to (overdo workouts) in training and I feel like I've saved a lot for the race.
"You have to know when to push the envelope and when not to, and I've gotten better at that than I had been before."
Mike Knapp is a free-lance writer based in Aurora, IL. Knapp has been a regular LetsRun.com visitor ever since he spotted the LetsRun.com jersey at the Chicago Marathon in 2001.
---
Comments, questions, suggestions, story you'd like to submit? Email us