After Long Road Back, Deena Kastor's "Going To Be Fighting Like Mad" To Make Fourth Olympic Team
In June She Only Ran 35:00 For 10k, But In October She Ran 71:48 For The Half, Can She Do It?
By David Monti
(c) 2012 Race Results Weekly, all rights reserved
January 12, 2012

HOUSTON -- At the 2008 Beijing Olympic Games,
Deena Kastor
went to the starting line of the women's marathon full of hope. Her training had gone exceptionally well, and she felt that she had a chance to earn her second Olympic medal after winning the bronze in Athens four years earlier.
"I thought I was the healthiest and fittest I had ever been in my life," Kastor told reporters here today in advance of Saturday's Olympic Trials Marathon. "Little did I know that a bone in my foot was so weak that it was on the verge of breaking. Talk about not having grip on reality at the time."
Before she even made it to the 5-kilometer mark, that bone shattered like "a "Popsicle stick breaking and feathering," Kastor said. She immediately sat down, unable to put any weight on the foot which quickly swelled grotesquely. That swelling, she said, actually helped set the bone and ultimately aided her healing process.
Kastor would not race again until March, 2009, and not at a high level until the following fall where she finished a credible sixth at the Bank of America Chicago Marathon in 2:28:50. She seemed to be on her way back.
But, things did not improve for her the following season. In the spring of 2010, she finished a disappointing 18th at the Virgin London Marathon (2:36:20). After that race, she was determined to train even harder, but her career ended up going in a different direction.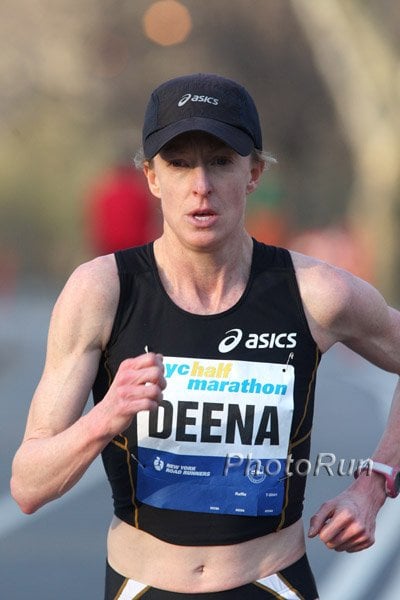 "It was really important for me to first get healthy," Kastor explained. She continued: "Once I got my fitness back I got pregnant."

Kastor gave birth to daughter, Piper Bloom Kastor, last March, after a pregnancy during which she hardly ran. Getting back to serious training was a slow, and humbling process, but under coach Terrence Mahon Kastor began to gain fitness steadily.

"It's been a strange and unconventional four years," she mused. "But, the Olympics are here again. I'm going to be fighting like mad on Saturday to make my fourth Olympic team so I can try to get on that podium again."

In a 10-kilometer race last June in New York to honor the late Grete Waitz --the nine-time ING New York City Marathon champion from Norway who died of cancer last year-- Kastor ran a middling 35:00 and finished 25th. She knew then that she needed to build up slowly over the next six months in order to be ready for the Trials.

Kastor didn't run another race until September, then ran two half-marathons in October (San Jose, 1:12:23 and Los Angeles, 1:11:48) which demonstrated she was on track to run competitively here in Houston. Her husband, Andrew, wasn't surprised.

"I figured that if she had the desire to come back it would be even greater than before," Andrew Kastor said in an interview. "Now, she's actually going after something. It's like the second half of her career --it's the last half, actually-- but she's really excited about the Trials Saturday."

Kastor will face a formidable field led by Shalane Flanagan, Desiree Davila, Kara Goucher, Magdalena Lewy Boulet, and her training partners Amy Hastings and Jen Rhines. Those athletes spoke in interviews today of Kastor --the USA marathon record holder with a 2:19:36 personal best-- reverentially, but skeptically.

"I have no idea what to expect from Deena," said Flanagan, the 2008 Olympic bronze medalist at 10,000m. "She is what I call a gamer. She steps up to the plate when it really matters."

Hastings agreed. "Everybody should always be worried about Deena," said Hastings, who finished second at the Honda LA Marathon last March in 2:27:03. "She's doing very well."

ENDS