Friends And Family Preview Of Day 5 Of The Olympic Games Track And Field
By LetsRun.com
August 6, 2012
The Olympics are the one opportunity the track and field world has every four years to expand its fan base.
With that objective in mind, each day of the Olympics we're going to present to you a "LRC Friends and Family Guide" to the action. It will be a quick overview of what to expect that day in track and field. Hopefully, you can share the link or print it out and hand it to your friends and family that are either casual track and field fans or not track and field fans at all.
If they know the storylines behind what they are watching, they will enjoy it a whole lot more and you won't have to drive yourself nuts by starting at square one with them. Our preview is back after a one day hiatus.
Day 5 Tuesday:
Day five of the Olympic track and field competition is a relatively light one in terms of finals and medals being awarded.
Highlight: Men's 1,500m Final: Admidst A Lot Of Controversy, Can Asbel Kiprop Repeat As Champion?
The 1,500 is one of the marquée events in track and field. In track and field, not all events are equal in the public's imagination. The 100 meters, which Usain Bolt won on the men's side, is definitely #1. The marathon is probably #2 and then there is the mile. And the 1,500 is the closest thing international track has to the mile. Whatever time they run, add about 17-18 seconds and you have their mile time.
Coming into the games, Kenyan Asbel Kiprop, the 2008 Olympic champ and last year's World Champ who has run the fastest time in the world this year, was viewed as the favorite and he was expected to be challenged by fellow Kenyan Silas Kiplagat, who won silver last year at Worlds and beat Kiprop at the Kenyan Championships last year and this year. Kiprop, Kiplagat and another Kenyan are all in the final but none of them may be the favorite any more.
Algeria's Taoufik Makhloufi came in seeded #6 but he so easily won his semifinal heat over Kiprop that many people were stunned by it. Former world record holder Steve Cram of Great Britain, who does the TV announcing now for the BBC, commented in the middle of the race. "I'm not sure what I'm watching with Makhloufi there," said Cram. What was left unsaid was the implication that Makhloufi's performance may have been too good to be true. Four years ago, Rashid Ramzi of Morroco easily initially won the 1,500 gold medal before later being disqualified for using drugs, enabling Kiprop to get the gold.
We know you may be saying, "Well, don't they test these people for drugs?" Yes, they do, but a lot of people are never caught by tests - do you remember Marion Jones? She never tested positive but it came out she was a cheat.
Anyway, there is much more intrigue, as Makhloufi was also entered in the 800 meters here. But on Monday, he showed up and clearly didn't try very hard and dropped out 200 meters into the race. The governing body for track and field - the IAAF - then disqualified Makhloufi for not giving an honest effort. And if you get DQed for that, you are out of the meet. But he appealed and they let him back in. It's sure to be a big controversy if he wins.
There are other people worth paying attention to. Two Americans are in the final. Former University of Texas Longhorn Leo Manzano is a great story. He came to the country illegally as a child from Mexico and is now living the American dream. (Editor's note: A reader wrote us about the previous sentence, noting that Leo's dad came here illegally, but got legal residency in 1986 and then brought his family here. So maybe we should have said, Leo's father came to the country illegally from Mexico. This article says Leo did not get residency until 1996.) A very good performer at the US Championships, Manzano won his first US Championship at the Olympic Trials and has a great kick, but can be inconsistent. We think America's best bet for a medal is Matthew Centrowitz. The 2011 NCAA 1,500m champion at Oregon was the surprise bronze medallist in this event at the World Championships last year.
This race is certain to show up on TV.
To help you get ready, here are the pictures of some of the leading contenders. We know when people go to horse races they often just pick a horse based on looks, so go ahead and pick someone you want to cheer for and root for them.
Manzano is very easy to spot as he's very small and looks like he's churning really hard. Centrowitz looks like he's just floating and running effortlessly. Kiprop is easy to spot as he is very tall and lanky. Watching him run is a thing of beauty. He looks like he was made to run and it seems so effortless when he runs fast.
One more thing about him. Kiprop is trying to join Seb Coe - who is in charge of this year's London Olympics - as the only two-time 1,500-meter champion in Olympic history. He's only 23, so if he wins here, he has a good chance for #3 in Brazil. There is a rumor that he might be injured, but just a few weeks ago, he ran the best time of his life.
Someone else to watch is Nick Willis from New Zealand. Willis is the defending silver medallist in this event and has been having a very good season. He ran a personal best less than three weeks ago and usually has very good racing tactics.
| | | | | | |
| --- | --- | --- | --- | --- | --- |
| Asbel Kiprop | Nick Willis | Matt Centrowitz | Leo Manzano | Silas Kiplagat | Taoufik Makhloufi |
Men's 800 Semifinal:
Everyone knows who Usain Bolt is. Hopefully after the Olympics are over, everyone will know David Rudisha. Rudisha is Kenya's world record holder in the 800 and normally wins his races by a ton. If he wins by as much as he has been this summer, then he'll definitely be very famous. In the 800 on Tuesday, he'll be trying to make the final. The biggest challengers from Africa are all teenagers. His two Kenyan teammates are 17 and 19 years old and the one guy who has beaten Kiprop in two years is from Ethiopa - Mohammad Aman and he's also a teenager. The second fastest guy in the world is Nijel Amos of Botswana. He's just 18 and has really come out of nowhere this year.
There are two Americans in the semifinals. One is the guy you may have seen on some magazine covers or at least heard of, Nick Symmonds. He's been making waves trying to generate sponsorship. He sold a tattoo on his arm to raise money. He wrote Paris Hilton's dad to ask to take her out on a date - they ended up having lunch.
He's also very good at running two laps of the track, as he's won the US title the last 5 years in a row. He's come close to getting a medal at World Championships, as he was 5th last year and 6th in 2009.
The other American, Duane Solomon, had to run a personal best just to make the team at the Olympic Trials. That was supposed to be the end of his story. But in his next race in Europe he went out and ran really fast - a big PR - so he's now the 5th-fastest person in American history and even faster than Nick Symmonds. Was it a fluke? It sure didn't look like it in the first round of these Olympics, as Solomon looked incredible.
So from almost lucky to make the Olympic team to now seeded #3 in the world in the span of a few weeks. That's a great story.
Two more things about this race: One, the 800 may be the best running event in track and field. It's over pretty quickly but it's full of strategy and tactics. You can go out fast all alone or come from behind, but in the end normally everyone finishes really close together - like within one or two seconds. Symmonds likes to come from behind, whereas Solomon is more of a frontrunner.
The second thing about this race is unless you are as good as David Rudisha, you need a bit of luck to get into the final. They only take the top two finishers in the three heats to the final and then the next two fastest times. Some are saying Nick Symmonds' heat is really tough as it includes David Rudisha, who should win. But Rudisha likes to run fast, so Symmonds might still advance on time even if he finishes third or fourth.
Women's 100-Meter Hurdles Semifinals And Final:
This should be a fun race to watch. The Americans are very good at it, but Sally Pearson of Australia is nearly unbeatable. She was unbeatable all year until her last race when she lost to American Kellie Wells. And Wells wasn't even the US champion. Dawn Harper won USAs and won at the Olympics last time out. But she doesn't get very much attention; all of the attention seems to go to Lolo Jones. We're sure you've heard of her. She overcame a tough upbringing, is very good looking and made headlines for announcing she's a virgin. She was even on the cover of Time. She hadn't been running well and it was a big surprise she even made the Olympic team this time. But 4 years ago, she came in as the favorite and was on her way to victory before hitting the second-to-last hurdle and only getting 7th. Even though her overall season hasn't been great, she ran a seasonal best time in the preliminary round, so she definitely looks to be on the upswing.
There are 3 heats of the 100m hurdles and the top 2 in each heat plus the next two fastest times will advance to the final, which is later on in the evening.
HJ Final:

The men's high jump will be on. Jesse Williams won gold for the US at Worlds last year. These guys can jump high as the world record is just over 8 feet.
200 Semifinal:
Also you'll probably see a lot of the women's 200m semis on TV. A lot of the top people from the 100 will be back, as well as 400 champion Sanya Richards-Ross. But the real story is can the US's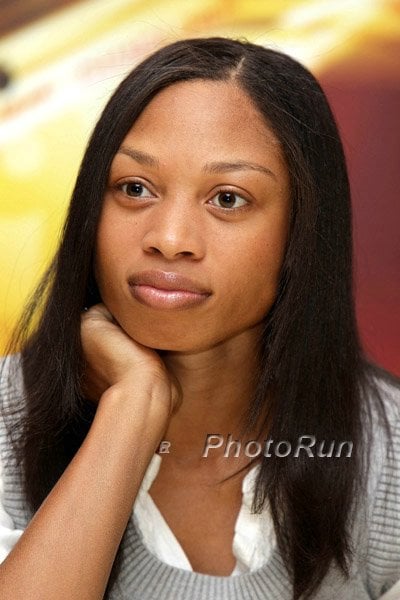 Allyson Felix (pictured right) finally win an Olympic gold medal? Felix is possibly the most famous American track athlete. She has her own website, commercials with Nike (used to be with adidas), Visa, AT&T and Gatorade. Glamorous, the daughter of a preacher, she's seemingly has it all except for a gold medal. Her best event is the 200, which she's won a lot at Worlds but never won in the Olympics. But Jamaica's Veronica Campbell-Brown became the first woman to win two 200 titles at the last Olympics and she's going for title #3 here.
Women 5,000 Heats
Two heats with a ton of names. Morning races so might not even get shown on TV. The Americans are Julie Culley, Kim Conley, and American Record holder Molly Huddle. Tirunesh Dibaba, Sally Kipyego, and Vivian Cheruiyot are the three medallists from Friday's 10,000. Look to see how they have recovered going into their second event.
Other Events:
Other events going on today include some qualification rounds for some field events (W javelin, M triple jump, W long jump) but they are just to make the finals which are another day so they might not even show up on TV.
Heats of the men's 110m hurdles and 200m are also today, but again these are just first round events, so unless someone big goes out early unexpectedly, these won't be big news. Guys from the 100 like Usain Bolt and Yohan Blake will be in it, though, so they may show their heats. If they do, watch out for Frenchman Christophe "White Lightning" Lemaitre, who is the only white man in history to go under 10 seconds in the 100m. He could have represented France at the Olympics in the 100, but he decided to focus just on the 200, which is his better event.
Actually, something really, really big did happen in the 110hurdles. We don't want to ruin it for you if you don't know but the 110 hurrdles is going to be an event that gets a lot of publicity later anyway. The event is big as there are a lot of really good guys in it, including the last two Olympic champions and the US has two guys who also could win.
Dayron Robles of Cuba is the world record holder at 12.87 and the defending champion but he's seemingly been hurt and hasn't been seen from much recently. Liu Xiang of China is really the big name in the event. He used to have the world record at 12.88 and he won the Olympics in 2004. In China, that made him probably their #1 sport start overall. The Chinese were very proud of him as he won an event that they don't normally do well in. In American, people don't like to talk about genetics and what not too much but in China they don't really beat around the bush. They know there men are physically smaller than some men from other countries on average and thus success in a hurdle event is unusual. He was the face of the 2008 Olympics for them. Like how we had Michael Johnson in 1996, Australia had Cathy Freeman, Britain has Jessica Ennis and Mo Farah now, they had Xiang four years ago. One small problem - he had to Achilles tendon surgery the year before the Olympics. A comeback form that takes a long time didn't go well as he'd only run 13.18 but he did show up at the Olympics amidst a ton of hype and pressure. He tried to run but didn't make it to the finish. TV commentators cried on air. Many people thought he'd never really come back.
But he doesn't give up. In 2009, he ran 13.15, then 13.09 in 2010. Last year, he ran 13.00 and was on his way to the world championship when Robles of Cuba inadvertently hit him with his arms at the World Championships (this happens sometimes in hurdling as they are right next to each other). It knocked Xiang back and he ended up with the silver as American Jason Richardson surprisingly won gold. Xiang didn't complain about it at all though. He seems like a great guy.
Richardson could win here. He's a really funny interview but he's not a big fan of our website as we tweeted a question to him as to why has he been hanging out with an agent who was part of the BALCO drug scandal and supposedly banned from the sport. But the favorite based on recent form is American Aries Merritt. He's run 12.93 in his last three races which is incredible.
One more thing about the men's hurdles. They are really high - 42 inches - and the men always hit them. You'll hear and see them touching them if not knocking them over. We don't want to sound sexist but the women's hurdles are too low relative too their body height as the women rarely hit the hurdles. The women's hurdles are only 33 inches high. The average male in the US is only five inches taller than a female and yet the hurdles are 9 inches apart. Track and field along with women's tennis and maybe swimming are the sports where women's stars are treated almost as equals to the men by the media. But you still can see signs as to how women were treated daintily in the past. They supposedly didn't believe at one time that women should run more than 800 meters. The marathon was only added in 1984. The 10,000 in 1988.The pole vault in 2000. The steeplechase in 2008. They really should move the women's hurdles height up so it's a real test of hurdling ability.
The only other final of the day is the men's discus. No Americans made the final.
---
Comments, questions, suggestions, or a story you'd like to submit? Email us.