Matt Centrowitz and Brenda Martinez Win 2012 Fifth Avenue Mile
By Joe Battaglia
(c) 2012 NYRR New Service, used with permission
September 22, 2012
NEW YORK (22-Sep) -- Both Matthew Centrowitz and Brenda Martinez knew that the surge to the finish at today's NYRR Fifth Avenue Mile presented by Nissan here was going to happen late, it was just a matter of timing their breaks right.

Patience proved virtuous for both young runners.

In his first road race ever, the 22-year-old Centrowitz kicked passed defending champion Bernard Lagat and Olympic silver medalist Leo Manzano to win the men's race while Martinez, 25, sprinted to the lead with 200 meters remaining to take the women's title in the 32nd second edition of the world's most prestigious road mile.

The victories capped impressive seasons for both Centrowitz and Martinez. Centrowitz joined Isaac Viciosa of Spain (1997) as the only men in history to win the Wanamaker Mile at the Millrose Games and the Fifth Avenue Mile in the same year (editor's note: the Millrose Games this year was not held at Madison Square Garden for the first time since 1914) , both iconic races contested here. For Martinez, the win was her third straight this season to go along with titles at Falmouth on Aug. 11 and at the Great North CityGames in Newcastle, England on Sept. 15.


"This is definitely huge for me," Centrowitz, whose father and mother both have strong ties to the Big Apple, said. "I love coming to New York. I came here twice this year and I'm 2-0. I'd like to come to New York a lot more in the future."

If he continues to execute race plans as well as he did in this race, he should receive no shortage of invitations to return.

While unsure of what exactly to expect, Centrowitz had the good sense to follow the master Lagat, who has concluded five straight seasons in this race, never finishing lower than fourth.

Similar to the tactic taken by Morocco's Amine Laalou in 2010, when he too was competing for the first time, Centrowitz moved up from mid-pack to Lagat's right shoulder with 150 meters to go. When Lagat surged, Centrowitz covered the move and then flew passed him in the final 50.

"Being my first road mile, I didn't really feel comfortable the whole way," Centrowtiz said. "It's hard to settle in these kinds of races. There is no doubt about it, I was definitely keying off Bernard. Early on, I tried sitting off his shoulder a little bit. I knew that late in the race someone was going to make a strong push. They weren't going to leave it to inside the last 100. It ended up being Bernard and I just went when I felt like it was right."

Lagat, 37, was well-positioned to make a play for a repeat victory. He said that he began his kick earlier than he normally might have due to the presence of Centrowitz and Manzano, both strong finishers.

"I knew that someone, either Leo or Matt, was going to come," Lagat, who finished fourth in the London Olympic 5000m, said. "I wanted to give my best and run hard that last 100 because if I left it to 20 meters like normal I thought I might not have a good shot at it. I started pushing at 100 to go because I knew these two gentlemen would be in pursuit, and that's what happened. With 50 meters to go, a great miler just passed me."

Manzano was also expecting to surge late, but said that he mistimed his kick and paid the price.

"My plan was to really come out and be the last one to kick, but I kind of got mixed up," he said. "With 200 meters to go, I really gave it a good push. I guess any time that you run a straight mile it is really easy to get excited and carried away. You have the markers but the finish line looks like it is right there. It seems a lot closer so it inspires you to really get after it."

That is a danger Martinez says she has been working hard to avoid, and only this year have those lessons started to take root.

"My coaches have taught me that for the 1500m or the mile to just be patient, never take the lead and kind of let everyone else do the work," she said. "I feel like I matured a lot this year and learned to be patient and to just get into a rhythm, be comfortable, and when it is time to go be ready."

Martinez executed that plan perfectly. She sat back in the pack while nding champion Jenny Simpson led for the first quarter before fa ng, and while Chelsea Reilly and British Olympian Julie Bleasdale ba battled for the lead as the road crested at the half-mile mark (Bleasdale dipped at the half-way to win the $1000 prime on offer at that point).

Reilly was still running strong on the descent toward the finish, but Martinez was coming up behind her and Anna Pierce, the eventual runner-up, and Hannah England, who finished third, were running strong on the left and right flanks of the pack. Those three were in control of the race inside the final quarter, with Martinez pulling away 200 meters from the finish.

"I wanted to wait until 200 meters to go," said Martinez, who finished last in the first time she ran this race in 2010. "I felt very good so around that time is when I started to drop my head, pump my arms and kick for my life."

It was the second straight week that Martinez was able to sit and kick with success. At the Great North CityGames, she was able to pull away from England over the final 200 meters along the Tyne quayside.

"I came in confident," Martinez, who won mile races in New York at the New Balance Games and U.S. Open during the indoor season, said. "That win in Newcastle was really good for me. When it comes to courses, hills, wind, that doesn't really matter. Everyone was still running hard. I just tried to have fun in the race and I did that today."

RESULTS:
Women:
1-Brenda Martinez, New Balance, 4:24.2
2-Anna Pierce, Nike, 4:24.9
3-Hannah England, Nike, 4:26.0
4-Gabriele Anderson, Brooks, 4:26.5
5-Shannon Rowbury, Nike, 4:27.0
6-Heather Kampf, Asics, 4:27.8
7-Julia Bleasdale, adidas, 4:28.8
8-Chellsea Reilly, New Balance, 4:29.0
9-Eilish McColgan, Dundee Hawkhill, 4:29.7
10-Jenny Simpson, New Balance, 4:29.9
11-Sarah Bowman, New Balance, 4:30.3
12-Liz Maloy, New Balance, 4:30.3
13-Barbara Parker, New Balance, 4:34.9

Men
1-Matthew Centrowitz, Nike, 3:52.4
2-Bernard Lagat, Nike, 3:52.9
3-Leo Manzano, Nike, 3:53.1
4-Craig Huffer, Australia, 3:53.5
5-Ryan Gregson, Nike, 3:53.7
6-David Torrence, Nike, 3:53.8
7-Craig Miller, New Balance, 3:54.2
8-Elliott Heath, Nike OTC, 3:54.3
9-Garrett Heath, Saucony, 3:54.4
10-Jordan McNamara, Nike OTC, 3:56.5
11-A.J. Acosta, USA, 3:57.7
12-Haron Lagat, adidas, 3:58.4
13-Donn Cabral, USA, 3:59.1
14-Cam Levins, Nike, 3:59.1
15-Liam Boylan-Pett, USA, 4:04.8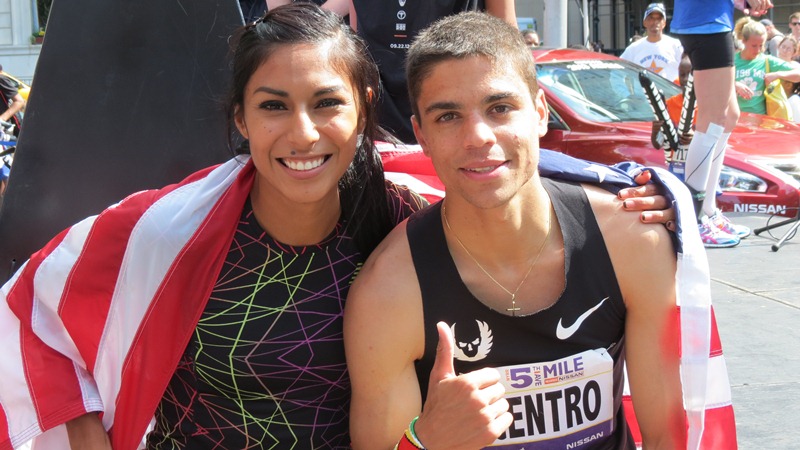 PHOTO: Brenda Martinez and Matthew Centrowitz after winning the 2012 Fifth Avenue Mile (photo by Jane Monti for Race Results Weekly)