Meb Klezighi and Defending Champs Gebre Gebremariam, Edna Kiplagat Running 2011 ING New York City Marathon
Meb Running New York 69 Days Before Olympic Trials
By LetsRun.com
April 27, 2011
As part of their 2011 ING New York City Marathon "Opening Day" live broadcast and celebration from Columbus Circle, the New York Road Runners announced that 2009 New York Champ, American Meb Keflezighi will be joining defending champs Gebre Gebremariam and Edna Kiplagat in the 2011 New York field.
WNBC announcers Bruce Beck and Cat Greenleaf hosted the show with NBC Today show weatherman Al Roker and were joined by Olympic gold medallist Apolo Anton Ohno, New York Yankees center fielder Curtis Granderson, and actor Edward Norton.
The big news for Letsrun.com visitors was that Meb will be running 2011 New York, just 69 days before the 2012 Olympic Marathon Trials in Houston on January 14, 2012.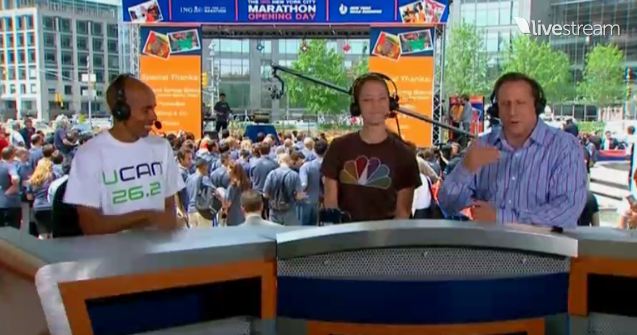 Meb with his Olympic silver medal in 2004, is the one US male distance runner who does not need more success at the Olympics to validate his career. Meb did not run a spring marathon this year, and no doubt the lucrative appearance fee in New York is appealing. However, before thinking that Meb is sabotaging his chances at the 2012 Olympic Trials, Meb would like to remind you of 2004.
In 2004, the Olympics and New York City were 70 days apart and Meb followed his Olympic silver medal with a second place runner-up finish in New York. On the kickoff show Meb said on New York and the Trials being so close together, " My thought is it's great. I did it in 2004 (2 races close together) and it was... mission accomplished."
Meb has a second and third place finish and five top 10 finishes to go with his 2009 New York win.
Gebre Gebremariam, Edna Kiplagat and Jen Rhines Running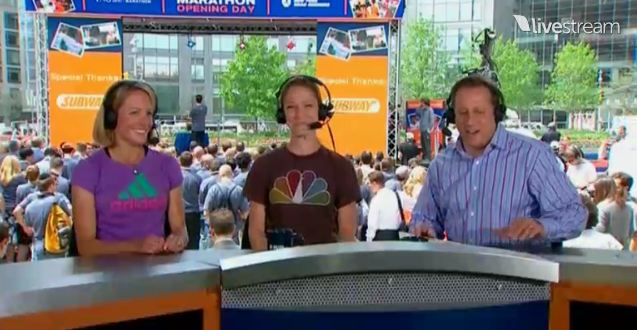 Also on the show it was announced that American Jen Rhines will run the 2011 ING New York City Marathon. Jen was a 2004 Olympian in the marathon, but has not run a marathon in over 5 years. This year she has returned to the roads and longer distances recently winning the US 15k and half-marathon championships, but she has said in 2012 she wants to run the Olympics on the track. On running New York she said, "I'm really excited. When the opportunity to come back to New York came along I jumped at it." This will be Jen's third New York. On the previous two she said, "The first two fell way below expectations... I feel I have something to prove."
Apart from the broadcast it was announced 2010 Champions Gebre Gebremariam and Edna Kiplagat will return to defend their titles in New York. Gebremariam, the former world XC champion, won New York in his debut and last week followed that up with a third place finish in the Boston Marathon (where the first two ran faster than anyone ever before in the marathon). Kiplagat followed her New York win with a huge 2:20:46 pr for third in London.
Also on the broadcast was New York Yankees center-fielder Curtis Granderson, one of 30 major leaguers with a college degree, promoting his charity Grand Kids, actor Ed Norton promoting his online charity tool CrowdRise and Apollo Ohno announcing he's running the 2011 New York City Marathon.
*For more info on New York 2011, to check your status to see if you got in the race or to rewatch the opening day broadcast click here.
*Click here to read press release on NYC Marathon Opening Day (The press release was released prior to the live show, but talks about what a great success it was. Good thing for the PR crew nothing unexpected happened).
Full Disclosure: The NYRR advertised the live broadcast of Opening Day on LetsRun.com during the last week.
---
Runner's World &
Running Times



Combined Only $22
a Year
Save $87

---

Running & Track and Field Posters
---

Offers of interest: Nike Lunar Glide Discount Discounting on this shoe not allowed until recently.
---