NCAA REGIONALS EVENT PREVIEW - 3000M STEEPLECHASE
By Chris Lotsbom
(c) 2010 Race Results Weekly, all rights reserved
Here is our 3000m steeplechase preview for the NCAA Regionals, our final in this series.

MEN -

EASTERN REGIONAL -
The top returner is Butler University senior Stephen Lisgo. Lisgo, a Briton, is the Horizon League champion in the event, and is coming off of a third place finish at NCAA's last year. He has the third fastest seasonal time in the field, 8:46.35, and a career best of 8:35.49. The fastest seasonal time belongs to Louisville junior Matt Hughes. The Big East Conference champion, Hughes has not lost a steeplechase race all year, and has a season's best of 8:41.98. Also in the race is the Big Ten Conference champion, De'Sean Turner of Indiana. Turner is tied with Ole Miss athlete Barnabas Kirui for the second-fastest time in the field. Others to watch include Kenyans Evans Kigen (JR, Liberty) and Martin Kirui (SR, Ole Miss).


Photo: Nelson at last year's NCAAs won by teammate Kyle Perry.
WESTERN REGIONAL -
In the West, the favorite coming in is Iowa State junior Hillary Bor. The Kenyan finished second last year and fourth in 2008 at the NCAA Championships. This year, Bor looks like the man to beat. He won the Big Twelve title, and has the fastest time of all collegians in the steeple this year: 8:38.05. Also returning from last year's NCAA Championship final is BYU senior Richard Nelson (seasonal best of 8:43.27), Texas Tech junior Gilbert Limo (8:42.99), and Wisconsin senior Ryan Gasper (8:42.88). Nelson placed 10th, Limo 13th, and Gasper 14th in 2009, and are all looking to improve upon those finishes. Challenging them will be Cal's Steve Sodaro, a junior who has the third fastest start time in the field (8:40.60).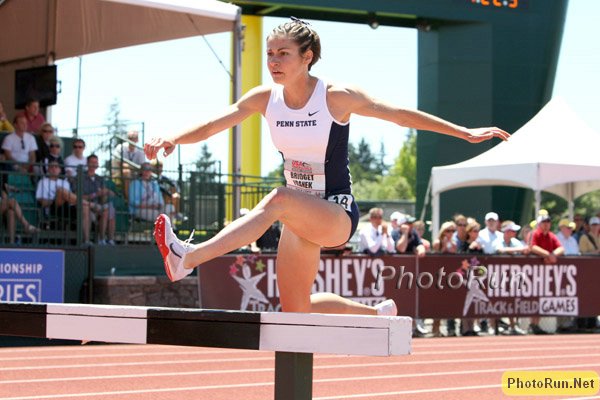 Photo: Franek had a fantastic year in 2009, running at worlds for the USA.
WOMEN -
EASTERN REGIONAL -
The big favorite in this region for the women is Penn State's Bridget Franek. The senior has run well at NCAA's before (she was fourth last year). This year, Franek has won the Penn State Open and Big Ten Championship, setting a season best of 9:48.28. Looking at seed times, Franek has nearly a ten second advantage on the rest of the field, she will have to deal with a few contenders who could spoil her day at regionals. A pair of juniors in Ashley Higginson (Princeton) and Sarah Pease (Indiana) could be factors in the race. Higginson won the ECAC title, while Pease placed second at the Big Ten Championship behind Franek. Their season's best times are 9:57.50 and 9:59.16, respectively. Making her debut at NCAA Outdoors will be Providence freshman Shelby Greany, the reigning USA junior cross country champion. The Big East Championship winner, Greany won two of her three steeplechase races this year, only finishing behind Higginson at ECAC's. She has a season's best time of 10:08.66. Also watch out for Syracuse's Heather Stephens and Rebekah MacKay, as well as South Carolina's Beatrice Biwott.


WESTERN REGIONAL -
With Jenny Barringer out of the collegiate ranks, it is time for another steeplechaser to step up in the West. There are a handful of contenders who could be the next Barringer, but no one woman stands out from the rest. The top returner from last year's NCAA Championship is Washington's Mel Lawrence, who placed third a year ago. Lawrence has only run one steeplechase this year, a 10:20.79 effort to place third at the PAC-10 Championships. Her time only places her 13th in the region, but look for her to improve upon the time this weekend. Winning the PAC-10 Championship was Colorado sophomore Emma Coburn, who also has the fastest time in the field, and the only sub-10:00 in the region: 9:56.29. She will try to follow in former Buffalo Barringer's footsteps and make it to the national meet and take the NCAA title home to Boulder. Erin Bedell of Baylor will also be contending for top regional honors. The senior placed sixth last year, and has the fourth fastest time in the West this year (10:03.81). The second fastest time in the field belongs to Kristen Hemphill, a senior out of Colorado State (10:02.59). Oregon's Claire Michel and SMU's Silje Fjortoft, both juniors, will aim to return to nationals for the second consecutive year.