Otsu, Japan 65th Running of Japan's Oldest Marathon, Lake Biwa Mainichi Marathon
Press Release
March 5, 2010
In the land of Marathon Madness, it could be called Marathon Madness Month as for 3 consecutive Sundays the classic distance will be competed. Two IAAF Gold Label Marathons are held and an IAAF Silver Label Marathon event for the Nagoya International Woman's Marathon is held as well. Last weekend was the IAAF Gold Label event in the Tokyo Marathon, this Sunday will be Japan's other IAAF Gold Label Marathon and the oldest marathon in Japan, the 65th running of the Lake Biwa Mainchi Marathon in Otsu, a 45 minute train ride from the 2007 World Outdoor Championships course in Osaka. 200,000 spectators are expected along the marathon route and another 9,000 in the very small Otsu Stadium, where the race will start and finish.

A very strong field international field is assembled to attempt to break the 2001 course record of Antonio Pena (ESP) in 2.07:34. The top 3 men have run faster then the current course record. The most recognizable in this field is the 2004 ING NYC Marathon Champion, Hendrick Ramaala of South Africa with a best of 2.06:30 from one his top-10 places in the FLORA London Marathons. Ramaala, has run the London Marathon 8 times and finished all in the top-10. "This is much more calm than the pressure of running in London. In London, they are always expecting a world record. This is so nice."

Asked about his missing the finishline tape at the 2004 ING NYC Marathon, "I didn't see it (finishline tape), I can see, but when I want to watch TV I wear my glasses, and I also wore them to pass my driving test. I don't like to wear my glasses." Funny because he was taking a course tour today, to see the turns, but wasn't wearing his (TV) glasses.

In the last ten years, Ramaala has not run in London only in 2002 and 2004. [One of those years] he won the 2004 Mumbai Marathon, "it was nuts at the finish, the photographers and everyone surrounded me with their joy".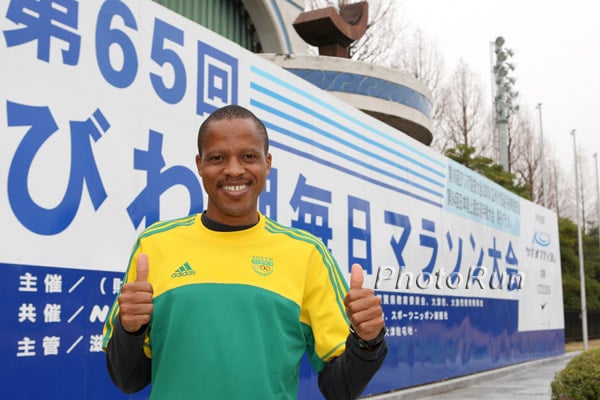 Ramaala, a Law Graduate with a South African best of 27.29.4 for 10,000 meters on the track has 2 children, Alex 10 and Sarah 2. His daughter Sarah is named after his mom. Ramaala came from of family of 8, where he was the third boy, and has 2 younger sisters. His last race was the 2009 ING NYC Marathon and has trained well the last 3 months, doing hills in December and most of his training is in Johannesburg's Herman Eckstein Park and Zoo. This will be his third race in Japan, 1996 Chiba Ekiden Relay and the 2007 World Outdoor Championships [being the others].

The 38 year old South African won back-to-back IAAF World Half Marathon Championship in 1998-99. But his most imfamous moment came at the 2005 ING NYC Marathon in which he, and the World Record Holder of the Marathon, Paul Tergat, raced stride for stride until the last 10 meters of the closest finish in NYC Marathon History. (Tergat won)

Ramaala will have strong competition from a field of Internationals, and the always powerful domestic group of Japanese runners. Yemane Tsegay (ETH) has a personal best of 2.06:30 from 2009 Paris Marathon, and was just out of the medals of the recent 2009 World Outdoor Championships Marathon in Berlin finishing 4th. A newcomer to the marathon with a sub-60 minute half marathon best of 59:44 and a debut in last fall's 2009 Bank of America Chicago Marathon, Charles Munyeki (KEN), 2.07.06 PB. The Japanese Shimizu Twins will give Japan it's best hope of a champion on home soil.

Here is the field:

Yemane Tsegay 2.06:30 Ethiopia
Hendrick Ramaala 2.06.55 South Africa
Charles Munyeki 2.07:06 Kenya
Abrahim Tadesse 2.10:09 Eritrea
Yuriy Hychun 2.10:59 Ukraine
Masaya Shimizu 2.10:50 Japan
Tomoya Shimizu 2.09:23 Japan
Tomoyuki Sato 2.09:43 Japan
Yukihiro Kitaoka debut Japan
Laban Kagika 2.10:24 Kenya
Toshiya Katayama 2.10:12 Japan
Kenjiro Jitsui 2.08:50 Japan....age 41
Mark Tucker 2.13:49 Australia...trying to run a pr with 66.00 half split
Tomonori Watanabe2.09:40 Japan
Dan Hornery 2.25:45 Australia...trying to run Commonwealth Games Standard of 2.17
---
Runner's World &
Running Times



Combined Only $22
a Year
Save $87

---

Running & Track and Field Posters
---


More Nice Offers: Nike Lunar Glide Savings Super popular shoe from Nike featuring Flywire and Lunar Foam

*Nike Air Max Moto Sale $69.99 for this shoe from our partner.
---