Sacramento Cowtown Marathon Make-Over - Our Challenge Could Be Your Opportunity
Win a complimentary lifetime race entry into one of Northern California's most popular running/walking events.
LRC Editor's Note: Normally when we get a press release from a marathon it doesn't say a whole lot that is interesting. This one was different. You can help re-name Sacramento's Cowtown Marathon after a naming battle.
Sacramento Cowtown Marathon Make-Over
A little background information
When we decided to revitalize the long-standing Sacramento Marathon in 2005 our goal was to give it a name, identity, and personality that would be fun and relevant for our community. At the risk of being offensive to some, we renamed the event the Sacramento Cowtown Marathon. Our runners not only embraced the name "Cowtown', but also the theme, the festivities, and, of course, our cows. After all, who could resist those loveable, yet admittedly forlorn, cows that grace our shirts each year?
Change is on the horizon
Yet here we are, just 6 years later and we find ourselves ready for some changes. First, we would like to commend those of you who were willing to do a double-take of our course over the last 5 years running the full marathon. However, due to the growing popularity of half-marathons, in general, and our race, specifically, we have decided to eliminate the full marathon. Also, simply put, Sacramento is no longer a cowtown and the name no longer accurately describes our community. We're ready to forge ahead with both these changes.
The "Name Game"
Apparently, not so in Texas. The folks in Fort Worth, TX (and no doubt their cows), are very proud of "their" distinction of still actually being, well, a 'cowtown' that they will go to any lengths to covet exclusivity of the title 'Cowtown Marathon'. Fort Worth Cowtown Marathon officials have informed us that they own the service mark rights to the word 'Cowtown' and have forced us to cease and desist using this name in the future. So, they can now maintain a legacy Sacramento no longer has to endure. We're excited to leave this outdated 'distinction' behind us. We will now embark on the challenge of finding a new name for our race.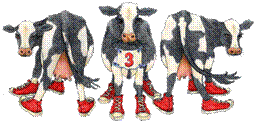 Now, a word from our cows
In the meantime, our cows have steadfastly stood by as Sacramento reinvented itself. It hasn't been easy for them but, let's face it, from the look on their faces, they saw it coming! They didn't panic (as far as we could tell anyway). It turns out our cows are as progressive as our city. They think the whole thing is laughable, and they're as anxious as we are to move on. Don't underestimate their fervor just because they look indifferent. They're ready for an image change and have no intention of being left behind. So, along with a new name we are committed to retaining our annual event's success, popularity, whimsy, and, of course, our cows!
Here's where you come in.
Why not join the mêlée? We've decided a contest to rename the race is the way to go. Who's better qualified to compete than our runners? Keeping in mind that we no longer have a full marathon, be creative and submit your best idea(s) for a new name for our event. Be original. Come up with a name that best reflects Sacramento today while keeping our cows in the mix. Not only will you get a complimentary lifetime entry into any one of our 3 events but you also get exclusive, unlimited bragging rights!
We'll consider names and themes that don't include cows but they will have to be pretty awesome for us to abandon our cows and risk having PETA come after us!
Submit your entries at www.capitalroadrace.com
"Ready for the Fine Print?"
Anyone can participate in this competition.
Submit your entry by the following deadline for consideration: Feb. 17th, 2010.
You are not limited to submitting one idea. Keep 'em coming!
Once a new name has been selected, we will service mark it and have full ownership of it (we've learned our lesson).
There is no penalty for submitting artwork and/or descriptive narrative supporting your name/concept.
There will be no royalties or other monetary compensation for the selected name.
If more than 3 people submit the winning name, we will extend the lifetime-time entry to 3 of you. A random drawing will determine which 3.
Please address any questions or concerns to Rich Hanna (event director) at [email protected]
---
Runner's World &
Running Times



Combined Only $22
a Year
Save $87

---

Running & Track and Field Posters
---

Running Shoe Savings: Nike Lunar Glide 20% Off Super popular shoe from Nike featuring Flywire and Lunar Foam
---