2011 USATF 10,000m Preview
Rupp, Solinsky And Tegenkamp to Batttle? Shalane Flanagan Versus Kara Goucher
By LetsRun.com
June 22, 2011
The 2011 USATF Nationals get underway Thursday and we'll have all the action covered on little LetsRun.com.
Thursday starts off with a bang with a ton of distance action highlighted by the men's and women's 10,000m finals (schedule here). Plus there is the start of the women's and women's 800 (so that mean's the hot men's 800m with Nick Symmonds, Khadevis Robinson, and Robby Andrews) and the men's and women's 1500m, plus the men's steelpe. We preview the 10,000m finals below.

Preview of the stacked women's 800, super stacked 1500m, and steeple here.
Men's 10,000m: A Rupp-Solinsky Battle for the Ages or a Rupp Coronation?
With our sport suffering in popularity everything possible needs to be done to promote it, yet one day out from the 2011 USATF Championships we don't even know who is running the men's 10,000m final in Eugene, Oregon.
American record holder Chris Solinsky is entered as is all-time US #2 and Oregon Duck hometown hero Galen Rupp. Athletes are allowed to scratch from events with no repercussions and Solinsky has said that his focus will be on the 5,000m at the World Championships. So will he run the 10,000m Thursday night? Or did he enter perhaps to play mind games with Galen Rupp. There definitely is tension between the Solinsky - (and coach) Jerry Schumacher camp, and the Galen Rupp -(and coach) Albeto Salazar camp as we chronicled yesterday here.
We would love to see the two fastest Americans ever at 10,000m square of before the Hayward field faithful. The same battle was supposed to happen 3 weeks ago at the Pre Classic as both Rupp and Solinsky were late entrants. Then Rupp ended up warming up and not starting the race, and Solinsky ended up dropping out, and then hinted at some possible tension with the Salazar-Rupp group.
So assuming these two gladiators square off, who comes out on top? We at LetsRun.com were split in our analysis on the Rupp-Solinsky battle 3 weeks ago. Everything since then seems to tilt in Rupp's favor. Solinsky dropped out of the Prefontaine 10,000m which never can be good for confidence, and then revealed he had a hamstring problem we previously were not aware of. A 100% healthy Galen Rupp should beat a 95% Solinsky. Then, Solinsky in his post-race comments indicated that perhaps in the psychological battle between these two that Rupp had gotten under his skin. Can Solinsky put that and his injury behind him to triumph over Rupp on Rupp's home territory?
We hope we find out on Thursday. A 10,000m match race between Solinsky and Rupp would bore most of America, but it would be pure pleasure for LetsRun.com.
If Solinsky, doesn't run, this is Rupp's race to lose for sure. The only concern is the pollen count. Rupp has allergy problems and did not run Pre because of the pollen count. What happens if there is a high pollen count on Thursday? Rupp still probably wins unless Solinsky is in the field. Of the other contenders, the key question is how does Bobby Curtis respond? After opening with a great start to the season in Australia, the former NCAA champion Curtis has struggled lately. Can he turn it around? Tim Nelson continues to improve under the radar and appears to be the guy who if anyone can try and mount a Solinsky-Rupp challenge.
Editor's Note: And since everyone knows Matt Tegenkamp does not run the 10k, we did not include him in our preview (or put him in our contest). However, the start lists are out and #16 is Matt Tegenkamp. The 2007 Worlds 4th place finisher at 5,000m made his 10,000m debut earlier this year (27:28 for 6th at Stanford). Is he really running the 10,000m at Nationals? There is no reason except for psychological ones to enter the 10,000m (with it being the first event) unless you're going to start. Solinsky, Rupp, and Tegenkamp all in the same race? Clearly we need to get some sleep...
The pollen forecast is out for Thursday from pollen.com and pretty much the only place in the US with a high pollen count will be Oregon. Alberto Salazar has indicated that he thinks Rupp can race well with high pollen, the concern is his recovery.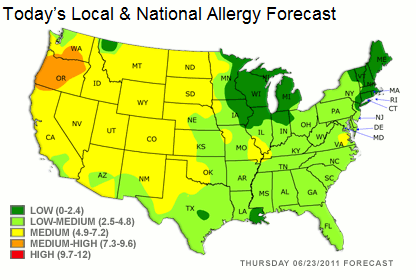 LetsRun.com Picks: We still believe a 100% Solinsky is going to beat Rupp, but indications are he's not 100%. Look out for Tim Nelson.
1. Galen Rupp
2. Chris Solinsky
3. Tim Nelson

Your Picks From Our Contest:


Who will win the
Men's 10,000m?
Galen Rupp
54.1%
Chris Solinsky
40.9%
Bobby Curtis
3.1%
Tim Nelson
1.5%
Ed Moran
0.2%
Ryan Vail
0.1%
Aaron Braun
0.1%
Form Chart From our $20,011 Prediction Contest (Enter Here)
| | | | |
| --- | --- | --- | --- |
| Athlete | 2011 Best | 2010 Best | Comments |
| Bobby Curtis | 27:24.67 | 27:33.38 | Nice PR at Stanford to solidify himself as one of the best in the US (7th on the all-time list, in fact), but Curtis has struggled since then. Has he just been training hard and will be rested and ready for USAs or did he peak early? |
| Tim Nelson | 27:28.19 | 27:31.56 | Consistently in the upper echelon of US 10,000 men over the last 3 years, Nelson made the Worlds team in 2009 and continues to chip away at his PR. |
| Scott Bauhs | 27:51.78 | 28:03.99 | The 2-time World XC team member needs to knock one out of the park to make the team on the track. |
| Ryan Vail | 27:57.42 | NM | Sub 28 in the US and we would be surprised if he made team |
| Aaron Braun | 27:57.88 | NM | Sub 28 in the US and we would be surprised if he made team |
| Brian Olinger | 28:07.52 | NM | Concentrated on steeple through last year (PR of 8:19 from 2007). |
| Bobby Mack | 28:11.00 | NM | |
| Jorge Torres | 28:12.25 | NM | The veteran has made several World XC teams, an Olympic team in the 10,000 and WCs in the 5,000, but with the caliber of US runners he's facing now, he'll likely need to be in better than lifetime PR shape (27:42) to make the squad this time. |
| Chris Solinsky | NM | 26:59.60 | Probably the class of the field if healthy and fit, especially in a fast finish. The AR holder (and only non-African-born sub-27:00 runner) struggled with a hamstring issue and dropped out early at Pre. But if the injury concern is resolved, you just can't count out a sub-27 guy who also runs 3:35 and 12:55, can you? |
| Galen Rupp | NM | 27:10.74 | Training partner Mo Farah ran 26:46 at Pre and said Rupp was in the same shape but was held out of the race due to allergies. We'll find out soon enough if that was wishful thinking, but if he's in PR form, Rupp should be a lock for the US team. |
| Ed Moran | NM | 29:03.07 | Runner-up last year, has not raced in 2011 but entered. 13:20/27:43 pbs |
Women's 10K: Shalane Flanagan Headlines 2008 Olympic Trials Rematch
All three U.S. Olympians (2007 World Champs bronze medallist Kara Goucher, 2008 Olympic bronze medallist Shalane Flanagan, and Amy Yoder Begley) return from 2008 and if the race is anywhere near as memorably as their battle in 08 in Eugene then the fans are in for a treat. In 2008, Flanagan kicked past Goucher for the win and Begley ran an inspired race to set a huge personal best and dip under the Olympic A standard as she was encouraged by a raucous Hayward Field crowd.
Veteran U.S. team member Jenn Rhines will almost certainly have a great deal to say about the outcome. Begley does not seem anywhere close to her form of the past few years but is a gritty competitor and hopes to bounce back here.
Realistically, the U.S. team will likely come from this foursome as no one else has demonstrated they are capable of achieving the IAAF A standard of 31:45.00. Of the other competitors, Boston marathon runner-up Desiree Davila may be most likely to upset these pre-race prognostications (Davila ran a 15:34 5k two weeks ago in her first race since Boston, Goucher ran 15:11 at Pre).
But let us lose sight that Shalane Flanagan is the class of this field, coming off of a World XC bronze medal. Only Kara Goucher has shown the ability to run with an in form Flanagan, and Goucher is coming back from maternity leave. Goucher's return is impressive but she has not returned to her 2007 form.
LetsRun.com Picks: Everyone else is racing for 2nd place.
1. Shalane Flanagan
2. Kara Goucher
3. Jenn Rhines

Your Picks From Our Contest:


Who will win the
Women's 10,000m?
Shalane Flanagan
90.9%
Kara Goucher
3.1%
Jennifer Rhines
2.5%
Desiree Davila
1.7%
Amy Begley
0.6%
Other
1.1%
Form Chart From our $20,011 Prediction Contest (Enter Here)
| | | | |
| --- | --- | --- | --- |
| Athlete | 2011 Best | 2010 Best | Comments |
| Shalane Flanagan | 30:39.57 | NM | 2008 Olympic bronze medalist is the American record-holder and in form in 2011 (XC bronze) |
| Jennifer Rhines | 31:43.00 | NM | Rhines is a strong candidate to make the team here as she has the WC A standard and is a savvy and tough racer, But has to decide if 10k or 5k is focus |
| Kathy Newberry | 32:57.51 | NM | Veteran of several US world cross country teams. |
| Magdalena Lewy Boulet | 33:16.11 | 33:16.11 | Olympian in marathon |
| Lisa Koll | NM | 31:18.07 | Injured and not running |
| Amy Begley | NM | 32:06.45 | 2008 Olympian has come up big in Eugene before but only ran 15:52 2 weeks ago |
| Desiree Davila | NM | 32:06.85 | 2011 Boston Maraton runner-up has had a great year and could surprise here, although hitting the WC A standard would represent a 20 second personal best |
| Kara Goucher | NM | NM | Goucher has had a highly successful return to competitive running after giving birth to her first child (15:11 5k at Pre) |
More Thursday Coverage: 2011 USATF Women's Previews: Stacked 800m, Super Stacked 1500m, and Wide Open Steeplechase
---
Runner's World &
Running Times



Combined Only $22
a Year
Save $87

---

Running & Track and Field Posters
---

Great Running Shoe Deals Nike Lunar Glide $79.99 A very popular innovative Nike shoe on sale now.
---