LRC Email of the Week: Men Pacing Women in Marathons
By LetsRun.com
September 29, 2011
Editor's Note: We get a lot of great emails at LetsRun.com and want to start featuring them as our readers are what make the LRC community so great. We're not exactly sure how we'll showcase the emails we get, but we'll start small this week. Total coincidence that we'll start with one by a guy who agrees "with most of the things that you have an opinion on."
The email was in response to the IAAF ruling that it would no longer count as World records women's performances in mixed gender races which wipes out virtually all of the women's marathon records off the books. It was written before Patrick Makau broke the world marathon record on Sunday in Berlin.
Mr. Johnson,

I usually don't response to items in articles that I read. But I agree with most the things that you have an opinion on. So I felt that I need to respond to the IAAF ruling.

I have followed Letsrun for a long time. And after reading about the IAAF ruling on the women's records in a coed race, I was distressed. If the IAAF is going to disallow those records, than they should disallow every men's record on the track and on the road that uses pacers for record attempts. What's the difference between men being pacers for women in a coed race and men being pacers for the men during the race?? NONE.

It just reminds me the way the AAU use to be back in the the '70's.

What will happen if the try to disallow the world record for the men's marathon? Haile is a great runner, but he had pacers... What's the difference.

Thank you for your time and your website

XXXX
The emailer makes a good point.
Then we saw the pictures from this past weekend's Berlin Marathon where Patrick Makau broke the world record in the men's marathon after having an army of pacers. And then we thought back to when LetsRun.com's Wejo (Weldon Johnson) escorted Paula Radcliffe to her first world record. Sometimes a picture is worth a thousand worlds.
Makau in Berlin 2011: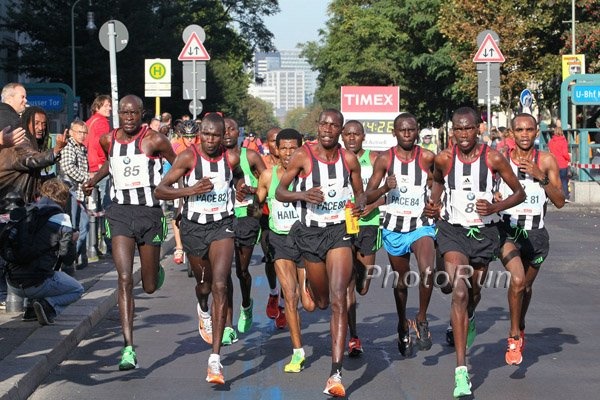 (Updated Berlin Photo Gallery Here)
Updated (Take a Second Look at the Picture Above and Look to the Left): Sometimes a picture is worth more than a thousand words. Ed from the UK writes:
"Just wanted to comment on the 'army of pacers' photo in your email of the week.

I wonder how much assistance the athletes are getting from the gentleman in the background, who is quite clearly flipping them off."
Paula in Chicago 2002:

We ask you who is getting more assistance?
Got something to say? Email us If you want to remain anonymous like the emailer above you can.
*For a Detailed Account of LetsRun.com's Wejo pacing Paula to her world record in 2002 click here to read, "Escorting Paula".
---
Runner's World &
Running Times



Combined Only $22
a Year
Save $87

---

Running & Track and Field Posters
---

Offers of interest: Nike Lunar Glide Discount Discounting on this shoe not allowed until recently.
---