"I would be remiss if I didn't take this moment to say how badly I feel for Gabriele Anderson (Grunewald) and  how much I think it (the DQ) is a disgrace. USA Track and Field needs to get their act together with that one."
- US 1500 runner-up Will Leer talking on the live national television broadcast about about the travesty (Gabriele Grunewald's disqualification from the women's 3000) that so far is being allowed to occur in Albuquerque.
The women's 1500 runner's meanwhile held hands as a sign of solidarity for Grunewald as they walked off the track.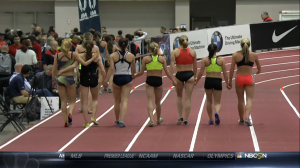 The good news. It's not over yet. An arbitration petition has been filed with the USOC. If that doesn't work, the only option is a public appeal to Jordan Hasay to voluntarily withdraw from the team (Grunewald is the only other person with a qualifiers so she'd go if Hasay withdraws).
#USATFJoke #FreeGabe