WTW: Is Tigst Assefa's 2:11:53 Marathon Really That Shocking? Are The US Men's Marathoners in Trouble for Paris?
The Week That Was in Running, September 18 - 24, 2023
By
Robert Johnson
In the Week That Was, I try to make sense of Tigst Assefa's 2:11:53 world record at the 2023 BMW Berlin Marathon. At first, the time seems almost absurd, but upon further review, is it really that crazy? Plus what's the latest on the US men's marathon prospects for Paris?
****
Berlin by the numbers
5 – number of Berlin Marathons won by Eliud Kipchoge, a new record, surpassing the 4 won by Haile Gebrselassie from 2006-09.
6:15 – gap between Tigst Assefa's 2:11:53 women's marathon world record and the American men's record of 2:05:38.
6:36 – gap between Tigst Affefa's 2:11:53 women's marathon world record and the American women's record of (2:18:29). That's right, Assefa's mark is closer to the US men's marathon record than the women's.
8 – number of women who broke 2:20 in Berlin, a new record for a single race, surpassing the the seven that did it in Valencia in 2022.
9 – number of men who broke 2:05 in Berlin, a new record for a single race, surpassing the seven that did it at 2018 Dubai.
15 – number of men who broke 2:06 in Berlin, a new record for a single race, surpassing the 11 that did it in Valencia in 2020.
****
Berlin was super fast
Putting Tigst Assefa's 2:11:53 world record into proper context is hard to do as it's so good. We spent about 40 minutes of this week's Track Talk podcast talking all about it.
After Letesenbet Gidey ran a half marathon in 62:52 in 2021 and Ruth Chepngetich went out in Chicago in 65:44 last year, it was clear the women's marathon world record could be going down soon – but probably not by this much.
Out of all of the traditional running events, the women's marathon world record is by far the closest to its men's counterpart on a percentage basis as it's just 8.86% slower than the men's record. See the chart below comparing the men's and women's world records where it appears the longer you get, the closer the records come to each other.
| | | | |
| --- | --- | --- | --- |
| | Men's WR | Women's WR | % Difference |
| 100 | 9.58 | 10.49 | 9.50% |
| 200 | 19.19 | 21.34 | 11.20% |
| 400 | 43.03 | 47.60 | 10.62% |
| 800 | 1:40.91 | 1:53.28 | 12.26% |
| 1500 | 3:26.00 | 3:49.11 | 11.22% |
| steeple | 7:52.11 | 8:44.32 | 11.06% |
| 5000 | 12:35.36 | 14:00.21 | 11.23% |
| 10,000 | 26:11.00 | 29:01.03 | 10.82% |
| 13.1 | 57:31 | 62:52 | 9.30% |
| 26.2 | 2:01:09 | 2:11:53 | 8.86% |
Compiling that chart and just seeing 2:11 for a women's marathon time is admittedly shocking.
And on the women's World Athletics scoring tables, do you realize what a 2:11:53 marathon is viewed as being equivalent to?
Article continues below player.
Check these numbers out: 1:51.59 for 800, 3:46.37 for 1500, 4:03.64 for the mile, 7:59.51 for 3000, 13:42.82 for 5000, and 28:45.36 for 10,000.
If you use the men's tables, the conversions are even wilder: 1:46.48 for 800, 3:38.36 for 1500, 3:55.65 for the mile, 7:47.80 for 3000, 13:22.49 for 5000, and 28:02.15 for 10,000.
Mind-blowing right?
But consider this simple counter-argument: if Paula Radcliffe could run 2:15:25 without super shoes in 2003, is it that crazy to think someone could run 2:11:53 with them?
After all, Kipchoge's best marathon time without super shoes was 2:04:05* — nearly identical to Haile Gebrselassie's pb of 2:03:59. Now Kipchoge's pb is 2:01:09. If Kipchoge improved 2:56 thanks to the shoes, is it that crazy that Assefa could knock 3:33 off the women's record, particularly since she has the next generation of super shoes in the $500 Adizero Adios Pro Evo 1?
How Much Times Have Come Down Since Super Shoes
Women's WR improvement
2.68%
Kipchoge's improvement
2.42%
At 4.8 ounces for a men's size 9, the new adidas shoe is 1.7 ounces less than Nike's Vaporfly. Scientific studies have shown that type of weight loss would give you a roughly 0.5% gain in running economy, which would give you a roughly 25-30 second gain in time if you were a 2:14 marathoner and all else was equal (since Assefa wears a women's shoe, she's probably not going to gain quite that much as the weight loss would be less).
I reached out to sports scientists Ross Tucker and Geoff Burns for comment on Assefa's record and the effect the new shoe tech may have had on them and they both wrote back with extremely long responses which I encourage you to read in full here: LRC Sports Scientists Ross Tucker and Geoff Burns React To Tigst Assefa's Amazing 2:11:53 Marathon World Record.
Here is what Tucker wrote, in part: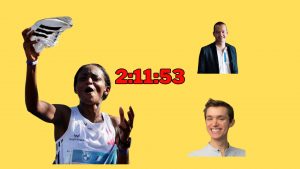 I hate these shoes, and I truly wish the authorities had acted to prevent this entirely foreseeable situation, for a few reasons.  The main one is that the range of responses to them is so large that we cannot sit with any confidence and evaluate performances between different athletes independent of this nagging doubt over what the shoes do.  That is, the shoe is there, all the time, because the differences between athletes is smaller than the differences made by the shoe, to the same athlete, and between different athletes….
I think it matters because some people in this debate have said that we can't explain Assefa's performance using the shoes, because Brigid Kosgei also had the shoes.  And what I'm saying is "So what?".  The difference between shoes is so enormous that it could easily still be the SOLE EXPLANATION for that performance, if Assefa happens to be the athlete on one extreme end of the response curve, and Kosgei somewhere near the average (and of course, Paula Radcliffe didn't have them).
So you could well be looking at three quite similar performances, down to similar physiology, but with very different time outcomes because the three athletes lie at different points on this "non-user" – "medium responder" – "super responder" continuum.
Burns largely agreed with my weight analysis but said there were other factors like a rocker that might have helped Assefa as well, concluding, "If the (running economy) enhancement was on the order of 0.7-0.8% for all those factors, you might be looking at a performance improvement of 0.5%. That would be about 40 sec. at women's WR marathon pace. The weight alone might save her about 20 sec."
Burns also had a great analogy of how much a super shoe helps you compared to an old racing flat: "I often explained the magnitude (of what a 4% gain in running economy is) to people as – imagine if you added almost a pound to each foot – that's what the old shoes are compared to the [Vaporfly] in terms of efficiency."
***
Berlin wasn't fast for everyone — will 3 American men go to Paris 2024?
It was a record-setting day in terms of speed in Berlin, but not for the Americans. 2:08 marathoner Scott Fauble dropped out, 2016 Olympian Jared Ward (27th in 2:11:44) barely beat Assefa and didn't get the 2:11:30 you need to be even considered for the Olympics, and 2021 Olympian Jake Riley ran 2:18:18 in his return from double Achilles surgery. The highest-placing American was Annie Frisbie, who finished 17th in the women's race in 2:27:02. But in terms of potential Olympic qualification, the biggest result came in the men's race as 60:02 half marathoner Teshome Mekonen ran 2:10:16 for 24th after going out on American record pace.
The 26-year-old Frisbie, who has a 2:26:18 pb from New York in 2021, is a GREAT story as she never even made NCAAs in track. But in the year 2024 it seems highly unlikely a woman who runs 2:27 in Berlin is going to make the US Olympic team. Sadly, not that many US men can run 2:10:16 period and hardly any of them can do it off of a 62:24 first half, so Mekonen has legitimate aspirations of finishing in the top 3 at February's Olympic Trials.
But the question that had the LetsRun.com messageboard buzzing on Sunday is will the US even send three men's marathoners to the Olympics. In order to send a full team to Paris, the US needs three men to be ranked in the top 64 of the Road to Paris list as of January 30, 2024. The Road to Paris list is basically the marathon world rankings plus anyone who has the auto standard (2:08:10 or is top 5 in a platinum level race).
The final 16 spots in the 80-person field will be determined based on the world rankings on April 30, 2024 (as well as any athletes who hit the auto standard between January 30 and April 30). But ideally, the US wants to have three in the top 64 by January 30 — the Olympic Trials will be held on February 3 in Orlando, and it will be much easier for everyone involved if the US is assured of three Olympic spots by that point. That would mean that the top three finishers in Orlando are on the team as long as they have hit the 2:11:30 quota reallocation standard.
If you look at the current marathon world rankings, things look pretty good for the US. If you limit it to three per country, the US has three in the top 56:
Scott Fauble (39th)
Conner Mantz (44th)
Zach Panning (56th)
(Matt McDonald would be tied for 63rd if we look at the 4th-best American)
Now that doesn't include people who have the auto standard but not a good ranking (top 5 at platinum races also counts as having the standard), but there aren't that many people who fit that bill. Most people who have the standard come from countries that are already sending three. I only found two people who have the standard but don't come from a country with three in the top 64 in the rankings: Tariku Novales of Spain (2:07:18) and Abdelaziz Merzougui of Spain (2:08:00).
So bump the Americans down two spots to 41, 46 and 58 and the US is still looking pretty good.
The problem is Fauble's going to drop a lot. The rankings only go back 18 months so he soon will have his 7th-place 2:08:52 from 2022 Boston be replaced by his 9th-place 2:13:35 from 2022 New York. As a result, he'll drop down into a tie for 61st place on the ranking, meaning he'd be tied for 63rd on the Road to Paris list, which is cutting it quite close — especially with most of the fall marathon season still to come.
US marathon fans will be feeling a lot better if anyone not named Conner Mantz picks up the standard in Chicago (Galen Rupp, that could be you) or if someone who already has a pretty high ranking like McDonald or Leonard Korir runs in the 2:08-2:09 range in Chicago and places high as the bonus points really help.
The bonus points for place are kind of crazy and they go 12 deep in a race like Chicago. A 2:09:00 in Chicago that places you 8th is the same as running 2:05:46 in a race with no bonus points. It's way better rankings-wise to run 2:10:00 and place 8th in Chicago than it would be to run 2:08:21 and place 13th.
More: LRC Sports Scientists Ross Tucker and Geoff Burns React To Tigst Assefa's Amazing 2:11:53 Marathon World Record.
***
Last Week's Home Pages
Past editions of our Week That Was weekly recap can be found here. You should come to LetsRun each and every day for the latest news but if you miss a day, you can always go to our archive page. If you like our written weekly recap, you'll love our weekly Track Talk Podcast as well. Got a tip, question or comment? Please call us at 844-LETSRUN (538-7786), email us, or post in our forum.
*Kipchoge ran 2:04:00 in 2015 when his insoles came out. I believe this was a super shoe prototype, but it's possible I'm off by 5 seconds.