Portland Track Festival: Amon Kemboi Wins 1500 as Cole Hocker Is Back (2nd in 3:34)
By
Jonathan Gault
Anyone who stayed up late on a Sunday night to watch the final event of the 2023 Portland Track Festival was rewarded with quite a spectacle as Kenya's Amon Kemboi won a thrilling men's 1500 in 3:34.12, holding off an incredible late charge by 2021 US champ Cole Hocker, who moved up from 12th to 2nd in 3:34.14 in his first race since January. In all, the top nine men broke 3:36, but Matthew Centrowitz, the man Hocker outdueled at the last Olympic Trials, was not among them as Centro could only manage a 60.05 last lap, fading from 6th to 13th (last) over the final 400.
In other action, the Brooks Beasts swept the 800 thanks to Josh Kerr (1:46.62) and Nia Akins (1:59.37), who ran down Raevyn Rogers (2:00.20) for the win. Olin Hacker (13:19.28) and Taylor Werner (15:03.13) won the 5,000s while Helen Schlachtenhaufen (4:05.67) took the women's 1500.
A few thoughts on the 800s and 1500s below.
Article continues below player.
Men's 1500: Kemboi wins, Hocker mows down field on final lap
Before the meet, this race was billed as a battle between three recent USA 1500m champs: Cole Hocker, Matthew Centrowitz, and Craig Engels. That battle didn't really materialize but the race was still incredibly entertaining, with a quick pace and wild final 100 meters.
The terrific early pacing from Erik Sowinski (who also paced the 800 less than an hour earlier) and the determination of Canada's Kieran Lumb, who kept his foot on the gas once Sowinski stepped off at 1000m, set the stage for a great last lap. A group of five (Lumb, Sam Prakel, Johnny Gregorek, Amos Bartelsmeyer, Kemboi) had begun to separate on the back straight, but Hocker, Charles Philibert-Thiboutot, and Drew Hunter would all bridge the gap by the home straight, leading to a furious battle for the win.
Hocker ran easily the fastest last lap of the race — his 55.14 was more than a full second better than everyone else — but he was starting from waaaay back as he was 12th in the 13-man field at the bell. Hocker managed to pass 10 guys but could not get the 11th as Kemboi — mostly known as a 3k/5k guy until this year — held on to edge him by .02 thanks to a 56.40 last lap of his own. It was the Kemboi's second straight 1500 running a massive pb as he went from 3:39.72 to 3:36.79 at Wake Forest on April 21 and 3:36.79 to 3:34.12 tonight.
Farther back, Centrowitz pulled a reverse Hocker as after a 3:36 in LA last weekend, he could not hold on over the last 400 and wound up last in 3:38.20. Engels, the other former US champ, was not much of a factor in 11th place, but his 3:36.79 was still his fastest time since the 2021 Olympic Trials after missing three months earlier this year with an Achilles injury.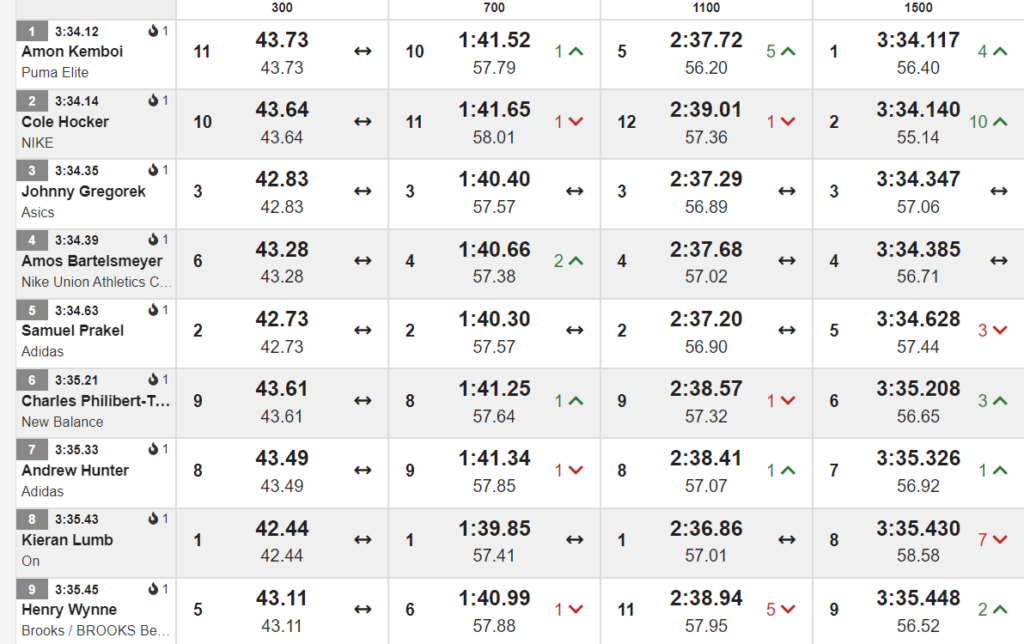 Quick Take: Cole Hocker is back, baby!
The 1500 at USAs was already going to be super exciting this year with Yared Nuguse, Hobbs Kessler, and Cooper Teare all running 3:33 or faster last weekend. Hocker's presence kicks things up another notch. People need to remember how good this guy was: just two years ago, he outkicked Nuguse to win the NCAA title, then ran 3:31 to finish 6th in the Olympic final. And he did that just two months after his 20th birthday — younger than Kessler is now.
The problem for Hocker since then has been his health. Last year, he bombed out of USAs in the first round with what was later revealed to be a foot injury. He returned this season with a 7:51 3k indoor win in Spokane on January 27, but withdrew from the Millrose Games two weeks later with an Achilles injury and had not raced since. After Hocker pulled out of the LA Grand Prix last weekend, it was fair to start worrying about him.
Turns out, Hocker isn't just healthy; he's fit, too. Tonight's run was huge for Hocker for two reasons. One was that he just snuck under the Worlds standard of 3:34.20. While athletes can also qualify via world ranking, Hocker didn't have one before this race because he had not raced enough during the ranking period. Now instead of worrying about how to improve his ranking or taking more shots at the standard, Hocker can focus all his efforts towards USAs, knowing a top-three finish will send him to Budapest.
Hocker's last lap was the other big reason for optimism. In 2021, Hocker's kick was his superpower, the thing that separated him from every other miler in the United States. Hocker still needs to make sure he is in position to use it — perhaps he was tentative tonight given it was his first race in 4+ months — but it's good to see that he still possesses a big close.
Quick Take: USAs should be fantastic in this event
The 1500 at USAs last year was a mess. Centro was out for the season, Hocker and Nuguse were nursing/returning from injury at USAs, and Kessler was not nearly as fit as he is now. Many of the finalists didn't have the Worlds standard, meaning USATF had to go down to 6th place (Gregorek) to pick its team.
This year, the studs are healthy and the depth is better as well. Last year, only five Americans broke 3:35 in the entire year. Six have now done so in the last nine days, including three in this race. Of course it helps to have great conditions in which to run — this race was perfectly set up to run fast and a bunch of guys took advantage — but 2023 USAs is looking like it will be far more competitive in the men's 1500 than the 2022 edition.
Women's 800: Akins runs down Rogers
Over the last five years, Raevyn Rogers has had one of the most feared kicks of any women's 800-meter runner, carrying her to medals at the 2019 Worlds and 2021 Olympics. But Rogers' fearsome kick wasn't there when she needed it tonight as she was uncharacteristically run down over the final straight by US indoor champ Nia Akins of the Brooks Beasts, who won the race in 1:59.37 to Rogers' 2:00.20. Both women trailed Kaela Edwards for much of the race, and when Rogers went wide to take the lead off the final turn, it looked to be the winning move. But Akins in 3rd at the time, rode the rail to victory, passing Edwards and Rogers on the inside during the final 100 before pulling away convincingly for the win.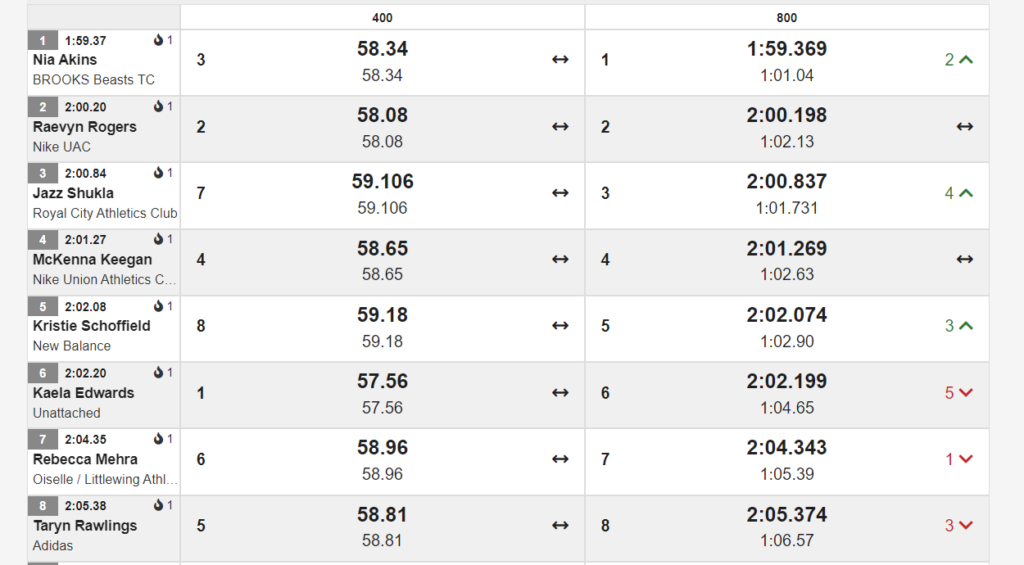 Quick Take: Raevyn Rogers has some work to do, but it's not time to panic yet
Rogers has made a fairly slow start to her 2023 season as she only ran 2:03 in her first two 800s, a pair of low-key victories in Portland in May. Tonight she ran significantly faster — a season's best of 2:00.20 — but was well-beaten by Akins over the final 50.
Rogers' time was more than a second slower than what she ran at this meet last year (1:58.90 FTW), and it wasn't the most encouraging result considering seven other American women have already broken 2:00 this year. But Rogers is a proven championship performer, winning global medals in two of the last three championships and making the last three US teams. And back in 2021, Rogers was only 6th at the Portland Track Festival in 1:59.72 before coming back to make the Olympic team a month later and earn Olympic bronze a month after that.
Men's 800: Kerr leads a 1-2-3 for the Brooks Beasts
For a while, it looked as if the Nike Union Athletics Club's Noah Kibet, the 2022 World Indoor silver medalist, was going to go wire-to-wire in this one, but he wound up totally cratering over the final 100, paving the way for a trio of Brooks Beasts. Olympic 1500 bronze medalist Josh Kerr (1:46.62) was in the best position on Kibet's shoulder and he was able to hold off Devin Dixon (1:46.72) and Isaiah Harris (1:46.91).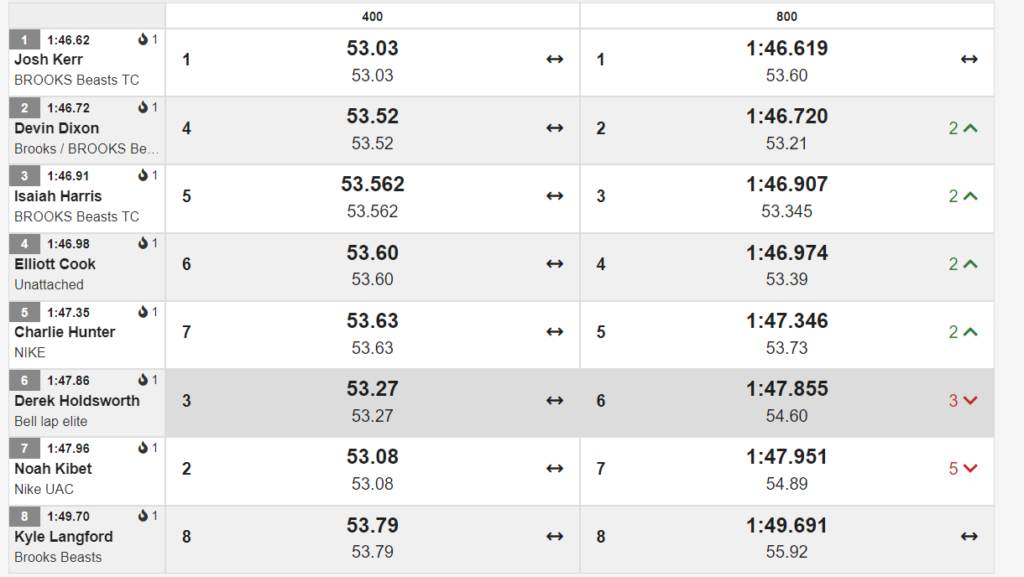 Quick Take: Brooks Beasts > Nike Union Athletics Club (at least for tonight)
Both the Brooks Beasts and the Nike UAC had some of their best athletes going head-to-head in the 800s tonight and in both races, Brooks athletes ran down UAC athletes in the home straight to take the victory. Beasts coach Danny Mackey will have to be pleased with how his athletes ran tonight as Akins kept rolling after her US indoor title with an impressive win while his men went 1-2-3. The notable result there is Devin Dixon, who was moving faster than anyone over the final 100, moving up from 6th to 2nd. His time of 1:46.72 was his fastest since running 1:44.84 to finish 2nd at NCAAs in 2019.
Quick Take: A rough night for Noah Kibet
Kibet has been hit or miss in 2023, which is somewhat understandable considering he uprooted his life at the age of 19 to move from Kenya to Portland, where he's been training with UAC under Pete Julian. As with other runners his age (Kibet is the age of a college freshman), there can be growing pains. It didn't look that way indoors, where Kibet won Millrose in 1:44.98, but outdoors Kibet has alternated good races with bad ones. He opened up with a 3:36 1500 pb at Bryan Clay but then was awful in the Doha Diamond League 800, going from first to last over the final 300 and running just 1:49.95. He rebounded to run 1:45.39 at the LA Grand Prix last weekend, but tonight was a repeat of Doha as he went from first to 7th over the final 100, running just 1:47.96.
UAC could use a strong season from Kibet as the club has suffered some high-profile departures this season (Konstanze Klosterhalfen, Jessica Hull) and Donavan Brazier has yet to race in 2023 as he recovers from his latest surgery.
Women's 1500: Schlachtenhaufen holds off Lipari
Emily Lipari, who won the 5k at the LA Grand Prix last week, tried to make it two wins in two weeks but was not quite good enough to reel in Helen Schlachtenhaufen tonight.