2023 Doha DL Recap: Girma Wins Stacked 3k, Kipyegon Still Rules the 1500
By
LetsRun.com
The 2023 Diamond League season kicked off on Friday in Doha with some quick times and exciting races. The big story from a US perspective was Sha'Carri Richardson earning her first career Diamond League win in the 100 meters, which we covered in our Doha sprint recap here. Other big stories included indoor 3k Lamecha Girma taking his mastery of the event outdoors and winning a loaded 3000m in 7:26 and Faith Kipyegon extending her rule over the women's 1500 by winning again despite a challenge from 20-year-old Ethiopian Diribe Welteji. The news was not quite as good for American steeplers, however, as Emma Coburn was just 10th in 9:29 after an early fall and Val Constien dropping out after falling to the ground in pain following an awkward water jump (Constien later shared on Instagram Stories that the injury was "probably just a strain."
Full recap and analysis of all distance and field events below.
Men's 3000: Lamecha Girma Shows Why He's the Best 3000m Runner in the World
Article continues below player.
The men's 3000m featured a loaded field with world indoor record holder Lamecha Girma facing World and Olympic steeple champ Soufiane El Bakkali, Olympic 10,000m champ Selemon Barega, and World XC runner-up Berihu Aregawi, plus former World 1500m champion Timothy Cheruiyot in his 1500m debut.
The cream rose to the top in this one as those five swept the top five places as Girma powered away from the field over the final lap to win with ease. Cheruiyot got dropped on the fifth lap when Girma ran a 58.0 and El Bakkali fell off with 600m to go, making it a three-man race as Girma seized the lead from Aregawi before the bell.
Girma opened a gap up on the backstretch and would maintain it or slightly lengthen it the final 200m. The final lap wasn't crazy fast (57.3), but the overall pace was fairly hot, and Girma got the win in 7:26.18, Barega, second in a pb of 7:27.16, and Aregawi third in 7:27.61. It was just the third time three men broke 7:28 in the same race, with the other two races coming in Doha in 2011 and indoors in Lievin in 2021.
Quick Take: Could the steeple world record go this year?
El Bakkali still is the man to beat in the steeple but as fast as Girma is running at 3000m this year, El Bakkali may have his hands full. Saif Saaeed Shaheen's world record of 7:53.63 dates to 2004. Could this be the year it goes?
El Bakkali's height and hurdle technique help him close the gap on the advantage Girma has in terms of flat speed but the steeple could be one of the best events in 2023.
Quick Take: Girma should consider the double at Worlds
We'd love to see what Girma does in a few 5000's this year, but the double at worlds is very doable with all the steeple rounds before the start of the 5000m.
Quick Take: There are two ways to look at Timothy Cheruiyot's run
On our live post-race instant reaction show, which we normally air 10 minutes after each Diamond League meet (sign up for our Supporters Club to listen to it as a podcast), a viewer asked if today's result for Cheruiyot meant he was washed as he was uncompetitive for the win.
We do not think so and are optimistic. The biggest thing for us is he's trying new things. Up until last year, he was always one of the top two milers in the world and last year he was a bit more inconsistent. Rather than repeat what he's done in the past, he's clearly tried to get stronger.
This is a guy who had never run a 3000 before and only had a 5000 pb of 13:47.2 (at altitude). To make your debut in the 3k at Doha is like jumping into the deep end when you don't even know how to swim and Cheruiyot did more than just flail and wait to be rescued. He ran more than respectably.
Yes, he got dropped when the pace ratched down on the 5th lap. Girma ran a 58.0 and Cheruiyot only ran 61.4 and he followed that with a 63.8 6th lap. At that point, it could have gotten ugly but Cheruiyot responded and competed quite well, closing in 1:29.9 for the 600, which included a 28.4 final 200 (13.7 final 200).
Women's 1500: Faith Kipyegon is still the queen
How do you beat someone in a 1500 when they're stronger than you and faster than you? The lesson, one Faith Kipyegon has taught many times over the years, is that you don't. Since the start of 2017, only one woman has defeated Kipyegon in a 1500m race: Sifan Hassan, who is currently recovering from winning the London Marathon. For everyone else, Kipyegon has proven unbeatable. Front-runners like Gudaf Tsegay cannot drop her, and kickers cannot run away from her. She is just too good.
Kipyegon opened her 2023 season with yet another victory – her 11th straight at 1500 meters after a perfect 2022 – and this time it was her kick that powered her to victory. Rather than battle the wind, Kipyegon let the rabbit go early, and with no one in the field daring to pass Kipyegon, she hit 800 in 2:10.4. By the bell, she still had plenty of company, with 20-year-old Ethiopian Diribe Welteji (4th at Worlds in the 800 last year) edging onto her shoulder on the first turn. Those two began to separate on the final turn, and while Welteji put up a good fight, Kipyegon was ultimately too good for her, closing in 58.8 for her last lap (28.9 for her last 200) to win in a world-leading 3:58.57. Welteji was 2nd in 3:59.34 with Ethiopian countrywoman Freweyni Hailu 3rd (4:00.29) and Aussies Jessica Hull (4:00.90) and Abbey Caldwell (4:01.15) 4th and 5th. American Cory McGee was 10th in 4:06.03.
Quick Take: Kipyegon reiterated her desire to get the WR after this one was over
"It was an exciting race, but a little bit windy, so I decided to not push too much and just focus on winning the race," Kipyegon told meet organizers. "I have been training well. I really like racing in Doha; the crowd and fans are really amazing.
"I'm really grateful to be here, and looking forward to the rest of the season. My big goal is to win the World Championships, and to break the world record this summer."
Quick Take: Welteji was impressive
Kipyegon deserves props – her ability to consistently churn out world-class performances is incredible – but she has been on a different level to all other women's 1500 runners for a while now so her victory today was not surprising. Welteji, meanwhile, was able to hang with Kipyegon much longer than most athletes usually do, with Kipyegon only opening up a real gap during the final 100 meters.
Welteji was impressive this year indoors, running 8:33 and 8:34 in a pair of 3k victories and has some great range as she has also run 1:57.02 for 800 meters. For her to be able to close in 59.2 today in her outdoor opener and be competitive with Kipyegon for 1400 meters is a very good sign of her progress – and she's still just 20 years old.
Women's steeple: Yavi wins it as disaster strikes for Americans
The women's steeple in Doha was full of drama in the final lap. Unfortunately, neither Emma Coburn nor Val Constien, the two Americans who made the trip to Qatar for this race, were anywhere close to it after a couple of unfortunate mishaps early in the race.
Up front, the race came down to Kenyan-born Winfred Yavi of Bahrain, the 4th placer at the last two Worlds, and budding star Sembo Almayew, the world junior silver medallist from Ethiopia who ran 9:09 last year to set a world U18 best. 
After following behind the pacer and world record holder Beatrice Chepkoech for most of the race, Yavi took the lead at the bell, but Almayew was right on her shoulder. Almayew attacked several times on the outside, trying to seize the lead, and while she briefly edged ahead on the back straight, Yavi responded and had a half-stride lead entering the final turn. Both women had good final water jumps, but Yavi had one more move to make coming into the home straight, opening a gap that Almayew could not close. She took the win in 9:04.38 while Almayew had to settle for second in 9:05.83.
Both Americans struggled in this one. Coburn fell on the second lap after Jackline Chepkoech took out her right leg as shown here: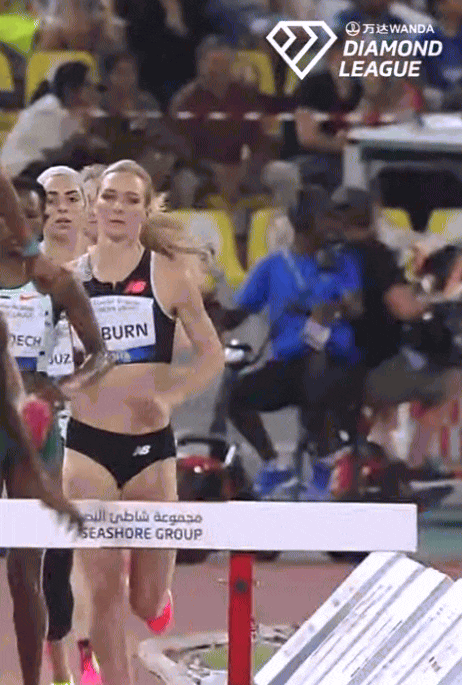 While Coburn was able to get up quickly, she was gapped and struggled home in 10th place in 9:29.41. Constien had an even worse night as she landed awkwardly in the water pit, limping off the track and collapsing on the infield, screaming in pain.
Quick Take: Big win for Yavi, but Almayew may be the one to watch moving forward
Yavi is the sixth-fastest woman in history and broke 9:00 twice last year but has yet to earn a global medal (though she was 4th at Worlds last year and champion Norah Jeruto has since been suspended for a doping violation). This year could be her year, and she started her 2023 campaign by defeating a great field tonight in Doha. But she needs to keep an eye on her rearview mirror. Last year, Sembo Almayew ran 9:09 as a 17-year-old, and now at 18 she has lowered her pb to 9:05.83 in her first race out. We don't think she's done improving.
Both Yavi and Almayew look capable of running faster – the first and last kilometers were both run in 2:58 today, but the pace slipped in the middle (3:07 2nd km) to prevent a truly fast time.
Quick Take: A worrying start for Emma Coburn
Coburn hasn't had the smoothest week in Doha. The airline lost her luggage, which included her uniform and spikes on her flight out (they were in her carry-on, but it was gate-checked), and New Balance had to fly Kimarra McDonald out from Boston with replacements. Then on the second lap, Coburn was in fine hurdling position on the inside but Jackline Chepkoech veered left off the hurdle, taking out Coburn's right leg and sending her to the ground.
Obviously falling hurts, but Coburn has fallen in the past and got up to finish well (she fell before 2k at Pre in 2019 and still ran 9:04). In this race, however, Coburn fell behind quickly and was never competitive. Her time of 9:29.41 was her slowest in a steeple final since Brussels in September 2015 (9:32.13), and her 10th place was her lowest finish in a race since Monaco in July 2015. Coming off a largely disappointing 2022 season, this is not the way Coburn will have wanted to start in 2023. Fans have no idea of knowing how much being taken out impacted her race, so it might be best to view her next race as her season opener. For her part, Coburn said this after the race on Twitter:
"I got in a collision early on in the race and then spent too much energy trying to catch up and died pretty badly my last 500m."
Men's 800: Moula Wins Tactical Affair

Algeria's Slimane Moula, who had a breakout campaign last year which saw him finish 5th at Worlds, showed he's not going to be a flash in a pan as he got the win in a tactical men's 800 in 1:46.09, thanks to a 51-flat final 400 (37.2 final 200). Moula ran down Kenya's Wycliffe Kinyamal, the 1:43.12 performer who was 8th at Worlds last year, in the final 100 as Kinyamal was second in 1:46.61 with World Championship silver medallist Djamel Sedjati of Algeria third in 1:46.97. American Clayton Murphy was best of the rest in 1:47.96.
No one went with rabbit Erik Sowinski as 2022 world indoor silver medallist Noah Kibet, who now trains with Pete Julian in the US, was content to let this turn tactical. Kibet was the fastest racer at 400 (54.9) but this race didn't really get going until the 500-meter mark when Kinyamal took off, running a 12.5 to open up a gap on the field. As is often the case in slow races, it's a bit hard to perfectly judge your kick and Kinyamal was run down.
Murphy ran most of the race in 5th but fought to move up to 4th in the homestretch while Kibet, who was racing in the kit of the Union Athletics Club (indoors, he ran in the regular Nike kit despite training with UAC) ended up last in 1:49.95.
Field Events
Women's Pole Vault: Moon clears early world leader
American Katie Moon (nee Nageotte; she was married on New Year's Eve) has been the world's best female pole vaulter the last two years, winning Olympic and world titles. She started her 2023 outdoor campaign on a high note as she cleared a world-leading 4.81 meters, the only woman in the competition to do so.
Men's Discus: Ceh wins x4
World champ Kristjan Čeh had four throws that were better than everyone else with his best of 70.89 coming in the first round.
Men's Javelin: Chopra wins with world lead
In his 2023 season opener, Olympic champ Neeraj Chopra of India threw a world-leading 88.67 in round one, which narrowly held up as the win as previous world leader Jakub Valdlejch, the Olympic silver medallist, threw 88.63 the second round.
Men's Triple Jump: Pichardo goes 17.91w
Reigning world and Olympic champ Pedro Pablo Pichardo of Portugal opened up 2023 with a very strong 17.91m (+2.1) win. The only time Pichardo jumped farther in his season opener was in 2015 when he opened at 17.94 and then jumped his pb of 18.08 a few weeks later.
Men's High Jump: Harrison upsets Barshim
There's usually a men's high jump in Doha because of native son Mutaz Essa Barshim, and while Barshim gets it done when it counts – he was won the last four global outdoor titles – victory in Doha has eluded him recently. After wins in 2017 and 2018, Barshim was 2nd in the Doha DL in 2021 and 2022 and only 3rd in 2023 as he could only clear a best of 2.24m on Friday. Instead, it was American JuVaughn Harrison who earned his second career DL win by clearing 2.32m, just 4 cm off his pb.
More: Sprint Recap: 2023 Doha Sprint Recap: Sha'Carri Richardson Earns First Diamond League Win, Kerley Wins 200m Showdown Track and field's opening day entertained as no one shined brighter than Sha'Carri Richardson.
Talk about 2023 Doha on our world-famous fan forum / messageboard – letsrun.com/forum