Rosemary Wanjiru & Deso Gelmisa Win 2023 Tokyo Marathon as Cam Levins (2:05:36) Smashes Canadian Record
By LetsRun.com
March 4, 2023
A few years ago, if a woman ran a 2:16 marathon, she would have won almost any race on Earth. Would have…if anyone had actually done it. Though Paula Radcliffe ran 2:15:25 way back in 2003 and Brigid Kosgei lowered Radcliffe's world record to 2:14:04 in 2019, it was not until March 6, 2022, that a woman actually ran a time in the 2:16's when Kosgei won Tokyo in 2:16:02.
Now, 2:16's or faster are becoming common occurrences on the elite women's marathon scene, and they're no longer guaranteed to win. In December in Valencia, Ethiopia's Letesenbet Gidey ran 2:16:49, the fastest women's debut ever, but finished almost two minutes behind winner Amane Beriso (2:14:58). And on Sunday in the 2023 Tokyo Marathon, Ethiopia's Tsehay Gemechu ran 2:16:56 to become the eighth-fastest woman in history…but that was only good enough for 2nd on the day as Kenya's Rosemary Wanjiru, the runner-up in Berlin last fall in 2:18:00, ran a blistering 2:16:28 to claim her first major victory. Both women were running just their second career marathons. 
Article continues below player
Farther back, Betsy Saina, running her first marathon since transferring allegiance from Kenya to the United States, ran 2:21:40 to become the 8th-fastest American woman in history, finishing 5th. Saina's time was also an improvement of more than a minute on her 2:22:43 pb from 2019.
Top 15 (Deeper Results here)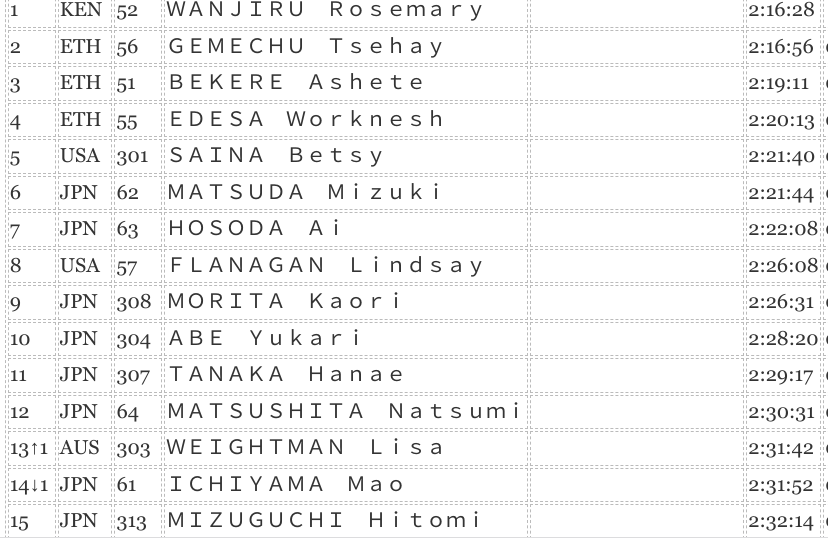 Men's Race
The men's race in Tokyo came down to a wild three-way kick over the final 100 meters between a trio of Ethiopians: 2022 Paris champ Deso Gelmisa (2:04:53 pb), Mohamed Esa (5th in his debut in Amsterdam last fall in 2:05:05), and Tsegaye Getachew (2022 Amsterdam champ in a pb of 2:04:49). Gelmisa barely held off Esa to win his first World Marathon major as both men were credited with the same time of 2:05:22. Getachew was three seconds back in 3rd.
Sprint Finish In The Men's Race At The 2023 Tokyo Marathon! pic.twitter.com/ld2FKIek1j

— FloTrack (@FloTrack) March 5, 2023
US visitors can watch the final 5k below.
Behind them, Cam Levins ran his second straight Canadian record in the marathon, following up his 2:07:09 at Worlds last year by running 2:05:36 for 5th place after having the lead at 40k. 2:05:36 is also a North American record as it's two seconds better than Khalid Khannouchi's 2:05:38 American record that has stood since 2002. Ichitaka Yamashita (2:05:51) and Kenya Sonota (2:05:59) finished 7th and 8th and became the third and fourth Japanese men ever to break 2:06.
With overcast skies, temperatures in the high 40s Fahrenheit, and winds in the 8-9 mph, conditions were pretty good for marathoning. In the men's race, the leaders' pace wasn't crazy for a World Marathon major as the halfway split was 62:10. What was crazy: the number of men in the lead pack. Thirty-three men were on 2:04 pace at 20k, and 15 of them were Japanese – this despite the fact that only one runner in the history of Japan has broken 2:05. All of those runners would fade to some degree as all of the top finishers ran a positive split, but some would hold on to run fast, with Suguru Osako (9th, 2:06:13) and Hiroto Inoue (10th, 2:07:09) also breaking 2:08.
The women's lead pack was not as large, but it was of a higher relative quality as six women were on 2:16 pace at 20k. Saina was not among them however; she ran almost dead-even splits, as she hit 20k in 67:10 (2:21:42 pace) and wound up running 2:21:40 (the timing site did not have halfway splits so 20k is the closest comparison).
Top 10 (Deeper Results here)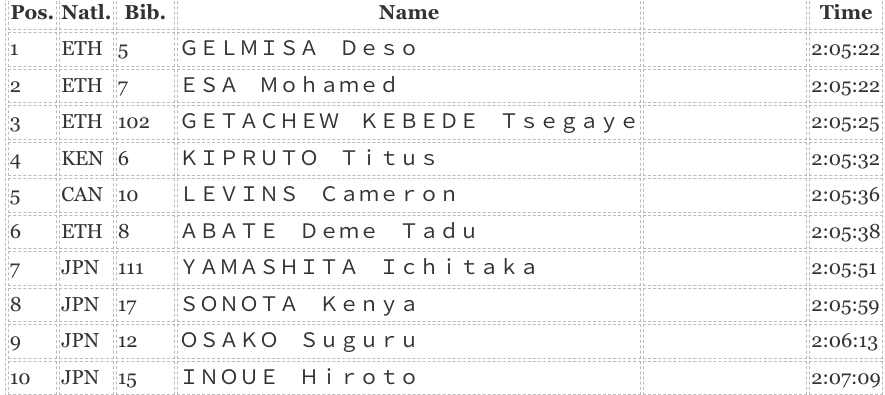 Quick Take: Seven of the nine fastest women's marathons in history have been run in the last 12 months
Exactly one year ago – March 5, 2022 – there had been only two sub-2:17 marathons by women, ever. Since then, there have been seven, starting with Brigid Kosgei's 2:16:02 in Tokyo last year. The bar has been raised.
Anyone who was paying attention to women's marathoning last fall already knew this, of course. It took 2:14 to win Chicago and Valencia, 2:15 to win Berlin, 2:17 to win London and Amsterdam. 2:16 is basically equivalent to what 2:19 was a few years ago – a very fast time, but not a guarantee of victory against the best in the world.
World all-time women's marathon list
2:14:04 Brigid Kosgei, Kenya 2019 Chicago




2. 2:14:18 Ruth Chepngetich, Kenya 2022 Chicago




3. 2:14:58 Amane Beriso, Ethiopia 2022 Valencia




4. 2:15:25 Paula Radcliffe, Great Britain 2003 London




5. 2:15:37 Tigist Assefa, Ethiopia 2022 Berlin


6. 2:16:28 Rosemary Wanjiru, Kenya 2023 Tokyo


7. 2:16:49 Letesenbet Gidey, Ethiopia 2022 Valencia


8. 2:16:56 Tsehay Gemechu, Ethiopia 2023 Tokyo


9. 2:17:01 Mary Keitany, Kenya 2017 London




10. 2:17:16 Peres Jepchirchir, Kenya 2020 Valencia
Quick Take: They went for it…. but A TON of guys blew up big-time in this one
Coming into this race, one of the storylines we were watching was whether Tokyo would set a record for most sub-2:10s in a single race. It seemed quite doable as Brett Larner reported that 52 men in the field had broken 2:10 since 2020 and the record for most sub-2:10s in a race is 42 (2021 Lake Biwa).
 Near halfway, at 20k, there were 71 men under 2:10 pace, but almost all of them blew up. At the finish, 20 men had broken 2:10 and 75 had broken 2:20.
Quick Take: Cam Levins has taken Canadian marathoning into a new stratosphere
When Cam Levins made his marathon debut in Toronto in 2018, the Canadian record was 2:10:09. It belonged to Jerome Drayton, and it had stood for 43 years – Drayton ran that time to win the 1975 Fukuoka Marathon.
Levins broke Drayton's record in his debut, clocking 2:09:25, and for a while it looked as if Levins would not run faster as he failed to break 2:10 in his next five marathons. But since last year, Levins has been absolutely crushing it. It started when he ran 2:07:09 at Worlds to finish 4th in what Levins described as "the race of my life." Since then, Levins has chopped almost two minutes off his half marathon pb – he ran 61:04 in Valencia last fall, then a Canadian record of 60:18 in Vancouver in February – and has now taken another 1:33 off his marathon record. In Canadian marathon running, he now stands way out in the distance – Trevor Hofbauer is the second-fastest Canadian ever, more than four minutes behind Levins (2:09:51).
Levins has had a few different setups during his pro career. He started out with Alberto Salazar and the Oregon Project, then returned to college coach Eric Houle, and is now with Jim Finlayson, who began coaching him in November 2019. Levins is also on his third sponsor – first Nike, then HOKA One One, and now Asics. His persistence has paid off – at 33, Levins is now running better than ever.
Quick Take: Levins is the North American record holder now
Levins didn't just lower his own Canadian record; he also broke Khalid Khannouchi's 2:05:38 North American record. We're curious to know what the reaction among American marathoners will be to Levins' time – after all, Levins went through the NCAA system too, graduating from Southern Utah in 2012.
It's not quite as simple as saying, well if Cam Levins can run 2:05, why can't an American do it too? Remember, Levins was an absolute star at Southern Utah, defeating Lawi Lalang and Paul Chelimo to win the NCAA 5k/10k double in 2012. He also has a ridiculous engine and the durability to withstand mega miles – he was famous for running three times a day in college and said he ran over 170 miles a week during his Worlds buildup last summer. He's a freak talent who trains like an animal, one who is finally putting it all together in the marathon.
Quick Take: Betsy Saina is back and should be a serious contender for the 2024 US Olympic team
Entering Sunday's race, Betsy Saina appeared to be in a good spot. She's always had talent – she was the 2012 NCAA cross country champ at Iowa State and owns track pbs of 14:39/30:07 – and had just run 68:25 to win the Seville Half Marathon on January 29. Still, it had been more than three years since her last marathon finish, a 2:22:43 pb in Toronto in 2019. In 2021, Saina gained American citizenship and switched her allegiance from Kenya to the US. Then in 2021, she gave birth to a son, Baraka. How would she fare in her return to the 26.2-mile race?
Very, very well. Saina didn't get caught up in the craziness at the front of the pack and ran a smart, even race to finish 5th in 2:21:40. These days with super shoes, that sort of time doesn't guarantee a spot on the Olympic team – Emily Sisson, Keira D'Amato, and Sara Hall all have faster personal bests – but Saina's run showed her talent is very much still there.
Perhaps more importantly, Saina is coming on strong at the right time. Hall has been banged up recently and Molly Seidel is not in the same kind of form as 2020-21. The US Olympic Trials are less than 11 months away. If Saina can keep building her fitness and stay healthy between now and February 2024, she is going to be very dangerous in Orlando.
Rosemary Wanjiru takes the win and Top U.S. woman @betsy_saina 5th place in 2:21:40, a personal best.#TokyoMarathon pic.twitter.com/680LoMx36P

— Boston Marathon Pro (@BostonMar_Pro) March 5, 2023
Talk about 2023 Tokyo on our messageboard.