Letsenbet Gidey Collapses Meters from Finish, Is DQd, Beatrice Chebet Wins World Cross Country
By LetsRun.com
February 18, 2023
Update: We have a bigger, more complete update on the men's and women's races at World Cross Country, which details Gidey's fall here.
Everything was going to plan in the women's cross country race at the 2023 World Cross Country Championships until the final 50 meters.
Article continues below player
Then turmoil stuck.
Letesenbet Gidey of Ethiopia, the world record holder at 5,000m, 10,000m, and the half marathon, bided her time until the final 2km loop and then with ease opened up a gap on Beatrice Chebet of Kenya. Her lead was roughly 6 seconds as she entered the final 400m of the race. After Gidey navigated the final turn, she had a downhill run to what appeared to be her first senior World Cross Country title.
What viewers could not see was that Gidey was gassed. She glanced over her shoulder one time, then another time, but the viewers at home could not see that Chebet (off-screen to the right) was running like a rocket down the hill toward the finish. Just as she went by Gidey (about 30 meters from the finish), Gidey's legs buckled and she tumbled to the grass. Gidey did not immediately get up and stayed on the grass for about 10 seconds before her coach Haile Eyasu ran out to her and picked her up. Chebet had cruised to victory at this point, Tsigie Gebreselama had finished 2nd and Agnes Ngetich had finished in third. Gidey made it across the line as the fourth finisher, but would be disqualified. She received medical attention immediately after crossing the finish line and left the course in a wheelchair with water being dumped over her body in the steamy mid-80s temperatures.
Video below:
Onvoorstelbaar scenario in laatste rechte lijn WK veldlopen. Topfavoriete Gidey gaat tegen de grond en het goud is voor Chebet pic.twitter.com/QmAUKmigBh

— Milan Augustijns (@milanaugustijns) February 18, 2023
Longer video from someone on the course:
A Kenyan at Bathurst watching #WorldCrossCountry has shared this clip of the last metres of the Senior Women's race. He captured Gidey fall and Beatrice Chebet victory. #teamkenya pic.twitter.com/jAHyKqUrse

— Katami Michelle (@MichKatami) February 18, 2023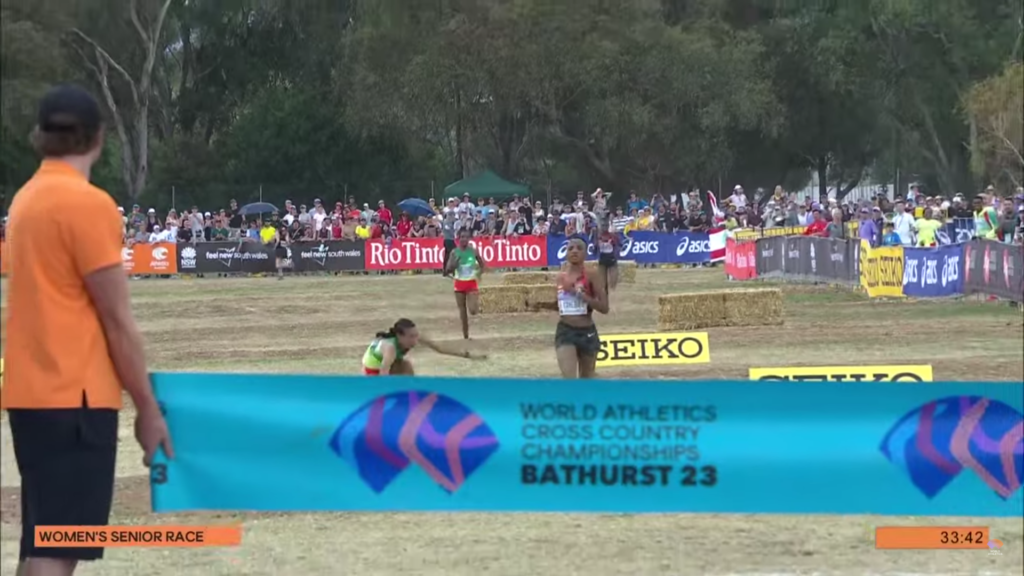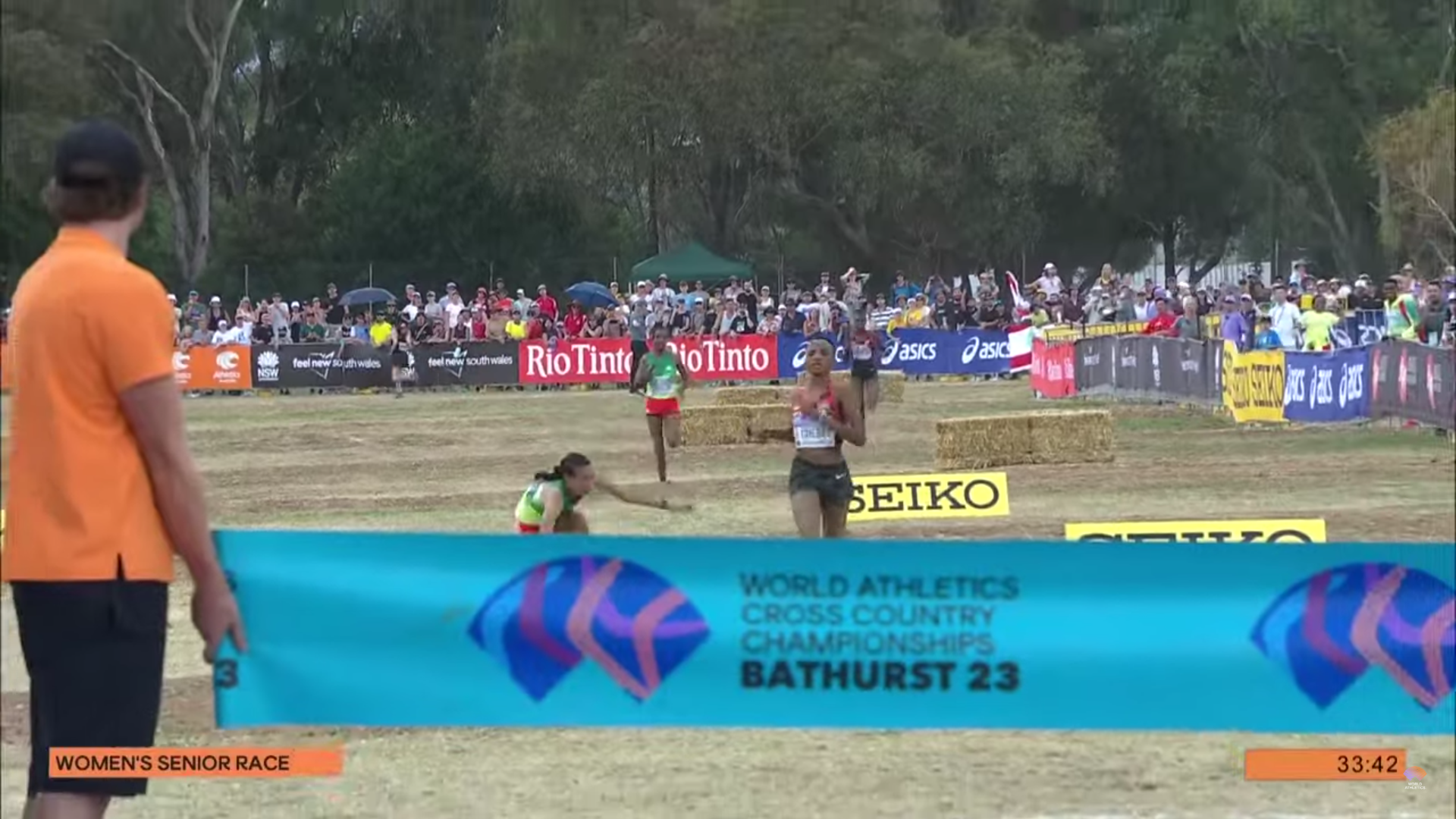 The end result was Kenya won the team title 16 to 25 over Ethiopia. The good news for running fans is the DQ did not affect the outcome of the team title as if Gidey had finished 4th, Kenya still would have won 18 to 19 over Ethiopia.
Ednah Kurgat led the Americans in 18th as Weini Kelati was 21st and they finished 5th as a team.
This is a flash recap. More to come from the course.
Top 25 Individuals (More here)
| | | | |
| --- | --- | --- | --- |
| 1 | | KEN | 33:48  |
| 2 | | ETH | 33:56  |
| 3 | | KEN | 34:00  |
| 4 | | KEN | 34:13  |
| 5 | | ETH | 34:30  |
| 6 | | ETH | 34:36  |
| 7 | | UGA | 34:42  |
| 8 | | KEN | 34:45  |
| 9 | | KEN | 34:49  |
| 10 | | UGA | 34:58  |
| 11 | | UGA | 35:01  |
| 12 | | ETH | 35:04  |
| 13 | Annet Chemengich CHELANGAT | UGA | 35:08  |
| 14 | | JPN | 35:08  |
| 15 | | ETH | 35:14  |
| 16 | | UGA | 35:30  |
| 17 | | ERI | 35:32  |
| 18 | | USA | 35:36  |
| 19 | | AUS | 35:38  |
| 20 | | IND | 35:39  |
| 21 | | USA | 35:48  |
| 22 | | AUS | 35:49  |
| 23 | | AUS | 35:52  |
| 24 | | GBR | 35:53  |
| 25 | | GBR | 35:56  |
Team Scores
| | | | |
| --- | --- | --- | --- |
| 1 | Kenya | KEN | 16 |
| 2 | Ethiopia | ETH | 25 |
| 3 | Uganda | UGA | 41 |
| 4 | Australia | AUS | 92 |
| 5 | United States | USA | 103 |
| 6 | Great Britain & NI | GBR | 137 |
| 7 | South Africa | RSA | 144 |
| 8 | Canada | CAN | 152 |
| 9 | Spain | ESP | 155 |
| 10 | New Zealand | NZL | 228 |
| 11 | Lebanon | LBN | 312 |