Mahiedine Mekhissi-Benabbad, One of Track & Field's Villains, Retires at 37
By Jonathan Gault
January 5, 2023

Yesterday, France's Mahiedine Mekhissi-Benabbad announced his retirement at the age of 37.
Mekhissi-Benabbad was one of the greatest steeplechasers of his generation. He won bronze medals at the 2011 and 2013 World Championships and is the only man to win three Olympic steeplechase medals, claiming silver in 2008 and 2012 and bronze in 2016. He won four European titles in the steeple and two more in the 1500 (one indoors, one outdoors). His 8:00.09 steeple personal best from 2013 makes him the 14th-fastest man in history, and the fastest steepler born outside of Africa.
Article continues below player
He was also…kind of an asshole. He fought countryman Mehdi Baala after the Monaco 1500 in 2011. He lodged a ticky-tack appeal to disqualify Ezekiel Kemboi from the 2016 Olympic steeple final so he could be upgraded to bronze. His Wikipedia entry contains the subheading "Mascot abuse incidents" — yes, plural.
Whether you rooted for or against MMB, there's no denying he was interesting. Below, I share some of his great and not-so-great moments.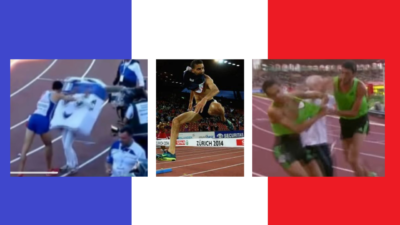 July 22, 2011: Mekhissi-Benabbad brawls with Baala after Monaco 1500
After the 1500 at the 2011 Herculis meeting in Monaco, Mekhissi-Benabbad (who was 11th in 3:35.51) found himself standing face-to-face with French record holder Mehdi Baala (9th in 3:33.69). The pair exchanged words before Baala, a training partner of MMB's rival Bouabdellah Tahri, headbutted Mekhissi-Benabbad and threw a small punch to his face. Mekhissi-Benabbad responded by throwing four punches, none of which connected. They were eventually restrained by officials and served a suspension from the French athletics federation but were both allowed to compete at Worlds that year.
LRC 2011 Monaco Track & Field Diamond League Recap
August 1, 2010: MMB shoves a mascot
After winning his first European steeple title in Barcelona, MMB hugged the mascot before asking it to kneel after which he shoved it to the ground.
June 29, 2012: MMB shoves a mascot (again)
Mekhissi-Benabbad's first shoving of a mascot only seemed to whet his appetite. Two years later, after winning the 2012 European steeple title in Helsinki, Mekhissi-Benabbad approached the championships' mascot — a white, tooth-like being called "Appy" — slapped a gift bag out of its hands, and shoved it backwards. Turns out there was a 14-year-old girl inside the costume. Not nice.
August 5, 2012: Mekhissi-Benabbad wins second Olympic medal, trades singlets with Kemboi
After the Olympic steeple final at London 2012, both Ezekiel Kemboi and Mahiedine Mekhissi-Benabbad were very happy. Kemboi had won his second Olympic title and third straight global title, while MMB earned his second straight Olympic silver. The two had a grand old time, with MMB carrying Kemboi around the track for their victory lap before trading singlets and producing some very cool pictures. Their next Olympic encounter would not be so friendly.
LRC 2012 Men's Olympic Steeplechase: Ezekiel Kemboi Wins Second Olympic Steeplechase Title – Is He The Greatest Steeplechaser In History?
July 6, 2013: Mekhissi-Benabbad runs 8:00.09 to become fastest non-African-born steepler ever
Say what you will about MMB, but the dude could run fast. One of his finest moments came on home soil at the 2013 Paris Diamond League where he battled Kemboi in a thrilling last-lap duel. Though MMB came up short of the win and sub-8:00, he did break countryman Boubdellah Tahri's 8:01.18 European record by running 8:00.09. More than nine years later, MMB's time remains the closest a non-African-born athlete has come to breaking 8:00 in the steeple.
LRC Ezekiel Kemboi Breaks 8:00 As Mahiedine Mekhissi-Benabbad Breaks The European Record In The Men's Steeplechase At The 2013 Paris Diamond League
August 14, 2014: MMB DQ'd after winning Euro steeple title for removing singlet in home straight
At the 2014 European Championships in Zurich, Mekhissi-Benabbad was tired of shoving mascots and decided to try something new. With a comfortable lead in the steeple final, MMB removed his singlet coming off the final turn, carrying it in his left hand while pumping up the crowd in his right. Then he put it in his mouth before taking the final hurdle and winning the race with ease. Quite a flex.
Mekhissi-Benabbad was DQ'd for unsporting behavior but came back three days later and won the 1500.
LRC Mahiedine Mekhissi-Benabbad Does it Again – Wins Steeple, Loses Singlet and Respect

August 17, 2016: Mekhissi-Benabbad gets Kemboi DQ'd at 2016 Olympics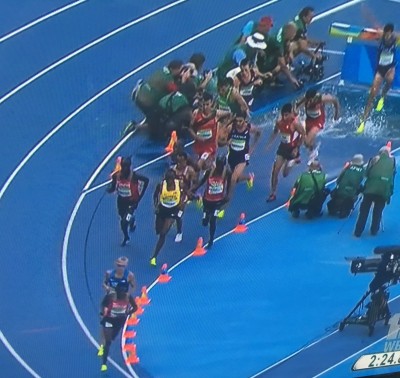 The 2016 Olympic steeple final saw the end of the reign of the GOAT, Kenya's Ezekiel Kemboi. After winning five straight global titles, the 34-year-old Kemboi could not hang with Conseslus Kipruto and Evan Jager over the final lap in Rio. He crossed the finish line third, then immediately announced his retirement from professional running. It was a nice way to go out, passing the torch to the next generation.
That image only lasted a few minutes. Kemboi was DQ'd shortly after the race. What happened?
Turns out, Kemboi had stepped inside the line after clearing the second water jump. Mekhissi-Benabbad, running right behind him, noticed the violation and kept it in mind the rest of the race — upon crossing the line in fourth, MMB held up three fingers, indicating that he expected to move up a spot after Kemboi was DQ'd. The French federation then filed a protest, and Kemboi, despite finishing more than three seconds ahead of MMB, was DQ'd for a foul that had no impact on the result of the race. MMB was upgraded to bronze.
By the letter of the law, Kemboi should have been DQ'd. But the sportsmanship MMB had shown Kemboi after their Olympic medals in London four years earlier was gone. Not every athlete would want to win an Olympic medal in such a fashion, but MMB was unapologetic when asked about it after the race.
"What I do regret is the judges did not make their work," Mekhissi-Benabbad told Race Results Weekly through a translator before the 2016 Paris Diamond League. "There are rules, we have to follow the rules. I've been disqualified in Zurich because of the rules. Here, the judges did not make their work. I am upset for Ezekiel, that is true. But he made a mistake."
After being DQ'd Kemboi decided he wasn't done and released one of the greatest unretirement speeches ever:
"I had opted to retire right after the Olympics only if I had come home with this medal….now I feel that I have to bring back this medal not by protesting again but right on track. Kemboi is not retired I will be coming to London 2017 to re-claim my medal from France. No limits."
Kemboi would finish 11th at the 2017 Worlds, his final global championship.
LRC Olympic Debacle: The French Have Forgotten What the Olympics Are Supposed to be About — Ezekiel Kemboi DQ'd from Men's Steeple After Protest
LRC Mekhissi-Benabbad on Getting Ezekiel Kemboi DQ in Olympic Steeple: "Maradona hit a goal with his hand and he is an idol in Argentina. He cheated. I did not cheat."