Katelyn Tuohy vs Parker Valby: Who has the edge in GIGANTIC NCAA XC showdown?
By Robert Johnson
November 16, 2022
(Have you signed up for our free NCAA XC prediction contest? Do so now: LRC $20,022 LetsRun.com Coros NCAA XC Prediction Contest)
Katelyn Tuohy or Parker Valby?
The question as to who should be the favorite for the 2022 NCAA women's cross country individual title has been generating A TON of chatter on the LetsRun.com messageboard all fall long. Is it hyperbole to say this is the most anticipated duel for the NCAA crown in the 22-year history of LetsRun.com?
It's hard to remember back through 22 years, but there is a lot of hype for the race for good reason.
Tuohy is an established brand. The greatest US girls' high school XC runner in history, Tuohy first entered the public consciousness when she was in middle school breaking records set by Mary Cain. As a sophomore, she was profiled in The New York Times – cautiously, because far too many times, we've seen teen phenoms on the women's side not live up to the hype. 
But Tuohy largely lived up to the hype in high school. She won an unprecedented three NXN national titles, broke the Van Cortlandt Park course record by 32 seconds, and set high school records in the outdoor 3200 (9:47.88) and indoor 3000 (9:01.81).
Article continues below player.
However, Tuohy's dominance at the end of high school wasn't as great as it was early in high school. She had knee surgery after her final high school race in March 2020, and when she started her college career at NC State in the midst of COVID, she was far from dominant. She didn't score in her first ACCs (9th in the 3k) or make NCAAs individually indoors or out (though she did earn All-American honors in cross country by finishing 24th). It was natural to ask, "Are Tuohy's best days behind her?"
The answer, which came in the form of much improved results during the 2021-2022 campaign, was MOST DEFINITELY NOT. Last year, the former high school sensation became a college sensation. She improved to 15th in cross country and then indoors was visibly upset when she had to settle for runner-up finishes in both the 3000 and 5000 when she hadn't even qualified for the meet the year before. Outdoors, she won her first NCAA title in the 5000 and along the way ran big pbs at 1500 (4:06.84) and 5000 (15:14.61).
With momentum on her side, Tuohy has continued to thrive this fall and has been even more dominant. She's earned big victories in all four of her races – by 12.1 seconds at Notre Dame, 5.1 seconds at Wisco, 11.1 seconds at ACCs, and 9.5 seconds at Regionals.
Tuohy is one of America's biggest talents ever and is in the form of her life. How could she possibly lose?
Parker Valby's Credentials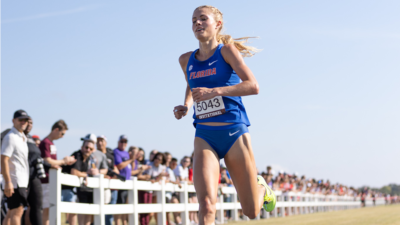 Well Florida's Parker Valby, who was the runner-up in the 5000 to Tuohy on the track in Eugene, is also very good and also is undefeated this year. Her margin of victory in her three races this year? 64.1 seconds at Texas A&M, 7.8 seconds at SECs, and 17.9 seconds at regionals. The woman she beat by 64.1 seconds at Texas A&M, Addie Engel of Ohio State, won Big 10s.
But what's really gotten the hype train going for Valby are the times she's run in each of her races. And yes, comparing times in cross country is very dicey for so many reasons – some courses are short, some are long, some are soggy, some are hard, some are flat, some are hilly, etc.
But check these times out: 18:58.2 at Texas A&M, 18:25.9 at SECs, and 19:17.2 at regionals. Tuohy's 6k times this year are 19:44.3, 19:08.9, and 19:49.1.
After analyzing the men's and women's times at SECs, LetsRun.com stat/coaching guru John Kellogg estimated Valby could run a 5000 in the 14:40s right now. The collegiate record is 15:01.
Who has the edge?
I view Tuohy as the favorite for five reasons. 
She won the most recent NCAA title. Remember, she beat Valby the last time they raced on the track in Eugene.

She's proven on hills. Tuohy was the greatest XC runner in US HS history. She's from New York. She's used to racing on hills. Valby is from super flat Florida and is not used to racing on hills. Plus Valby is a super low mileage runner which gives me even more concern with the hills.

Update:

Ok, people on the messageboard are telling me Gainseville isn't that flat and Valby did fine a somewhat hilly regional course.
The weather is supposed to be cold (31-32) and windy (10 mph with gusts up to 20 mph). That benefits Tuohy as she is more used to cold weather. Plus windy conditions make it hard for a taller runner like Valby to break free and run solo like she does in most races.

Tuohy has better speed.

As impressive as Valby's times have been this year, it needs to be pointed out that Tuohy beat 2020 NCAA XC champ

Mercy Chelangat

of Alabama by 12.1 seconds at Notre Dame this year whereas Valby only beat her by 7.8 seconds at SECs. And Tuohy's win came in a 5k race.
Now at regionals, some fans noticed Tuohy grabbed her left hamstring mid-race. How much of an issue is that? Well my colleague Jonathan Gault asked NC State coach Laurie Henes about Tuohy's hamstring on Tuesday, and she told him they "don't anticipate any issues at NCAAs."
"It was a very minor issue," Henes said. "She was able to finish the race well, cool down, and she's been practicing."
The LRC crew broke down Tuohy vs Valby on this week's podcast. Video highlight below
Others That Could Win
It would be a mistake to write an NCAA women's individual preview and not mention some other talented names besides Tuohy and Valby.
Oklahoma State coach Dave Smith reminded us earlier this week of the 2009 NCAA women's race. In that race, sub-4 superstar Jenny Barringer (now Simpson), who instead of turning pro returned to college as she wanted the NCAA XC individual title, and Florida State's Susan Kuijken (now Krumins) engaged in what ended up as a suicidal battle. As we wrote at the time, "So focused on each other, they ended up running each other into the ground. Barringer, stunned to not be in the lead, had what in our minds had to be a panic attack and ended up 163rd. Kuijken didn't totally crater, but her 13-second lead at 4k ended up being an 11-second defeat at 6k."
The winner ended up being Angela Bizzarri of Illinois. There's a reason why they run the race, people. A woman with lifetime pbs of 4:11/15:16 who never made a Worlds or Olympic team beat two people who were regulars in global finals and had pbs of 4:02/14:51 (Kuijken) and  3:57/14:56 (Simpson). But Bizzarri was no slouch – she had won the NCAA 5000 that spring and finished 3rd at USAs. 
The same is true this year. I see three other potential winners, all of whom are quite accomplished.
Mercy Chelangat – Alabama
The last and only other time NCAA XC was held on the hilly Oklahoma State course, Alabama's Mercy Chelangat was the dominant winner as she won the 2020 race held in March 2021 due to COVID. Chelangat followed that up with a runner-up showing last year in cross and she was your NCAA 10,000 champ in the spring. As mentioned above, she's already raced and lost to both Valby and Tuohy this year but if they go out crazy fast/struggle with a hamstring/don't handle the hills, she'd be a worthy champion.
Ceili McCabe – West Virginia
The World Championship participant in the steeplechase for Canada was third last year and is undefeated this year. She hasn't faced incredibly stiff competition this year, but she did beat Oklahoma State's Taylor Roe at Big 12s. That being said, McCabe hasn't run faster than 19:58 (in principle, I think it's an abomination to talk about times in XC but here I am doing it again) for 6k this year and was only 42nd the last time the meet was held at Oklahoma State.
Taylor Roe – Oklahoma State
Yes, Roe lost McCabe at Big 12s. So what? That was at Texas Tech and not on her own hilly home course where she thrived and was the runner-up at the 2020 NCAA XC Champs in March 2021.
Roe is the third returner from last year's XC champs (5th), and she beat Tuohy in the 3k to win her first NCAA crown indoors before finishing 3rd behind Tuohy and Valby in the 5000 outdoors
I don't expect Roe to win but I know she does well on the course, I know she's beaten Tuohy before and, she'll have the hometown fan support. Remember, Morgan McDonald isn't as good of a runner Grant Fisher now, but he got the win over Fisher on his home course in 2018.
Update: An angry Jonathan Gault has texted me to tell me this Fisher/McDonald analogy is a bad one. In fact, he went further and said it was "dumb" (BTW, is that how all young people talk to their bosses nowadays) as"McDonald owned Fisher the entire year."
Those are the five women whom I think should win the NCAA title but in case there is an upset of the magnitude of Sharon Lokedi in the New York City Marathon, I want to have at least mentioned a few other people's names in this preview. If one of those five doesn't win, I think the winner will be Tuohy's NC State teammate Kelsey Chmiel, who hasn't lost to anyone not named Tuohy this year and was 6th last year, or one of Chelangat's teammates — Amaris Tyynismaa (3rd in 2020 at OK State) or Hilda Olemomoi (talented freshman from Kenya who has been top 3 in all of her races this year).
Rojo's Prediction: Yes, Tuohy's hamstring concerns me. But so does Valby's lack of experience on hills and in the cold. Tuohy FTW.
---
Robert Johnson is the co-founder of LetsRun.com. He once helped pace Catherine Ndereba to her world record in the marathon and was the men's distance coach at Cornell University from 2002-2012.
---
Who do you think will win? Vote in our poll and then talk about 2022 NCAAs on our world-famous messageboard/fan forum.
Who wins the 2022 NCAA XC title?
Your vote has been counted. Thank you!
More: Have you signed up for our free fantasy xc contest? Do so now: LRC $20,022 LetsRun.com Coros NCAA XC Prediction Contest
*Complete 2022 NCAA XC Coverage