Four Thoughts from the 2022 USATF 5K Road Champs
Abdihamid Nur Dominates, Runs Off Course, & Still Wins, Kelati Gets Record
By Jonathan Gault
November 5, 2022
NEW YORK — The day before 50,000 runners cross the finish line in Central Park at the 2022 TCS New York City Marathon, some of America's fastest pros did the same at the USATF 5K Road Championships — though the fastest of them all, men's champion Abdihamid Nur, almost missed it. Despite a very late wrong turn, Nur, 24, won his first US title in a course record of 13:24 after kicking away from US steeplechase champion Hillary Bor (13:29) in the final mile.
Article continues below player
On the women's side, Weini Kelati rolled to her second straight title in 15:16, gapping the field thanks to a quick first mile and running unchallenged from there to lower her own course record of 15:18. The B.A.A.'s Erika Kemp (15:30) was second, improving on her 2021 finish by one place, while Emily Infeld (15:30) was third in her first race as a member of Team Boss. Both Kelati and Nur claimed $12,000 for the win.
Four thoughts from a beautiful morning for racing in New York.
Top 10 men

Top 10 women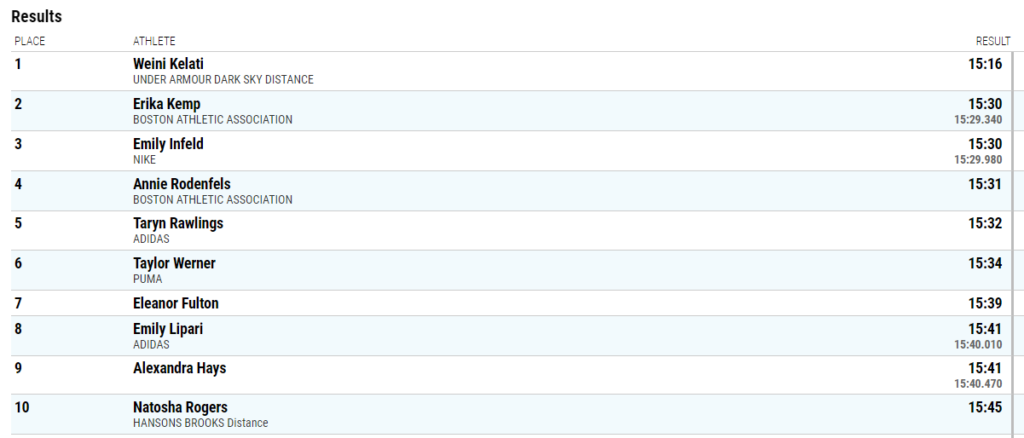 Abdihamid Nur wins his first national title…but how the heck did he make a wrong turn 15 meters from the finish line?
It's always tricky knowing who is in shape for this race as most pro runners aren't in top shape in November. Based on 5k personal best and 2022 form, however, Abdihamid Nur should probably have been the favorite and he looked great throughout the race, hanging onto Hillary Bor early as Bor pushed the pace before making his move in Central Park and opening up a cushion.
That cushion would prove necessary. It's not uncommon to see an athlete make a wrong turn when the lead vehicle pulls off the course near the finish line, but I can't ever remember someone doing it as late in the race as Nur. The finish line was in clear sight and only about 15 meters away when Nur veered to the left and tried to follow the lead car. It was a chaotic sight.
"The finish line was right there, but I just knew it," Nur said. "They told me to follow the car, so I didn't know that the car wasn't going to the finish line. I'm glad Hillary wasn't too close, because it was a mistake I could afford."
Chalk it up to a rookie mistake — this was Nur's first road race as a pro.
Nur's time of 13:24 was very quick considering the undulating New York course. He smashed Paul Chelimo's course record of 13:45 and was just four seconds off Ben True's American record of 13:20 from the 2017 B.A.A. 5K. Nur's wrong turn definitely cost him a second or two, but he didn't know if it cost him the record.
"Maybe, who knows?" Nur said. "But I'm still happy with the win."
(Note: David Monti points out that Grant Fisher's 13:01 at the Diamond League 5k final in September is considered the American road record because it came on an irregular 563-meter track, though that record has yet to be ratified by USATF. As far as LetsRun is concerned, you shouldn't be able to set a road record on a track so True still has the record.)
The win capped a banner year for Nur, who won a pair of NCAA titles indoors, set the collegiate 5k record, made the Worlds team outdoors, and signed a pro deal with Nike. He's still based in Flagstaff and even though the NAU men have struggled more than usual this year, he's predicting a national title for them and his former teammate Nico Young at the NCAA XC champs in Stillwater in two weeks.
"Coach Smith's gonna have them ready for NCAAs," Nur said. "I think they're going to win and my boy Nico's going to take the individual title."
Weini Kelati is never that far from fitness
If it seems like Weini Kelati is always in shape, that's because it's true. She took a month off after the track season, but returned to training in September and quickly found herself in good shape. Today she ran 15:16 to win by 14 seconds and break the course record by two seconds — one set by Kelati in this event last year.
"What's interesting about my body is it's just not hard to build," Kelati said. "I can get in 10 days, 80% of my fitness."
Kelati, 25, has already found a lot of success on the roads in her young pro career. With her cross country background (Foot Locker and NCAA champ) and front-running style, she seems a natural fit for the half and, eventually, full marathon, but so far she has yet to race beyond 10k. When will we see her in the half?
"I'm not sure how soon," Kelati said. "But I'm looking forward [to it]?"
Could we see her in a half in 2023?
"Let's see, I don't know," she said with a smile. "Maybe."
What we know for sure is that Kelati is not done racing on the track. After just missing out on a spot at Worlds in 2022 (she was 4th in the 5,000, 5th in the 10,000 at USAs), Kelati wants to make the team next year.
"I'm really excited to run road races and half marathon and stuff, but I have unfinished business on the track and I want to clear it up first," Kelati said.
Kelati also said that during her break from running this summer, she got the opportunity to see her mother for the first time since she defected from her native Eritrea in 2014. The two were able to visit Uganda together, where they spent three weeks together.
"We were both in shock," Kelati said. "For a week, we couldn't believe [it]. She just [kept] touching me like, I can't believe this is real. We both cried happy tears in the airport."
Though Kelati had been able to talk to her mother over the phone since her arrival in the US, their conversations were never very long. In Uganda, they made up for lost time, often staying up until 4 a.m. catching up on all they had missed in each other's lives the last eight years.
"The first 14 days, we just talked," Kelati said.
Kelati said she emerged from the trip feeling renewed.
"That makes me feel like it's a new beginning, a fresh start for me," Kelati said.
Emily Infeld explains her decision to join Team Boss
Emily Infeld has circled through a number of training situations in the last few years. In 2021, she was a member of the Bowerman Track Club in name but spent a lot of time training with her husband. She left the group officially at the end of the year and spent the first half of this year being coached by Jon Green. While Infeld found success on the track, making her first Worlds team since 2017, she was actually writing her own workouts ahead of USAs and ultimately decided working with Green "just wasn't the right fit for me."
Infeld said after leaving Bowerman, she wasn't sure that she wanted to be part of a team again. But she also realized that moving forward she wanted people to train with. So she decided to join Team Boss, and though she's only been there a month, she has been enjoying it so far.
"I have so many friends there and the team environment is really great," Infeld said.
She also raved about coach Joe Bosshard, who has a busy weekend with Emma Bates and Scott Fauble running the marathon tomorrow.
"Joe's incredible," Infeld said. "He's coached 800 to marathon successfully on the world stage, which is very impressive. He has a great demeanor — so calm, which I think I need. I get stressed, so having a calming presence is really nice."
Infeld's husband works at Nike, so she will remain based in Portland but plans on visiting Boulder periodically for training stints.
A rough start for Jenny Simpson on the roads
Jenny Simpson, the greatest American 1500m runner in history, announced last week that she had signed with Puma and will be focused on road racing moving forward. Simpson didn't race at all during the first nine months of 2022 as she rehabbed a sports hernia injury while dealing with the effects of being forced from her home due to the Marshall Fire in Colorado. Simpson made a soft launch to her 2022 season by running 54:16 to win the Army 10-Miler on October 9 but faced a stiffer field today and finished way back — 17th place in 16:07.
It's not an encouraging result for the 36-year-old Simpson, but not entirely unexpected. I spoke to her yesterday before the race and she mentioned that while she is now fully healthy again, she is not yet fully fit. Expect better from her in 2023 if she can avoid any injury setbacks.