4 Final Thoughts on the 2022 World Marathon Majors Season
By Jonathan Gault
November 9, 2022
With Sunday's New York City Marathon in the books, that's officially a wrap on the 2022 Abbott World Marathon Majors season. With the Valencia Marathon still to come on December 4 and with the WMM shifting from an organization focused on elite athletes to the everyday runner and paralympians, perhaps this is the last time we'll be measuring things in terms of the WMM season. But the fact remains that, even with the WMM slashing its series prize money, the WMM events — Tokyo, Boston, London, Berlin, Chicago, and New York — still attract some of the best fields in the world and remain among the top marathons in the world when it comes to investing in elite athletes (in terms of prize money and appearance fees).
This was the first time since 2019 that all six races were held in a single year, and while participation numbers are still down compared to pre-pandemic levels, the elite races are pretty much back to normal. What did we learn from a full season of racing? Here are a few of my biggest takeaways, some from New York specifically and some from the campaign as a whole.
Sharon Lokedi's win was one of the unlikeliest in recent World Marathon Majors history
We barely mentioned Sharon Lokedi in our preview of the women's race in New York. But can you blame us? In a year where four of the other five majors were won in 2:14, 2:15, 2:16, and 2:17, how could we have known that a woman who has never competed at a World Championships or Olympics and sports a 68:14 half marathon pb was going to win the New York City Marathon in her debut?
(The lesson here, as with Viola Cheptoo's near-victory in her debut last year: the New York course, with its bridges, late hills, and lack of pacemakers, can occasionally produce some unlikely results, especially in a warm weather year.)
Lokedi's victory reminded me a bit of Wesley Korir winning Boston in 2012. Just like Lokedi, Korir was a Kenyan runner who came through the NCAA system. While both found collegiate success (Korir had a best finish of 3rd at NCAAs in the 5k at the University of Louisville; Lokedi won the 10k for the University of Kansas in 2018), neither athlete was pegged for stardom upon graduation.
Now it's clear both were made for the marathon. Within five years of graduation, Korir had gone from solid NCAA runner to a 2:06 marathoner and Boston champion (in a hot-weather year). Now Lokedi is a NYC champ just three years after finishing 11th in her final collegiate race, the 2019 NCAA indoor 5k.
Article continues below player.
During her time at Kansas, Lokedi was one half of a college running power couple as she was dating Edward Cheserek (now her fiancé). Who would have predicted that Lokedi, and not the 17-time NCAA champion Cheserek, would go on to have the more successful pro career (so far)?
Just how unlikely was Lokedi's win in New York? There's a strong case that it's the most unlikely WMM win by a woman of the last 10 years. Of the 22 WMM champions since the start of 2019, 17 entered the race with pbs under 2:20 (I'm counting Edna Kiplagat as the 2021 Boston champ). Of the other five, one was the half marathon WR holder at the time (Joyciline Jepkosgei) and another was Ashete Bekere, who had won Valencia (2:21:14) and Rotterdam (2:22:55) directly before her 2019 Berlin victory. Hardly a surprise.
The other three were Lokedi, Gotytom Gebreslase (who won 2021 Berlin in her debut), and Tigist Assefa (who won Berlin this year). Here's a closer look at Gebreslase and Assefa, as well as two other familiar names in contention for "most unlikely WMM win":
Shalane Flanagan, 2017 New York: Flanagan was a huge underdog to three-time defending champ Mary Keitany, but Flanagan had finished 2nd in New York before and was 6th at the 2016 Olympics. If Keitany had a bad day, she was one of the women expected to contend for the win.
Des Linden, 2018 Boston: This was a big shock, no doubt, and Linden likely doesn't prevail without a once-in-a-generation bad weather day. But Linden had been a world-class marathoner for years at this point, finishing 2nd at 2011 Boston and 7th at the 2016 Olympics.
Gotytom Gebreslase, 2021 Berlin: Entered her marathon debut with pbs of 14:57 and 67:52 in the half, but the field she beat was weak — just one woman with a sub-2:20 pb and just three under 2:23.
Tigist Assefa, 2022 Berlin: Assefa's incredible 2:15:37 (after entering the race with a 2:34:01 pb) was one of the most shocking times in history. But Assefa had run faster than Lokedi in the half (67:28) and the field in New York, which featured 2022 Worlds medalists Gotytom Gebreslase and Lonah Salpeter and 64:22 half marathoner Hellen Obiri, was stronger than Berlin, where Keira D'Amato started as the favorite.
Lokedi, Gebreslase, and Assefa entered their marathons with similar backgrounds. But considering Lokedi had the slowest half pb of the three (68:14) and considering the strength of the field in NYC, I'd call Lokedi's win the most unlikely women's WMM title of the last decade. If you add men into the equation, though, it has to be Yuki Kawauchi's win at 2018 Boston.
Are the second-, third-, and fourth-best men's marathoners in the world all in the same training group?
When we put together LetsRun's 2022 world rankings, it's pretty obvious who is going to be #1 in the men's marathon. But after Eliud Kipchoge, you can make the case that the next three best guys in the world all train under coach Claudio Berardelli as members of the 2 Running Club in Kapsabet, Kenya.
Evans Chebet, who became the first man in 11 years to win Boston and New York in the same year, is a strong choice for #2 in the rankings; if it's not him, you'd have to give it to his training partner Amos Kipruto, who won London and recorded the fastest non-Kipchoge time of the year (2:03:13) in finishing 2nd to Kipchoge in Tokyo.
The only debate is whether the third 2 Running Club man, Benson Kipruto (1st Chicago in 2:04:14, 3rd Boston in 2:07:27), deserves the nod at #4 over Ethiopia's Tamirat Tola (3rd Tokyo in 2:04:14, 1st Worlds in 2:05:36) and Mosinet Geremew (1st Seoul in 2:04:43, 2nd Worlds in 2:06:44).
Whatever the case, it's remarkable that one training group could combine to win four majors in a single year — and they were only denied a fifth in Tokyo because of Kipchoge.
The 2022 marathon season was historically fast on the women's side…but the 2023 season could be even better
We've never seen a year in the women's marathon like 2022. Of the 13 fastest women's marathons in history, more than half of them were run this year:
| | | |
| --- | --- | --- |
| Time | Athlete | Race |
| 2:14:04 | Brigid Kosgei | 2019 Chicago |
| 2:14:18 | Ruth Chepngetich | 2022 Chicago |
| 2:15:25 | Paula Radcliffe | 2003 London |
| 2:15:37 | Tigist Assefa | 2022 Berlin |
| 2:16:02 | Brigid Kosgei | 2022 Tokyo |
| 2:17:01 | Mary Keitany | 2017 London |
| 2:17:08 | Ruth Chepngetich | 2019 Dubai |
| 2:17:16 | Peres Jepchirchir | 2020 Valencia |
| 2:17:18 | Paula Radcliffe | 2002 Chicago |
| 2:17:18 | Ruth Chepngetich | 2022 Nagoya |
| 2:17:20 | Almaz Ayana | 2022 Amsterdam |
| 2:17:23 | Yalemzerf Yehualaw | 2022 Hamburg |
| 2:17:26 | Yalemzerf Yehualaw | 2022 London |
Obviously the shoes have contributed to the glut of fast times, but we haven't seen the same effect on the men's side. Eliud Kipchoge is the only man to have run a time that ranks in the top 13 all-time in 2022, and only two men have broken 2:04 this year (Kipchoge and Amos Kipruto). If that holds up, it would be the fewest number of sub-2:04 men since 2018.
But as the fast times poured in this year, I kept thinking one thing: why aren't these women racing each other?
Look at the list above. Right now, six of the eight fastest women in history are currently active (Kosgei, Chepngetich, Assefa, Jepchirchir, Ayana, Yehualaw). Somehow, none of them raced each other this year. It seems impossible.
I'm not blaming anyone in particular. No one knew Assefa would be one of the fastest marathoners in history before she ran in Berlin. And Kosgei and Jepchirchir were both signed up for fall marathons but wound up scratching due to injury. But with a glut of talent in the event right now, the likes of which we've never seen before, I'm hoping we see some big-time, head-to-head showdowns next year in the women's marathon.
New York needs to tighten its security
Securing a 26.2-mile course with tens of thousands of spectators is no easy task. Still, it was alarming to see not one, but two cyclists find their way onto the course and pedal alongside the leader of the men's race on Sunday.
First, around 11 miles, a man in a leather jacket trailed leader Daniel Do Nascimento before leaving the course. Then, just a few miles later, another man came within meters of Do Nascimento and biked next to him while shouting at him. After a few minutes, he was ushered off the course by NYPD officers on the Queensboro Bridge.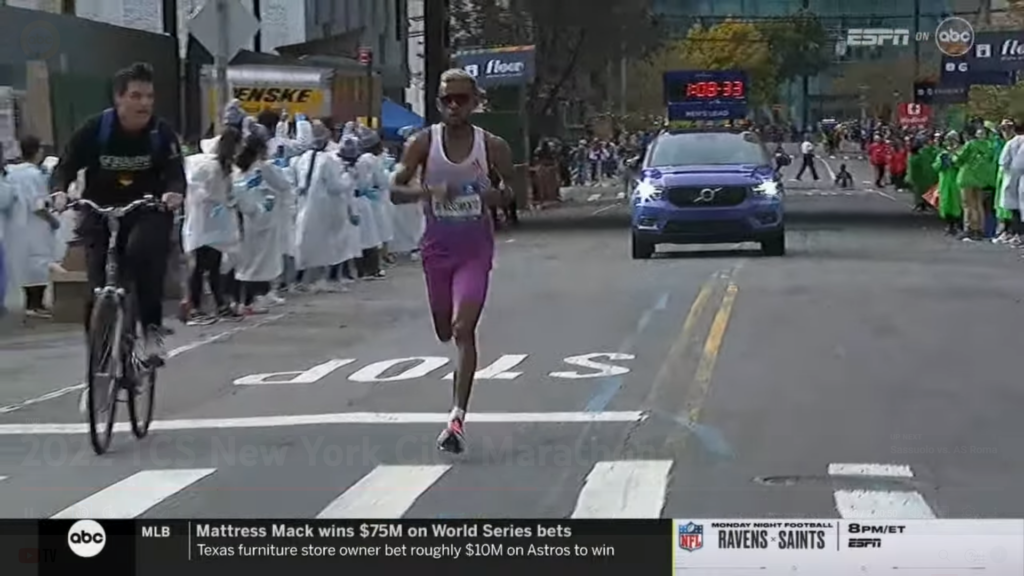 LetsRun reached out to the New York Road Runners for comment about both incidents. NYRR did not address the first episode but issued the following comment on the second incident:
"NYRR works closely with our city, state, and federal agency partners, particularly the NYPD, year-round to ensure a positive and safe experience for all race participants, spectators, volunteers, and staff.  Working in coordination with NYPD, the situation of a cyclist on the Ed Koch Queensboro Bridge was addressed immediately, and NYPD officers ensured the individual moved off the course."
Thankfully neither of these incidents affected the race or harmed an athlete. But the NYRR and the NYPD need to examine what happened in these instances to ensure we don't get a repeat moving forward.
More WMM News