Bostonian Erika Kemp Wins the 2022 Boston 10K for Women in 32:15
by: Race Press Release
October 8, 2022
BOSTON – It was a hometown victory at the 46th Boston 10K for Women, presented by REI, as 27-year-old Erika Kemp broke the tape and set a new personal best with a time of 32:15. In her race debut, Kemp surged at mile five and cruised onto Charles Street for a 17 second victory over Kenyan Risper Gesabwa. Gesabwa's time of 32:32 put her four seconds ahead of American Taylor Werner, who clocked 32:36, one second shy of her personal record.
'I've been waiting for this day for seven months,' said an elated Kemp, who credited her course familiarity with her PR performance. "My training overall has been pretty good. I've just had a really hard time putting it together in a race. It wasn't super surprising, but it was very rewarding to see it all come together."
Under sunny skies and a temperature of 50 degrees, Kemp, Gesabwa, Werner, and Mary Munanu of Kenya formed a pack of four quickly after the 9:00 a.m. start. Sticking together across the Massachusetts Avenue bridge into Cambridge, they jostled along Memorial Drive, while switchbacks brought the cheers of nearly 3,000 women who chased them.  "Towards mile three and four, Mary [Munanu] and I surged a tiny bit, and we got some space going into mile four," recalled Kemp, who earned $9,000 with the victory.
Article continues below player.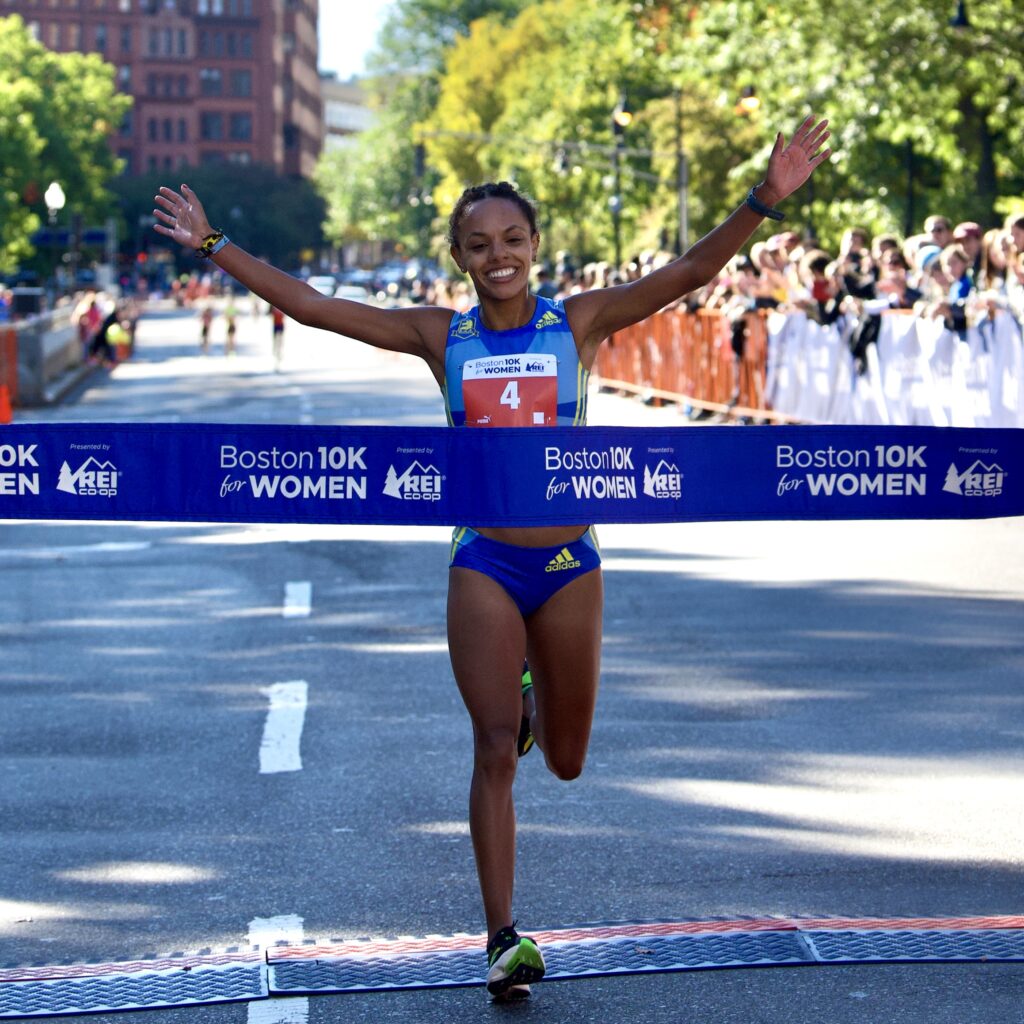 Munanu and Kemp accelerated as they returned into Boston, and the crowd roared as they turned left onto Commonwealth Ave. Gesabwa and Werner stuck close behind, battling for the third podium spot. "We were side by side at mile five, and there was a sharp turn, where Mary surged," recalled Kemp. "And I was like 'no I can't quit.' So,I put in a surge and this was the only time she didn't respond, so at that point I knew this was my chance, and I just went for it."
The late surge was a welcomed sign for Kemp, who runs for the Boston Athletic Association High Performance Team. "The other races I've done so far this year, I get to about three miles, and I'm just dead – mentally, physically, emotionally, just like, nothing left. So when you're coming back on the bridge, and you're just running past a stream of women and they're cheering so hard for you, it just gives you new energy."
The race attracted 3,556 official registrants to a bustling Boston Common as the sun rose over Boston. For the 46th year, the women's race gathered athletes of all ages and backgrounds, representing 37 states, 11 countries, and six continents. Runners from ages 10 to 88 signed up for the event. "It was amazing," said Kemp on the sea of women runners. "The way the course runs when you run past all the women on the Mass. Ave. Bridge, it's just so incredible."
The race saw a 15% increase in registrations from 2021, and is enthusiastically supported by a group of sponsors, led by REI and Puma, who brought enormous energy to the day's activities. Formerly known as the Tufts Health Plan 10K for Women, the race is New England's largest all-women's sporting event the second longest-running all-women's race in the country.
| | | | | |
| --- | --- | --- | --- | --- |
| 1 | Erika Kemp | 27 | 32:14 | $9000 |
| 2 | Risper Gesabwa | 33 | 32:31 | $5000 |
| 3 | Taylor Werner | 24 | 32:35 | $3000 |
| 4 | Mary Munanu | 27 | 32:48 | |
| 5 | Alexandra Hays | 23 | 32:55 | |
| 6 | Danielle Shanahan | 28 | 33:00 | |
| 7 | Poppy Tank | 24 | 33:07 | |
| 8 | Esther Gitahi | 24 | 33:21 | |
| 9 | Molly Huddle | 38 | 33:32 | |
| 10 | Jess Lawson | 23 | 33:55 | |
Boston 10K for Women, Presented by REI
Established in 1977 as the Bonne Bell Mini Marathon, the Boston 10K for Women, Presented by REI is the longest-running all-women's sporting event in New England. With thousands of runners and spectators each year, it's New England's largest all-women's road race, and has been organized every year by Conventures, Inc. Known for many years as the Tufts Health Plan 10K for Women, the race features a flat out-and-back course through Boston's Back Bay neighborhood and stretches of Memorial Drive in Cambridge, finishing at Boston Common. More than 180,000 women have raced in the event since its inception. For more information on the race please visit www.boston10kforwomen.com.