Benson Kipruto Wins 2022 Chicago Marathon in 2:04:24 as Conner Mantz Runs 2:08 in Debut
By LetsRun.com
October 9, 2022
If Benson Kipruto is in the lead pack of a marathon at 35k, you better watch out. One year after splitting an incredible 14:06 from 35k to 40k to win the 2021 Boston Marathon, the Kenyan Kipruto once again took off late in the race today, putting 25 seconds on the field between 35k and the finish to win the 2022 Bank of America Chicago Marathon in a new personal best of 2:04:24 (previous pb of 2:05:13 from 2019 Chicago).
Kipruto's split of 14:43 from 35k to 40k wasn't as crazy as the 14:06 he dropped in Boston, but it was enough to separate from the four-man pack of defending champion Seifu Tura, LA Marathon champ John Korir, and last year's Amsterdam runner-up Bernard Koech. Those were all that remained of the 10 men who passed halfway together in 62:24 on a cool (temps in 40s, low-50s), slightly breezy (10 mph wind) day in the Windy City. Tura put up a valiant effort defending his title, holding on for second in 2:04:49, while Korir was 3rd in 2:05:01 – a four-minute pb in his major marathon debut.
Further back, American Conner Mantz lived up to the hype, finishing 7th in 2:08:16 – the second-fastest debut in American history, after Leonard Korir's 2:07:56 at 2019 Amsterdam. Mantz was one of four Americans to break 2:10 on the day, with Hansons-Brooks' Zach Panning (11th, 2:09:28), the B.A.A.'s Matt McDonald (12th, 2:09:48), and Mammoth Track Club's Nico Montanez (13th, 2:09:59) all dipping under the barrier for the first time. 
61:00 half marathoner Frank Lara of Roots Running went for it, hitting halfway with Mantz in 63:45, but he blew up big-time over the second half, splitting 19:53 from 35k to 40k to finish in 2:15:57.
Top 30 Results and then full analysis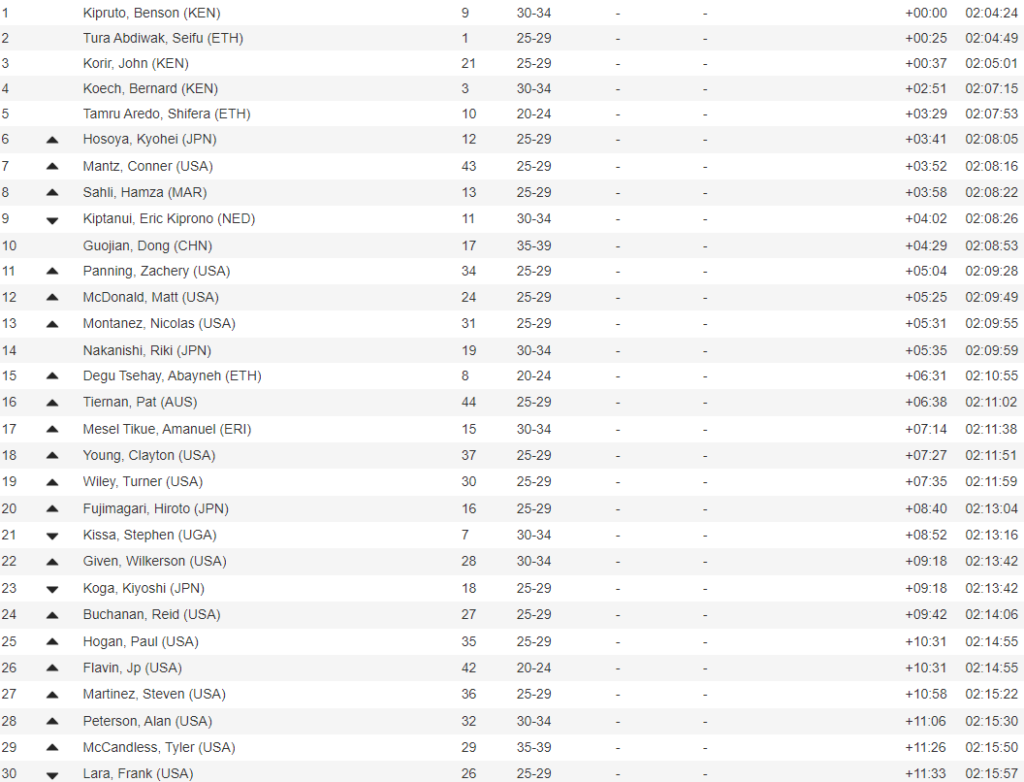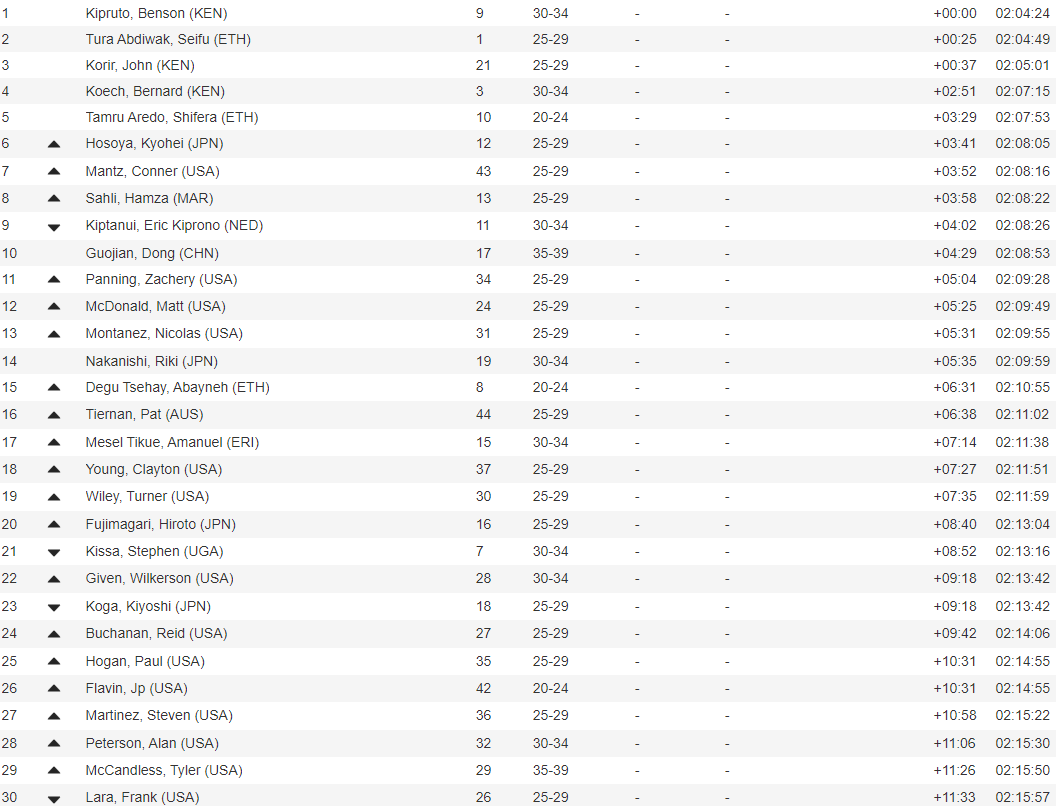 Quick Take: It's been a big month for Kiprutos (and their training group)
Last week, Amos Kipruto won the London Marathon in impressive fashion, using a 4:21 25th mile to drop the field. This week, it was another Kipruto, Benson, who broke things open during mile 25, and though his split of 4:44 was not quite as fast, it was enough to gap Tura en route to the win.
It's been a great eight days for the Kiprutos (no relation), who train together in Kenya under coach Claudio Berardelli. And the fall could get even better for their group as 2022 Boston champ Evans Chebet is running New York next month and will be among the favorites.
It's been a great year for the Kenyan men's marathoners in general as a Kenyan man has won all 5 World Marathon Majors so far in 2022 on the men's side (A. Kipruto won London, Kipchoge won Tokyo and Berlin, Evans Chebet won Boston).

As for Benson Kipruto, he's quickly moving up the ranks of the world's best marathoners. In his last three marathons, he's won Boston, finished 3rd in Boston in 2:07:27, and now won Chicago. Outside of Kipchoge and Amos Kipruto (2:03:13 in Tokyo this year, London champion), there aren't many guys we'd rank ahead of him right now.
Quick Take: Conner Mantz delivers a solid debut
Given his accomplishments on the track and in cross country, there was more attention on Conner Mantz's debut than any American marathoner since Galen Rupp in 2016. Mantz said he wanted to break 2:08 and came very close to doing so, clocking 2:08:16 – the fastest debut ever for an American-born athlete. He's now 7th on the US all-time list.
15 years ago, LetsRun nearly lost its mind when an American by the name of Ryan Hall debuted in 2:08, but frankly, that was the expectation today for Mantz given what he had done at shorter distances and given the fact we are in the midst of the super shoe era, which are worth around 2 minutes in a marathon. Mantz deserves credit for executing a solid race and translating the hype into an actual performance – which is always tougher than it seems. But we're not going to go crazy just yet.
If you factor in shoes, his debut was certainly less impressive than Hall's 2:08:24 in London (where he led at 30k) in 2007 or even Alan Culpepper's 2:09:41 in Chicago 20 years ago.

That said, this was a nice start to Mantz's marathon career. He knows he can handle 2:08 pace for 26.2 miles, and at 25 he's still a baby by American marathon standards. He should have another decade at least to improve – and if he stays healthy, we have no doubt he will.
Article continues below player.
Mantz's run was the start of a big week for him as he is getting married on Saturday. For more on Mantz's run with his post-reaction click here.
MB: Connor Mantz – 2:08:16 solid
Quick Take: This race was one of the deepest ever from an American perspective
Today was just the third marathon in history in which four Americans broke 2:10 in the same race. Meb Keflezighi, Ryan Hall, Abdi Abdirahman, and Dathan Ritzenhein were the first quartet to do it at the 2012 Olympic Trials. Then seven guys did it at the 2020 Marathon Project, led by Martin Hehir in 2:08:59.
The results for Panning (2:09:28), McDonald (2:09:48), and Montanez (2:09:59) were all breakthroughs, but none should come as total shocks. Panning's run is the biggest surprise on paper as he ran 2:15:04 in his debut in Chicago last year, but he's still run 28:01 for 10,000 meters on the track. McDonald was 10th at the Trials in 2020 and ran 2:10:35 in Boston this year – certainly performances you'd think could translate to sub-2:10 on a flat course. And Montanez has been running well at shorter distances for years on the roads (61:13 half, US 15k champ this year) but had never been able to put it together in a marathon until today.
Props to Panning for taking down Hansons-Brooks' program record of 2:10:47, set by blue-collar hero and 2008 Olympian Brian Sell all the way back in 2006.
Quick Take: We love that Frank Lara went for broke
One of the criticisms of American marathoning is that not enough of the top guys are willing to lay it out there and go for broke. So we want to applaud Frank Lara for going for it today, going out in 63:45 and hanging with Conner Mantz through halfway. Yes, Lara totally cratered at the end of the race. But sometimes you can't get a big result without taking a big risk. Lara was on 2:08:59 pace through 35k before falling apart. But next time he might be able to hold on and do something special.
Quick Take: The Chinese national record survives; Jemal Yimer DNFs

Three of the top 10 finishers were men who were just added to the Chicago elite field at the end of September. One of those men, China's Guojian Dong, came close to the Chinese record. The 35-year-old three-time Olympian (2012, 2016 and 2020 marathon), who has a 2:08:28 pb (Berlin, 2019), was aiming for the Chinese record of 2:08:15 but came up short. After going out in 63:46, he ended up 10th in 2:08:53.
The most-high profile late addition to the Chicago field, Ethiopian half-marathon record holder Jemal Yimer ran up at the very front of the lead pack for much of the race and stayed in the lead pack until 30k but ended up a DNF and never recorded a 35k split.
| | |
| --- | --- |
| Overall | |
| Comfort | |
| Cushioning | |
| Durability | |
| Appearance | |
| Value | |
Talk about 2022 Chicago on our messageboard.
Complete 2022 Chicago Marathon Coverage including women's recaps.