Shelly-Ann Fraser-Pryce Just Completed the Greatest Season in the History of the Women's 100 Meters Ever At The Age of 35
By Jonathan Gault
September 14, 2022
Don't let the accolades confuse you.
Jamaica's Shelly-Ann Fraser-Pryce didn't win the Olympics in 2022. She didn't even run as fast as she did in 2021. But she did have the greatest season ever by a women's 100-meter runner, and she capped it off with what was statistically the fastest race of her career.
Article continues below player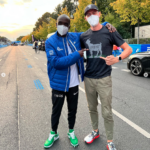 Kipchoge loves the 1:59:40 Shirt Get Yours Today
What a legend!
Fraser-Pryce began the 2022 season as the greatest female 100-meter runner in history. But her status as the women's 100m GOAT was under threat. Her Jamaican rival, Elaine Thompson-Herah, was coming off a 2021 season that saw her defeat Fraser-Pryce to win her second straight Olympic title in an Olympic-record time of 10.61 seconds. Three weeks later, Thompson-Herah ran a personal best of 10.54 at the Prefontaine Classic, just .05 off Florence Griffith-Joyner's 10.49 world record, which had stood unchallenged since 1988. 
Thompson-Herah, five years younger than SAFP, would likely never catch Fraser-Pryce's six 100m global titles. But if she could win the world title this year and break FloJo's world record? Then that GOAT discussion would become a whole lot more interesting.
Absolutely dominant in 2022 with the 8 fastest times in the world 
After what Shelly-Ann Fraser-Pryce did this summer, the GOAT discussion is over. Fraser-Pryce totally dominated her competition in the women's 100 meters and won her seventh global 100m title in Eugene in July – something only three other athletes have done in a single track & field event (Usain Bolt in the 200, Sergey Bubka in the pole vault, and Anita Wlodarczyk in the hammer). She finished the year by winning the Diamond League title for the first time since 2015. And she did it all as a mom at the age of 35.
Fraser-Pryce ran the eight fastest female 100m times in 2022, including seven sub-10.7's. At the start of 2022, there had been 12 sub-10.7 performances in the history of the women's 100 meters – which means her 2022 campaign now accounts for more than a third of all sub-10.7's ever run.
By comparison, Thompson-Herah, beset by injuries to her Achilles and shoulder this year, could only manage a season's best of 10.79 in 2022 and had to settle for bronze at the World Championships in the 100.
SAFP's 2022 >>> Elaine Thompson-Herah's 2021 >>> Flojo's 1988
Fraser-Pryce's prolific brilliance and dominance of her peers sets her 2022 season apart from any other in 100-meter history. Griffith-Joyner ran three of the seven fastest times in history in 1988, but those times were clustered at just two meets, the US Olympic Trials and the Olympics. She never ran faster than 10.89 outside of those meets – not just in 1988, but the rest of her life. Plus her 10.49, which came in the quarterfinals of the US Olympic Trials, is heavily suspected to have been wind-aided and not a legitimate mark. Even though a report written by a physics professor for World Athletics determined the wind was between 5 and 7 m/s, 10.49 remains the official world record.
Prior to this year, Thompson-Herah's 2021 campaign was the best we'd ever seen from a 100m woman. She ran 10.54, 10.61, 10.64, and 10.65 – all marks that rank among the top 13 all-time – plus a 10.71 and a 10.72. She also won the Olympics, and only lost two of her 11 races.
In 2022, Fraser-Pryce didn't run as fast as Thompson-Herah did last year – SAFP's season's best of 10.62 would only have been Thompson-Herah's third-fastest race in 2021 – but her volume of historically fast times was unmatched. Her win rate was also slightly better as she won seven of her eight finals – and in the one she lost (one week after withdrawing from a meet in Lausanne with a hamstring injury), SAFP still ran 10.74 and finished just .01 behind the winner, Shericka Jackson (the #2 women's 100m runner this year). That defeat to Jackson in Brussels was also the only time Fraser-Pryce ran slower than 10.67 seconds all season.
Fraser-Pryce's most recent race was also the "fastest" race of her life
Fraser-Pryce is rightfully known for delivering at the major championships, and that was the case once again in 2022. She ran 10.67 in the World Championship final on July 17 in Eugene to take .03 off the championship record set by the notorious doper Marion Jones in 1999. SAFP's fastest time of the year came a month later in Monaco, where she ran 10.62 to take the victory – tied for the #6 performance in history.
But the fastest race of Fraser-Pryce's career when adjusting for wind and altitude actually came in her final race of 2022 at the Diamond League final in Zurich on September 8. In that race, Fraser-Pryce ran 10.65 seconds into a 0.8 m/s headwind to win by .16 over runner-up Jackson. According to Jonas Mureika's sprint calculator, that performance is worth 10.61 at sea level in still conditions – or 10.50 if you gave her the maximum allowable tailwind of 2.0 in Zurich.
The crazy part is, Fraser-Pryce almost didn't run the race. Her son Zyon, who just turned five, is set to start school this fall, and she was initially going to skip the race in Zurich in order to accompany him to orientation. But the orientation was shifted from in-person to virtual at the last minute due to flooding, clearing the way for Fraser-Pryce to travel to Zurich. Zyon's first day of classes is on Tuesday.
SAFP tops Usain Bolt in the battle of the sexes
If we compare SAFP's 100m season in 2022 to any of Usain Bolt's best single 100m seasons, SAFP gets the nod. As mentioned above, SAFP ran 7 of the top 19 times in history this year. Usain Bolt has 7 of the top 21 for his career. Factoring in for wind, SAFP recorded two of the five fastest 100m runs and five of the top 21 in women's history in 2022. Usain Bolt has 8 of the top 21 men's times in history if you factor in for wind but the most he ever achieved in a single year was two of the top 21 (a feat accomplished in 2008, 2009, and 2012).
Bolt's highs were undoubtedly higher, and he was a much better 200m runner than Fraser-Pryce. But if you're looking for week-in, week-out consistency at the highest level in the 100 meters, SAFP's 2022 campaign has to be #1.
Shelly-Ann Fraser-Pryce's full 2022 season
| | | | | | |
| --- | --- | --- | --- | --- | --- |
| Date | Race | Site | Time | Wind | Place |
| May 7 | Kip Keino Classic | Nairobi | 10.67 | -0.4 | 1st |
| June 18 | Meeting de Paris | Paris | 10.67 | 0.5 | 1st |
| June 23 | Jamaican Championships | Kingston | 10.70 | 1.1 | 1st (prelims) |
| June 24 | Jamaican Championships | Kingston | DNF | 0.5 | DNF (semis)* |
| July 16 | World Championships | Eugene | 10.87 | -0.2 | 1st (prelims) |
| July 17 | World Championships | Eugene | 10.93 | 0.4 | 1st (semis) |
| July 17 | World Championships | Eugene | 10.67 | 0.8 | 1st (final) |
| August 6 | Kamila Skolimowska Memorial | Chorzow | 10.66 | 0.5 | 1st |
| August 8 | Istvan Gyulai Memorial | Székesfehérvár | 10.67 | 1.3 | 1st |
| August 10 | Herculis | Monaco | 10.62 | 0.4 | 1st |
| September 2 | Memorial Van Damme | Brussels | 10.74 | 0.6 | 2nd |
| September 8 | Weltklasse (Diamond League final) | Zurich | 10.65 | -0.8 | 1st |
*Fraser-Pryce dropped out and chose not to finish as she had a bye to the World Championships as defending champion