Sha'Carri Richardson Defeats Olympic Champ Elaine Thompson-Herah in Return to Track in Lucerne
[spp-tweet tweet=""]
By LetsRun.com
August 30, 2022
In her first race since the USATF Outdoor Championships more than two months ago, US track star Sha'Carri Richardson defeated Olympic champion Elaine Thompson-Herah of Jamaica to win the 100 meters at the Spitzen Leichtathletik meeting, a World Athletics Continental Tour silver meet in Lucerne, Switzerland, on Tuesday. Running in cool (60s F), wet conditions and into a -2.0 m/s headwind, Richardson ran 11.29 to defeat Thompson-Herah by .01 of a second.
Article continues below player.
Richardson and Thompson-Herah, placed in adjacent lanes, ran almost neck-and-neck for the entire race with Richardson just holding off the Olympic champ at the end. It was Richardson's first victory over Thompson-Herah in three attempts after defeats at the Prefontaine Classic in 2021 and 2022.
Richardson hadn't raced since June 26, when she shockingly failed to make the final in either the 100 or 200 at the US championships in Eugene, Ore. There will be a much shorter gap between her next race: she is entered in the 100 meters at the Memorial Van Damme Diamond League meeting in Brussels on Friday, where she will race world champion Shelly-Ann Fraser-Pryce.
Watch a replay of today's race below:
Watch Sha'Carri Richardson 🇺🇲 edge Olympic Champion Elaine Thompson-Herah 🇯🇲 to win the women's 100m at the Luzern Athletics Meet! pic.twitter.com/LB57mQBw4k

— Track & Field Gazette (@Track_Gazette) August 30, 2022
Quick Take: This race went far better than Richardson's late-season return in 2021
Last year, Richardson took a similar break between USAs and her return to racing at the Prefontaine Classic on August 21. It went poorly as she finished dead last in 11.14 while Thompson-Herah won in 10.54, the second-fastest time in history. Of course, circumstances were slightly different in 2021 as Richardson was coming off a one-month suspension after testing positive for marijuana at the US Olympic Trials.
Given how Richardson looked in her return last season and her inconsistency this year, any result was on the table tonight, so she has to be pleased with the win. Thompson-Herah has not been in her 2021 form this year, but she remains one of the top 100m runners on Earth, claiming bronze at Worlds and gold at the Commonwealth Games in the last two months. To defeat Thompson-Herah is a big step forward for Richardson.
Quick Take: How did the weather affect the times?
Cool, wet, and a headwind are just about the worst conditions you could draw up for a 100-meter race. Check out the results for the women's 100 in Lucerne below and the difference compared to their season's bests.
| | | | | |
| --- | --- | --- | --- | --- |
| Place | Athlete | Time | SB | Difference |
| 1 | Sha'Carri Richardson | 11.29 | 10.85 | 0.43 |
| 2 | Elaine Thompson-Herah | 11.30 | 10.79 | 0.51 |
| 3 | Celera Barnes | 11.40 | 10.94 | 0.54 |
| 4 | Jenna Prandini | 11.48 | 11.00 | 0.48 |
| 5 | Murielle Ahoure | 11.50 | 10.95 | 0.55 |
| 6 | Mujinga Kambundji | 11.54 | 10.89 | 0.65 |
| 7 | Shania Collins | 11.59 | 10.92 | 0.67 |
| | | | Average | 0.55 |
Richardson was actually the closest in the field to her SB, but she was still .43 slower than her 10.85 from the NYC Grand Prix in June. Should Richardson get better conditions in Brussels on Friday, she should be capable of running somewhere in the 10.8's or faster. *2022 Lucerne Results – 2022 Spitzen Leichtathletik Results – Sha'Carri Richardson, Sage Hurt and Yared Nuguse Win
Talk about the meet on our messageboard.
---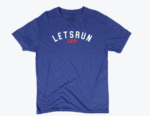 Want to become a Running Insider? Join the LetsRun.com Supporters Club.
Get all the best track and field content on the internet, the softest running shirt you've ever seen, the Supporters Club only podcast, and right now 20% savings on running shoes. https://www.letsrun.com/subscribe
Just want super soft running shirts? Check out the LetsRun.com store.