Sean Brosnan Opens Up About Leaving the Greatest High School XC Team Ever for UCLA
by Weldon Johnson, LetsRun.com
August 4, 2022
Until Monday Sean Brosnan was the coach of the greatest boys high school cross country and long-distance track team ever.
Now he's the Assistant Track and Field coach of the UCLA Bruins.
Brosnan joined us on the LetsRun.com Track Talk podcast to discuss his move from Newbury Park High School to UCLA. You can listen to the podcast below or here on your favorite podcast player.

Before we get into the highlights of what Brosnan said, let's get one thing out there.  His boys' team was the greatest boys high school long-distance team ever, and it's not even close. They went 1-2-3-4 and 7 at the California State meet. At the Running Lane XC Champ, the unofficial high school national championships, they went 1-2-3-6 (and 42).
On the track, junior Lex Young was the SLOWEST of the top 4 in the mile this year and he ran 4:01.52. So that means Newbury Park had 4 high schoolers go sub 4 for 1600m in the same year.  Lex also ran 7:57 and 13:43 this year. And oh yeah, he was only the #3 guy on the cross country team in the fall.
His twin brother Leo was the #2 and ran 4:00.77 and 8:39 this spring while missing time with illness.
Senior Colin Sahlman led the way running 3:56 for the mile, breaking the indoor record for 3000 (7:56), running 1:48, and being the number one in cross country.
Colin's brother, Aaron, also a junior, ran 1:48, 4:01 and 8:01.
Article continues below player.
Timing of UCLA Opportunity
With Leo, Lex and Aaron all coming back this year, some might wonder why Brosnan would want to leave now. If he stayed another year, he likely would have another national title, and his athletes possibly a stranglehold on the national records 3000m and up.
"Life is about timing and sometimes you can't control it," Brosnan said. He had interviewed for some collegiate and pro coaching jobs in the past, but his intention was to stay at Newbury Park this year. Brosnan was with his team in Big Bear for a month-long altitude camp when the UCLA opportunity came. (The UCLA distance job opened up at the end of June).
Coaching at a power 5 school with a storied track and field tradition in the same metro area you already live in is a tremendous opportunity for any college coach, much less one trying to jump from the high school ranks.
The only thing missing with the UCLA opportunity is UCLA is not a distance powerhouse. It's always been known for being a well-rounded track program.
But Brosnan heard and saw a commitment from head coach Avery Anderson to improve the distance fortunes at UCLA.
"I do think that they want to see the distance get… to maybe where they're a national contender or a team that's going to send people to nationals and score," Brosnan said. "[I'm] excited that they were including me on that, to help them do that."
New Expectations
At Newbury Park, Brosnan was pondering whether his team could do what no one else had done before.  Now at UCLA, his immediate questions are much simpler, whether his team can make nationals. However, Brosnan reminds people he didn't have instant success at Newbury Park. Two years ago, in his first appearance on the LetsRun.com Track Talk podcast in March of 2020, he told us that he considered quitting during year #1.
Brosnan is getting a late start this year trying to have an immediate impact in the fall of 2022. He is focused on establishing the culture of success he developed at Newbury Park. "I think the biggest thing is getting this culture that they are willing to put a little bit of sacrifice in there to be on that podium or get to nationals or whatever the goal is because if we don't do that at UCLA and we don't buy in, then we're going to watch other people celebrate the national birth or the podium every year," he said.
One thing Brosnan made clear, was that he taking the job at UCLA was not some part of a plan to get all the Young and Sahlman brothers to follow him to Westwood. He indicated the Young twins are pretty far along in their college search, and are expected to make their verbal commitment known soon. Colin Sahlman heads off to Northern Arizona later this month, and while Aaron Sahlman is further behind in the process, there is no expectation for him to come to UCLA.
Saying Goodbye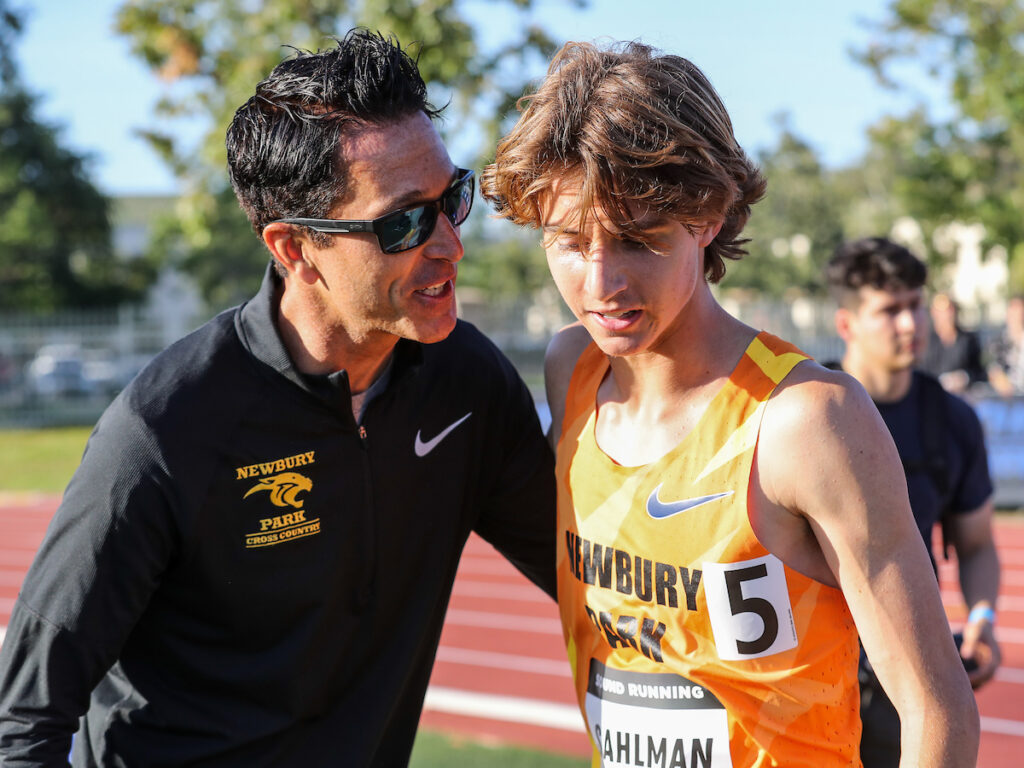 The most difficult thing Brosnan had to do was say goodbye to his Newbury Park team. He composed an email to the team and was reading it to his wife Tanya when the emotions hit him.  "I couldn't get through it. It was hard. It was actually really hard to read it and say like, wow, like I'm actually leaving because it's been like a huge part of my life."
He leaves knowing at least for now the team is in good hands. His assistant coaches, his wife Tanya and Steve Hawkins, are expected to take over the program. They currently are listed as the interim coaches. Assuming the interim title is removed, the transition to a new coach appears to be on a path to go as smoothly as possible.
What's in Store for Newbury Park This Year?
The attention will soon shift to not who is coaching Newbury Park, but how fast its runners can go. Nico Young's high school feats were legendary, but they have nearly been eclipsed by both his younger brothers with a year of high school remaining.
Brosnan turned heads earlier this week when he said, "Lex is like in 13:20 shape for 5k and Leo is right there with him." (For the record Galen Rupp's high school 5000m record is 13:37).
When asked about this, he told LetsRun.com that he didn't think they could run that right now as it is offseason training, but their fitness points to that level of ability, and the goal for them will to be to try and beat Nico's US Junior record of 13:24.26 which he ran as a freshman at NAU.
Aaron Sahlman currently loves the 800 but has already run 4:01 for the mile and 8:01 for 3000m. "I think ultimately Aaron Sahlman is going to be a 15[00]/5[000 runner] if he wants to be," said Brosnan
What about Colin Sahlman and Nico Young?
Two years ago when we first spoke to Brosnan, a big question mark was whether his runners could succeed at the next level. Would their intense high school training burn them out?
Brosnan points out the whole point was to prepare them for the next level. "The whole goal for me as a high school coach was to make sure that they were prepared for college," he said. "I loved when people would say that Nico was just going to burn out and he wasn't going to run well in college."
Young's success at NAU, with two NCAA top-3 finishes and lowering his 5000m pr to 13:11, has shown otherwise.
"I think when I did the podcast with you guys last time, I made a statement and I'm standing by it. Nico Young I think will be an NCAA 10 K champion. Once he runs the 10k, he is built for that to me. He reminds me… I think he's really close to like a Galen Rupp type… maybe he has a little faster foot speed. I don't know because I think people underestimate Nico, how fast he is," Brosnan said.
What about Colin Sahlman, Brosnan's first sub-4 minute high school miler? "You want someone who could win NCAA championships at 1500? That's Colin Sahlman," said Brosnan.
And the #1 Runner from Newbury Park is….
With such a plethora of talent, does Sean ever rank the crew in terms of ability?
He has, but for now he's keeping that ranking private.
"There is a difference between them all. It's hard to rank them. I definitely probably have one that I think can be the ultimate pro runner and be great, but I don't want to reveal that name. They all have an opportunity to be great college and professionals if they want I think," said Brosnan.
Fair enough.
They've been fun to watch and thank you Sean for sharing them with us.
Listen the full Sean Brosnan podcast here. *2020 Sean Brosnan Podcast
Talk about Brosnan on our world-famous messageboard / fan forum.