Schedule, Entries, & Results for 2022 European Athletics Championships
By LetsRun.com
August 12, 2022
The 2022 European Athletics Championships will be held August 15-21 in Munich, Germany. Below you will find a complete schedule. Results can be found here once the meet starts.
Article continues below player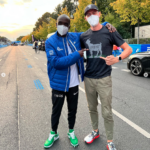 Kipchoge loves the 1:59:40 Shirt Get Yours Today
What a legend!
ALL TIMES LOCAL. FOR US EASTERN TIME, SUBTRACT 6 HOURS.
Monday, August 15
Start Time
Location
Event
Status

10:00

Olympiastadion

10:00

Olympiastadion

10:05

Olympiastadion

10:25

Olympiastadion

10:25

Olympiastadion

10:30

Marathon Course

10:40

Olympiastadion

10:50

Olympiastadion

10:50

Olympiastadion

11:05

Olympiastadion

11:20

Olympiastadion

11:20

Olympiastadion

11:30

Marathon Course

12:10

Olympiastadion

12:10

Olympiastadion

12:40

Olympiastadion

12:40

Olympiastadion

18:15

Olympiastadion

18:30

Olympiastadion

18:30

Olympiastadion

19:00

Olympiastadion

19:25

Olympiastadion

19:35

Olympiastadion

20:05

Olympiastadion

20:05

Olympiastadion

20:15

Olympiastadion

20:38

Olympiastadion

20:58

Olympiastadion

21:15

Olympiastadion

21:48

Olympiastadion
Tuesday, August 16
Start Time
Location
Event
Status

8:30

Race Walk Course

8:30

Race Walk Course

9:05

Olympiastadion

9:35

Olympiastadion

9:50

Olympiastadion

9:50

Olympiastadion

9:50

Olympiastadion

10:15

Olympiastadion

10:55

Olympiastadion

11:30

Olympiastadion

11:40

Olympiastadion

12:15

Olympiastadion

12:25

Olympiastadion

12:30

Olympiastadion

13:00

Olympiastadion

13:30

Olympiastadion

18:30

Olympiastadion

18:35

Olympiastadion

18:35

Olympiastadion

19:30

Olympiastadion

20:05

Olympiastadion

20:27

Olympiastadion

20:35

Olympiastadion

20:55

Olympiastadion

21:08

Olympiastadion

21:35

Olympiastadion

22:15

Olympiastadion

22:25

Olympiastadion
Wednesday, August 17
Start Time
Location
Event
Status

9:35

Olympiastadion

10:30

Olympiastadion

10:50

Olympiastadion

11:05

Olympiastadion

11:35

Olympiastadion

11:35

Olympiastadion

11:40

Olympiastadion

12:20

Olympiastadion

12:35

Olympiastadion

12:35

Olympiastadion

13:35

Olympiastadion

19:49

Olympiastadion

19:49

Olympiastadion

20:00

Olympiastadion

20:15

Olympiastadion

20:30

Olympiastadion

21:00

Olympiastadion

21:10

Olympiastadion

21:43

Olympiastadion

22:02

Olympiastadion

22:22

Olympiastadion
Thursday, August 18
Start Time
Location
Event
Status

9:00

Olympiastadion

9:20

Olympiastadion

9:25

Olympiastadion

9:25

Olympiastadion

10:10

Olympiastadion

10:15

Olympiastadion

10:45

Olympiastadion

10:50

Olympiastadion

10:50

Olympiastadion

11:25

Olympiastadion

11:36

Olympiastadion

11:55

Olympiastadion

12:30

Olympiastadion

12:48

Olympiastadion

13:05

Olympiastadion

20:05

Olympiastadion

20:10

Olympiastadion

20:13

Olympiastadion

20:37

Olympiastadion

20:58

Olympiastadion

21:05

Olympiastadion

21:25

Olympiastadion

21:55

Olympiastadion
Friday, August 19
Start Time
Location
Event
Status

10:00

Olympiastadion

10:00

Olympiastadion

10:05

Olympiastadion

10:05

Olympiastadion

10:25

Olympiastadion

10:50

Olympiastadion

11:10

Olympiastadion

11:15

Olympiastadion

11:40

Olympiastadion

20:20

Olympiastadion

20:27

Olympiastadion

20:45

Olympiastadion

20:55

Olympiastadion

21:00

Olympiastadion

21:20

Olympiastadion

21:45

Olympiastadion

22:00

Olympiastadion

22:22

Olympiastadion
Saturday, August 20
Start Time
Location
Event
Status

8:30

Race Walk Course

10:15

Race Walk Course

20:05

Olympiastadion

20:15

Olympiastadion

20:25

Olympiastadion

20:43

Olympiastadion

21:15

Olympiastadion

21:45

Olympiastadion

22:13

Olympiastadion
Sunday, August 21
Start Time
Location
Event
Status

19:05

Olympiastadion

19:10

Olympiastadion

19:40

Olympiastadion

19:50

Olympiastadion

20:00

Olympiastadion

20:45

Olympiastadion

21:12

Olympiastadion

21:22

Olympiastadion