Tallahassee to Host 2026 World Cross Country Championships, Tokyo to Host 2025 World Athletics Champs
By Jonathan Gault
July 14, 2022
EUGENE, Ore. — Happy World Championships Eve.
The track & field world has descended on TrackTown USA, and will be here for the next 11 days until the 2022 World Athletics Championships wrap up on July 24. Hang around Track Town Pizza or the Wild Duck this week and there's no telling who you'll bump into — only that, at one point in their life, they probably ran pretty fast or jumped pretty high or threw pretty far.
Article continues below player
Like our coverage from Albuquerque?
Though Eugene will be the center of attention tomorrow, the biggest news item for the American running fan on Thursday actually concerned another US city: World Athletics announced that Tallahassee, Fla., will host the 2026 World Cross Country Championships at Apalachee Regional Park, the site of last year's NCAA championships. WA also announced that the towns of Medulin and Pula in Croatia will host 2024 World XC and Tokyo will host the 2025 World Athletics Championships.
(The big news from the USA press conference today was US star Noah Lyles making some bold predictions about the US men's 4×100 relay, saying that the squad "might break the world record." That gets its own article here.)
World XC heading back to the USA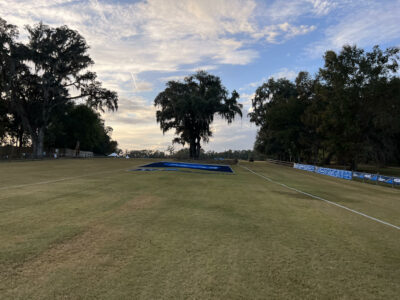 After hosting the USA Cross Country Championships in 2017 and 2018 and the NCAA Cross Country Championships in 2021, Tallahassee has landed the big one: World XC in 2026. It's the third time World XC has been held in the US after the Meadowlands Racetrack in New Jersey hosted in 1984 and Boston's Franklin Park hosted in 1992.
When you think cross country, you don't typically think Florida — the conditions will certainly be different from the 1992 race in Boston, which was run on a snow-covered course. So why is Tallahassee hosting? It's pretty simple: they wanted to host. Bidding on an event like World Cross requires a local organizing committee and, crucially, financial support from a local government entity or tourism bureau — and the Tallahassee bid had that in the form of support from Visit Tallahassee.
But it's not as if World Athletics just handed Tallahassee the bid. I bumped into Jakob Larsen in the media center in Eugene — the mastermind behind the terrific 2019 World XC in Aarhus and now the Director of Competition and Events for World Athletics — and he said that it was a competitive bid process but was impressed by the passion of the Tallahassee bid.
The course will have to undergo a few changes — the current 10k layout is great for spectators but a bit straightforward. The LOC will need to find ways to spice it up, but they have four years to brainstorm.
It is a big opportunity for the US, and for cross country as a whole. After going without World XC champs in 2020, 2021, and 2022, there will be three in four years from 2023 through 2026. If those events (in Bathurst, Australia, next year, Croatia in 2024, and Tallahassee) are successful, it may convince World Athletics to make World XC an annual event again.
Discuss: World xc in 2026 in Tallahassee Florida
Tokyo hosting 2025 Worlds
World Athletics also handed the 2025 Worlds to Tokyo, beating out bids from Nairobi, Silesia, and Singapore. Tokyo was the most logical choice. Japan built a massive, beautiful stadium for the 2020 Olympics but no fans actually got to watch any track in it. A stadium like that deserves to host a major championships, and the people of Japan deserve the chance to see the world's best athletes after missing out last year.
Tokyo will become the second city to host Worlds twice after Helsinki (Tokyo also hosted the 1991 edition), and it will mark the third time Japan has hosted, more than any country (Osaka hosted in 2007).
The decision to go to Tokyo also means that Africa has still not hosted a World Outdoors — they will be 0-for-20 after 2025. Nairobi, which hosted the World U18 champs in 2017 and World U20 champs in 2021, desperately wants to host. World Athletics president Seb Coe has repeatedly spoken about wanting to spread the sport's major events around the globe, so perhaps 2027 will finally be the year that Africa gets a Worlds.
*The other big news from Thursday was Noah Lyles saying the United States 4×100 squad "might break the world record" this year due to extra practice and that the US won't lose with him on the team. Read about that here.
Discuss: World xc in 2026 in Tallahassee Florida
Correction: Originally this article said Tokyo would be the first city to host Worlds twice. In fact, Helsinki has already hosted twice, in 1983 and 2005.