Schedule and Results For World Athletics Championships Oregon22 – 2022 Worlds Track and Field Schedule
By LetsRun.com
July 12, 2022
The 2022 World Athletics Championships are almost here. The first world outdoor track and field championships held in the US start on Friday at the new Hayward Field in Eugene, Oregon.
A full day-by-day schedule for the World Athletics Championships Oregon22 appears below. Each day, we will update this page so it links to results after the day is over.
Article continues below player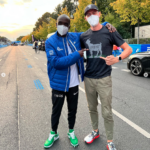 Kipchoge loves the 1:59:40 Shirt Get Yours Today
What a legend!
You can get live results at the World Athletics website here.
Television and streaming information for 2022 World Athletics Championships in Eugene is here.
LetsRun.com is the running's front page. Come each and every day to get the latest on the running world. *Complete Event-by-Event Previews *Full 2022 Worlds Coverage.
Before you take a look at the schedule, enter our free prediction contest. Then get your friend to play as well. You can create your own group and you could win a Coros watch or event $200,022 with a perfect score: LRC Coros $200,022 LetsRun.com Worlds Track and Field Prediction Contest.
Unless noted, all times listed are US Pacific (GMT -07:00) so add 3 hours for US ET.