Meet the Guy Who Stormed the Track After the Women's 5,000 at the 2022 Worlds
By Jonathan Gault
July 23, 2022
EUGENE, Ore. — Seconds after Ethiopia's Gudaf Tsegay won her first global outdoor title in the 5,000 meters at the 2022 World Athletics Championships at Hayward Field, a bearded man in dark blue shorts and a white patterned shirt unbuttoned below his chest ran onto the track, lifted up Tsegay and fellow Ethiopian fifth-placer Letesenbet Gidey and, after a brief chase, was apprehended by security and led away from the track.
It was a bizarre moment if you haven't been following what's been going on in Ethiopia for the last year and a half. If you have, you may have noticed the red-and-yellow flag the track invader carried with him as the flag of the Tigray region of Ethiopia, which has been the center of a brutal conflict between the Tigray People's Liberation Front and the Ethiopian government. There were a number of Tigray flags in the stands Saturday night, particularly on the curve near the 5,000m start as both Tsegay and Gidey (who won the 10,000 meters earlier in these championships) hail from the region.
Article continues below player.
The conflict in Tigray began in November 2020 when Tigray forces attacked an Ethiopian military base in the area, after which Ethiopian prime minister Abiy Ahmed dispatched forces in response. According to Human Rights Watch, a number of hospitals, schools, factories, and businesses have been damaged or destroyed in the region, with more than 2 million people forced to flee their homes. Some of those who have stayed have found themselves cut off from basic resources like food and electricity. After the race, the Tigrai_TV account said Gidey's parents have not been able to see her for the last two years.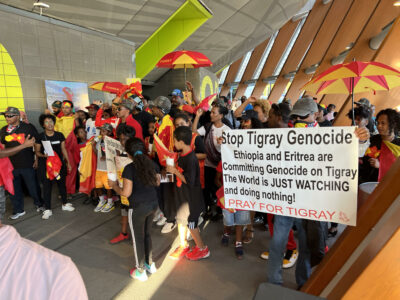 Following Tsegay's victory, around two dozen protestors marched around the Hayward Field concourse with Tigray flags, posters, and shirts reading "FREE TIGRAY" and "TIGRAY IS A COUNTRY" while chanting phrases such as "End Tigray genocide." At the back of that pack, LetsRun found the man who had stormed the track less than an hour earlier. He said his name is Mearg Mekonen, 40, and that he is originally from the Tigray region, but now lives in Texas.
Mekonen said he had planned to come to watch Tsegay and Gidey run tonight but had not planned on running onto the track. After Tsegay won, however, he said he felt overcome with emotion and that he needed to do something.
"I couldn't control it," Mekonen said.
Mekonen said his goal was to raise global awareness for what is happening now in the Tigray region.
"I tried to be a voice for the voiceless," Mekonen said. "I want people to know that there is genocide happening right now when we're speaking and people don't have access. We cannot see our family."
For an athlete such as Tsegay or Gidey to speak out carries risk to not just themselves, but their families and loved ones back home, which is one of the reasons Mekonen said he felt he needed to do something.
"Even the athletes cannot see or talk to their family," Mekonen said. "I'm trying to be a voice for the athletes and for the people."
Gidey did not speak to media after the race; Tsegay was asked about her feelings about Mekonen interrupting her celebrations but was whisked away by Ethiopian team staff before she could answer.
Mekonen said that he was detained, but not arrested and was allowed to return to the stadium within an hour; he was walking around as part of the Tigray protests as roars from the women's 4 x 100 meter relay final echoed around the stadium.
"They detained me and they were actually nice and they asked me why I did this," Mekonen said. "…They told me to not do that again and they just let me go."
The conflict in Ethiopia is a complex one. Both sides have been accused of committing atrocities. Last year, the New York Times reported Ethiopian defense forces "have been accused of carrying out transgressions including extrajudicial killings, sexual violence and attacks on refugees" while Human Rights Watch reported Tigrayan forces executed 49 civilians in the span of two weeks last summer.
As Mekonen was dragged away from the track, Tsegay was beginning her victory lap with the red, yellow, and green flag of Ethiopia draped around her shoulders. In that moment, Mekonen experienced mixed emotions.
"It feels different because Ethiopia is starving us right now – we, the people who build Ethiopia," Mekonen said. "There is no Ethiopia without Tigray. It starts from Tigray. The nation that we build, when they do this to us, it's horrible. It's really horrible. It feels bad. I cannot explain…There is not Ethiopia without Tigray. Ethiopia is Tigray. Tigray is Ethiopia. Now they surrounded us and starving us."
Video of protest
Full interview with Mearg Mekonen