Disaster: All Four US Men Eliminated in Round 1 of 800, Including Defending Champ Donavan Brazier
by LetsRun.com
July 20, 2022
(Do you want a daily podcast from the LetsRun.com crew discussing the inside scoop from Eugene? Support independent journalism and join the LetsRun.com Supporters Club today. Plus you get big savings on running shoes.)
EUGENE, Ore. – The track gods giveth and the track gods taketh away.
Article continues below player
Thanks to Donavan Brazier winning the 2019 World Championships in Doha, Qatar, the United States had four men competing in round 1 of the men's 800m at the 2022 Worlds Championships. None of them would advance to round 2, on a disastrous night for US 800m runners.
It was quite the contrast to the 2019 Worlds where three Americans made the final and finished 1-4-8.
Befitting a chaotic year for the 800m, when round 1 of the men's 800m was done tonight, the world leader, Max Burgin, the reigning champion Brazier, and the Olympic bronze medalist, Patryk Dobek, had all been eliminated, in addition to the US failing to advance anyone out of the first round for the first time in World Championship history.
World Leader Max Burgin Scratches Before Start and Then Disaster for US Men
The drama started early as 20-year-old British champion Max Burgin was announced as a scratch due to injury. Heat 1 went largely to form after a pedestrian 56.80 opening 400, defending Olympic champ Emmanuel Korir kicked to the win in 1:49.05. Then, in heat 2, Brazier looked similar to his season opener in Doha in May – no power in the home straight, struggling to a 6th-place finish in 1:46.72 that would not hold up as a time qualifier in a heat won by Australian record holder Peter Bol in 1:45.50. The top three in each heat plus next 6 time qualifiers were advancing.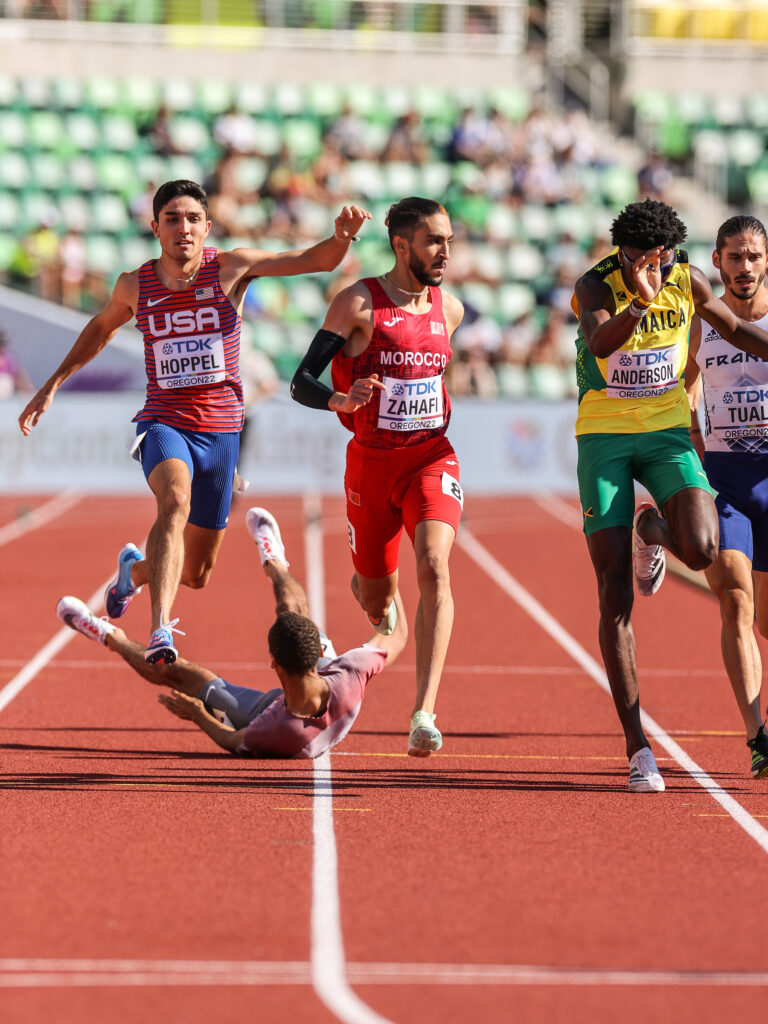 Up next was US champ Bryce Hoppel, who was 4th at Worlds in 2019. Hoppel had no punch down the homestretch and would finish 5th in heat 3 in 1:46.98 in a heat won by 2022 NCAA champ Moad Zahafi. Hoppel was shoved early in the race and would file an appeal, but not advance (more on that below).
NCAA indoor champ Brandon Miller (5th in 1:47.29) likewise failed to secure an automatic qualifier by placing in the top three and went home in heat #4.
In Heat #5, Jonah Koech was the lone American to finish in the top 3 in his heat, as he ran great and took 2nd in heat in what would have been a new pb of 1:44.62, but that result would not stand as he was DQ'd under World Athletics Technical Rule 17.2.2 ("jostling or obstruction"). On the backsretch, Koech aggressively asserted his way through an opening and made contact with Sweden's Andreas Kramer (who still ran 1:45.77 and would advance to the semis on time). Otherwise, heat 5 was the fastest of the day as Canada's Marco Arop won it in 1:44.56, and six of the seven finishers advanced to the semis.
Heat 6 had 5 qualifiers as they had the advantage of knowing how fast to run to advance.
Quick Take: Donavan Brazier says he's been dealing with a Haglund's deformity and will have surgery to correct it next week
It was known coming into Worlds that reigning world champ Donavan Brazier was not 100% as he had been battling bursitis earlier this year. Brazier ran 1:46 and won his heat at USAs before scratching from the semis, giving some hope that he could be a factor at Worlds, but Brazier said today he has still had to rely on a lot of cross-training in practice, running about 15-20 miles a week instead of his usual 35. He hasn't been truly healthy since the winter and the lack of training caught up to him today.
"I thought I could go in with the cross training, the limited training I've had, and be one of the best in the world, but these guys proved me wrong," Brazier said. "I have to get that same training block I had in 2019 and 2020 to really prove myself as the best 800-meter athlete."
Brazier revealed that he already has surgery scheduled for next week in Colorado – with the same surgeon who repaired his broken left foot in 2021 – this time on his right Achilles. Brazier said that when he received a platelet-rich plasma injection so that he could compete at Worlds, they found the trademark bump on his heel indicative of Haglund's and felt it was best to get it shaved down. A number of American runners have come back from the surgery successfully in recent years, including Galen Rupp, Jake Riley, and Sean McGorty, who had the surgery last year and made the US team in the 10,000 this year.
Brazier may be the greatest 800-meter talent America has ever produced, but injuries have become a sadly common occurrence for the American record holder. He missed the entire 2018 outdoor season (Achilles), and was hobbled in 2021 (foot) and 2022 (foot/Achilles). Meanwhile in his two healthy seasons, 2019 and 2020, he was the best 800 runner on the planet.
Brazier is still only 25 and doesn't need a ton of training to get up to speed. But even getting that token amount has been a struggle in recent years. 
Quick Take: The officials did Jonah Koech and Bryce Hoppel no favors tonight
Koech and Hoppel were both on the wrong side of officiating decisions and neither man will be happ about not being in the semifinals on Thursday. Shortly after the field broke from their lanes, Hoppel was blatantly shoved on the back straight by Canada's Brandon McBride, who then got caught up in more bumping and fell down, causing Hoppel to dodge him. Yet no foul was assessed and Hoppel, who missed a time qualifier by .93, was out.
Koech, meanwhile, just before the final turn was contacted from behind by Algeria's Yassine Hethat, which caused him to briefly lose his balance and clipped Sweden's Andrea Kramer who was in front of him. Just after that, Koech tried to pass between Kenya's Noah Kibet and Kramer where there wasn't room to get through cleanly and wound up throwing off Kramer's momentum. Kibet and Kramer still wound up advancing as time qualifiers but Koech was judged to have committed a foul and was DQ'd (the US did not appeal).
The lack of consistency in the enforcement of the rules is insane. How in the world Brandon McBride wasn't DQ'd is beyond us. He openly shoved Hoppel. We don't want to hear, "But he didn't make it anyways and fell right after that." If World Athletics is only going to call fouls that clearly impact the race (which maybe should be the default — in the NFL they don't call pass interference if the ball is uncatchable), then Koech certainly shouldn't be DQ'd as his tight squeeze didn't end up hurting Kramer or Kibet.
Regardless, the fact that USATF didn't appeal both decisions is wild. Hoppel should have been able to overcome the contact as there was 600 still to run but we get why he was upset. And Koech shouldn't have done what he did but hey everyone made it so let's pick that one up.
We have an interview below from Koech, but it was recorded before he was DQ'd:
Women's 5,000 prelims: Tsegay is added, all three Americans advance
The biggest news of the day in the 5,000 came before any races were run as Gudaf Tsegay was subbed into the Ethiopian team in place of world leader (and #5 all-time) Ejgayehu Taye. Tsegay, who earned silver in the 1500 on Monday night, was initially entered as the alternate but she will now run the final (she qualified easily) instead of Taye, who was only 6th in the 10,000 in Eugene.
In terms of actual racing, all of the expected contenders advanced to the finals, as did all three Americans (Karissa Schweizer and Elise Cranny with auto qualifiers, Emily Infeld with a time qualifier). DSD athlete Caster Semenya, running her first Worlds since 2017, finished 13th in heat 1 in 15:46.12, more than 45 seconds off what it took to qualify.
Quick Take: Emily Infeld said she got COVID after USAs but was happy to make the final
Infeld said she only had to take four days off of training (she didn't work out for 10 days) and had mild symptoms but wanted to be a bit cautious as she has had friends who have dealt with long COVID.
"I didn't get as much [work in as I would have liked after USAs]," Infeld said. "For me, I need every workout I can get. It's hard. These women are incredible and I know it's hard to be up there competing with them."
Quick Take: Elise Cranny hoping Americans can become more competitive in the 5,000
Last year, Cranny said she didn't run with much confidence in the Olympic final. She finished 13th and said part of it was a self-fulfilling prophecy – she lined up expecting to get beaten by the East Africans, and as a result she went out toward the back and didn't put up much of an effort to reattach once she got dropped. But watching the 10ks earlier in the meet, Cranny saw the Americans do their best to be competitive, even if it didn't always work out. She believes that if the US is to ever be competitive in the women's 5,000 (Molly Huddle's 6th in 2013 is currently the best Worlds finish by an American), it will take a number of athletes consistently trying to run with the best in the world and making steady, gradual progress.
"Watching Grant [Fisher] and Sean [McGorty] and Joe [Klecker] and watching Karissa and Alicia [Monson] and Natosha [Rogers], they put themselves in it for as long as they [could] and they went for it," Cranny said. "And that's how we're going to crack that and figure it out, is by putting ourselves in it."
Karissa Schweizer post-race interview
Schweizer said she's been sleeping a lot – 10-11 hours a night – as she and Cranny have been rooming together and have been able to synchronize their sleep schedules.