2022 Kip Keino Classic Results: Omanyala (9.85) and SAFP (10.67) win the 100s but check out these altitude adjusted distance times
by LetsRun.com
May 7, 2022
Compiled results for the 2022 Kip Keino Classic – the World Athletics Continental Tour Gold track and field / athletics meeting held today at the Moi International Sports Centre in Nairobi, Kenya – appear at the bottom of this page.
Kenya's Ferdinand Omanyala (9.85, +2.0) and Jamaica's Shelly-Ann Fraser-Pryce (10.67, -0.4) stole the headlines in the 100 but there were some impressive altitude times in the distances led Abel Kipsang's 3:31.01 in the men's 1500 (converts to 3:25.93 according to the NCAA formula which is a little generous for altitude raised athletes) and and Norah Jeruto's 9:04.95 in the women's steeple (8:50.06) conversion.
Article continues below player
Other distance winners and conversions: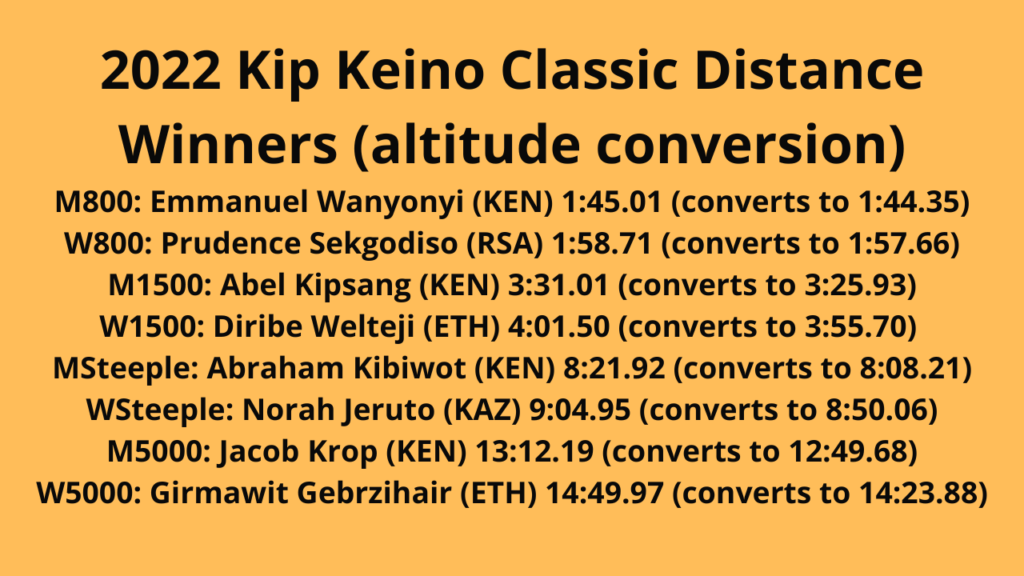 Talk about the action on our world-famous fan forum / messageboard.
MB: Official Kip Keino Classic discussion thread. Marcell Jacobs is OUT of meet and IN the emergency room.
MB: Abel MF Kipsang 3:31.02 @ 5000+ ft of altitude
National Events – F
National Events – F
National Events – F
National Events – F