The TEN Is This Weekend. Can Grant Fisher Break 27:00 and Challenge Galen Rupp's American Record?
By LetsRun.com
March 4, 2022
One of the fastest 10,000-meter races in the world in 2022 will be staged this weekend as a number of Bowerman Track Club stars, led by Grant Fisher, Moh Ahmed, and Elise Cranny, will race at The TEN in California. You may remember this meet from last year when Cranny ran 30:47 to outkick Karissa Schweizer and move to #3 on the US all-time list and Marc Scott won the men's race in 27:10 to lead five men under 27:20.
This year's races should be even faster as Fisher, fresh off his 12:53 American record for 5,000 meters indoors, is hoping to become just the third American man under 27:00. He has not mentioned Galen Rupp's 26:44.36 American record as a goal, but a fast enough second half this weekend could bring that time within range. The meet will use the Wavelight pacing system that has helped Joshua Cheptegei, Sifan Hassan, and Letesenbet Gidey set 10,000m world records over the past two years.
Article continues below player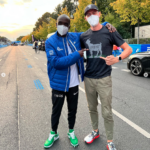 Kipchoge loves the 1:59:40 Shirt Get Yours Today
Shirts are $10 off if he breaks the world record and you order today.
There will also be an elite men's 1500 which includes Ollie Hoare, Geordie Beamish, Josh Thompson, Sam Prakel, and Luis Grijalva.
The TEN, which will be held at JSerra Catholic High School in San Juan Capistrano, Calif., was originally scheduled for Saturday night but meet director Jesse Williams confirmed to LetsRun that the meet has been moved to Sunday because of windy conditions in the forecast.
Full details on the meet — which you can watch live on pay-per-view for $5.99 — can be found on the meet website.
Schedule and entries below courtesy Sound Running. USATF has yet to officially announce the standards for the USATF 10,000m championships (which will be held as part of the Prefontaine Classic on May 27) but Williams confirmed that the times to hit are 31:45.00 for women and 27:50.00 for men.
ALL TIMES BELOW US EASTERN. 
Sunday, March 6
9:42 p.m. ET – Women's U.S. Champs Qualifier
USATF Championships standard: 31:45.00
Field: Amelia Keyser-Gibson, Katja Goldring, Jeralyn Poe, Kaitlyn Peale, Lexi Zeis, Lauren Hurley, Allie Kieffer, Jaci Smith, Mackenzie Caldwell, Kaylee Bogina, Molly Grabill, Susanna Sullivan, Caroline Sang, Daniela Torres, Jeanne Mack
10:20 p.m. ET – goodr Men's U.S. Champs Qualifier
USATF Championships standard: 27:50.00
Field: Stephen Scullion, Mohamed Hrezi, Daniel Docherty, Alex Monroe, Tai Dinger, Theodorakis Medrano, Simon Grannetia, JP Flavin, Moath Alkhawaldeh, Luc Bruchet, John Reniewicki, Willy Fink, Alec Sandusky, M. Angel Ramirez, Mathieu Cros, Benjamin Eidenschink, Geoff Kipchumba, Alejandro Martinez Ambrosio, Daniel Soto, Ryan Forsyth, Shea Weilbaker, Louis Serafini
10:52 p.m. ET – PACERS RUNNING Men's 1500m
Field: Ollie Hoare, Sam Prakel, Vincent Ciattei, Amos Bartelsmeyer, David Ribich, Luis Grijalva, George Beamish, Josh Thompson, Izaic Yorks
11:00 p.m. ET – OOFOS Women's World Champs Qualifier
World Championship standard: 31:25.00
Field: Emily Lipari, Paige Stoner, Natosha Rogers, Courtney Frerichs, Vanessa Fraser, Elise Cranny, Stephanie Bruce, Kellyn Taylor, Dominique Scott, Taylor Werner, Mikuni Yada, Maggie Montoya, Laura Thweatt, Sarah Lancaster, Maddie Alm, Mille Paladino, Olivia Pratt, Carmela Cardama-Baez, Carrie Verdon, Emma Bates, Amy Davis, Katrina Coogan, Andrea Seccafein, Ednah Kurgat
11:40 p.m. ET – PRE CLASSIC Men's World Champs Qualifier
World Championship standard: 27:28.00
Andy Butchart, Pat Tiernan, Shadrack Kipchirchir, Sam Atkin, Woody Kincaid, Lopez Lomong, Frank Lara, Kirubel Erassa, Connor Mantz, Robert Brandt, Yamato Yoshii, Kanta Shimizu, Reid Buchanan, Lawi Lalang, Mohammed Ahmed, Ben Blankenship, Grant Fisher, Matt Baxter, Evan Jager, Kieran Tuntivate, Alex Masai, Connor McMillan, Patrick Dever, John Dressel, Jack Rayner, Luke Caldwell, Sydney Gidabuday, Sam Chelanga, Matt Hughes, Sean McGorty.
Talk about the event on our messageboard. MB: Big News involving The Ten – It may be moved to Sunday night due to high winds.