2022 NCAA Indoor Men's Day 1: Texas Pulls DMR Stunner, Abdihamid Nur Dominates Men's 5K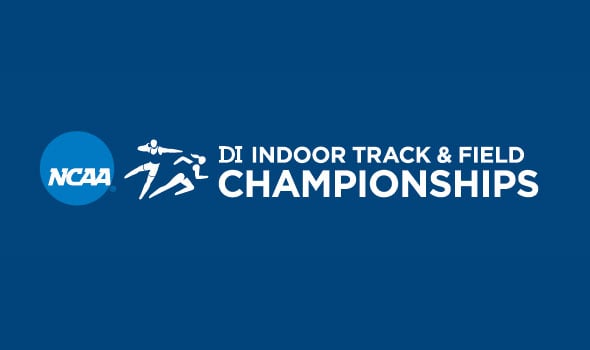 March 11, 2022 to March 12, 2022
By Robert Johnson and Jonathan Gault
March 11, 2022
BIRMINGHAM, Ala. – Below we recap the men's mid-d and distance action from day 1 of the 2022 NCAA Indoor Track and Field Championships at the Birmingham CrossPlex. Our women's day 1 recap is here.
5000 Final: Nur and NAU get it done on the track
Article continues below player
---
Abdihamid Nur of Northern Arizona went to the lead with 1100 meters left in the men's 5000 and never relinquished it as he squeezed the life out of the fastest NCAA 5000-meter field in meet history. His final six laps were 30.50, 31.22, 30.82, 30.31, 29.95, and 30.03 as he got the win in a meet-record 13:19.01.
At 4k, six guys were still in the lead pack. Two laps later it was down to just four – Nur, Florida State's Adriaan Wildschutt, NAU's Nico Young, and Stanford's Ky Robinson. A lap later, only Wildschutt remained, but at the bell Nur was all alone. On the last lap, Robinson had the best close (27.55) as he went from 4th to 2nd (13:20.17). Young also went sub-30 on the last lap (28.87) to move up to third as he just edged Wildschutt with both men being given the identical time of 13:21.23. 
Those top four times were all faster than the meet record winning time put up last year (13:23.77) by Iowa State's Wesley Kiptoo, not a shock given the fact that the #1 time in the country last year during the regular season (13:28.00) wouldn't have even qualified for the meet this year. Kiptoo led this one early, going out in a ridiculous 58.52 for the first 400 as the leaders hit the 1600 in 4:13.96 and halfway in 6:42. Wildschutt did much of the leading after that until Nur made his bid for glory.
In the end, neither the #2 and #3 seeds – Kiptoo and Dylan Jacobs of Notre Dame, both of whom ran 13:14 this winter – scored as Kiptoo was 12th (13:41.71) and Jacobs 9th (13:31.43).v
Results *Splits
1 Abdihamid NUR SO NORTHERN ARIZONA 13:19.01 FR
2 Ky ROBINSON FR STANFORD 13:20.17 PB
3 Nico YOUNG FR NORTHERN ARIZONA 13:21.23 [13:21.224] PB
4 Adriaan WILDSCHUTT JR FLORIDA STATE 13:21.23 [13:21.227]
5 Cole SPROUT FR STANFORD 13:25.67
6 Brian FAY JR WASHINGTON 13:28.48
7 Amon KEMBOI SR ARKANSAS 13:29.04
8 Drew BOSLEY FR NORTHERN ARIZONA 13:29.69
9 Dylan JACOBS JR NOTRE DAME 13:31.43
10 Aaron BIENENFELD SR OREGON 13:32.56
11 Barry KEANE JR BUTLER 13:35.01
12 Wesley KIPTOO JR IOWA STATE 13:41.71
13 Ehab EL-SANDALI SR IONA 13:45.40
14 Sam GILMAN JR AIR FORCE 13:52.34
15 Ahmed MUHUMED SR FLORIDA STATE 13:58.91
16 Alex MAIER SO OKLAHOMA STATE 14:02.71
Quick Take: NAU gets it done on the track
NAU started piling up NCAA XC titles in 2016, and since then, two Lumberjacks had won NCAA track titles, both indoors – Andy Trouard in the 3k in 2018 and Geordie Beamish in the mile in 2019. The interesting thing about that is that while Beamish and Trouard were both good cross country runners, they weren't close to the top guys on NAU's XC team that year. Trouard was the squad's #4 (35th overall) at the 2017 NCAA XC champs, while Beamish was NAU's #6 at the 2018 NCAA XC champs (39th overall).
Tonight, it was different. The Lumberjacks dominated the NCAA 5k, going 1-3-8, with Nur, Young, and Drew Bosley – their same top three (in the same order) from their NCAA title team in November.
Quick Take: The Abdihamid Nur story is incredible
While Young and Bosley were superstars before they even arrived at NAU, Nur decidedly was not. In fact, it's a minor miracle he made it to NAU at all. Born in Somalia, Nur moved all over the world – from Kenya to Egypt to Minnesota – before settling in Phoenix for high school. And though he was an Arizona state XC champion in high school, his modest track pbs (4:28/9:27) meant he didn't garner much interest from major programs. But Nur really wanted to go to NAU. The problem was, he wasn't even in a position to walk on as he didn't qualify for NAU academically. Lumberjacks coach Mike Smith had to level with him.
"The best I could do," Smith told DyeStat's Dave Devine in 2019,  "was to paint the picture of all the things that would have to happen in order for him to run for us in college. I thought it was probably a long shot, but he really wanted this." 
Nur has done all of those things and more. He spent two years at Coconino Community College in Flagstaff improving his grades and his running and finally enrolled at NAU in 2019. He was an XC All-American in his first season and has been a mainstay of the team ever since. Now he's a national champion. And he's not done yet.
Quick Take: Next up for Wildschutt – World Indoors
Coach Bob Braman of Florida State thinks eventually Wildschutt will be a great marathoner as the longer the race goes, the better he gets. But next week, he'll be in Serbia at World Indoors, dropping down in distance to the 3000. Widschutt's 7:52 from indoors wasn't fast enough to qualify, but you can qualify for Worlds with a 5000 and his 13:09.30 suffices.
Quick Take: What was Wesley Kiptoo doing?
Last year, Kiptoo went out in 59.79 for his first 400 and still won this race in a meet-record 13:23.77. It wasn't a smart strategy, but Kiptoo was so much better than everyone else that it didn't matter.
In 2022, the rest of the NCAA has caught up to Kiptoo (on the track) yet he went out even faster for his first 400 tonight (58.52). This time, it backfired spectacularly as Kiptoo finished over 20 seconds behind the winner, running 13:41 for 12th. If you want to force a fast pace, fine, but going out in 58 against a field this good is signing your own death warrant.
Men's DMR: Texas wins in an upset
At the 2018 NCAA Indoor Championships, a little-known, lightly-recruited walk-on (albeit one who ran 4:06 in HS) named Yared Nuguse ran down Stanford star Grant Fisher on the final turn to clinch an upset runner-up finish for Notre Dame in the men's distance medley relay.
Four years later, a little-known, lightly-recruited walk-on named Yaseen Abdalla held off Nuguse, now an Olympian and the biggest star in collegiate distance running, to lead the University of Texas to an upset DMR title at the 2022 NCAA Indoor Championships.
To quote a famous Longhorns fan: time is a flat circle.
In a year in which Texas' once-legendary NCAA DMR record from 2008 had plummeted down the NCAA all-time list – the 9:25.97 run by a squad anchored by 2012 Olympic silver medalist Leo Manzano would not have even qualified for this year's meet – the Longhorns got the last laugh as the squad of Cruz Gomez (2:56.20), Willington Wright (45.96), Crayton Carrozza (1:47.46), and Abdalla (3:55.59) clocked 9:25.20 to prevail in a wild race. Gomez only handed off in 8th place, but Wright delivered the fastest 400 leg of the night and Carrozza the #2 800 leg of the night to bring the Longhorns back into it as they received the baton in second at the final exchange behind Wisconsin.
But Abdalla still had a lot of work to do, and with 800 to go, the entire 12-team field was still in it save Ole Miss. With 220 meters to go, Abdalla was in poor position, fifth place and boxed in. In a move that was ultimately ruled legal, Abdalla bumped Nuguse, causing Nuguse to lose momentum just before the bell and allow Abdalla to accelerate past. That move proved crucial as Abdalla was able to keep accelerating into second and onto the shoulder of leader Sam Ellis of Princeton at the bell, while Nuguse would remain in fourth until the final straight, when he finally swung wide. Nuguse was able to run down Ellis and Wisconsin anchor Jackson Sharp for second, but Abdalla was too far gone, ND settling for second in 9:25.77.
Results *Splits
1 TEXAS 9:25.20 FR
2 NOTRE DAME 9:25.77
3 WISCONSIN 9:25.78
4 PRINCETON 9:26.01
5 OKLAHOMA STATE 9:28.11
6 IOWA STATE 9:28.62
7 WASHINGTON 9:29.27
8 MICHIGAN 9:30.46
9 ARKANSAS 9:30.86
10 INDIANA 9:33.27
11 OLE MISS 9:35.94
12 ALABAMA 9:40.85
Quick Take: Texas had an incredible day and has an absurdly deep mid-distance squad right now
Texas distance coach Pete Watson will be flying high tonight as the first day of NCAAs could hardly have gone much better. In the 800, Texas had three guys and two of them made the final, Yusuf Bizimana and Jonathan Jones (who trains with head coach Edrick Floreal). In the mile, Crayton Carrozza made the final. And in the final event, the DMR, the Longhorns won the title for the first time since 2008. 
Incredibly, none of Texas' 800 guys doubled back for the DMR – only Carrozza ran two races today. Qualifying three guys for NCAAs in the 800 (and two to the final) and winning the DMR without using any of them shows some serious depth.
Quick Take: From a 24:42 5k and 6:59 mile to national champion
Yaseen Abdalla was not a total unknown coming into this meet – he was the Big 12 5k champion and narrowly missed qualifying in the 3000 – but his name is likely unfamiliar to most casual running fans. Certainly, few would have picked him to hold off US Olympian and collegiate 1500/3000 record holder Yared Nuguse. Yet that is what happened, the latest and greatest installment of Abdalla's rags-to-riches story.
When Abdalla began running as a high school sophomore, he ran 24:42 in his first cross country 5k – no really, look it up – and 6:59 for the mile at LBJ High School in Austin. Across town, Carrozza was tearing it up for St. Stephens Episcopal. Abdalla was better as a junior – his best 5k in XC was 17:24, and he ran 2:01/4:37/9:56 – but still not national-class. But after training under Carrozza's father, Paul, Abdalla was able to improve tremendously as a senior, finishing 3rd in the Texas 5A state meet in XC in 15:08 and 6th at NXR South. Carrozza, who ran 1:50 for 800 in high school, decided to stay in town and commit to Texas. So did Abdalla – though with 2:01/4:19/9:18 pbs, he did so as a walk-on.
"He was a blue-chip recruit, so he got recruited by everyone," Abdalla said. "And we're friends, so I went. That's really how it ended up."
Even at Texas, it has taken a little while for Abdalla to blossom. While he is a freshman eligibility-wise, this is his third year at UT after redshirting in 2020 and the COVID year of 2021. As recently as last spring, Abdalla was finishing 10th in the Big 12 10k and 17th in the 5k. When he returned this fall, however, Abdalla was a different athlete. He took 32nd at NCAA XC in November, then ran 3:57 and 7:51 (on a flat track) and won Big 12s in the 5k. And now, after splitting 3:55 to anchor Texas to a national title, Abdalla has taken yet another leap in a remarkable progression.
Quick Take: Something looks off with Yared Nuguse
A few eyebrows were raised around the country after Nuguse, who ran 7:38 to break Alistair Cragg's longstanding NCAA 3000m record earlier this year, only ran one event at ACCs, the DMR, and fell on the final turn of the anchor leg, allowing Virginia Tech to pass and win the race. Was he injured? Sick?
Earlier this week, Nuguse said that all was fine and that he took on a lighter workload at ACCs to focus on NCAAs. But Nuguse didn't look quite himself tonight either and we have to wonder whether something is up as he doesn't seem to be 100%.
Granted, Nuguse still had one of the fastest anchor legs of the race (3:55.08) despite being bumped a couple times and went from fifth to second on the last lap. To his immense credit, he never stopped fighting. But he also didn't have great position, and his acceleration was not there on the last lap when he needed it as Princeton and Texas started to pull away.
This was not some colossal failure, but Nuguse got the baton within two seconds of the lead at the final exchange and was quickly in striking distance. You would expect a 3:34 guy and US Olympian to come through in that situation.
Nuguse, for his part, didn't make any excuses.
"I gave it my all and had a great time doing it," Nuguse said. "…Some days, someone out there is gonna beat you, and you've just gotta take that."
Update: We have heard from Notre Dame coach Sean Carlson, who said that Nuguse was a little banged up after the DMR at the Alex Wilson Invitational on February 19.
Quick Take: Princeton had the lead on the last lap before finishing 4th and their team has the overall lead on Day 1
LetsRun.com co-founder Robert Johnson, a Princeton grad, made sure to catch up with the Princeton team after they finished fourth tonight in 9:26.01. Running a team with true freshman on the 1200 (Harrison Witt – 2:55.39) and 800 legs (Sam Rodman – 1:48.49), the Tigers' anchor Sam Ellis had the lead on the last lap but ended up getting fourth after a 3:55.77 split (the 400 leg was Michael Phillippy at 46.39). 
It's worth noting that Witt wasn't even supposed to be running — the Tigers' initial 1200 leg Ethan Reese felt some calf pain on the warmup and was subbed out. 
It's also worth noting that after a first and fourth-place showing in the men's pole vault by brothers Sondre Guttormsen and Simen Guttormsen, the Tigers are in the lead in the team race with 20 points after day 1. With heptathlete Andrei Iosivas currently in third, the Tigers are looking at a top-10 overall finish.
Men's Mile Prelims
The mile has been so crazy at the NCAA level in 2022 that a few fast men were guaranteed not to make the final, but today's prelims went largely to form as seven of the top eight seeds advanced (Penn State's Evan Dorenkamp, with a 3:55.02 season's best, was the fastest miler on the year not to advance after he finished fish in the more tactical second heat). NCAA leader Morgan Beadlescomb of Michigan State set a fast early pace in the first heat, though he was overtaken by Big 10 champ Jonathan Davis of Illinois after 1000. Davis would go on to win the heat in 3:57.04 – a facility record – as Beadlescomb, who faded back slightly, fought his way back to a comfortable second by the finish. Both time qualifiers would come from that heat as the top six all broke 4:00.
Results
*
Splits
1 Jonathan DAVIS SR ILLINOIS 3:57.04 Q 1(1) FR
2 Morgan BEADLESCOMB SR MICHIGAN STATE 3:57.10 Q 1(2)
3 Isaac BASTEN SO DRAKE 3:57.25 Q 1(3)
4 Crayton CARROZZA SO TEXAS 3:57.62 Q 1(4) PB
5 James YOUNG SR OLE MISS 3:58.64 q 1(5)
6 Jack YEARIAN SR OREGON 3:59.03 q 1(6)
7 Nick DAHL SR DUKE 4:00.99 Q 2(1)
8 Mario GARCIA ROMO JR OLE MISS 4:01.39 Q 2(2)
9 Adam FOGG SR DRAKE 4:01.85 1(7)
10 Reed BROWN SR OREGON 4:02.19 Q 2(3)
11 Eliud KIPSANG FR ALABAMA 4:02.24 Q 2(4)
12 Evan DORENKAMP SO PENN STATE 4:02.35 2(5)
13 Nate OSTERSTOCK SR SOUTHERN UTAH 4:03.27 2(6) SB
14 Colton JOHNSEN SR WASHINGTON ST. 4:03.30 2(7)
15 Davis BOVE SO LSU 4:05.46 2(8)
16 Matthew PAYAMPS SO GEORGETOWN 4:05.98 1(8)
Quick Take: Jonathan Davis was forced to race in a T-shirt after the Illinois team van was stolen
On the start line of heat 1, Illinois' Jonathan Davis certainly stood out. While his seven opponents all sported their usual racing kit, he was about to race a mile in a white athletic T-shirt with a large orange I across his chest. There was a good reason behind it: the Illinois team van was stolen, and Davis' singlet was inside. Though Davis said nothing else of value was stolen, he had to make do with what he had available to race in today. That turned out to be a T-shirt.
"It felt weird to look up on the jumbotron and see this," Davis said, motioning toward his jersey. "I looked like a scrub."
He didn't run like one. Davis has run NCAAs twice on the track before, finishing 16th in the 5k outdoors in 2017 and 15th in the 3k indoors in 2018. It took him four years to get back, but he is guaranteed to better that result in Saturday's 10-man final…and if he runs like he did today, he may just win the whole thing.
Quick Take: Morgan Beadlescomb, who has a 13:21 5000 pb and was 5th in XC, made sure the first heat was honest
The Michigan State super senior was a surprise entrant in the mile.
"I knew I needed it to go fast so I decided to make it happen from the gun," said Beadlescomb, who added that leading was "part of being the adult, being the old man in the group."

"This (the mile) isn't particularly my skillset…But I made the most of it..I'm in the race because I want to see what I have in different events. [As for the final], if it's a day where I feel like I need to rip, then we'll do that. If I feel like I need to sit and wait until the end, then we'll do that. I know I have legs and I have endurance so we'll see what I decide to use."
Quick Take: Don't sleep on Duke's Nick Dahl

Dahl, who graduated high school in 2017, was competing at NCAAs for the first time this afternoon. But that's only partially his fault. The grad student spent his undergraduate years at Yale where he was the 2020 Ivy League mile champ before being forced to miss the last 1.5 years of collegiate competition as the Ivy League shut down.
Dahl dominated ACC champs two weeks ago, winning by more than a second in a conference with nine sub-4 milers this year (ok to be fair, only two of those guys ran the mile there) — and looked great taking down heat #2 today.
Quick Take: After a scary car crash, Ole Miss' Mario Garcia Romo is running this one for teammate Dalton Hengst
Garcia Romo had a great year at Ole Miss in 2021, finishing 3rd in the 3k behind Oregon stars Cole Hocker and Cooper Teare and anchoring the Rebels to 2nd in the DMR. Though he didn't qualify in the 3k this year (he took a crack a day after running a 3:53 mile but could "only" manage 7:47, which was not fast enough to make it in 2022), he had the #2 seed in the mile and comfortably qualified today.
That Garcia Romo is in Birmingham at all counts as a stroke of fortune. Earlier this year, he was involved in a car accident with teammate Dalton Hengst, and though Hengst had to undergo season-ending shoulder surgery, Garcia Romo escaped unscathed. He said he will run tomorrow's final for Hengst.
"I'm very grateful to be able to run and I'm very thankful for being here and just helping my team as much as I can," Garcia Romo said.
Men's 800
The expected big players all advanced to tomorrow's final. The top two seeds — Brandon Miller of Texas A&M and Moad Zahafi of Texas Tech 0- looked great in winning the two heats as the four men who came in with sbs under 1:47 all made the final. Former 400 man Jonathan Jones, the #4 seed, had the biggest scare as he went from last to second in heat 2 to auto qualify.
Arkansas' Kieran Taylor – the 5th seed at 1:47.12 — was the first guy out of the final, hurting Arkansas' team title aspirations, but that wasn't a total shock as he didn't make the SEC final either.
Results *Splits
1 Moad ZAHAFI SR TEXAS TECH 1:47.03 Q 2(1)
2 Brandon MILLER SO TEXAS A&M 1:47.22 Q 1(1)
3 John RIVERA SR OLE MISS 1:47.48 Q 2(2)
4 Tiarnan CRORKEN JR OLE MISS 1:47.64 Q 2(3) PB
5 Yusuf BIZIMANA FR TEXAS 1:47.83 q 2(4)
6 Jonathan JONES JR TEXAS 1:47.86 [1:47.854] Q 1(2)
7 Luis PERALTA SO OREGON 1:47.86 [1:47.860] Q 1(3)
8 Cole JOHNSON SR MICHIGAN 1:48.00 q 1(4)
9 Kieran TAYLOR SR ARKANSAS 1:48.09 1(5)
10 Sam AUSTIN FR FLORIDA 1:48.12 1(6)
11 Ayman ZAHAFI JR MIAMI (FLA.) 1:48.37 1(7)
12 Sean DOLAN FR VILLANOVA 1:48.55 1(8)
13 Marco VILCA SO TEXAS TECH 1:49.61 2(5)
14 Miles BROWN FR MICHIGAN 1:50.64 2(6)
15 Cole LINDHORST FR TEXAS 1:51.56 2(7)
DNF Aman THORNTON JR CLEMSON DNF 2
Quick Take: This should be a terrific final
Miller and Zahafi have been the two best guys this year and have been on a collision course for the NCAA final. After both of of them won their heats today, a big-time showdown is on tap in Saturday's final.
Quick Take: Jonathan Jones was in a horrible position, but he has some killer acceleration
Jones was way back at the top of the home straight in heat 2 but somehow found room to escape and used his 44.64 400 speed to grab the second auto qualifier. He admitted that he's still learning the tactical part of the event – he mostly trains on his own and had only raced one 800 in the last four years before today – but his final 50m today demonstrated his potential.
Be a fan and talk about the action on our world-famous fan forum/messagebaord.
Complete 2022 NCAA Indoor coverage here. *All Post-2022 NCAA Interviews