Why Was Donavan Brazier Disqualified at 2022 USATF Indoors? And Why Was He Reinstated?
By Jonathan Gault
February 27, 2022
SPOKANE, Wash. — On Saturday, shortly after winning his 400-meter preliminary heat at the 2022 USATF Indoor Championships, reigning 800-meter world champion Donavan Brazier was disqualified for a lane violation. This morning, USATF announced that Brazier had been reinstated and will run Sunday's 400-meter final at 5:04 p.m. ET.
"New evidence was submitted to the Jury of Appeals," USATF wrote in a statement. "The evidence was reviewed and the decision was reversed."
Article continues below player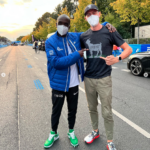 Kipchoge loves the 1:59:40 Shirt Get Yours Today
What a legend!
Lane infringements have become a hot topic in recent years, with World Athletics relaxing its DQ rules for lane infringements last year. Even so, eight athletes were DQ'd in the 400 and 800 meters alone on the first day of USAs, not including Brazier (the reason for each athlete's individual DQ was not listed on the USATF live results page).
At the end of Saturday's events, it was still unclear why Brazier had been disqualified. The CNBC broadcast showed two possible incidents that may have led to Brazier's DQ, but in neither instance did Brazier commit a clear violation. In one instance, Brazier stepped on the outside lane line on the back straight, but that is not a violation unless Brazier obtains an advantage or impedes an opponent, and neither occurred (he was in last place at the time). Later in the broadcast, CNBC showed footage of Brazier coming close to stepping on the line on the turn but again, there was no clear evidence of a foul.
Yet Brazier was still DQ'd. And now, after "new evidence," he has been reinstated. So what exactly happened here?
The way the system works is that an official on the track will signal a foul as the violation happens. This is why Brazier was initially DQ'd. From there, if the athlete appeals, the Jury of Appeals will review footage from the Eagle Eye camera system in use at the track to either uphold or deny the appeal. After reviewing the Eagle Eye footage, Brazier's appeal was denied.
But today, a source informed LetsRun.com that the Jury of Appeals reviewed additional footage from NBC. After reviewing that footage, it was determined that no infraction had occurred and Brazier was reinstated.
Quick Take: The way this situation was handled was farcical
In this case, the right outcome seems to have been reached, even if Donavan Brazier went to bed last night believing that his indoor season was over. But there needs to be more transparency from officials and USATF in cases like this. If there was Eagle Eye footage showing Brazier committed a lane infraction yesterday, then release that video to the public. And if there was footage clearing Brazier, then release that footage as well (LetsRun asked USATF to see the footage that initially upheld Brazier's DQ as well as the additional footage that cleared him this morning. USATF declined to make either available, but we believe the footage that cleared him will be shown on today's CNBC broadcast.)
This isn't the first time that something like this has happened at USA Indoors. Remember the Gabe Grunewald affair? Back in 2014, Gabe Grunewald, who died in 2019, won the women's 3000 meters but was DQ'd after making contact with Jordan Hasay late in the race. Just as in Brazier's case, the DQ was upheld after reviewing the Eagle Eye footage, but ultimately Grunewald was reinstated after the Jury of Appeals reviewed "additional video evidence," which USATF refused to share with the public (though it accidentally surfaced on the internet months later).
LRC The Inside Story Of Gabriele Grunewald's DQ – Insider Access, False Promises And A Violation Of USATF's Own Rules?
Memo to USATF and World Athletics: transparency and speed are good things. In the Super Bowl, if an official calls an offensive lineman for holding on a touchdown pass, the public is allowed to see footage of the incident. Sometimes it's a good call, sometimes it's a bad one, but fans get to see the evidence of why the foul was called and the officials are held accountable for their actions. And reviews of official decisions in every major sport take minutes, not hours, or days. That same level of accountability and speed needs to be in place in track & field.