Jakob Ingebrigtsen (3:30.60) Breaks Indoor 1500m World Record in Lievin
By LetsRun.com
February 17, 2022
World record #1.
Norway's 21-year old Jakob Ingebrigtsen, the youngest man in history to break 4:00 and second-youngest Olympic 1500-meter champion in history, ran 3:30.60 on Thursday at the Meeting Hauts-de-France Pas-de-Calais in Lievin, France, to break the indoor 1500-meter world record. Racing for the first time in 2022 – and the first time not under the tutelage of his father, Gjert, who earlier this month stepped away from his role as Jakob's coach for health reasons – Ingebrigtsen blasted away from former world record holder Samuel Tefera of Ethiopia over the final two laps, closing in 55.52 for his final 400m (27.54 last lap) to win by more than three seconds.
Article continues below player.
Fittingly, the runner-up Tefera of Ethiopia, the previous world record holder at 3:31.04, put up a dogged fight as he hung with Ingebrigtsen for the first 1100m. But the smooth Norwegian was too good over the last two laps, gradually extending his lead on the penultimate lap to lead by seven meters at the bell. By then, Ingebrigtsen's only remaining rival was the Wavelight pacing system – making its indoor debut – with its green lights indicating world record pace on the inside of the track. By the time he entered the home straight, Ingebrigtsen was ahead of the lights. He held on, and his first world record was in the books. We suspect it will not be his last.
Analysis below. Our recap of the rest of the meet is here: 2022 Lievin Recap: Jacobs & Holloway Keep Rolling, Seyaum & Girma Win Fast 3K's.
QT: We expected this one
One should never expect a world record to fall, but this one wasn't that surprising.
Samuel Tefera is a great indoor runner, being the 2018 World Indoor champion and breaking the 1500m world record in 2019. However, lifetime, according to the broadcast he is now 0 for 11 when racing Jakob Ingebrigtsen. Tefera's outdoor PR is only 3:30.71. Ingebrigtsen ran 3:28.32 to win the Olympic gold.
Thus it's not a complete shock that Ingebrigtsen won convincingly and got the record. Ingebrigtsen ran 3:31.80 at this meet to start 2021 (without fans), but by the end of the season he was clearly much fitter than that and was able to maintain enough of that fitness to start 2022 off strongly.
Considering Haile Gebrselassie, who was a 5,000/10,000m runner, ran 3:31.76 24 years ago without super spikes, it's a bit surprising no one has run under 3:30. That may happen soon.
QT: Perfect execution
Ingebrigtsen's plan was to come through 1000m in 2:21, which is 3:31.50 pace, meaning he'd have to have a kick to get the record. That is exactly what he did. Ingebrigtsen hit 1000m in 2:20.90 and kicked to the record with a 55.52 final 400. The pacemaking was nearly perfect and made easier with the Wavelight technology, but Julian Ranc (led the first 900m) and Erik Sowinski (made it through 1000m) deserve props for being spot on.
1500m world record results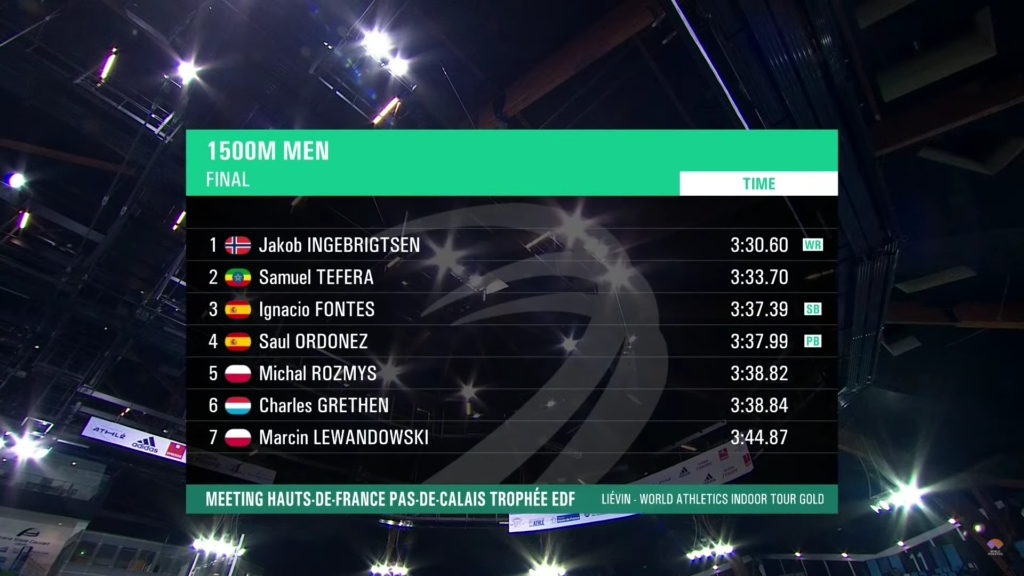 | Rank | Result | Name |
| --- | --- | --- |
| 1  | 3:30.60WR |  J. INGEBRIGTSEN |
| 2  | 3:33.70 |  S. TEFERA |
| 3  | 3:37.39SB |  I. FONTES |
| 4 | 3:37.99PB |  S. ORDONEZ |
| 5 | 3:38.82 |  M. ROZMYS |
| 6 | 3:38.84 |  C. GRETHEN |
| 7 | 3:44.87 |  M. LEWANDOWSKI |
| 8 | 3:45.15 |  A. KASAYE |
| 9 | 3:48.92 |  B. MISCHLER |
| 10 | 3:48.97 |  V. KETER |
| DNF |   | I. DEBJANI |
| DNF |   |  J. RANC |
| DNF |   |  E. SOWINSKI |
Starting 100 meters into the race, here are the final 7 lap splits – 27.66, 28.39, 28.32, 28.32,  28.43 (half no rabbit), 27.98,  27.54. The old WR pace was 28.14 per lap, the new WR pace is 28.08.
Talk about the meet on our world-famous fan forum / messageboard:
Our recap of the rest of the meet is here: 2022 Lievin Recap: Jacobs & Holloway Keep Rolling, Seyaum & Girma Win Fast 3K's