HOKA NAZ Elite's Ben Rosario – LetsRun.com Pro Coaches Tour 2022
By LetsRun.com
February 15, 2022
Stop #4 on the LetsRun.com Pro Coaches Tour was HOKA NAZ Elite coach Ben Rosario.
HOKA NAZ Elite's Ben Rosario
From humble beginnings in 2014, HOKA NAZ Elite reached the pinnacle of the sport in the US when Aliphine Tuliamuk won the US Olympic Marathon Trials in 2020 (and Stephanie Bruce finished 6th and Kellyn Taylor 8th).
The club has been atop the US ranks for much of the last decade with ten USATF road, club or XC titles, ten top 10s in world marathon majors, three sub 2:10 marathons, and four world XC team members.
2022 brings some changes to the club, as it lost its three top male marathoners (Scott Smith retirement, Scott Fauble and Rory Linkletter moving on) while Alex Masai, the brother of Kenyan superstars Linet and Moses Masai, joins the club, along with NCAA 5000m runner-up Katie Wasserman.
We talked to Ben last week and give you the highlights of the interview below. The full video interview can be watched below as well in youtube. If you'd like to get the video as a podcast, join the LetsRun Supporters Club.
Video with Ben
HOKA NAZ Elite Overview
Location: Flagstaff, Arizona
Started: 2014
*Team website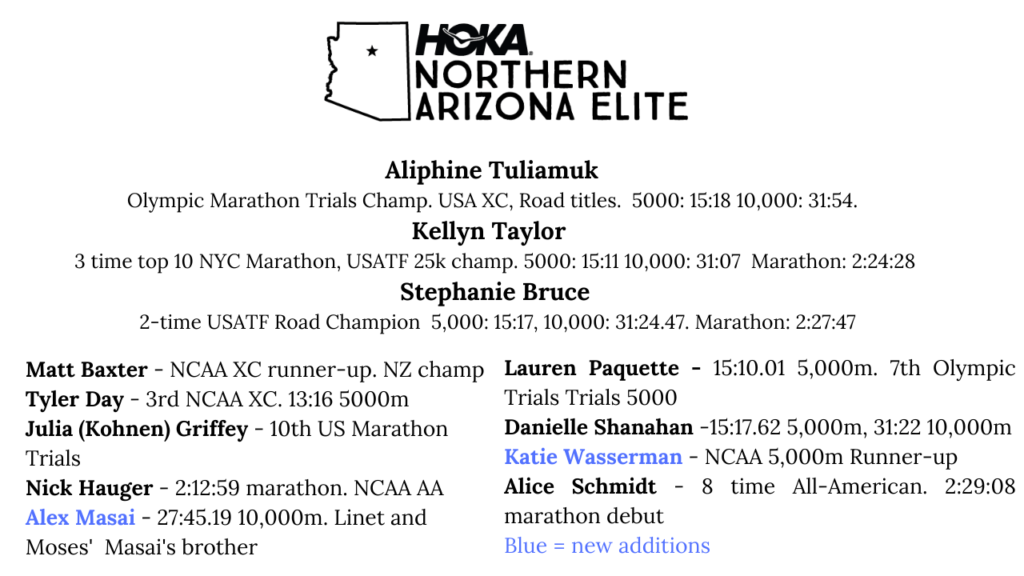 Great Quotes from Ben's Talk
1. Kellyn Taylor being at the same level as Aliphine Tuliamuk
"I put Kellyn on par with her, as you guys don't see this, but that (The Olympic Marathon Trials) was the only segment we've ever had where Aliphine looked better than Kellyn, but we found out on the back end that Kellyn had a tibial stress fracture the last few weeks of the segment and at the Trials themselves, so I'm excited to have those two training together again at some point (this year)."
2. On Turnover on the Men's side – "You need new leadership"
"It always stinks to have people leave in a way, but at the same time you need that turnover because you need new energy, you need new leadership.
There was really a great opportunity on the guy's side for Matt Baxter to step up and be a leader, Tyler Day step up, Nick Hauger to step up. And now with Alex coming in, we're finding out that he's actually going to be quite a leader himself."
2. On Scott Fauble aka Tom Brady leaving the club
"When it happened… I was joking with Faubs about it, actually, because we were getting all these texts as if somebody died. I mean, what the heck, man that's just sports. Some people stay with the whole team, their whole career. Other people leave. … Tom Brady left the Patriots. These things happen. I'm not comparing Faubs to Tom Brady, but I kind of am…. Faubs had a great run with us, but it didn't last forever. It is hard at first of course because there's an emotional aspect to it and you feel really close to these people and you care about them, but I think when you step back, it's okay. You know, they'll be fine and we'll be fine."
4. On the blue collar roots of the club
"When we first started, you're trying to find diamonds in the rough. People who are untapped and they're going to get way better. And you're not sure that they're going to get way better, but you hope so. We had a ton of success with those people. Our team was founded on the backs of Steph Bruce, who was only a two-time All-American in the 10,000, never an all-American in cross country, Scott Smith, who was never an all-American in anything, Scott Fauble, who was never an All-American on the track. These people were the core of our team for a long time, but, eventually, you have success with those people and then you move to the next tier (of recruits)."
5.  On Alex Masai
"He's a super, super big team guy, really supportive of his teammates. And, I'm going to tell you something incredibly talented. He's already done a couple of workouts that I've never seen anyone on our team do before, which is very exciting…. why did we recruit Alex? Because I watched Alex's races in college and I investigated his training in college and his background, and this is no offense to anyone else, but I said, this is the best kid in this 10,000 meter race (NCAA Championships) right now."
Talk about Ben's interview our on our messageboard. MB: Confirmed: Ben Rosario is a genius
Previous Pro Coaches Tour Talks