2022 USA Indoors: Cole Hocker Blasts Away from 3000m Field to Win First US Indoor Title
By Jonathan Gault
February 26, 2022
Entering the men's 3000-meter final at the 2022 USATF Indoor Championships, anyone who had watched the past year in American distance running knew that if the field hadn't dropped Cole Hocker with a lap to go, he would sprint to his second national title.
They didn't. And he did.
Though the winning time of 7:47.50 was far from slow, the pace was nowhere near fast enough to drop Hocker, who used a 26.69 final lap to leave no doubt about whose kick was best. Second went to Emmanuel Bor, who gamely hung on for second in 7:48.64 (27.62 last lap) to make his first World Championship team on the track. After the race, Hocker said he was still undecided about whether he will run at World Indoors, which will be held in Belgrade, Serbia, from March 18-20. Should he decline his spot, unsponsored Dillon Maggard (third in 7:49.05) would be next in line to go.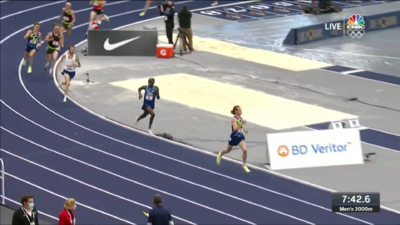 During the race, Bor, Drew Hunter, Conner Mantz, and Hocker would all spend time at the front of the pack, with the field passing 1600 in 4:13.65, but no one could create any meaningful separation. With 400 meters to go, seven men were still within a second of the lead, and things were bunching so much up front that Hocker clipped Maggard from behind early in the penultimate lap, causing both men to briefly lose momentum.
Just before the bell, Hocker made his move to the front, which resembled a black bear bluffing a charge. He moved onto Bor's shoulder and for five strides launched into a full sprint. Bor, however, did not respond, and once Hocker was safely in first place, he backed off and increased the pace more gradually. By the back straight, Bor was the only man close to him, and by the home stretch Hocker had dispatched Bor too, looking back multiple times and easing up before the finish line with one eye on tomorrow's 1500 final.
It wasn't fair, really. Of the top four finishers today, three were true distance men: Bor, who has run 13:00/27:22, Maggard, who was the runner-up at last month's US Cross Country Championships, and Conner Mantz, who 12 weeks ago ran 60:55 to win the US Half Marathon Championships. The other was Hocker, a 3:31 1500 man who finished 6th in last year's Olympic 1500 final. When Hocker took the lead, there was only going to be one outcome.
"It definitely feels good to check this one off, know that I'm exactly where I want to be in training and it felt good," Hocker said. "It gave me a lot of confidence."
Tomorrow, Hocker will look to become just the third man in the 21st century to complete the 1500/3000 double at the US Indoor Championships. He is not overlooking a field that features former World Championship finalists Craig Engels and Johnny Gregorek and reigning US indoor champ Josh Thompson, but if there's anyone who is prepared to double back, it's Hocker. He won the mile and 3000m titles at last year's NCAA Indoor Championships with just an hour between the races. This time, he'll have almost 24.
"Compared to that, maybe [it's easier to recover], but there's some really good guys tomorrow," Hocker said. "It's a shame Cooper (Teare, Hocker's training partner who was ruled out of the meet after testing positive for COVID) is not one of them, but definitely a really talented field."
Top 10 results (full results here)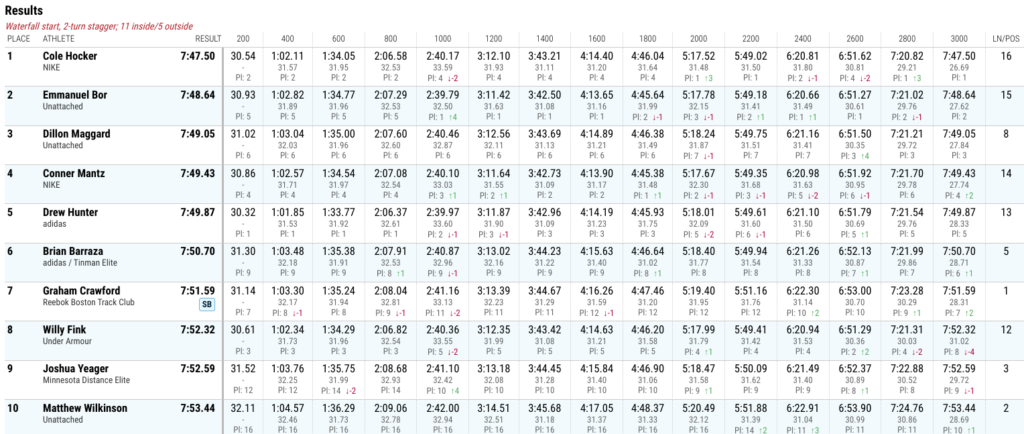 Quick Take: Hocker is taking a longer-term approach to his 2022 season
Article continues below player.
After the race, Hocker said he feels he is in the same sort of spot, fitness-wise, as last year, "if not just a little quicker." If you compare his splits today to his NCAA win in 2021, the latter is clearly a more impressive performance: he ran faster (7:46.15 to 7:47.50) and closed a lot faster (25.49 to 26.69), and that NCAA run came with a 3:53 mile in his legs an hour earlier.
But it's also worth pointing out that Hocker wasn't pushed on the last lap today like he was by Cooper Teare at NCAAs last year. Had Teare been in the race today, it's not hard to imagine Hocker closing in sub-26 again in a battle to the line.
Hocker and coach Ben Thomas also aren't approaching the 2022 season the same way they approached 2021. In 2021, they were both discovering just how good Hocker was on a week-by-week basis. Especially outdoors, Hocker kept running well and kept extending his season, ultimately all the way to the Olympic final, where he managed a two-second pb of 3:31. In 2022, Hocker and Thomas already know that Hocker is one of the best milers in the world and are preparing as such, with everything geared toward the World Championships in Eugene in July.
Clearly, Hocker is still fit – he just ran a mile pb of 3:50 two weeks ago – but he's gotten there with a more conservative approach and believes even better things are in store for the outdoor season.
"Last year, [the Olympics] wasn't the big goal [at the start of the year]," Hocker said. "The big goal was NCAAs, so we were very sharp, very early."
Quick Take: Hocker felt fortunate to have tested negative ahead of USAs given the late withdrawal of training partner Cooper Teare
Hocker and Teare are virtually joined at the hip, both in races and training, so when Teare announced on Friday that he had tested positive for COVID and would miss this weekend's meet, many wondered whether Hocker was destined for the same fate. Hocker wasn't one of the people wondering, however. Athletes have to produce two negative tests to compete at USAs – one before traveling and one upon arrival in Spokane – and since Hocker had arrived in Spokane a day before Teare (who was not entered in the 3000), he was already good to go.
"I didn't really worry about it, because I had already tested negative twice before I came and then when I got here, so I was really shocked to hear he got it," Hocker said. "It's just a fluke."
Quick Take: Emmanuel Bor was still pleased with his close
Before today, Emmanuel Bor had never made a US World Championship team on the track (his younger brother Hillary, by comparison, had made two World and two Olympic teams in the steeple). Emmanuel was fit last winter, but there was no team to make. This year, he's even fitter and took advantage today to finish second and earn his spot at Worlds for the first time.
Bor is not known for his kick (when he ran 13:00 in Boston two weeks ago, he closed in 63.97), so he was very pleased to run his last lap in 27.62 today to outsprint everyone but the big kicker Hocker.
"If you look at the way I closed today, last time it was kind of a time-trial thing," Bor said. "And now making the team is really good and I'm looking forward to making a lot of teams going forward."
Bor said he believes he can medal in Belgrade, but that is going to be really tough (though it will be easier if Hocker declines his spot). Bor's strength is a faster race, but there are already seven men this year who have run 7:31 or faster indoors, a number of whom can close faster than Bor and will likely be at Worlds.
Quick Take: Unsponsored Dillon Maggard could be on his way to Worlds
Maggard, a Utah State alum formerly of the Brooks Beasts, is now back training at his alma mater in Logan, Utah, and has quietly put together a big winter season. After a win at the Trials of Miles/Sound Running Cross Champs at Mt. SAC in December, Maggard finished second at USA XC in January and had run pbs in both of his track races this year (7:47 3000, 13:13 5000) entering USAs. Today he was third, holding off NCAA XC champ Conner Mantz in the process, and if Hocker winds up skipping Worlds, the unsponsored Maggard will be on his way to Belgrade (should Maggard accept the spot).
Discuss the race and the rest of the meet on our world famous message boards: