2022 Lievin Preview: How Many World Records Will Fall on Thursday?
By Jonathan Gault
February 16, 2022
Did you like watching all those American records get broken last weekend? Well how about some WORLD records? We don't run a sports betting site on LetsRun.com (yet), but if we did, we'd set the line at the number of world records at Thursday's Meeting Hauts-de-France Pas-de-Calais at 1.5…and we'd be tempted to take the over.
You may remember this meet, which everyone simply calls "Lievin" (the town in France in which it is held), from last year when Gudaf Tsegay ran 3:53 to break the women's world record in the 1500 and three more world records almost fell in the men's 1500, 3000, and 60 hurdles. This year's meet, which is part of the World Athletics Indoor Tour Gold series, could be even better. Just look at all the events that feature either one of the top performers of all time:
Article continues below player
Men's 60: Ronnie Baker (#3, 6.40)
Men's 60 hurdles: Grant Holloway (WR holder, 7.29)
Men's 800: Elliot Giles (#2, 1:43.63)
Men's 1500: Samuel Tefera (WR holder, 3:31.04), Jakob Ingebrigtsen (#5, 3:31.80)
Men's 3000: Getnet Wale (#2, 7:24.98), Selemon Barega (#3, 7:26.10)
Men's pole vault: Chris Nilsen (#5, 6.02m)
Women's pole vault: Anzhelika Sidorova (#3, 4.95m), Katie Nageotte (#5, 4.94m)
The world record isn't in danger in all seven of those events, but it's a distinct possibility in the men's 60 hurdles, 1500, and 3000, as well as the men's 2000m (featuring 3:29 man Abel Kipsang) and women's mile (Tsegay). Let's run through all the key races in Lievin, ranked from least to most likely to see a world record fall. World Athletics reports that pacemakers will be heading out below or close to WR pace in the men's 1500 and 3000 and women's mile.
Meet details
What: 2022 Meeting Hauts-de-France Pas-de-Calais
Where: Arena Stade Couvert, Lievin, France
When: Thursday, February 17. International broadcast begins at 2:45 p.m. ET.
*How to watch *Results/Schedule 
Women's 800 (3:20 p.m. ET): Battle of the world's only sub-2:00 women this year
Only two women have broken 2:00 so far in 2022, and both will be lining up in Lievin: Jamaica's Natoya Goule, who won at the New Balance Indoor Grand Prix on February 6 in 1:59.62, and 2019 world champion Halimah Nakaayi of Uganda, who won the World Athletics Indoor Tour Gold opener in Karlsruhe and is coming off a dominant 1:59.55 in Val-de-Reuil on Monday. Ethiopia's Freweyni Hailu, who was 4th in last year's Olympic 1500 final and has run 1:57 outdoors, is another heavy hitter in a field featuring seven women with sub-2:00 pbs.
Given that quality and with only four laps to sort everyone out, we could see a physical race in Lievin. And Goule and Nakaayi have a history: remember, at the 2019 Worlds, Nakaayi shoved Goule out of the way in their semifinal, a move for which Goule said Nakaayi should have been DQ'd. She wasn't, and Nakaayi, of course, went on to win the final.
The world record in this event is 1:55.82 by Jolanda Ceplak from 2002 and is in no jeopardy of falling on Thursday.
Men's 60 (prelims 1:50 p.m. ET, final 3:30 p.m. ET): Jacobs looks to keep winning
When he won two gold medals in Tokyo last year, Italy's Marcell Jacobs put one of the biggest targets in the entire sport on his back. Everyone wants the chance to beat the Olympic 100-meter champion. Uneasy lies the head that wears a crown, but so far Jacobs has responded well, winning his first post-Olympic race in Berlin in 6.51 and following that up with a 6.49 in Lodz last week — the same time Christian Coleman ran for the win at Millrose.
We'll have to wait another month for the Jacobs-Coleman showdown at World Indoors, but the Olympic champ will face his toughest competition of 2022 so far in the form of Ronnie Baker ('18 World Indoor bronze, third-fastest ever at 60m). Ferdinand Omanyala of Kenya, who ran 9.77 last year outdoors (#8 all-time), is also entered, but he's still new to the event, having never run the 60 before this year. His best time in eight races so far in 2022 is 6.60.
Jacobs vs Baker should be a great race, but the chances of either of them breaking Coleman's WR of 6.34 on Thursday are almost zero.
Men's 800 (2:52 p.m. ET): Giles leads super deep field
Though Brit Elliot Giles ran a shocking 1:43.63 last year to move to #2 on the world all-time list, he's still a ways off Wilson Kipketer's 1:42.67 world record. That's okay, because this race should be absolute mayhem. In addition to Giles, there's Mariano Garcia — coming off a 1:45.12 Spanish record to beat Bryce Hoppel at the New Balance Indoor Grand Prix — 1:43 Kenyans Cornelius Tuwei, Elias Ngeny, and Collins Kipruto, and Olympic finalists Adrian Ben of Spain and Gabriel Tual of France. And don't forget indoor master Adam Kszczot of Poland. He's 32 now and announced earlier this week that he will retire at the end of the indoor season, but he's still the world indoor champion and one of the best tactical runners of his generation. Don't count him out.
Men's 2000 (4:38 p.m. ET): Olympic 4th-placer Kipsang is favored
It's a bit weird that this event is on the schedule considering the meet has both a men's 1500 and 3000, but considering how loaded those events are, maybe it makes sense as a way to get a few more athletes into the meet who wouldn't fit in those two races. The best guy on paper here is 3:29 guy/Olympic 4th placer Abel Kipsang of Kenya, and he'll be favored to take the win. The world best in this event is 4:49.99 by Kenenisa Bekele from 2007, which the World Athletics scoring tables say is worth 3:31.40 — a tall order indoors, especially if you're out on your own.
Women's 3000 (2:10 p.m. ET): Taye takes center stage
This event doesn't have the star power of some of the others in this meet, but it does have talent. Specifically, Ejgayehu Taye (entered as Hayle Taye), the 22-year-old who broke out last year by running 14:14 for 5,000m (#6 all-time) and finished 5th at the Olympics and 3rd at the Diamond League final. She also ran 8:19 for 3000 after the Olympics and most recently set the world 5k road record (14:19) on December 31 in Barcelona. With Hellen Obiri moving to the roads and top rivals like Sifan Hassan and Letesenbet Gidey absent from the indoor season so far, Taye will go off as the favorite here but Genzebe Dibaba's 8:16.60 world record may be just beyond her reach.
Men's 60 hurdles (prelims 3:00 p.m. ET, final 4:20 p.m. ET): The Grant Holloway show
Is it disrespectful to say that Grant Holloway, who set the world record in this event less than one year ago (7.29), only has the fourth-best chance of breaking a world record in this meet? I don't think so. For one, Holloway's world record is really good — Colin Jackson's previous WR had stood for 27 years. For another, it's only his second race of the season, and if you watched during Holloway's 2021 campaign, he got better as the year went on. He started well two weeks ago, running 7.37 at NBIGP — a time no one not named Grant Holloway has touched for 11 years — but in the 60 hurdles, .08 is a significant chunk. Holloway will be must-watch in Lievin, but he could run incredibly well here and still not break the WR.
Men's 3000 (4:05 p.m. ET): After coming so close last year, will the WR fall in 2022?
This event was shockingly fast last year, with a guy previously best known as a steepler (2019 Diamond League champ Getnet Wale) missing Daniel Komen's 7:24.90 world record from 1998 by just .08 and leading four men under 7:30. Three of those four men are back in 2022, led by Wale and followed by Olympic 10k champ Selemon Barega (7:26.10 pb, #3 all-time) and Lamecha Girma (7:27.98 pb, #7 all-time). Add in 3:28/7:27/12:50 man Mohamed Katir of Spain and 12:51 guy/Olympic 5k 4th-placer Nicholas Kimeli and this field is absolutely stacked.
A few years ago, 7:24 seemed untouchable — only Komen and Hicham El Guerrouj have ever run that fast outdoors — but the standard for what is considered a fast time in 2022 has changed. We already saw Berihu Aregawi take a shot at the record in Karlsruhe on January 28 and come up just short (he ran 7:26.20, #5 all-time). We already know the Lievin track is fast, and with so much talent in this race, chances are good at least one of them will be able to make a serious attempt on the record.
M1500 (3:42 p.m. ET): Ingebrigtsen chases first WR
Last year, Jakob Ingebrigtsen opened his season in Lievin by running 3:31.80, missing the world indoor record by .76. And that wasn't even the most impressive thing about the race. It was this: Ingebrigtsen won by over five seconds against a field that included the reigning Euro indoor champ/Worlds bronze medalist Marcin Lewandowski, Mohamed Katir (who would go on to run 3:28 outdoors that year), and the indoor WR holder/world champ Samuel Tefera (though Tefera only finished 11th in 3:39).
The pattern so far in Ingebrigtsen's career is that he runs some insanely impressive performance at a ridiculously young age and we all wonder, "Wow, can he possibly keep improving?" And inevitably, he does. He's gone from the youngest sub-4:00 miler in history at 16 to double European champion at 17 to 3:30 guy at 18 to 3:28 guy at 19 to Olympic champion at 20. He owns European records outdoors in the 1500 and 5000 and that Olympic gold means he'll go down as a track & field great no matter what he does the rest of his career. One of the only things he hasn't done in his career is break a senior world record, and with pacers slated to hit 1k in Lievin in 2:21 (3:31.50 1500 pace; the WR is 3:31.04), he'll have a great opportunity on Thursday.
Ingebrigtsen typically races at a high level year-round so his fitness is rarely in doubt, but personally this has been a difficult time for him as his father, Gjert, has stepped away from his role as Team Ingebrigtsen coach due to health reasons (older brother Henrik has taken on an increased coaching role in the interim). Jakob may be a seasoned pro at this point, but he's still only 21 years old and that sort of thing cannot be easy to deal with.
Ingebrigtsen is the clear class of this field, but there is a lot of talent behind him, including Tefera, Lewandowski, and world U20 champion Vincent Keter, a member of Rongai Athletics Club — the same training group as Ingebrigtsen's rival Timothy Cheruiyot. Ingebrigtsen will be favored to get the win (and, assuming he has improved from this time in 2021, the world record), but I will point out that the last time this record was broken, the guy going for the record (Yomif Kejelcha) wound up second only for someone else (Tefera) to sneak in and steal the glory. I'm not saying that will happen again. I'm just saying keep an eye on Keter.
Women's mile (4:30 p.m. ET)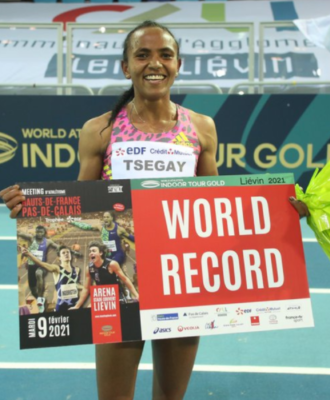 A couple reasons why this event has the best odds of a WR. First, Gudaf Tsegay showed up to Lievin last year and broke destroyed the 1500 WR, running 3:53.09, a performance World Athletics scoring tables say is worth 4:11.72 for a full mile — well under the current indoor mile WR of 4:13.31. If you've ever watched Tsegay run before, you know she likes to take things out hard. In her 3:53 last year, the pacers came through 400 in 58.97 (not a typo!) with Tsegay right on them. She split 2:05.94 at 800 and held on for the record.
Oh, and did I mention she wasn't wearing a super spike when she did all of this?
On Thursday, World Athletics reports the pacers will be targeting an 800 split of 2:04 (4:09 mile pace), which isn't all that crazy. If the pacer is at 2:04, Tsegay is going to be 2:04-high or 2:05-low. If she's capable of running 4:11 (which her 3:53 says she is), that's not a crazy opening split by any means.
As far as competition, Axumawit Embaye of Ethiopia, who ran a world-leading 4:02.12 in Karlsruhe in January, is also entered, but she hasn't done anything to suggest she is in Tsegay's league. Expect this to be a one-woman race. And with the combination of top athlete (Tsegay) plus improved technology, this is the event in which a world record is most likely to fall on Thursday.
Talk about the meet on our messageboard.