Kenya's Joyciline Jepkosgei Wins London Marathon In 2:17:43 as Record 5 Women Break 2:19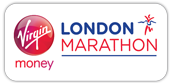 October 03, 2021
by Robert Johnson
October 3, 2021
The 2021 Virgin Money London Marathon featured a record nine sub-2:20 women on the start line this morning and 26.2 miles later it did not disappoint as the results were historically good.
The winner ended up being Kenya's Joyciline Jepkosgei, who was left off the Kenyan Olympic team, as she made a move just before 35k and went on to win in 2:17:43, validating her decision to not defend her New York City crown and cementing herself as one of the premier marathoners on the planet.
Article continues below player
The podium consisted entirely of women who did not run in the Olympics as Ethiopia's Degitu Azimeraw, the 22-year-old who won Amsterdam in 2019, ran a pb of 2:17:58 (previous pb of 2:19:26) to finish second. Her 33-year-old compatriot Ashete Bekere, the 2018 Valencia and 2019 Rotterdam and Berlin champ, was third in another pb of 2:18:18 (previous pb of 2:20:14).
For the first time in her marathon career except in Boston in 2017 when she fell, world record holder Brigid Kosgei failed to finish in the top 2 as she was fourth in 2:18:40 with Israel's Lonah Salpeter fifth in 2:18:58. For the first time in history, five women broke 2:19:00 in a single race and all-time times for place were set in positions three, four, and five.
Top Brit honors went to Charlotte Purdue, who was inspired by her Olympic snub and ran a big pb of 2:23:26 to move to #3 on the all-time British list (previous pb 2:25:38).
The Race
The first half of the race was run at a consistent sub-2:18 pace as the first two 5k segments were exactly 16:21 (2:17:58) pace and halfway was hit in 68:51 with an incredible 12 women still in the lead pack.
The lead women had let the top 3 pacers, who were going for 2:17 flat pace (women's only WR is 2:17:01), go and ran with the second pack pacer.
Between 20k and 30k, the pace actually increased as 20 to 25k was covered in 16:18 and 25 to 30k was covered in 16:10. At 30k (1:37:29), five women were still in the lead pack and the women's only world record of 2:17:01 was theoretically a possibility as the projected pace was now 2:17:06.
However, the race was being run in windy conditions with a 10 mph wind out SW with gusts of up to 25 mph, which meant the 10km segment between 20 and 30k was largely being helped by the wind, but 19 miles to the finish would be hurt by the wind.
From 30k to the finish, Mother Nature won as the pace slowed a little bit to take the women's-only WR off the table. Jepkosgei got the win by taking off just before 35k and never was threatened after that.
Quick Take: Kenya rules the women's marathon scene right now
Jepkosgei's marathon debut in NY in 2019 was eagerly anticipated as prior to moving to the marathon she had twice set the half marathon world record. Since moving up to the 26.2-mile distance, she has not disappointed. The 27-year-old Jepkosgei has run three marathons and won two. She won NY in 2:22:38 before finishing second in Valencia last year in 2:18:40 and now she's won London.
Considering two other Kenyan women went 1-2 at the Olympics, with Peres Jepchirchir and Brigid Kosgei grabbing gold and silver, Kenya currently has the top 3 marathoners on the planet.
Quick Take: It's unusual not to defend a major crown — but not if London calls, particularly if it's 2021
Jepkosgei chose not to defend her 2019 NYC win to come to London. The same was also true for third placer Bekere, who didn't try to defend her Berlin win last week. Proof positive that London annually attracts the best elite fields of any Abbott World Marathon Major and it's not even close.
We thought that given the fact that all five majors are being run in the fall this year that the London field might be weakened, but that wasn't the case.
I'm wondering if there might be an explanation for that in addition to London simply paying larger appearance fees — and that's security. Think about it. If you were an elite and you were signing up for a fall marathon in the spring, given the fact that London actually held an elite-only race last year, you could feel very confident London would again take place this year and not be cancelled due to COVID-19 like NYC, Boston, and Berlin were all last year. So if you signed up for London, you were basically guaranteed to get paid something, which would be very important given how few marathons had been held during the pandemic.
Quick Take by David Monti: London paid out a lot in time bonuses.
In addition to their prize money and appearance fees, the top five women won a combined USD 395,000 in time bonuses. Jepkosgei, who won a USD 100,000 bonus for sub-2:18, would have received USD 50,000 more had she run 14 seconds faster. Still, her total payday including prize money was USD 155,000 not including her appearance fee, any personal bonuses her manager negotiated with race organizers, and any performance bonuses she might receive from her kit sponsor, adidas.
Quick Take: Shalane Flanagan ran much more aggressively today and improves to 2:35.04
A week ago in Berlin, 40-year-old Shalane Flanagan, who is trying to run all five of the marathon majors this fall plus a virtual race for Tokyo, kicked off her marathon challenge with a 2:38:32 showing. But she ran that with a big negative split as her first half was a very conservative 83:42 and her second half a 74:50.
Today, she did the opposite. Running with the men, she covered the first half in 75:04 and then, helped by the wind, picked things up. At 30k (1:45.15), she was on 2:29:27 pace but ultimately the sub-2:30 wasn't in the cards but she still ended up with a seasonal best of 2:35:04. That placed her 190th overall. If she'd been in the elite women's race, she would have been 19th. She was the 17th woman in Berlin.
Top 10 Results *More Results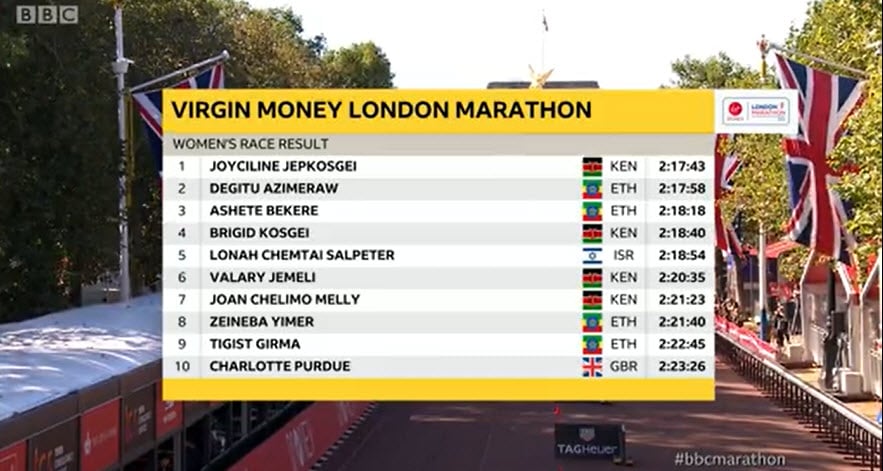 Splits
5k – 16:21 first 5k.
10k – 32:42 (16:21)
15k – 49:07 (16:25)
20k – 1:05:03 (0:15:56 )
HALF 1:08:51 0:03:48 (02:17:42) (12)
25K – 1:21:19 (16:18) (11)
30k – 1:37:29 (16:10) (5)
35k – 1:53:57 (16:28) (5)
40k – 2:10:20 (16:23) (1)
Finish – 2:17:43

Talk about 2021 London on our world-famous fan forum / messageboard.
MB: Shalane Flanagan improves to 2:35:04
MB: Official 2021 London Marathon discussion thread
Men's Recap: Ethiopia's Sisay Lemma Breaks Through & Wins The 2021 London Marathon, His 1st Major In Marathon #22 Prior to today, he was 0 for 9 in majors (0 for 13 counting Dubai).