Ethiopia's Sisay Lemma Breaks Through & Wins The 2021 London Marathon, His 1st Major In Marathon #22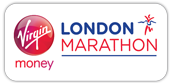 October 03, 2021
by Robert Johnson
October 3, 2021
30-year-old veteran Sisay Lemma of Ethiopia made a move just before 39k and emerged as the unlikely winner of the 2021 Virgin Money London Marathon this morning. He made amends for a DNF at the Olympics to win the first major of his career in 2:04:01, in the 22nd marathon of his career.
Despite being one of a record five men to start the race with a sub-2:04 pb (his pb is 2:03:36), Lemma's win was a surprise for the following reasons.
He was 0 for 9 in majors prior to today (0 for 13 if you count Dubai).

Since the start of 2016, the year he first started running majors, he had won 1 of his last 14 marathons (Llubljana in 2018 in 2:04:58).
Article continues below player
Kenya's Vincent Kipchumba, 31, ended up second for a second straight year, this time in a pb of 2:04:28 (previous pb of 2:05:09) as Ethiopia's Mosinet Geremew once again ended up on the podium in third in 2:04:41. Geremew, 29, has now finished in the top 4 in all 8 of his marathon starts and top 3 in 7 of 8.
2020 Valencia winner Evans Chebet of Kenya, 32, was fourth in 2:05:43 as two-time Tokyo champ Birhanu Legese, the 27-year-old who talked about breaking the course record pre-race, was fifth in 2:06:10. Defending champ Shura Kitata of Ethiopia, 25, deserves props for a gutsy sixth-place finish (2:07:51). Battling a hamstring injury, he was dropped by the leaders before 5k but swallowed his pride and gutted out the final 35k totally alone.
No one else in the field broke 2:10. Brit Phil Sesemann ran 2:12:58 in his debut for 7th.
The race
Much like the women's race, the pace started quick as six men hit halfway in 61:25. At 30k (1:27:19), the lead pack was down to five as Kenya's Titus Ekiru, who had won the last 5 marathons he'd finished, dropped out with a limp 1:19 into the race. At 30k, the pace still projected to 2:02 high (2:02:49) but things would slow on the way home as the leaders had to battle wind gusts up to 25 mph on over the final 7 miles as the course goes from west to east after mile 19 and the wind was coming out of the SW.
Just before the clock hit 1:55, Lemma, who finished third in a three-way sprint finish in London last year, decided he didn't want history to repeat itself and he accelerated away from Kipchumba and Geremew to get the win. Lemma was unchallenged on the way home and was super pumped to get his first major win, totally unbothered or unaware of the fact that his waves to the crowd likely cost him $25,000 in time bonuses as London pays out $75,000 for a sub-2:04 clocking and $50,000 for a sub-2:05.
Quick Take: Anyone remember Hendrick Ramaala's NYC win in 2004?
Thomas H. Palmer once famously wrote, "If at first you don't succeed, try, try again."
Lemma certainly has done that time and time again in the majors and he was finally rewarded this morning with his first major victory. Much deserved.
It brought back memories of Hendrick Ramaala's NYC win in 2004 when the South African won his first major in his career marathon #11 and his 9th try at a major.
Let's hope Lemma's career doesn't emulate Ramaala's after this as Ramaala would run 24 more marathons and never win another.
Quick Take: Phil Sesemann gave himself a nice birthday present
The 3:40/7:51/13:45/28:26 (road) Brit turned 28 today and he showed no fear in his debut marathon. Coming into this one, he'd only run one half marathon in his life — 65:18 three weeks ago. Today, he ran his first half in 65:12. At 30k (1:32:38), he was still on 2:10:18 pace but like virtually everyone today, he slowed on the way home as the wind was too much to handle.
Splits
5k – 14:33
10k – 29:13 (14:40)
15k – 43:52 (14:39)
20k – 58:09 (14:17)
Half – 1:01:25
25k – 1:12:39 (14:30)
30k – 1:27:19 (14:40)
35k – 1:42:18 (14:58
40k – 1:57:27 (15:07)
Finish – 2:04:01
Top 10 Results *More Results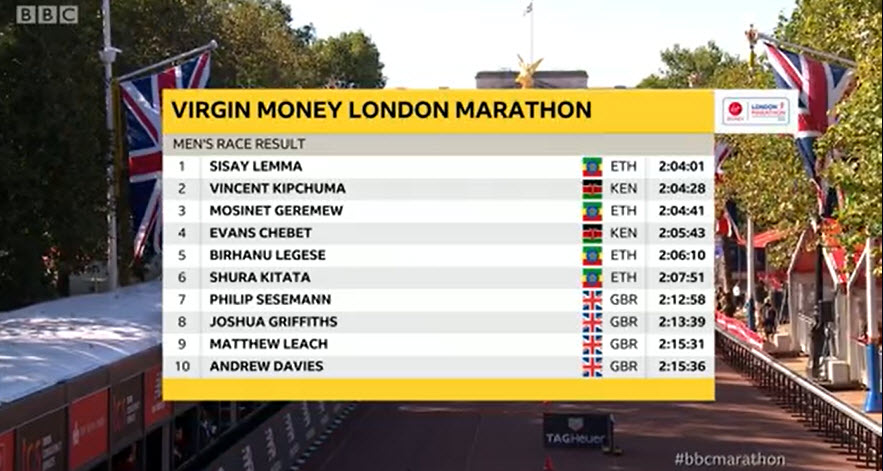 Talk about 2021 London on our world-famous fan forum / messageboard.
MB: Shalane Flanagan improves to 2:35:04
MB: Official 2021 London Marathon discussion thread
Women's Recap: Kenya's Joyciline Jepkosgei Wins London Marathon In 2:17:43 as Record 5 Women Break 2:19 The former half marathon world record has taken to the marathon like a fish to water and now has two major wins in her three marathon starts.