2021 Chicago Marathon Men's Recap: Seifu Tura Continues Ethiopian Hot Streak as Galen Rupp Takes 2nd
By LetsRun.com
October 10, 2021
The best chance for an American victory in the packed 2021 World Marathon Majors season came up just short at the Bank of America Chicago Marathon. With America's best marathoner, Galen Rupp, headlining the men's field and a shallow women's international field, the opportunity was there, but in the end Americans had to settle for a pair of runner-up finishes as Ethiopia's Seifu Tura (2:06:12) and Kenya's Ruth Chepngetich (2:22:31) took the victories.
Embed from Getty Images
For Tura, who was sixth in Chicago in 2019 and had previously won Milan and Shanghai in 2018, this was the biggest victory of his career. Early on, he was content to run with the pack as six men hit halfway in 62:29 (with Rupp 11 seconds behind in seventh), fairly quick given the warm conditions (70 degrees, 69% humidity, 63 dew point). But that pace was somewhat deceiving. Miles 3 through 8 benefited greatly from a 15 mph tailwind, but as the course turned south, forcing the runners into the wind at the 8-mile mark, the pace gradually slowed: the leaders split 30:56 from 20k to 30k (2:10:31 marathon pace).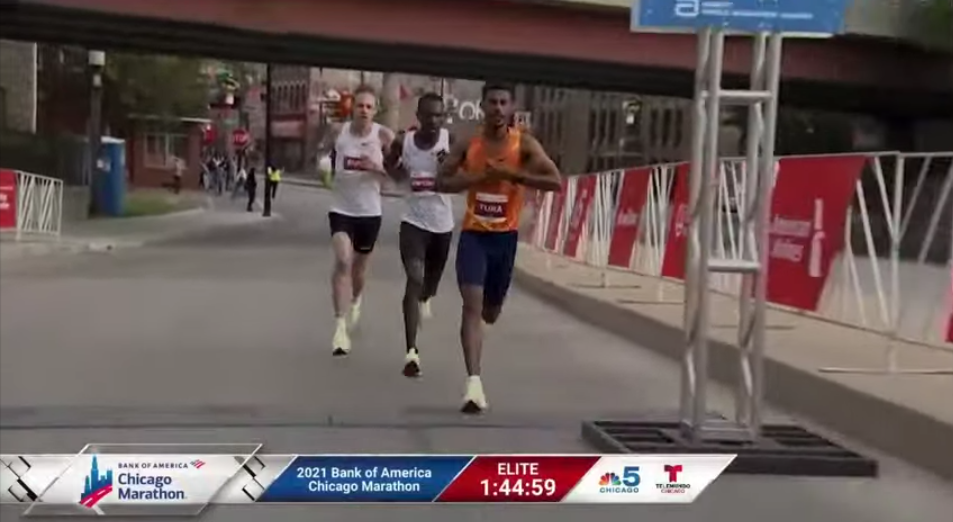 Tura began pushing the pace shortly after 20 miles. Splitting 14:55 from 30k to 35k, he reduced a lead pack of seven men to just three: himself, Rupp, and Kenya's Eric Kiptanui, who won Tuscany in April in a pb of 2:05:47. Tura was a fairly unconvincing leader, looking back to Rupp and Kiptanui and motioning for one to take over the lead, but when neither obliged, he took it upon himself, upping the pace around 23 miles and dropping both of his rivals. Tura split 14:43 from 35k to 40k to establish a nine-second lead on Rupp in second, and though Rupp lingered for a while, he did not have anything left to challenge Tura in the final miles as the Ethiopian pulled away to win by 23 seconds.
Rupp repeatedly allowed himself to get gapped in the early stages, not wanting to get carried away in the heat, but still passed halfway on American record pace in 62:40. He managed to hold on well in the warm, windy conditions to run 2:06:35, just 28 seconds off his personal best, a very impressive performance given he finished eighth in the Olympic marathon just nine weeks ago.
Article continues below player.
Kiptanui held on for third in 2:06:51, with Japanese record holder Kengo Suzuki fourth in 2:08:50. Only five men broke 2:13:00, as the second American, Colin Mickow, was sixth in 2:13:31.
Top 10 Men's  (Full results here)
1. Tura Abdiwak, Seifu (ETH) 02:06:12
2. Rupp, Galen (USA) 02:06:35
3. Kiptanui, Eric (KEN) 02:06:51
4. Suzuki, Kengo (JPN) 02:08:50
5. Tamru Aredo, Shifera (ETH) 02:09:39
6. Mickow, Colin (USA) 02:13:31
7. Montanez, Nico (USA) 02:13:55
9. Fischer, Reed (USA) 02:14:41
10. Given, Wilkerson (USA) 02:14:55
Quick Take: A breakthrough win for Seifu Tura, who continues a great fall for Ethiopian men's marathoners
There have been three major marathons contested this fall. On the men's side, all three have been won by Ethiopians, and all three have been won by first-time major winners as Seifu Tura today joined Guye Adola (Berlin) and Sisay Lemma (London).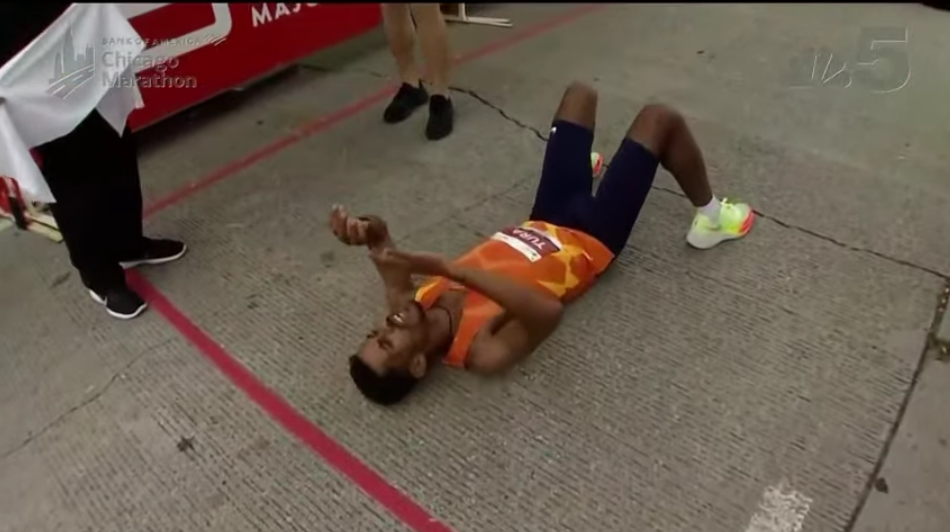 Tura looked perfectly prepared for the conditions today, but he said that actually wasn't the case. 
"The weather was a little bit erratic. I was extremely concerned when they said the other day that it was going to be very hot because I had not prepared for warm weather, but there was a breeze and the first half was not too fast. So that helped me and I was able to do well," he said via a translator. 
Quick Take: Tura was full of praise for Galen Rupp
After the race, Tura paid respect to Rupp and explained that he knew he could not allow the race to come down to a kick in the final miles because he was familiar with Rupp's speed.
"He's someone I know from the track and he has a strong finish," Tura said.. "I knew I had to be careful." 
Tura then showed the utmost respect for Rupp saying, "I want to take this opportunity to say that Galen is an athlete who I really admire and I'm very happy to have raced with him here. I knew that I had to move then, because if we were still close towards the end, then there could be trouble."
Quick Take: Galen Rupp was justifiably emotional after this one as this was an American record-worthy performance
After crossing the finish line, Galen Rupp was embraced by race director Carey Pinkowski at the finish line. Rupp was clearly proud of what he accomplished today and even kissed Pinkowski.
Rupp had plenty of reason to be proud of his run. He ran 2:06:35 on a super windy and pretty warm day. If the conditions were ideal, he most definitely was in shape to break both his PB (2:06:07) and the American record today (2:05:38).
If you don't think high 60/low 70 temps with winds at 15 mph with gusts up to nearly 30 are worth at least a minute, then you don't understand the marathon.
Here is how the top 10 in relation to their PB
| | | |
| --- | --- | --- |
| Runner/Time | PB | Diff |
| 1. Tura Abdiwak, Seifu (ETH) 02:06:12 | 2:04:29 | 1:43 |
| 2. Rupp, Galen (USA) 02:06:35  | 2:06:07 | 0:28 |
| 3. Kiptanui, Eric (KEN) 02:06:51  | 2:05:47 | 1:04 |
| 4. Suzuki, Kengo (JPN) 02:08:50  | 2:04:56 | 3:54 |
| 5. Tamru Aredo, Shifera (ETH) 02:09:39  | 2:05:18 | 4:21 |
| 6. Mickow, Colin (USA) 02:13:31 | 2:11:22 | 2:09 |
| 7. Montanez, Nico (USA) 02:13:55 | 2:14:07 | 0:12 faster |
| 8. Kipyego, Reuben Kiprop (KEN) 02:14:24  | 2:03:55 | 10:29 |
| 9. Fischer, Reed (USA) 02:14:41  | 2:24:48 | 10:07 faster |
| 10. Given, Wilkerson (USA) 02:14:55  | 2:11:44 | 3:11 |
Rupp admitted after the race that the American record is something he'd love to break one day, but that it's not as easy to set up a record attempt as it was during his track career. When Rupp targeted the American record in the 10,000 in 2010, he was able to switch from the Oregon Relays to Payton Jordan at the last minute. When he broke it in 2014, Nike was able to set up a race specifically for Rupp to break the record in good conditions at the Pre Classic.
But when you get in great marathon shape, you can't suddenly decide to set up a marathon AR attempt.
"The marathon, it's all about that one day and there's a lot of variables that are really out of your control," Rupp said. "A lot of stuff has to go right to catch a record."
Quick Take: Galen Rupp is pleased to be heading in the right direction again after a few rough years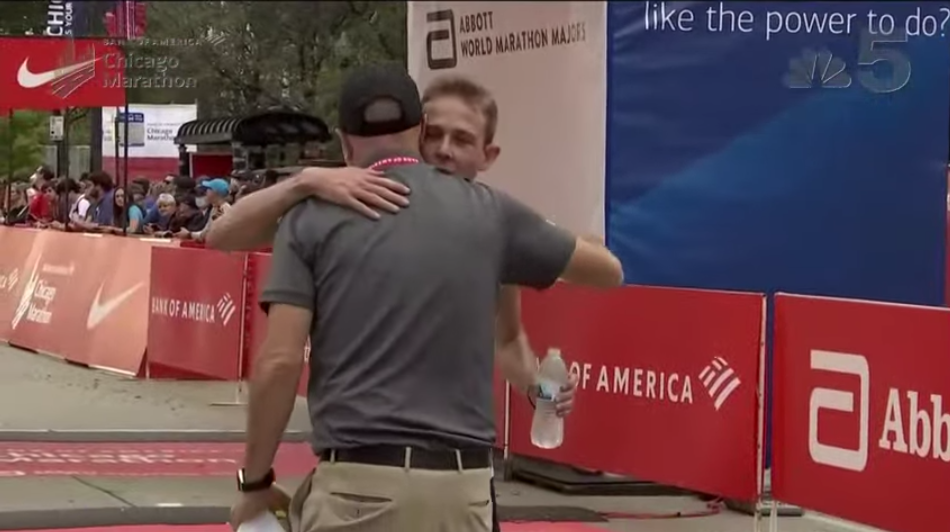 Rupp admitted after the race that the last few years have been hard for him. He had Achilles surgery in 2018, tried to rush back for Chicago in 2019 and wound up dropping out. Alberto Salazar, the only coach he had ever known, was also banned from the sport that year, forcing him to find a new coach in Mike Smith.
Rupp's first two marathons under Smith were fine — a win at the 2020 Olympic Trials and an eighth-place finish at the Olympics in August — but the question remained whether we would ever see the old, pre-surgery Rupp again. Today's runner-up finish showed that the answer is yes. This was his best marathon since joining forces with Smith at the end of 2019.
Rupp, 35, said that today's run gave him a lot of confidence moving forward, using a quote by Oregon football coach Mario Cristobal to make his point.
"He said you're either getting better or getting worse, you're never staying the same," Rupp said. "I just love that. That's something that I truly believe. There were certainly some times over the last couple years where I was getting worse and really struggling with injuries and my health and just being able to get in good training. But I think now, I'm definitely on a better trend and I still feel like I have so much more to give in the marathon."
Quick Take: A day after running 2:27:23 in Baltimore, Jordan Tropf runs 2:31:54 in Chicago
Much has been made of the fact that Shalane Flanagan is running Chicago and Boston this weekend on back-to-back days as she attempts to run all of the major marathons this fall, but a story that has caught the attention of many LetsRunners is how medical resident Jordan Tropf of the US Navy is attempting to run three marathons on three straight days this weekend. 
Yesterday, Tropf, who has a 2:25 marathon pb, was second in Baltimore in 2:27:23. Today he ran 2:31:54 after going out in 73:46.
What will he have in the tank for tomorrow?
Flanagan took a much more conservative approach. After running 2:38 in Berlin and 2:35 in London, Flanagan ran  a dead even 2:46:39 today (83:19 first half).
MB: Resident in orthopedic surgery will attempt 3 consecutive sub-2:30 marathons on Sat., Sun., Monday in Baltimore, Chicago, Boston Talk about the 2021 hicago Marathon on our world-famous messageboard