WTW: What's the Future Hold for Jakob, Praise for Mondo, Bednarek, Crouser, SAFP and Elaine Thompson, Plus Jenny Simpson Long Distance Runner?
The Week That Was in Running – September 6–12, 2021
By LetsRun.com
September 13, 2021 
Past editions of the Week That Was can be found here. Got a tip, question or comment? Please call us at 844-LETSRUN (538-7786), email us or post in our forum.
****
What about the sport?
Can we give a shout-out to all of the stars that keep competing after the Olympics? One of the major problems track & field faces is that athletes' salaries are paid by the shoe companies, not by a team or league. Yes, some athletes are tired and don't want to compete after the Olympics, but it's better for the sport when they do. Do you not think NBA players are tired when the All-Star Game comes around or NFL Players with the Pro Bowl? What about when it's game 155 of the MLB season? "Load management" is becoming an issue in the NBA, but for the most part in the team sports, athletes compete a ton as that's what they are paid to do.
Article continues below player
We don't really have a solution to the problem for track & field, but just wanted to give a shout-out to all the stars that kept competing after Tokyo instead of thinking only about themselves. Well, we do have one small solution. World Athletics should do away with the bye for the defending world champion into Worlds. It kills the drama of the US championships when the reigning world champ doesn't run. The stars need to be running meaningful meets more often, not less often.
At a minimum, in cases where the DL champion and the world champion are from the same country, as was the case this year in the men's 100 (Fred Kerley, Christian Coleman), and 200 (Noah Lyles, Kenny Bednarek), the bye should go to the DL champion as they should be rewarded for racing more often.
Who wouldn't want to see Christian Coleman in the 100 and Noah Lyles in the 200 at USAs in 2022?
****
Quote of the Week / Dad's hubris didn't age well
"Cheruiyot will never beat Jakob again."
– Gjert Ingebrigtsen talking in Tokyo after the Olympic men's 1500 final on August 7, where his son Jakob Ingebrigtsen dethroned world champion Timothy Cheruiyot.
On Thursday, just 33 days after Gjert's bold statement, Cheruiyot held off Jakob to win the Diamond League 1500 final. Cheruiyot is now 13-2 all-time in the 1500/mile against Jakob. The record this year was 2-2.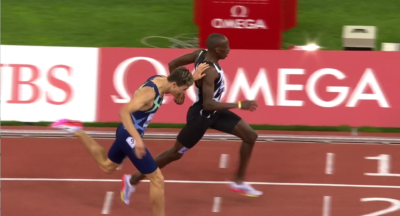 For the record, we love all of this — the quote, and the fact that Cheruiyot won the DL final. Track & field needs more bulletin-board material as it makes things more interesting. Cheruiyot winning on Thursday also makes things more interesting as it creates a lot of doubt as to what will happen in 2022.
We can't wait for the men's 1500 in 2022.
As we saw in Zurich, epic clashes between two titans in both the men's and women's 1500 provides plenty of drama, but 2022 might have even more on the men's side.
Remember, Cheruiyot's training partner Elijah Manangoi, the 2017 world champ, will be coming back to the event after missing two years due to whereabouts failures. So will Asbel Kiprop, the 2011, 2013, and 2105 world champ and 2008 Olympic champ as his four-year doping ban ends in February.
And it's not like any of the four are super old. Jakob is 20 (turns 21 this Sunday), Cheruiyot 25, Manangoi 28, and Kiprop 32.
Given his age, there's reason for Gjert to think that Jakob is going to own the event. But Cheruiyot struggled with a hamstring injury this year (and still ran a personal best of 3:28.28). How much faster can he run if he gets fully healthy?
And how much longer will Jakob continue to improve? Given his age, some may think a long time. However, historically, most milers PR when they are fairly young. Plus Ingebrigtsen has been training at a high level for a long time, so will he reach his peak sooner?
We did some research and found that, of the seven men in history who have run faster than Ingebrigtsen at 1500, all of them ran their PBs within four years of first breaking 3:30.
A Statistical Analysis Of When The Fastest Milers in History Ran Their PBs

Miler
PB
Age at PB
Duration From 1st Sub-3:30 to PB
Hicham El Guerrouj
3:26.00
23

2 years, 7 days

(737 days)
Bernard Lagat
3:26.34
26

1 year, 13 days 

(379 days)
Asbel Kiprop
3:26.69
26
3 years, 2 months, 7 days (1163 days)
Noureddine Morceli
3:27.37
25
2 years, 10 months, 7 days (1040 days)
Silas Kiplagat
3:27.64
24
3 years, 11 months, 27 days (1458 days)
Noah Ngeny
3:28.12
21
1 year, 1 month, 5 days (402 days)
Timothy Cheruiyot
3:28.28
25

3 years, 11 months, 19 days (1450 days)

Jakob Ingebrigtsen
3:28.32
20
11 months, 25 days (359 days)
It's worth noting that Jakob's older brother Henrik, 30, ran his 3:31.46 pb at age 23 and Filip, 28, ran his 3:30.01 pb at age 25.
Dad and coach Gjert says he's learning more and more about coaching as time goes on and says that's why Jakob has had fewer injuries. So it's possible that Jakob PRs the latest of all, but the chart shows it's historically unlikely to be the case. Of course, no one has ever run as fast at such a young age Jakob. If he's a 3:24 talent, then the age he first broke 3:30 may not be all that relevant.
MB: Gjert Ingebrigtsen: "Cheruyiot will never beat Jakob again"
****
Vienna Marathon Winner Derara Hurisa DQ'd for Wearing Illegal Shoes
Fall marathon season is upon us, and it started in bizarre fashion in Austria as Ethiopia's Derara Hurisa crossed the finish line first at the Vienna Marathon last weekend in 2:09:22, only to be disqualified because the soles of his shoes were thicker than World Athletics' 40mm limit. Kenya's Leonard Langat (2:09:25) was instead declared the winner.
How does that happen? Well, according to race organizers, every runner or their agent must fill out a form prior to the race. Hurisa filled out the form and said he would be wearing the adidas Adizero Adios Pro 2 — which meets World Athletics' shoe criteria. But on race day, Hurisa actually wore the adidas Adizero Prime X, which have an enormous 50mm stack height and are not legal for competition.
Since World Athletics published its shoe rules last year, it has been up to the races to enforce them. Some check the shoes on the morning of the race. Vienna didn't perform that pre-race check, instead trusting that every athlete would race in the shoe listed on the pre-race form.
"We also stressed in the technical meeting the rules about the shoes," Vienna elite race coordinator Hannes Langer said in a press release. "Unfortunately we had no other choice than disqualifying the athlete. It is the first time something like this has happened. And I am pretty sure that from now on there will be some form of checks to avoid something like this to happen again in a major race."
But wait. Why is adidas even making a shoe that doesn't satisfy the WA guidelines? The reason: the Prime X is a training shoe, designed to allow athletes to run more miles while amping up the cushioning to reduce impact on runners' legs. Hurisa liked them so much that he tried them in the race. Unfortunately for him, the organizers noticed the rules violation and DQ'd him.
We hope adidas pays Hurisa the prize money he would have received. Their shoes received way more attention by Hurisa being DQ'd in Vienna than they would have had Hurisa merely won the race in 2:09. And it gives them the potential to play up the shoes even more moving forward. The adidas Prime X: the shoe so fast, it's illegal.
MB: Mechanical doping: Vienna Marathon winner DQd as his adidas midsole was too thick. Publicity stunt?
***
Langat and Chepkirui win in Vienna despite travel nightmare
The winners in Vienna also had quite a story. A number of Kenyans — including men's winner Leonard Langat and women's winner Vibian Chepkirui (2:24:29) — were scheduled to fly from Kenya to Vienna through a connection in Doha on Thursday. But their Qatar Airways flight was late and they missed their connection in Doha. With the next flight 24 hours away and the athletes unable to leave the airport, they had no choice but to spend the night in the terminal and sleep on the floor three nights before the race.
The story reminds us of Eritrea's Teklemariam Medhin, who took bronze at World XC in 2013 despite sleeping in the airport for two nights during the week of the race.
***
If you're going to chase world records, why wouldn't you publicize it beforehand?
Over the weekend, adidas flew a bunch of its top runners to its headquarters in Herzogenaurach, Germany, for a set of road races called Adizero: Road to Records. There was a men's and women's 5k, 10k, and half marathon, and the times were very fast as Ethiopia's Senbere Teferi set a world record of 14:29 in the women's 5k and Kenya's Agnes Tirop ran a women's-only world record of 30:01 in the 10k. On the men's side, world record holder Rhonex Kipruto ran 26:43, 13 seconds ahead of world U20 3k champ Tadese Worku, while Abel Kipchumba of Kenya won the half marathon in 58:48.
Adidas deserves props for staging some fast races and streaming the whole thing for free on YouTube. But they could learn a thing or two about marketing from their rivals at Nike. When Eliud Kipchoge made his Nike-sponsored sub-2:00 attempt in 2017, the entire world knew about it. Whereas we only learned about adidas' event the day before thanks to a tweet that contained little more information than the time and date. If you're going to spend tens of thousands of dollars putting on a race/publicity stunt for your new shoes, then you need to publicize it in advance.
****
Stat of the Week I / The Women's Sprint Stars Didn't Duck Each Other This Year & The Results Were Legendary
5 – number of times that Shelly-Ann Fraser-Pryce, 34, and Elaine Thompson-Herah, 29, had raced each other at 100 meters in their career before this year.
5 – number of times that Shelly-Ann Fraser-Pryce and Elaine Thompson-Herah raced each other at 100 meters this year, producing winning times of 10.71 (SAFP), 10.71 (ETH), 10.61 (ETH), 10.54 (ETH), and 10.60 (SAFP). Those races were responsible for three of the five fastest times ever.
ETH leads the all-time 100 series, 7 to 3.
****
Stat of the Week II / Kenny Bednarek's Prolific 200m Season
American Kenny Bednarek won the Diamond League 200 final in Zurich last week with a 19.70 clocking — his 11th wind-legal sub-20 clocking on the year (13th counting big winds). To break 20 seconds 11 times in a year is crazy and is by far the most ever in a single year. Please realize that only 10 men in history have ever broken 20 seconds 10 times in their career (wind-legal). To do it 11 times in a year is wildly impressive. The previous record belonged to Frankie Fredericks at eight.
The Men Who Have Broken 20 Seconds in the 200m at Least 10 Times
| | | |
| --- | --- | --- |
| Athlete | # Career | # Single Yr |
| Usain Bolt | 34 | 6 |
| Frankie Fredericks | 24 | 8 |
| Wallace Spearmon | 23 | 5 |
| Michael Johnson | 23 | 5 |
| Noah Lyles  | 21 | 7 |
| Tyson Gay  | 14 | 4 |
| Kenny Bednarek | 13 | 11 |
| Andre De Grasse | 11 | 5 |
| Carl Lewis | 10 | 3 |
Looking at wind-legal times, only 83 men in history have ever broken 20 and it's been done less than 400 times total. Comparing it to the 1500m, the 83rd-fastest man in history in that event has run 3:31.28.
Stats manually compiled looking at both tilastopaja.eu and alltime-athletics.com
****
Stat of the Week III / Mondo Duplantis' Prolific Season
| | | | | | |
| --- | --- | --- | --- | --- | --- |
| | Competitions | Wins | #Meets 6.00 or Higher | #Meets 6.05 or Higher | #Meets 6.10 or higher |
| Sergey Bubka 1991 | 25 | 24 | 10 | 8 | 4 |
| Mondo Duplantis 2020 | 16 | 16 | 10 | 5 | 3 |
| Mondo Duplantis 2021 | 17 | 15 | 12 | 5 | 2 |
Bednarek was far from the only track & field athlete to set a new standard of excellence in 2021. In the men's pole vault, Mondo Duplantis set a record for most meets with a vault over six meters. Mondo did it 12 times this year, surpassing the previous record of 10 that he did last year and that Sergey Bubka did in 1991.
That being said, it would be interesting to know which season Mondo would prefer — 2020 or 2021. In 2020, he set world records both indoors (twice at 6.17 and 6.18) and out (6.15) and never lost a meet, though admittedly some meets didn't have that many competitors in it. This year, he never went higher than 6.10, lost two meets, but did win his first Olympic gold.
****
Stat of the Week IV / Ryan Crouser's 2021 Was The Best Shot Put Season Ever
13 – number of meets where Ryan Crouser threw at least 22 meters in 2021, a new record.
Considering that, according to tilastopaja.eu, only eight men have ever thrown 22 meters 10 times in their career, that's incredibly impressive. Crouser has now gone over 22 meters more than 10 times in each of the last three years as he did it 10 times last year and 12 times in 2019.
Considering Crouser set world records both indoors (22.82) and outdoors (23.37), won Olympic gold, and won all 14 of his competitions, his 2021 was without a doubt the greatest shot put season in history.
In terms of all-time meets with throws greater than 22 meters, Crouser is leaps and bounds ahead of everyone else:
Most meets 22+ in men's shot
1. Ryan Crouser (57)
2. Tom Walsh (25)
3. Ulf Timmermann (22)
4. Joe Kovacs (20)
5. Christian Cantwell (17)
6. Werner Günthör (12)
6. Randy Barnes (12)
8. Udo Beyer (10)
****
Stat of The Week V / Karsten Warholm's Streak Continues
22 – 400-meter hurdle races won in a row by Karsten Warholm after he picked up wins in Zurich and Berlin last week.
Warholm hasn't lost a 400 hurdle race since September 8, 2018. Of course, he's got a ways to go to catch the great Edwin Moses who didn't lose a 400 hurdles race at all in 1978, '79, '80, '81, '82, '83, '84, '85, and '86 and won 107 straight finals.
****
Stat of the Week VI / Sara Hall Has Some Work To Do
5:16.3 – pace per mile that Sara Hall averaged on Sunday at the Credit Union Cherry Blossom 10 Mile Run in Washington, D.C., which served as the US 10-mile championships. Hall finished 4th in 52:43.
5:19.5 – pace per mile that Hall needs to average for 26.2 miles in Chicago on October 10 if she is going to break Deena Kastor's 2:19:36 American record — her stated pre-race goal.
###
The US 10-mile titles in DC were won by Nell Rojas (52:13), who was 9th in the Olympic Marathon Trials in 2020, and Abbabiya Simbassa (46:18) with perhaps the biggest news being the race served as Jenny Simpson's long distance pro debut. Simpson was second in 52:16 as Rojas pulled clear over he last half mile, proving the point that a distance race isn't won in a kick by the runner with the best speed, but rather by the one with the most left.
Elite women's finish at #CUCB2021 @usatf pic.twitter.com/QgwpX7WdfN

— CUCB Ten Mile Run (@CUCB) September 12, 2021
The overall men's winner was Edwin Kimutai of Kenya (45:45), who was mourning the loss of his wife on August 23.
What does this result mean for Simpson? It's hard to say. She'd clearly be competitive on the US road circuit at longer distances but will she ever be internationally competitive? Does she even want to try that or is she only doing the long distance stuff out of the hope the increased strength work helps her on the track?
It's not clear, but Simpson definitely enjoyed the experience.
 

View this post on Instagram

 
For the record, Simpson did beat Kenya's Antonina Kwambai in DC and Kwambai ran 2:24 in the marathon in April.
***
Stat of the Week VII / It Was a Slow Year for the Men's Steeple
8:07.12 – world lead in the men's steeple this year, put up by Kenya's Benjamin Kigen in Paris on August 28.
If that holds up as the world lead, it will be the slowest world lead for a full year of steepling* in 27 years. The last world leader to run slower was Moses Kiptanui in 1994 (8:08.80, the only man under 8:10 that year), one year before he became the first man under 8:00.
*Only a handful of steeples were held in 2020 and the fastest was 8:08.04.
***
Quotes Of The Day and Last Week's Home Pages
To see the quotes of the day from last week or last week's home page or any home page, go to our archive page.
Past editions of the Week That Was can be found here. Got a tip, question or comment? Please call us at 844-LETSRUN (538-7786), email us or post in our forum.